Canadian park among world's most beautiful: Big 7 Travel
Global travel site Big 7 Travel ranked the most remote and beautiful places in the world, and only one Canadian location—Ivvavik national park—is among them.
Of the 50 "most remote and beautiful places in the world," the Yukon's national park and its "pristine wilderness adventure" and "rich indigenous culture" ranks at No. 9.
According to the list, Blue Eye, Albania is the most remote and beautiful place in the world, thanks to its freshwater spring and lush greenery.
Following Blue Eye, White Desert Whichaway Camp in Antarctica landed in second place, followed by Macquarie Island in Australia and Laya in Bhutan.
Further down in the list, Gates of the Arctic National Park in Alaska, made on the list at No. 48, the only spot in the U.S. to make the cut.
Here are the top 10 most remote and beautiful places in the world according to Big 7 Travel:
1. Blue Eye, Albania
2. White Desert Whichaway Camp, Antarctica
3. Macquarie Island, Australia
4. Laya, Bhutan
5. Pinnacles of Gunung, Mulu National Park, Borneo
6. Sandibe Okavango, Botswana
7. Pitcairn Island, British Overseas Territory
8. Anegada, British Virgin Islands
9. Ivvavik National Park, Canada
10. Marble Caves, Patagonia, Chile
According to Big 7 Travel, the rankings were determined based on several factors such as remoteness, number of inhabitants, unspoiled beauty and uniqueness.
The travel site says these destinations offer a unique and unforgettable experience for adventurous travellers.
You can find the full list of 50 destinations ranked here.
Reporting for this story was paid for through The Afghan Journalists in Residence Project funded by Meta.
Apocalyptic Canada wildfire video captures driver's near miss – BBC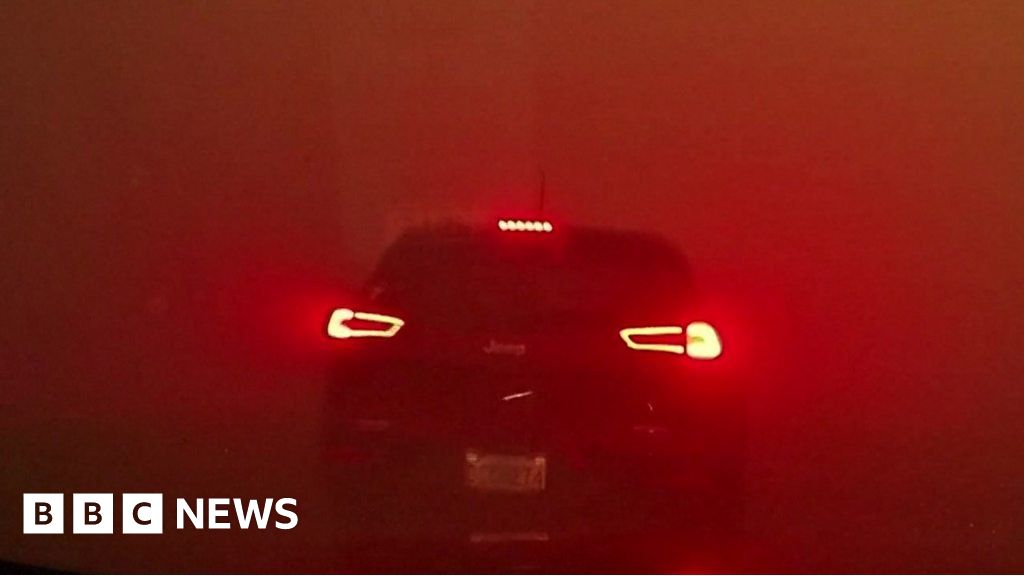 Dashcam footage has captured the moment a car drove through a wildfire, with flames and smoke on both sides of a highway, in Hammonds Plains, Nova Scotia, Canada.
Video shows the car nearly colliding with another vehicle ahead obscured by thick smoke.
The eastern Canadian city of Halifax has declared a local state of emergency after the wildfire caused evacuations and power outages.
This month, the western province of Alberta declared a provincial state of emergency, after wildfires forced tens of thousands of people from their homes.
Wildfire risks across Canada with fires burning
Wildfires have burned more than2 million hectares of land across Canada so far this year, during what has been one of the earliest fire seasons on record.
According to the National Wildland Fire Situation Report, the fires in Yukon, B.C. Alberta, Northwest Territories, Saskatchewan and Manitoba are among the nearly 1,600 recorded so far this year.
Experts use the Canadian Forest Fire Danger Rating System to identify where in Canada people should take precautions.
"Forest fire danger is ageneral term used to express a variety of factors in the fire environment, such as ease of ignition and difficulty of control," the government's website reads.
Many parts of Canada are blanketed in red or yellow, indicating a high degree of fire risk, according to the Natural Resources of Canada interactive fire risk map.
The above graph was made using data from current and archived reports from Natural Resources Canada. Data was available from May to November for some of the entries and May to October for others. (Natasha O'Neill/ CTVNews.ca)
WHERE ARE THE RISKS OF FIRE?
With dry and sunny weather across the country, the risk of new fires is spreading, including in Northern Ontario and in Nova Scotia, where some Halifax-area residents are among the evacuees due to anout-of-control fire burning near Upper Tantallon.
In Alberta, where a brief period of cool, wet weather brought temporary respite, conditions changed over the weekend and fires threatened northern communities.
Parts of the Prairies have a heightened fire risk, and there are other parts of Canada that have been labelled as having an "extreme" risk of forest fires.
The highest risk of wildfires is labelled as "extreme," a category that includes a fast-spreading, high-intensity fire that does not respond to suppression tactics from fire crews.
Portions of B.C., Alberta and northern Saskatchewan are under these conditions. Much of Northern Ontario and part of Southwestern Ontario are also under extreme wildfire warnings.
As of May 29, the risk of fires starting is lower in portions of Yukon, Northwest Territories, the area around Regina, most of Manitoba and northern Quebec, the Natural Resources of Canada map shows. This means any fires sparked are "likely to be self-extinguishing" and new ignitions are unlikely, the government website reads.
Despite some areas being labelled low-risk, in the Northwest Territories, for example, there are still out-of-control wildfires burning.
The term "moderate risk" describes areas where fire crews can "easily" contain fires with pumps of hand tools. These areas can often be seen as the buffer between low- and higher-risk forest fire areas. Currently, communities like Lac Mistassini and Lac Manouanis in northern Quebec have a moderate fire risk.
High-risk fire warnings are used in areas that would be difficult for crews to battle and where flames could spread quickly, such as in dense, old-growth forests. Large equipment would be needed, like bulldozers, tanker trucks and aircraft to transport water, to fight any fires that broke out.
As of May 29, communities in B.C., Alberta and most of Ontario are in the high-risk classification.
Area around Carnaby, Red Rose and Boulder City, B.C., are in this category, as well as communities outside of Edmonton including Drayton Valley, Barrhead and Fort Saskatchewan.
Communities in Ontario with a high risk of fires include Fort Albany, Timmins, Barrie and towards Lake Ontario in Oshawa and Belleville.
A separate "very high" risk classification is for areas with conditions beyond the abilities of ground crews, with needed air attacks of fire retardant. Communities around Calgary and in Yellowknife are in this category, with officials warning fires could spread out of control.
The above map from Natural Resources Canada uses data from government agencies and may not show the current fire situation. (Screenshot)
Remains of Madison Scott found 12 years after mysterious disappearance from party near Vanderhoof, B.C.
RCMP say they've found the remains of Madison (Maddy) Scott, 12 years after she went missing.
Scott was last seen on May 28, 2011, while celebrating a friend's birthday at a campsite at Hogsback Lake, about 25 kilometres southeast of her hometown of Vanderhoof, B.C.
She was 20 at the time.
Police say the identity of the remains have been confirmed by the B.C. Coroners Service and RCMP are currently executing a warrant at a rural property on the east side of Vanderhoof, around 80 kilometres west of Prince George.
"The area has been secured, and additional resources are anticipated to be on scene for as long as may be required," said Cpl. Madonna Saunderson in a statement.
Scott's family was notified on Sunday, and police say they are asking for privacy. Saunderson said Scott's body was found "days ago" but didn't specify exactly when it was found.
Neither did Saunderson say whether the information leading to Scott's discovery came from new information provided by the public.
She said the possibility of foul play has still not been ruled out, but no arrests have been made.
"This has been a priority investigation for the RCMP over the past 12 years," she said in the statement.
"The discovery of Maddy is a significant development [but] this investigation remains an active and ongoing missing person's investigation."
Saunderson said she wasn't aware of any danger to the public related to the discovery of Scott's remains.
High-profile case
Scott's disappearance maintained a high profile, with billboards and posters asking for tips about her disappearance still a common sight in Vanderhoof and neighbouring communities, including Prince George.
Her family has offered a $100,000 award for information resulting in arrests related to her disappearance, and her story has been the subject of multiple investigative media reports in Canada and internationally.
The last known sighting of her was around 3 a.m. PT on May 28, 2011.
She disappeared with her iPhone and the keys to her pickup truck, leaving her tent and the vehicle behind.
Family and police said it was unusual for her not to be in touch, leading investigators to believe foul play was involved.
Extensive ground, air and water searches were carried out to no avail, and family and friends have kept the hope of her discovery alive through a Facebook page and an annual search of the area where she was last seen.
RCMP say the remains of Madison Scott have been found more than a decade after she mysteriously went missing from a party near Vanderhoof, B.C. Gerry Thiessen was mayor at the time.
In a video statement released in 2021, her mother described her as "wonderful, messy, creative, loving," while a hockey teammate remembered her as a photography enthusiast.
In its statement Sunday, on the 12th anniversary of Scott's disappearance, the RCMP said Scott loved to immerse herself in family, friends and sports.
"This year, Madison would be 32 years old. She would likely be immersed in her career and may even have gotten married and had children."
Saunderson said RCMP are still looking for any additional information about the case.
"You never know what small piece or even big piece will crack open the case," she said. "Every piece of the investigation will help us answer a question the family may have."
She says anyone with information is encouraged to call the police's tip line is 778-290-5291 or 877-543-4822.
'Everybody knew Madison': mayor
Gerry Thiessen, the mayor of Vanderhoof from 2008 to 2022, describes Scott as a "vibrant part" of the central B.C. district municipality of more than 4,346 people and says, in the beginning, everyone hoped she'd be found alive.
"Twelve years ago, there was just such hope that Madison would be found…[and she] would come back and make the family whole again," Thiessen said.
Mayor Kevin Moutray says Scott's disappearance shocked the community.
"Everybody knew Madison [as] a sister, a daughter, a friend … somebody knew her in some way, and you have all that connection," he said.
Moutray says he hopes the discovery will lead to a resolution in the RCMP's investigation of Scott's death, but in the meantime, he hopes it can help her family begin to heal.
"It's going to be a long journey for them, and hopefully, as a community, we can be there for them and provide them the support they need to go through this."