Canadian police uncover 'biggest art fraud in world history' – Art Newspaper
On 3 March, the Ontario Provincial Police announced that their investigation into a forgery ring of works by renowned Ojibwe artist Norval Morrisseau had uncovered "the biggest art fraud in world history".
The case resulted in charges against eight people—including a member of the late painter's family—and the seizure of more than 1,000 paintings. The forgery ring relied on forced child labour in sweatshops as well as the exploitation of talented young Indigenous artists, underlining larger national issues about Canada's treatment of First Nations people.
Morrisseau—a ground-breaking artist who survived Canada's notorious residential school system and a near-fatal illness as a teen to go on to international success after he was "discovered" by Jack Pollock, a Canadian gallery owner who represented Morrisseau for many years—became aware of forgeries of his work on the market in the years before his death in 2007. But it was a 2019 documentary by the Canadian film-maker Jamie Kastner, There Are No Fakes, that brought the issue to wider public attention.
The film's starting point was a lawsuit launched by the musician Kevin Hearn of the Canadian band Barenaked Ladies against the Toronto-based Maslak McLeod Gallery for selling him an alleged forgery of a Morrisseau painting. It goes on to expose the art-fraud ring based in Thunder Bay—where the artist lived and worked for decades—and suggests that there may be up to ten times more fake Morrisseau works on the market than authentic pieces.
The film was credited with helping Hearn's lawsuit, which was initially dismissed by the courts on the grounds that he could not definitively prove that his painting was fake. After it was released, the Ontario Court of Appeal overturned the first decision and awarded Hearn C$60,000 (around $44,000). Ontario police also credited the film with inspiring the investigation.
While Kastner says that the number of online viewings of the film has been "spiking" since the 3 March announcement, he says that he is currently in a legal battle with the Ontario police, who want to seize materials from his film as evidence for their case.
Kastner says there are "at least 3,000 more forgeries out there" but that "a huge portion of these disputed works", especially those in the style of his black dry brush series, "are easy to identify—with a signature on the back in English". The artist always signed his name in Ojibwe as "Copper Thunderbird" on the front of his works.
Cory Dingle, who runs Morrisseau's estate, says "the damage to Morrisseau's art legacy has an effect across the entire Canadian art market". Others speculate that the forgery ring scandal may actually increase public awareness and market value of the artist's work.
Considered the founder of the Woodlands School of Art, which drew on traditional Native cosmology, and dubbed "the Picasso of the North" by Marc Chagall, Morrisseau made work that spoke to the cultural and political tensions between Indigenous and settler traditions. But it also celebrated fluidity, both cultural and sexual. (Morrisseau was bisexual and painted many erotic images.) The artist's later work embraced contemporary idioms, paving the way for painters such as Lawrence Paul Yuxweluptun, who merged Indigenous cosmology with Surrealism.
Morrisseau'swork Indian Jesus Christ (1974), fusing Indigenous devotional symbolism with stained-glass iconography, gained widespread recognition in the 1974 National Film Board documentary The Paradox of Norval Morrisseau.
Art collector Myriam Ullens killed outside her home in Belgium, allegedly by her stepson – Art Newspaper
Myriam Ullens, a major collector who, with her husband Guy Ullens, supported and championed Chinese contemporary art, was killed outside the couple's home in the village of Ohain south of Brussels today (29 March) according to multiple reports in the Belgian press. She was 70 years old. The reports claim she was shot by her stepson Nicolas Ullens, who has been detained by police. Her husband, Guy, reportedly survived the incident.
Myriam and Guy were in their car outside their home around 10am when Nicolas fired on his stepmother, who died at the scene, according to La Libre. Myriam and Nicolas had been in a protracted dispute over issues of inheritance, according to multiple reports.
Myriam and Guy Ullens, who married in 1999, have been important and influential art collectors for decades. They started out collecting classical Chinese scroll paintings, but eventually shifted their attention to contemporary art. In 2007, they opened the Ullens Center for Contemporary Art in Beijing—considered at the time to be the first contemporary art museum in China—which showed works from their collection of more than 2,000 works. In 2017 they sold the museum, renamed the UCCA Center for Contemporary Art, to a group of investors; they continued and broadened their collecting activities under the banner of the Swiss-based Fondation Guy & Myriam Ullens.
In 2004 Myriam, who went by Mimi and was a cancer survivor, founded the Mimi Foundation to create centres within hospitals to provide physical and mental therapy for patients undergoing cancer treatment. In 2013 she co-organised an exhibition and benefit auction during Frieze Week in London to support the Mimi Foundation.
"If many of the artists in this project are Chinese that is because of our long and close relationship with them. This is just the tip of our iceberg—that we are continuing to follow and collect intensively with the new generation," Myriam told Ocula at the time. "A collection is like a living breathing body. It evolves in an organic manner."
Myriam was born in Cologne, Germany. Following early success in the food industry, she married Guy, a Belgian businessman and baron, and devoted herself to fashion (launching the brand Maison-Ullens) and philanthropy. The couple's charitable activities also included opening the Ullens School, an educational facility in Nepal.
Nicolas Ullens, a former Belgian state security agent, is one of four children Guy had with his first wife, ​​Micheline Franckx.
The Ullenses' foundation did not immediately respond to a request for further information.
Major Collector and Chinese Art Patron Myriam Ullens Has Been Shot Dead Outside Her Home in Belgium – artnet News
Myriam Ullens de Schooten, a preeminent collector and well-known figure in the art world, was shot dead yesterday in front of the house she shared with her husband, Baron Guy Ullens de Schooten. Both are major collectors of Chinese art and respected in the art world as the founders of UCCA in Beijing, China.
The murder occurred at 10 a.m. on Wednesday, March 29. Local media have reported that Ullens suffered four bullets to the head, and had died by the time emergency services arrived to the family home in the Belgian village of Ohain. The stepson of the 70-year-old German baroness is reportedly a prime suspect.
The 50-year-old Nicolas Ullens de Schooten, a former state security agent and one of four children, is suspected of shooting his stepmother while she was in a car with his father, who survived the attack. He has been taken into custody for questioning. According to some Belgian reports, the victim and suspect were in an open dispute over an inheritance issue. Local authorities did not immediately respond to Artnet News's request for further information.
"The vision and passion of Myriam Ullens—her love for art, belief in cultural exchange, and commitment to helping others—are at the core of UCCA's history and values," said Philip Tinari, UCCA's director, in a statement shared on social media. "We are shocked and saddened by her death, and will remember her strength, style, creativity, and generosity as we carry forward the work of the institution that she and Guy so generously founded and nurtured through its first decade."
Born in Cologne in 1952, Myriam, known to friends as "Mimi" Ullens was an active philanthropist, who initiated an education program and school in Nepal. A cancer survivor, Ullens also launched The Mimi Foundation, which was active in cancer wards at eight hospitals in Belgium, France, and Switzerland, providing support to patients going through treatment.
Myriam and Guy Ullens married in 1999 and built out an evolving collection focused on art from China, beginning at first with classical Chinese scroll painting before focusing on contemporary art from China. Their "universal" collection, as it is described on their foundation's website, includes works by prominent Chinese artists including Huang Yong Ping, Wang Jianwei, Xu Zhen, together with Western art stars like Rashid Johnson, Sterling Ruby, and Tracey Emin; another area of focus in their collection was digital art.
They opened the Ullens Center for Contemporary Art in 2007 to exhibit their collection that numbers around 2,000 artworks; the institution was one of the first of its kind in China. In 2017, the couple sold the museum to a group of patrons and shareholders and it was renamed the UCCA Center for Contemporary Art. They continued to be involved and served on the foundation council, while actively collecting via their Fondation Guy & Myriam Ullens, based in Switzerland. Myriam was also actively involved in luxury brand Maison Ullens, which she founded in 2011. The family is of Belgian nobility; Guy Ullens is a philanthropist as well as a financial services company executive who has been collecting art since the 1960s.
Follow Artnet News on Facebook:
Want to stay ahead of the art world? Subscribe to our newsletter to get the breaking news, eye-opening interviews, and incisive critical takes that drive the conversation forward.
Banksy artwork Brace Yourself! sells for over $2m at auction in US – The Guardian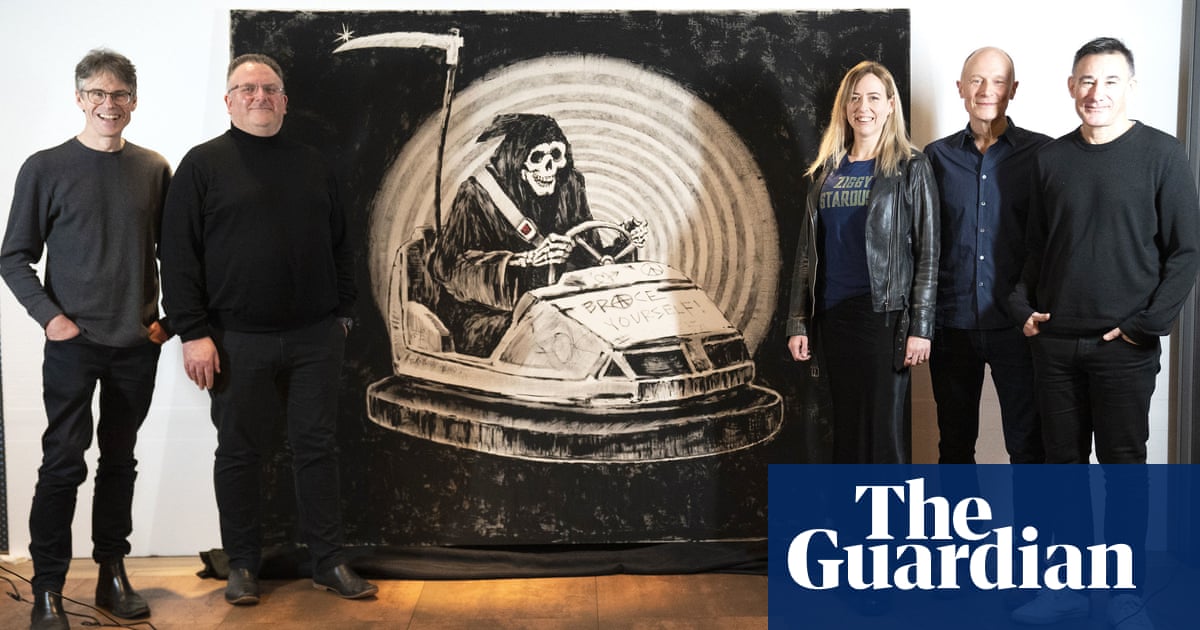 The Banksy artwork Brace Yourself! has sold for $2,032,000 (£1.6m), more than three times its original estimate, during an auction featuring a performance from the band that inspired the piece.
The anonymous artist created the work in 2010 for the British band then known as Exit Through the Gift Shop, who shared the same name he wanted to use for his 2010 documentary film.
To avoid copyright issues, the group agreed to Banksy's offer to create a painting for them on the condition they changed their name.
The artwork, a large-scale painting of a grim reaper figure riding in a carnival bumper car, was sold to Miguel Garcia Larios, the owner of Rcnstrct Studio in Hollywood, during an event hosted by Julien's Auctions in Beverly Hills.
Its original estimate was $600,000 and the sale was preceded by a live performance by Brace Yourself!, fronted by the singer Natalie Zalewska.
Zalewska previously said the sale was about preserving the artwork as a "piece of history".
The Exit Through the Gift Shop documentary tells the story of Thierry Guetta, a Los Angeles-based Frenchman who videotapes underground art escapades and later finds fame with the moniker Mr Brainwash.
A portion of the proceeds from the sale of the artwork will go to the music charity MusiCares, which provides health, financial and rehabilitation support to people working in the sector.
Also featured in the auction was an original print of Banksy's Girl With Balloon, which sold for $195,000, and more than 70 artworks from famous names such as the painter Bob Ross, the actor Jim Carrey and the Jane's Addiction guitarist Dave Navarro.
In early March, Brace Yourself! was displayed in the window of the Hard Rock Cafe in Piccadilly Circus, London.