Canadian politics: Last year's lessons, next year's predictions | Watch News Videos Online – Globalnews.ca
As Canada leaves behind an unprecedented year of news, what lessons will guide politicians in 2021? Global National's Mercedes Stephenson, Abigail Bimman, David Akin and Mike Le Couteur break down Canada's 2020, and their predictions for the future in politics
The personalisation of politics: Why political leaders now lie at the heart of European democracy – EUROPP – European Politics and Policy
It is often argued that European politics is increasingly 'personal', with the popularity of party leaders exerting a growing impact on the outcome of elections. Drawing on a new study, Diego Garzia, Frederico Ferreira da Silva and Andrea De Angelis assess how these dynamics have developed in western Europe since the 1960s. Their findings suggest that the personalisation of politics has taken place hand-in-hand with decreasing importance for partisanship in structuring voter choice.
Political leaders are central actors in contemporary politics. Apart from steering their respective parties, they shape political communication, and strongly influence public opinion. Modern campaigning has increasingly come to resemble a beauty contest among candidates, as the media focus has shifted from policy platforms to candidates' personalities and private lives. Many recent studies have shown that one of the key drivers of party choice in democratic elections is voter assessments of the political leaders running for election. The key importance of individual candidates for voting behaviour has led some authors to speak of a personalisation of politics.
But have leaders become more important in voters' minds, or have they always been this relevant? Prominent party leaders are certainly not a product of the 21st century. Studies on the personalisation of politics have long struggled to determine whether the personalisation of voting behaviour corresponds to a long-term process or if leaders are as important today as they have ever been. In a new study, we provide new insights into this debate in an attempt to reconstruct its long-term dynamics from a comparative perspective.
One of the main obstacles faced by previous studies involves data availability. In an age where data is cheap and abundant (see for instance the recent contribution by Russ Dalton), data stemming from high-quality electoral surveys is often not integrated, hindering comparative and longitudinal efforts. In particular, no comparative dataset has been available to researchers wishing to track the long-term relationship between party leader evaluations and voting decisions across the extended time span covered by national election study projects.
To fill this void, we dug into more than a hundred original surveys dating back to the 1960s to assemble the West European Voter (WEV) dataset. The unique feature of this dataset is that it provides a long-term perspective on the drivers of electoral decision-making, harmonising a total of 129 datasets collected in 14 West European parliamentary democracies over the period 1961-2018. The focus on parliamentary democracies is motivated by the attempt to understand if political leaders can also guide voters' decisions outside of presidential systems, where their centrality is granted by the institutional setting.
The analysis of this original data revealed elements regarding the trajectory of voting behaviour that shed new light on the process of personalisation and its relationship with partisan dealignment and disintermediation. Figure 1 below shows the percentages of voters aligning their vote with the highest rated leader, and with the party they identify with.
Figure 1: Percentage of voters who back the party of their preferred political leader and the party they feel closest to in West European elections
Note: For more information, see the authors' accompanying paper in West European Politics.
We find that about 80 percent of individuals report voting for the party of their preferred leader – this is the case in the 1960s and in every other decade until the 2010s. Should we then conclude that contemporary voters are similar to the voters of the 1960s? A second finding of our research suggests that this is not the case. In particular, party attachments have lost their importance for guiding voting decisions. While over 70 percent of the voters supported the party they felt "closest to" in every election held in the 1960s, this share has fallen to below 40 percent in the last decade. This evidence supports the so-called "dealignment hypothesis," suggesting that voters are increasingly self-reliant and detached from party structures and communities. The fading-away of partisanship has created room for leaders to emerge as the key determinants of vote choice in recent decades.
Furthermore, evidence from an analysis of panel data from selected countries shows that once individuals de-align, they start ascribing greater importance to leader assessments in their voting decisions. In sum, our findings suggest that the personalisation of voting behaviour – translated into increasing leader effects on vote choice – has taken place hand-in-hand with the decreasing importance of partisanship in structuring vote choice.
This finding offers a long-term frame of reference to some of the most visible trends in contemporary party politics and public opinion. First, the successful campaigns of strong political leaders, like Donald Trump or Matteo Renzi, that take control of established parties, or even the launching of brand new personalistic parties by political entrepreneurs like Silvio Berlusconi or Andrej Babiš. Second, the growing volatility of elections, with swift changes in electoral strength and a greater chance of success for new challenger parties. Third, the centrality that media grant to established and new political leaders to expand their audience, and the growing reliance of political leaders on personal social media accounts to connect with their supporters.
Of course, some key aspects of this transition towards an electoral democracy centred around political leaders are yet to be addressed. On the one hand, it is unclear what role social media plays in the process. By providing the tools for direct and personalistic campaigning, social media may accelerate the personalisation dynamic marking the void surrounding traditional political party organisations. Furthermore, campaigning trends also register high levels of political resentment across party lines, and it is unclear whether greater attachment to party leaders is propulsive or the reflection of this more negative style of campaigning.
In conclusion, our research depicts a grim prospect for the central actor of representative democracy: the political party. Our findings very much echo the spectre of a "partyless democracy," described by Peter Mair some two decades ago with reference to the New Labour government of Tony Blair.
For more information, see the authors' accompanying paper in West European Politics
---
Note: This article gives the views of the authors, not the position of EUROPP – European Politics and Policy or the London School of Economics. Featured image credit: Andrew Parsons / No 10 Downing Street (CC BY-NC-ND 2.0)
---
Related
India's victory against divisive politics will come when everyday Hindus say enough – The Indian Express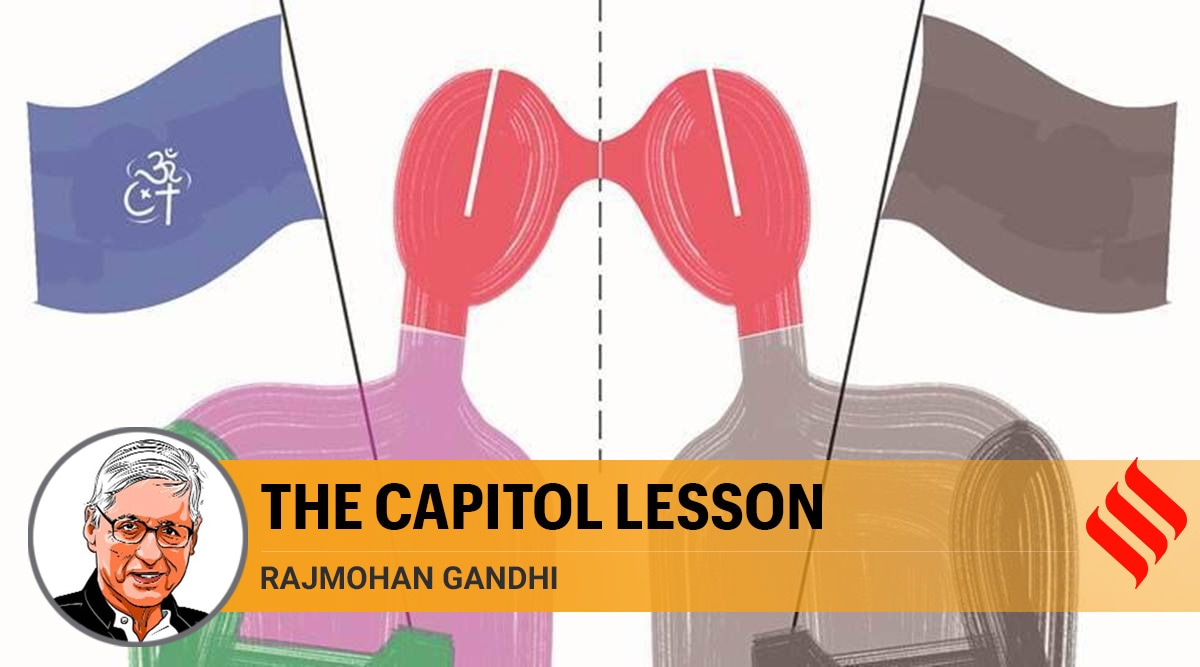 Important American events were pushed off stage by videos of the hideous January 6 bid to prevent the US Congress from certifying Biden's victory. America's response will be watched with interest, but a focus on what was removed from view is also called for.
Only an hour or so before the Trump-incited attack occurred, Democrats had wrested control of the US Senate: Their nominee, Jon Ossoff, was projected as the winner in the final Georgia runoff. Then, a few hours after the attack, top Republicans in the Senate openly broke with Trump. Enlisting most of their party colleagues, they ensured certification.
Both Kentucky's Mitch McConnell, the Senate's veteran leader, and South Carolina's Lindsey Graham, until that moment Trump's most persuasive ally, told the Senate that the Congress was obligated, by law and the facts, to certify Biden's win.
Frontally addressing Trump's repeated falsehood that "thousands of dead men" and "thousands of felons" had voted for Biden, Graham said he had asked to see just 10 Biden votes from dead men or criminals. He hadn't been shown even one.
"Enough is enough," Graham shouted in videos anyone can access, "Joe Biden will be the president and Kamala Harris the vice-president." Possessing no role in auditing the vote, the Senate did not need this assertion. But, bombarded by Trump's falsehoods, everyday Republicans across America required it.
For true believers in Trump's infallibility, men like Graham and McConnell no longer matter. They merely join those who should be "hanged", a list that already includes vice-president Pence. However, frank reiteration of electoral facts helps others who voted Republican to accept the result and move on.
Some Republicans are starting to express another political fact: Their party cannot expect to win future nationwide elections with only the white vote, which in percentage terms is steadily shrinking. In many individual constituencies, on the other hand, as also in several states taken as a whole, white supremacy remains an appealing message, and one which can be conveyed without using precise words.
Like most other states of the American south, Georgia thus far was reliably "Red" (the Republican colour). Currently, the state's electorate is 52 per cent white, 32 per cent Black, 10 percent Latino and 4.4 percent Asian. Jon Ossoff, a Jew, and Rev. Raphael Warnock, a Black preacher, defeated their Republican rivals because a crucial slice of the white vote plus an overwhelming share of the Black vote came to them.
Black percentages are distinctly larger in the American South, which means that their political future should be bright if, while retaining Black support, Democrats can modestly widen their appeal among Whites and Latinos. Such a goal may not be beyond reach for people like Warnock, Ossoff and Stacey Abrams, the remarkable woman who has steadily bolstered Black voting and the Democratic Party in Georgia.
The state has other strengths. For 33 years until his death last July, John Lewis, the civil rights hero possessing numerous white fans, represented a Georgia constituency in Washington. His autobiography reveals that Lewis had closely studied Gandhi and satyagraha in the 1950s and 1960s. Also closely connected to Georgia and its largest city, Atlanta, were Martin Luther King Jr. and his father. In fact, Warnock, the new senator, is the pastor at the Atlanta church where "Daddy" King and his more famous son had both served.
In any long-term contest in the US between white supremacy and what King saw as his "beloved", multiracial America, most observers would pick the latter to win. Still, the attack on the Capitol exposed an ugly reality, which is that some or many of the 74 million who voted for Trump (as against the 81 million for Biden) believe that whites own America.
"This is our house," attackers told the police as they forced their way into the Capitol with Confederate flags, Trump banners, guns, explosives, at least one noose, and "Jesus" placards. Without their permission, Blacks and other non-Whites should not enter or inhabit this house of theirs. Persons like Speaker Nancy Pelosi were trespassers.
In India, Muslims, Dalits and Adivasis, taken together, form the equivalent of America's Blacks. Counting Dalits and Adivasis in the Hindu fold, Hindu radicals reserve their public ire for Muslims. "Hindu consolidation" against Muslims is the political equivalent in India for the American call, open or subtle, for white supremacy.
Who are the Hindu leaders who will speak frankly to India's cow vigilantes or "love jihad" militants the way Pence, McConnell and Graham finally spoke on January 6 to America's Trump backers? If "enough is enough" will not escape the lips of a Narendra Modi, an Amit Shah, an Adityanath or any principal colleague, everyday Hindus must utter the words, in their homes to kith and kin, outside their homes to fellow citizens.
"India belongs as much to her Muslims, Sikhs, Christians, Jains, Buddhists, Parsis, Jews, atheists or others as to her Hindus." With such words, Gandhi, Nehru and Ambedkar inspired free India to commence an impressive journey. Hindus unable or unwilling today to utter these words are India's counterparts of the enablers of the January 6 attack on America's core and constitutional meaning.
But Kamala Harris, Raphael Warnock, Jon Ossoff and Stacey Abrams too have their Indian counterparts: Leaders from minority communities, and weaker castes, who feel connected also to other Indians, including caste Hindus and high-caste Hindus. When their voices ring out without fear, as also the voices of everyday Hindus offended by the coerciveness of Hindu supremacy, Indian Trumpism will find its nemesis.
This article first appeared in the print edition on January 19, 2021, under the title "The Capitol lesson". Gandhi is currently teaching at the University of Illinois at Urbana-Champaign
Navdeep Bains' work to transform Canadian economy unfinished as he leaves politics – National Post
Article content continued
If you look at the last five years, Toronto and Vancouver have recruited more technology workers than San Francisco, and Seattle combined
Asselin applauded Bains' digital charter, a bill currently before Parliament that sets rules on data collection and storage from big companies. He said having clear rules is essential for companies that are going to do more and more work online.
"I give him a lot of credit for tackling this because, obviously, without data, strong data privacy provisions Canadian companies won't be able to use data as other companies are doing in other countries."
Benjamin Bergen, executive director of the Council of Canadian Innovators, said on balance Bains has been good for the economy and he highlighted the immigration push, something he said will have to continue under new minister François-Philippe Champagne.
"Canada has a massive deficit of talent there's about 220,000 positions that are currently not filled in tech, because we just don't have the domestic capacity."
Bergen agrees the government's investments have been good, but there are structural problems around patent protection and intellectual property that can prevent companies going from start-ups to giants. He said the very nature of an innovation agenda is that the work is never done, and constantly has to change.
"Expenditure and support is critical, but making sure that you actually have an infrastructure to capture the wealth and prosperity that comes out of it is equally part of it," he said. "If you have a hole in the bucket and you keep pouring in more water, or in this case more money, but don't actually plug the hole you're gonna lose it."