COVID-19 outbreak declared over at Southbridge Pinewood – Tbnewswatch.com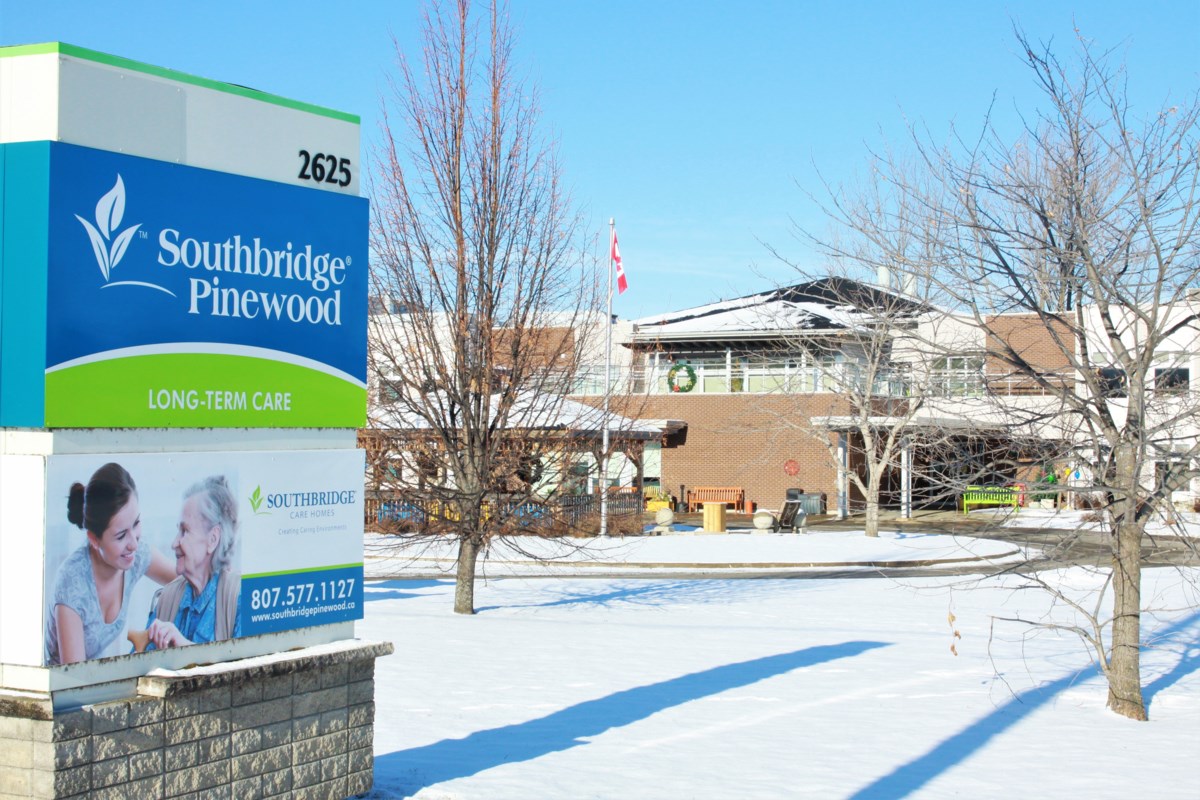 THUNDER BAY – An outbreak of COVID-19 at the Southbridge Pinewood long-term care home was declared over Saturday, after two staff members tested positive for the virus in mid-December.
The Thunder Bay District Health Unit first announced the outbreak on Dec. 18, after a single staff member at the 128-bed Walsh Street care home tested positive. A positive result was announced for a second staff member two days later. The home reported no further cases since that date.
Provincial guidelines require the declaration of an outbreak when a single staff member or resident of a long-term care home tests positive for COVID-19.
"Prior to the outbreak, significant measures were already in place at Southbridge Pinewood long-term care home to reduce likelihood of transmission of the virus within the facility," the health unit said in a brief statement Saturday. "Expanded precautions were implemented for the duration of the outbreak."
Another home owned by the same company, Southbridge Roseview, remains in an active outbreak that has caused 19 deaths, with 26 active cases reported as of Saturday.
Ontario must cut COVID-19 cases to 1,000 daily to lift lockdowns, medical officer says – Global News
TORONTO — COVID-19 cases in Ontario must fall below 1,000 per day before lockdown measures can be lifted, the province's top doctor said Monday as he expressed cautious optimism that infection rates may have plateaued.
Dr. David Williams said while the province's virus rates remain high – with 2,578 new cases reported Monday – he thinks the impact of a provincewide lockdown that started on Boxing Day is beginning to emerge.
Williams said Ontario's seven-day case average has dropped to just over 3,000 cases he said, down from the mid-3,000s in recent weeks.
He said he would like to see the province's new daily case counts move to levels last seen in late October before any pandemic measures are relaxed.
"It is achievable, we can get back there," Williams said. "I take that as a sign that Ontarians … are making headway."
[ Sign up for our Health IQ newsletter for the latest coronavirus updates ]
Williams said he would also like to see the number of COVID-19 patients in hospital intensive care units drop to 150 – from 395 reported Monday – before ending the lockdown.
[embedded content]
"If you get below 150 COVID patients in ICU beds that starts to get you back down to where all the hospitals can start to do their other elective procedures," he said.
Williams said while people must continue to stay-at-home and follow public health rules, the latest numbers show that Ontario's per cent positivity has not risen in recent days.
His comments come less than a week after the province was plunged into its second state of emergency during the pandemic and Premier Doug Ford's government imposed a stay-at-home order.
© 2021 The Canadian Press
B.C. focuses on second doses of COVID-19 vaccine after Pfizer delay: top doctor – News 1130
VANCOUVER (NEWS 1130) — B.C. is still on track to vaccinate the most vulnerable people despite a reduction in deliveries from Pfizer, the provincial health officer says.
Dr. Bonnie Henry explained the supply issue will have the biggest impact over the next week after which deliveries of vaccines will start to pick up again.
She said this will slow down getting the shots to some hospitals, but the province will continue on schedule for giving the first dose to those most at-risk.
"We have, however, been able to rearrange and look at the process that we have to make sure that we are continuing with providing the first of two doses to those at highest risk, and that we are able to start second doses at day 35, in accordance to our plans that we announced a few weeks ago," she said during Monday's briefing.
"It is a bit of a setback, but it is only a delay."
She said the province expects to receive extra doses at the end of February and into early March, when it will look at expanding its program.
Until then, the plan is still to give people their second dose before focusing on getting others their first dose.
Henry added 87,346 people have received a COVID-19 shot since immunizations started.
She stressed that while immunizations are underway, the risk remains high across the province as transmission continues.
Since Friday, 31 people lost their lives to the virus, with the deaths in every health authority. The total since the start of the pandemic climbed to 1,078.
Of the 31 deaths over the weekend, @adriandix says 7 were saturday, 19 Sunday and 5 since yesterday.
Health authority break down
7 VCH
14 FH
4 int
2 island
4 North
Island, Int and North with a number of deaths in past month relative to their total.#bcpoli @news1130 #COVID19

— LizaYuzda (@LizaYuzda) January 18, 2021
=
Another 1,330 infections were reported over the weekend.
There was also a jump in cases in non-resident Canadians, which Henry explained is mostly farmworkers coming for the season. Henry noted there are quarantine accommodations.
BC's #covid19 update Jan 18
(REPOST correcting saturday total typo)
Sa 584,Su 445,Mo 301- 61447
31 deaths- 1078
54654 recovered
VCH(13728)+281
FH(37258)+548
Int(5056)+257
Island(1220)+65
North(2745)+166
Non-Res(113)+13 (many temp farm workers coming for season)#bcpoli @news1130

— LizaYuzda (@LizaYuzda) January 18, 2021
She again said the arrival of coronavirus mutations requires caution and following health measures.
"The biggest risk and the biggest variants we have right now is all of us, our human behaviour, the choices that we make every day," she said.
Henry added the investigation is ongoing after someone tested for the South African variant in B.C. without knowing how they contracted it.
Health Minister Adrian Dix noted it has been almost a year since the first COVID-19 joint release from the province, noting it hasn't been easy.
"We've seen through the course of the pandemic a lot of worry, a lot of fear, a lot of loss, a lot of uncertainty. While COVID-19 gives each of us every reason to experience those feelings, each and every day, I also saw from that day something else, something reassuring – resolve, spirit, strength compassion, and well fear and uncertainty. I think are part of every day in a pandemic. What has kept us going to seeing how British Columbians in every part of our province refuse to let fear and uncertainty rule," he said.
Unifor members approve pact that will see GM invest $1B in CAMI plant – CBC.ca
Unifor members have voted to approve General Motors Canada's plan to invest $1 billion in an electric vehicle plant in southern Ontario.
The union's 1,900 Local 88 members voted online Sunday on a tentative deal with the automaker to transform GM's CAMI plant in Ingersoll, Ont., into a hub for producing electric commercial delivery vans.
The union said members voted about 91 per cent in favour of the deal and that work will begin immediately to ready the plant to begin van production in November.
The industry has been hit hard over the last decade as automakers cut jobs in the province and production work flowed to the U.S. and Mexico. Unifor has spent much of the last year striking deals with GM, Ford and Fiat Chrysler that will pump $6 billion into Canada's auto manufacturing industry.
"The stakes going into these negotiations were high with the (Chevrolet) Equinox program ending, and there wasn't a time during these difficult negotiations that we were not thinking about our members and their families," said a statement by Mike Van Boekel, chair of Unifor's master bargaining committee.
Unifor national president Jerry Dias credited the deal to hard work by the local bargaining unit and collaboration with the Ontario and federal governments despite complications due to the COVID-19 pandemic.
"To achieve this level of commitment for auto manufacturing shows what can happen when we have a collective vision to secure this sector and create good jobs for Canadians," Dias said in a statement.
With the Ingersoll plant wrapping up Chevrolet Equinox production in 2023, the plan also comes as GM is trying to transform its business to focus more on electric vehicles.
Last week, the automaker unveiled an updated logo focused on electric vehicles and made headlines at the CES technology trade show. GM Canada president Scott Bell said it was a good sign that Canada was identified as the home of the new electric van just three days after GM announced the new venture.
"GM Canada engineers in Markham and Oshawa were instrumental in the early stages of ideation and testing of this truly innovative solution for the massive global delivery industry," Bell said in a statement.
"With more than $2 billion in new combined investments announced for Oshawa, St. Catharines and Ingersoll, we are standing up as one of Canada's most confident investors."
Bell said the mayors of the Ontario communities, as well as the union and nearby universities, helped move along the Canadian investments. He also said GM's vision aligns with the Canadian government's "leadership in addressing electricity prices, industrial taxes."
Federal Industry Minister Francois-Philippe Champagne said in a statement on Monday that the government will work with the company on the project and that it is "prepared to support the future of Canada's auto sector."
The investments from GM and other automakers, said Champagne, "demonstrate clearly that our government's policies, working alongside our partners in industry and labour, are driving historic private sector investment."