Cause of grey hair may be 'stuck' cells, say scientists
US scientists believe they may have uncovered why hair turns grey as we age, citing pigment-making cells which lose the ability to mature.
The arrested development impacts immature cells which would otherwise have developed into melanocytes which give hair its natural colour or shade.
The team from New York University (NYU) studied the process in mice, which have identical cells for fur colour.
According to the British Association of Dermatologists (BAD), work on melanocytes might also help our understanding and treatment of certain cancers and other medical conditions too.
We grow and shed hair all the time – it's a normal cycle that happens throughout life.
New hair grows from hair follicles, found in the skin, where the pigment-producing melanocytes also reside.
Melanocytes continuously decay and renew too. New ones are made from stem cells and it's these cells that the researchers believe become "stuck" in limbo in people whose hair has turned grey.
NYU Langone Health team used special scans and lab techniques to study the cell-ageing process.
As hair ages, sheds and then repeatedly grows back, increasing numbers of the melanocyte stem cells become sluggish at their job.
The stem cells stop roaming around the follicle and become fixed, thereby failing to mature into fully-fledged melanocytes. With no pigment being produced, the hair turns grey, white or silver.
"Our study adds to our basic understanding of how melanocyte stem cells work to colour hair," study lead investigator Dr Qi Sun, a post-doctoral fellow at NYU Langone Health, told Nature journal.
"The newfound mechanisms raise the possibility that the same fixed-positioning of melanocyte stem cells may exist in humans. If so, it presents a potential pathway for reversing or preventing the greying."
It is not the first time scientists have suggested that greying hair might be a partially reversible process.
Some researchers claim stress might contribute to human hair turning white, and have suggested removing anxiety might restore the pigmentation process – at least for a while.
Other research suggests genetics, or our DNA, partly determines when we go grey.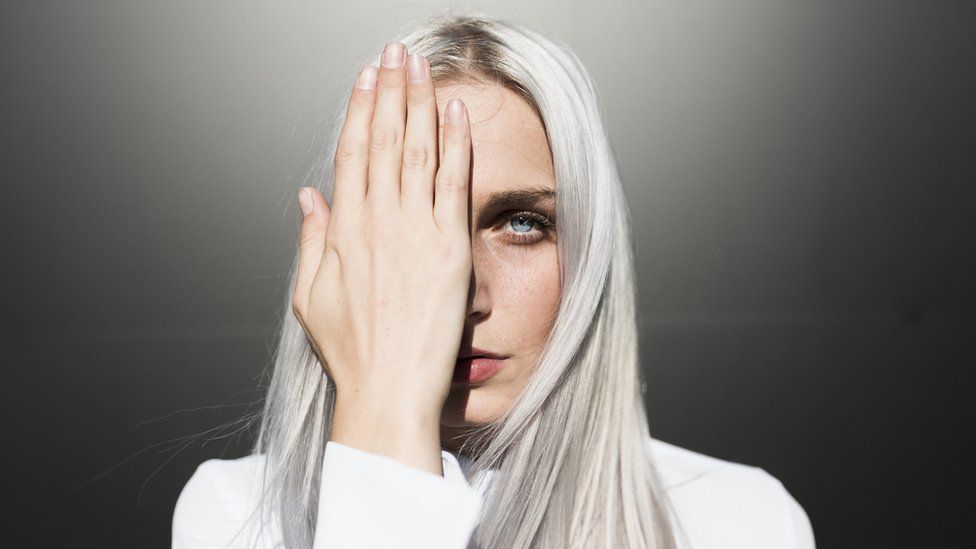 While some prefer to hide grey hair with dye, others embrace it. Some even choose to get ahead of nature, and prematurely colour hair silver, white or grey.
According to Glamour Magazine, silver hair is "the spring hair colour trend that the cool girls are rocking".
"We've spotted one shade, in particular, taking off. Oyster grey is the fresh, breezy, pearlescent colour trend that's cropping up all over Instagram," the article says.
One hairstylist, Luke Hersheson, recently told British Vogue: "At one point it was a big no-no to have grey hair, but now we don't equate grey hair with being 'old' – so many people are doing it.
"Post-lockdown, there is a feeling of liberty – many got into a grey hair rut because they couldn't see their colourists, but came out of the other side and actually enjoyed the change."
Experts advise against plucking out 'rogue' grey hairs. It won't stop the next one that grows from the same follicle from being grey. If you damage the hair follicle, it may be hard for new hair to grow, meaning you could be left with less hair or even bald patches.
Dr Leila Asfour from the British Association of Dermatologists told the BBC work on hair colour was big business: "The global hair colour market is projected to attain a value of $33.7bn by 2030. Clearly there's a demand.
"The obvious implication of this research, when it comes to the general public, is that it means being one step closer to finding a way to reverse our grey hairs.
"But this study's results help the medical field understand better other conditions where these stem cells may have a role – for example, understand the underlying nature of the deadliest skin cancer we treat called melanoma."
It might help with a medical condition called alopecia areata too, where the immune system attacks the hair and causes it to fall out. Sometimes the hair grows back white in these patients, she explained.
And it could give more clues about vitiligo – a skin condition where patients develop white skin patches. Scientists have tried surgically placing hair follicles in the affected areas to help regenerate the colour from the pigment found in the hair follicle.
"More research is needed," Dr Asfour says.
Dr Yusur Al-Nuaimi from the British Hair and Nail Society said scalp health was important for supporting good head hair growth, especially as we age.
"The recent study in mice adds to our understanding of the hair follicle and how the pigment-producing cells function. We are already discovering more about the potential of stem cell therapies for conditions including hair loss and studies such as this one, with new findings about the colour-producing cells, may lead to an array of future treatment options for our patients."
New image from the James Webb Space Telescope shows thousands upon thousands of stars in a galaxy 17 million light years away – Yahoo Canada
The James Webb Space Telescope snapped a new image of a galaxy 17 million light-years away.

Thousands upon thousands of stars are visible, many of which are concentrated in the galaxy's heart.

JWST is peering into the hearts of many galaxies to help scientists better understand star formation.
With the power of the James Webb Space Telescope, we can peer into the mysterious hearts of galaxies. And that's exactly what you're seeing here, in this new image from Webb of the galaxy NGC 5068.
NGC 5068 is located about 17 million light-years from Earth. For perspective, the Milky Way's neighborhood of galaxies called the Local Group, is 5 million light-years away. So, this galaxy is beyond what we might consider close.
Each individual dot of white light you can see is a star, per Mashable. NASA said there are thousands upon thousands of stars in this image. And many of them are hanging out at the galaxy's center, which you can see in the upper left as a bright bar of white light.
This region appears so bright because that's where most of the stars are concentrated. That's also where all the action is.
James Webb peers into the hearts of many galaxies to uncover their secrets
Most galaxies have an ultra-bright center due to warm dust that's heated by massive bursts of star formation, according to the Harvard Smithsonian. And it's this star formation that astronomers are interested in studying more with the help of JWST.
In fact, NGC 5068 is just one in a series of other galaxies Webb is observing for a project to help us better understand star formation. Webb has also taken images of the spiral galaxy IC 5332:
And the heart of galaxy M74, aka the "Phantom Galaxy":
The James Webb Space Telescope has the advantage of seeing in the infrared.
Infrared wavelengths are too long for the human eye to detect. But they're especially important for studying in space because they allow JWST to peer past obstructive visual light that would otherwise block our ability to see into the hearts of galaxies and their bustling environments of star formation.
"By observing the formation of stars in nearby galaxies, astronomers hope to kick-start major scientific advances with some of the first available data from Webb," NASA said.
Watch a video of NGC 5068 below:
Read the original article on Business Insider
ESA – Nicolas Bobrinsky on innovation and risk management | ESA Masterclass – European Space Agency
Innovation is triggered by many drivers. One of these is the constant need for ESA to develop innovative solutions, such as unique spacecraft technologies.
In this first video, Nicolas recalls how he and his team had to think outside the box to find a solution for ESA to communicate with Ulysses. The spacecraft was flying around the north pole of the Sun, which is much farther in deep space than satellites had been launched up to that point.
The success of this solution motivated the decision to build ESA's first deep-space communications antennas in New Norcia, in Australia, thus enabling many ESA scientific firsts in deep-space exploration.
The antennas would, some decades after, be critically important receivers for the messages sent by the very distant Rosetta probe, on its quest to find and land on the comet 67P/Churyumov–Gerasimenko, and other ESA science and exploration missions such as Mars Express, Venus Express and Cassini-Huygens.
With 35 years of experience at ESA, Nicolas Bobrinsky is the former Head of Ground Systems Engineering & Innovation Department. He initiated and further managed the Space Situational Awareness and later the ESA Space Safety Programme.
In four episodes of this new series of ESA Masterclass, Nicolas takes us through major events in his career at ESA, covering cornerstone missions, first attempts, overcoming technical challenges, leading diverse teams and solving the unexpected problems that are part of any space endeavour.
Access all episodes of ESA Masterclass with Nicolas Brobinsky.
Behind Galactic Bars: Webb Telescope Unlocks Secrets of Star Formation
<span class="glossaryLink" aria-describedby="tt" data-cmtooltip="
NASA
Established in 1958, the National Aeronautics and Space Administration (NASA) is an independent agency of the United States Federal Government that succeeded the National Advisory Committee for Aeronautics (NACA). It is responsible for the civilian space program, as well as aeronautics and aerospace research. Its vision is "To discover and expand knowledge for the benefit of humanity." Its core values are "safety, integrity, teamwork, excellence, and inclusion." NASA conducts research, develops technology and launches missions to explore and study Earth, the solar system, and the universe beyond. It also works to advance the state of knowledge in a wide range of scientific fields, including Earth and space science, planetary science, astrophysics, and heliophysics, and it collaborates with private companies and international partners to achieve its goals.
" data-gt-translate-attributes="["attribute":"data-cmtooltip", "format":"html"]">NASA's <span class="glossaryLink" aria-describedby="tt" data-cmtooltip="
James Webb Space Telescope
The James Webb Space Telescope (JWST or Webb) is an orbiting infrared observatory that will complement and extend the discoveries of the Hubble Space Telescope. It covers longer wavelengths of light, with greatly improved sensitivity, allowing it to see inside dust clouds where stars and planetary systems are forming today as well as looking further back in time to observe the first galaxies that formed in the early universe.
" data-gt-translate-attributes="["attribute":"data-cmtooltip", "format":"html"]">James Webb Space Telescope has captured a detailed image of the barred spiral galaxy NGC 5068. Part of a project to record star formation in nearby galaxies, this initiative provides significant insights into various astronomical fields. The telescope's ability to see through gas and dust, typically hiding star formation processes, offers unique views into this crucial aspect of galactic evolution.
A delicate tracery of dust and bright star clusters threads across this image from the James Webb Space Telescope. The bright tendrils of gas and stars belong to the barred spiral galaxy NGC 5068, whose bright central bar is visible in the upper left of this image – a composite from two of Webb's instruments. NASA Administrator Bill Nelson revealed the image on June 2 during an event with students at the Copernicus Science Centre in Warsaw, Poland.
NGC 5068 lies around 20 million light-years from Earth in the constellation Virgo. This image of the central, bright star-forming regions of the galaxy is part of a campaign to create an astronomical treasure trove, a repository of observations of star formation in nearby galaxies. Previous gems from this collection can be seen here (IC 5332) and here (M74). These observations are particularly valuable to astronomers for two reasons. The first is because star formation underpins so many fields in astronomy, from the physics of the tenuous <span class="glossaryLink" aria-describedby="tt" data-cmtooltip="
plasma
Plasma is one of the four fundamental states of matter, along with solid, liquid, and gas. It is an ionized gas consisting of positive ions and free electrons. It was first described by chemist Irving Langmuir in the 1920s.
" data-gt-translate-attributes="["attribute":"data-cmtooltip", "format":"html"]">plasma that lies between stars to the evolution of entire galaxies. By observing the formation of stars in nearby galaxies, astronomers hope to kick-start major scientific advances with some of the first available data from Webb.
The second reason is that Webb's observations build on other studies using telescopes including the Hubble Space Telescope and ground-based observatories. Webb collected images of 19 nearby star-forming galaxies which astronomers could then combine with Hubble images of 10,000 star clusters, spectroscopic mapping of 20,000 star-forming emission nebulae from the <span class="glossaryLink" aria-describedby="tt" data-cmtooltip="
Very Large Telescope
The Very Large Telescope array (VLT) is a visible and infrared wavelength telescope facility operated by the European Southern Observatory on Cerro Paranal in the Atacama Desert of northern Chile. It is the world's most advanced optical instrument, consisting of four Unit Telescopes with main mirrors of 8.2m diameter and four movable 1.8m diameter Auxiliary Telescopes.
" data-gt-translate-attributes="["attribute":"data-cmtooltip", "format":"html"]">Very Large Telescope (VLT), and observations of 12,000 dark, dense molecular clouds identified by the Atacama Large Millimeter/submillimeter Array (ALMA). These observations span the electromagnetic spectrum and give astronomers an unprecedented opportunity to piece together the minutiae of star formation.
With its ability to peer through the gas and dust enshrouding newborn stars, Webb is particularly well-suited to explore the processes governing star formation. Stars and planetary systems are born amongst swirling clouds of gas and dust that are opaque to visible-light observatories like Hubble or the VLT. The keen vision at infrared wavelengths of two of Webb's instruments — MIRI (Mid-Infrared Instrument) and NIRCam (Near-Infrared Camera) — allowed astronomers to see right through the gargantuan clouds of dust in NGC 5068 and capture the processes of star formation as they happened. This image combines the capabilities of these two instruments, providing a truly unique look at the composition of NGC 5068.
The James Webb Space Telescope stands as the apex of space science observatories worldwide. Tasked with demystifying enigmas within our own solar system, Webb will also extend its gaze beyond, seeking to observe distant worlds orbiting other stars. In addition to this, it aims to delve into the cryptic structures and the origins of our universe, thereby facilitating a deeper understanding of our position within the cosmic expanse. The Webb project is an international endeavor spearheaded by NASA, conducted in close partnership with the <span class="glossaryLink" aria-describedby="tt" data-cmtooltip="
European Space Agency
The European Space Agency (ESA) is an intergovernmental organization dedicated to the exploration and study of space. ESA was established in 1975 and has 22 member states, with its headquarters located in Paris, France. ESA is responsible for the development and coordination of Europe's space activities, including the design, construction, and launch of spacecraft and satellites for scientific research and Earth observation. Some of ESA's flagship missions have included the Rosetta mission to study a comet, the Gaia mission to create a 3D map of the Milky Way, and the ExoMars mission to search for evidence of past or present life on Mars.
" data-gt-translate-attributes="["attribute":"data-cmtooltip", "format":"html"]">European Space Agency (ESA) and the Canadian Space Agency.