CDC panel recommends Pfizer, Moderna vaccines over Johnson & Johnson shot – CP24 Toronto's Breaking News
Lauran Neergaard And Mike Stobbe, The Associated Press

Published Thursday, December 16, 2021 3:56PM EST


Last Updated Thursday, December 16, 2021 7:41PM EST

Most Americans should be given the Pfizer or Moderna vaccines instead of the Johnson & Johnson shot that can cause rare but serious blood clots, U.S. health officials said Thursday.
The strange clotting problem has caused nine confirmed deaths after J&J vaccinations – while the Pfizer and Moderna vaccines don't come with that risk and also appear more effective, said advisers to the Centers for Disease Control and Prevention.
The panel recommended the unusual move of giving preference to the Pfizer and Moderna vaccines, and late Thursday the CDC's director, Dr. Rochelle Walensky, accepted the panel's advice.
Until now the U.S. has treated all three COVID-19 vaccines available to Americans as an equal choice, since large studies found they all offered strong protection and early supplies were limited. J&J's vaccine initially was welcomed as a single-dose option that could be especially important for hard-to-reach groups like homeless people who might not get the needed second dose of the Pfizer or Moderna options.
But the CDC's advisers said during a meeting Thursday that it was time to recognize a lot has changed since vaccines began rolling out a year ago. More than 200 million Americans are considered fully vaccinated, including about 16 million who got the J&J shot.
New data from unprecedented safety tracking of all those vaccinations persuaded the panel that while the blood clots linked to J&J's vaccine remain very rare, they're still occurring and not just in younger women as originally thought.
In a unanimous vote, the advisers decided the safer Pfizer and Moderna vaccines are preferred. But they said the shot made by J&J's Janssen division still should be available if someone really wants it – or has a severe allergy to the other options.
"I would not recommend the Janssen vaccine to my family members" but some patients may — and should be able to — choose that shot, said CDC adviser Dr. Beth Bell of the University of Washington.
The clotting problems first came up last spring, with the J&J shot in the U.S. and with a similar vaccine made by AstraZeneca that is used in other countries. Eventually U.S. regulators decided the benefits of J&J's one-and-done vaccine outweighed what was considered a very rare risk – as long as recipients were warned.
European regulators likewise continued to recommend AstraZeneca's two-dose vaccine although, because early reports were mostly in younger women, some countries issued age restrictions.
COVID-19 causes deadly blood clots, too. But the vaccine-linked kind is different, believed to form because of a rogue immune reaction to the J&J and AstraZeneca vaccines because of how they're made. It forms in unusual places, such as veins that drain blood from the brain, and in patients who also develop abnormally low levels of the platelets that form clots. Symptoms of the unusual clots, dubbed "thrombosis with thrombocytopenia syndrome," include severe headaches a week or two after the J&J vaccination – not right away – as well as abdominal pain and nausea.
While it's still very rare, the Food and Drug Administration told health care providers this week that more cases have occurred after J&J vaccinations since the spring. They occur most in women ages 30 to 49 — about once for every 100,000 doses administered, the FDA said.
Overall, the government has confirmed 54 clot cases- 37 in women and 17 in men, and nine deaths that included two men, the CDC's Dr. Isaac See said Thursday. He said two additional deaths are suspected.
The CDC decides how vaccines should be used in the U.S., and its advisers called the continuing deaths troubling. In comparing the pros and cons of all the vaccines, the panelists agreed that side effects from the Pfizer and Moderna vaccines weren't as serious – and that supplies now are plentiful.
Nor is J&J still considered a one-and-done vaccine, several advisers noted. The single-dose option didn't prove quite as protective as two doses of the Pfizer and Moderna vaccines. Plus, with extra-contagious virus mutants now spreading, booster doses now are recommended.
The FDA has previously OK'd mixing vaccines for booster shots.
Several countries, including Canada, already have policies that give preference to the Pfizer and Moderna vaccines. But J&J told the committee its vaccine still offers strong protection and is a critical option especially in parts of the world without plentiful vaccine supplies or for people who don't want a two-dose shot.
While blood clots are rare, "unfortunately cases of COVID-19 are not," J&J's Dr. Penny Heaton said.
The U.S. is fortunate in its vaccine availability and Thursday's action shouldn't discourage use of J&J's vaccine in places around the world where it's needed, said CDC adviser Dr. Matthew Daley of Kaiser Permanente Colorado.
The FDA also warned this week that another dose of the J&J vaccine shouldn't be given to anyone who developed a clot following either a J&J or AstraZeneca shot.
The committee also heard some of the first data on reported side effects of Pfizer vaccinations in younger children. Early last month, the CDC recommended a two-dose series for that age group, and more than 7 million doses have been given so far. But few problems have been reported. Of the 80 reported cases of serious side effects, about 10 involved a form of inflammation that has been seen in male teens and young adults.
China cuts rates on policy loans for first time since April 2020 – CNBC
A woman walks past the headquarters of the People's Bank of China in Beijing, China.
Jason Lee | Reuters
China's central bank on Monday cut the borrowing costs of its medium-term loans for the first time since April 2020, defying market expectations, to cushion any economic slowdown.
The People's Bank of China (PBOC) said it was lowering the interest rate on 700 billion yuan ($110.19 billion) worth of one-year medium-term lending facility (MLF) loans to some financial institutions by 10 basis points to 2.85% from 2.95% in previous operations.
Thirty-four out of the 48 traders and analysts, or 70% of all participants, polled by Reuters last week predicted no change to the MLF rates, although a rising number of market participants start to forecast a rate cut.
With 500 billion yuan worth of MLF loans maturing on Monday, the operation resulted a net 200 billion yuan of fresh fund injections into the banking system.
The central bank also lowered the borrowing costs of seven-day reverse repurchase agreements, or repos, by the same margin to 2.10% from 2.20%, when it offered another 100 billion yuan worth of reverse repos into the banking system on the day, compared with 10 billion worth of such short-term liquidity tool due on Monday.
Credit Suisse chairman resigns after company probe – BBC News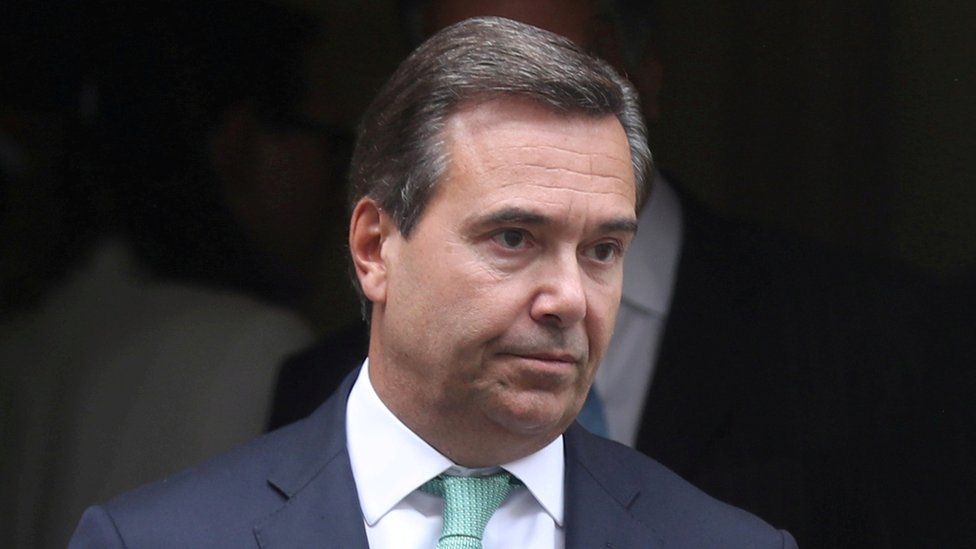 The chairman of global banking giant Credit Suisse, Antonio Horta-Osorio, has resigned with immediate effect after an internal company probe.
He was reportedly found to have broken the UK's Covid-19 quarantine rules.
The former boss of Lloyds Banking Group joined Credit Suisse after a series of scandals at the Swiss bank.
Now, Mr Horta-Osorio, who was the chairman of Credit Suisse for less than a year, has been replaced by board member Axel Lehmann.
"I regret that a number of my personal actions have led to difficulties for the bank and compromised my ability to represent the bank internally and externally," Horta-Osorio said in a statement issued by the bank.
"I therefore believe that my resignation is in the interest of the bank and its stakeholders at this crucial time," he added.
Last month, it was reported by the Reuters news agency that a preliminary investigation by Credit Suisse had found that Mr Horta-Osorio had breached Covid-19 rules.
He reportedly attended the Wimbledon tennis finals in July at a time when the UK's Covid-19 rules required him to be in quarantine.
Speaking to the BBC, a spokesperson for Credit Suisse said that the bank would give no further details on Mr Horta-Osorio's resignation other than those in its statement.
They also said that there were no plans to release the findings of the investigation.
Before joining Credit Suisse Mr Horta-Osorio was chief executive of British lender Lloyds Banking Group.
He was brought in to lead Switzerland's second-largest bank to help clean up a corporate culture marred by its involvement with collapsed investment company Archegos and insolvent supply chain finance firm Greensill Capital.
In February 2020, then-Credit Suisse chief executive Tidjane Thiam resigned after a scandal revealed the bank had spied on senior employees.

You may also be interested in:
UK government to cut funding for BBC – Mail on Sunday report
Britain's government will cut the BBC's funding by ordering a two-year freeze on the fee that people pay to watch the broadcaster, the Mail on Sunday reported.
The future of the licence-payer funded British Broadcasting Corporation is a perpetual topic of political debate, with Prime Minister Boris Johnson's government most recently suggesting its funding needs to be reformed.
Set against an inflation rate expected to reach a 30-year high of 6% or more in April, freezing the licence cost at its current 159 pounds ($217.40) would provide some relief to consumers battling sharply rising costs of living.
But it would also be a large blow to the BBC's finances as it tries to compete with privately funded news outlets and the likes of Netflix and other entertainment streaming services funded by consumer subscriptions.
In November, the government launched negotiations to agree how much the TV licence would cost, part of a five year funding settlement due to begin in April 2022.
The Digital, Media, Culture and Sport department declined to comment when asked about the Mail on Sunday report.
Culture secretary Nadine Dorries said that the licence fee settlement would be the last such agreement and tweeted a link to the Mail on Sunday article.
"Time now to discuss and debate new ways of funding, supporting and selling great British content," she said on Twitter.
The BBC declined to comment on Dorries' tweet or the Mail on Sunday report.
The opposition Labour Party said the funding cut was politically motivated.
"The Prime Minister and the Culture Secretary seem hell-bent on attacking this great British institution because they don't like its journalism," said Lucy Powell, Labour lawmaker and culture policy chief.
The BBC's news output is regularly criticised by UK political parties. Its coverage of Brexit issues – central to Johnson's government – has long been seen as overly critical by supporters of leaving the European Union.
Last week, one Conservative lawmaker said BBC coverage relating to parties in Johnson's Downing Street residence during coronavirus lockdowns amounted to a "coup attempt" against the prime minister.
($1 = 0.7314 pounds)
(Reporting by William James. Editing by Jane Merriman)