Celebrate Fibre Art with OMAH – simcoe.com
Drop into the Orillia Museum of Art & History on Fibre Fun Day! This is a celebration of fibre art featuring two exhibitions, vendors, and demonstrations on Sunday, Feb. 2 from 1 to 4 p.m.
Try your hand at weaving, design your own quilt and make a pom pom at our fun activity stations. We are activating the whole museum, there will even be fibre fun to be had in our basement jail cells. Fibre Fun Day is suitable for all ages and experience.
While at Fibre Fun Day, check out two fibre art exhibitions:
At Risk: Tracey Lawko
Our native pollinators and their habitat are threatened. Insect populations are declining due to habitat loss, pesticide use and disease. 75% of flowering plants rely on pollinators to set seed and we humans get one third of our food from flowering plants.
In recent years, Tracey has become increasingly aware of the changing patterns of the bees and butterflies in her garden and around her studio in the Niagara Escarpment. Through her finely stitched botanical illustrations, she invites the viewer to consider the importance of these small creatures to our survival.
Fibre Content Exhibition
The 2018 Fibre Content Exhibition is the Fourth Biennial Juried Exhibition of Contemporary Fibre Art. It showcased 90 works by 60 artists from across Ontario, in fabric, paper, yarn, thread and mixed media materials.
The goal of the exhibition is to raise the profile, awareness and acceptance of fibre art as a fine art form. A selection of 40 of these pieces form a smaller exhibition that has traveled to museums and galleries across the province and is currently on display at OMAH.
Fibre Fun Day is free with regular admission.

Ukrainian avant-garde art finds refuge from war in Madrid – Reuters
MADRID, Nov 29 (Reuters) – Ukrainian art has found a refuge in Madrid where a retrospective on the country's avant-garde in the early 20th century is showing works little known to the general public while offering them a safe haven away from the bombs.
On Tuesday, the Spanish capital's Thyssen-Bornemisza Museum inaugurated the exhibit "In the Eye of the Storm. Modernism in Ukraine, 1900-1930s". It showcases a collection of about 70 artworks in various formats representing different trends, from figurative art to futurism and constructivism.
Aside from paying tribute to a little-known period in the history of Ukrainian art, the exhibition takes on particular relevance amid Russia's ongoing invasion of the country.
"We wanted to do something in terms of showing Ukrainian art, but also taking Ukrainian art out of Ukraine and bringing it to Europe and to safety," Katia Denysova, one of the exhibit's three curators, told Reuters.
Denysova, who described her journey out of Ukraine as a "rollercoaster", said that transporting the works through a country at war into the European Union ran into numerous challenges.
They included the temporary closure of borders in response to the impact of a stray missile on neighbouring Polish soil, which sparked fears of an escalation two weeks ago.
When the curators saw the works had made it to Spain safe and sound, they were "beyond delighted", Denysova added.
She now hopes that Ukrainian avant-garde art will tell the public a story of creation and resistance.
"This is an integral part of our heritage, of our culture in Ukraine. This is what Ukrainians are fighting for right now."
Reporting by Darío Fernández, Silvio Castellanos and Michael Gore; Editing by David Latona and Mark Heinrich
Our Standards: The Thomson Reuters Trust Principles.
Submissions invited for provincial art collection – Government of New Brunswick
FREDERICTON (GNB) – The Department of Tourism, Heritage and Culture is inviting artists to submit work to be considered for inclusion in the New Brunswick art collection.
Established in 1968, the permanent collection celebrates the province's excellence in the contemporary visual arts.
"Our many talented artists share the New Brunswick story," said Tourism, Heritage and Culture Minister Tammy Scott-Wallace. "The collection exists to honour the best parts of our past, support current streams of creativity and look towards our shared future with compassion, confidence and enthusiasm."
The collection, now known as CollectionArtNB, acquires new artwork every two years. Artists can submit their proposals to either the general category or the Indigenous category. Guidelines and forms will be available on the CollectionArtNB website.
The department will accept submissions until Friday, Jan. 6 at 4:30 p.m.
28-11-22
Art is always close to the heart for Brianna LaPlante
Brianna LaPlante often draws upon life experiences while pursuing her passion for art.
Consider the merger of culture and creativity that led to her designing the reimagined basketball courts — known as The Yard — at Regent Park, only five blocks from where she grew up.
"And my best friend, Savannah, lived five blocks away in the other direction," LaPlante notes. "That was kind of our central meeting point when it came to hanging out.
"We have so many little memories from spending time there. I didn't realize that it meant so much to me. Doing the mural gave me closure, in a sense, because it related so much to my teenage-hood or my young-woman-hood. Now I'm just going into my adulthood."
LaPlante, 23, is in her fourth year of working toward a fine arts degree at the First Nations University of Canada.
Previously, she attended Thom Collegiate and played basketball for the high school's iconic team, the Trojans.
Although she no longer plays the sport at a competitive level, the link to basketball is in some ways stronger than ever.

That became clear in September, when The Yard was unveiled. It is part of the Buckets & Borders initiative, which is designed to improve communities and bring people together.

The scope of the program goes beyond simply restoring long-standing outdoor basketball courts. There is an accompanying emphasis on aesthetics, which leads to the involvement and celebration of artists such as LaPlante.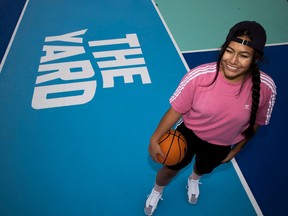 Buckets & Borders put out a call for artists earlier this year, with the submission deadline being July 22. LaPlante's application quickly impressed members of the adjudication committee.
"Brianna quickly became a part of the Buckets & Borders team," co-founder Justin Lee says. "Her passion for both art and basketball made her the perfect fit to be a part of the project as the chosen artist.
"Brianna's artistic ability coupled with her love of basketball and understanding of the game enabled her to create not only a beautiful art piece, but also a piece that is fluid with how the game is played.

"We're happy and grateful to have Brii as part of the Buckets & Borders team and proud of the incredible work she completed. The Yard would not be the same without Brianna LaPlante.

"Honestly, at the end of the day, we were just lucky to have someone who has such a deep love for art, basketball and her community."

LaPlante is equally proud of the association.

"When it came to applying to Buckets & Borders and their court restoration for my home community, I really liked the idea that people could quite literally experience my art through the curves and the lines that I chose," she says.
"The reason I positioned those certain circles and flowers where they are is because it's actually practice. It's so ingrained in me.

"In high school, a lot of people don't make very big cuts. They kind of just go straight to the basket, because that's the goal. But these lines are positioned in a way that if you were to follow them, they would be your great deep cuts or great round cuts.

"I was really considering how it would be to interact with the lines within the artwork."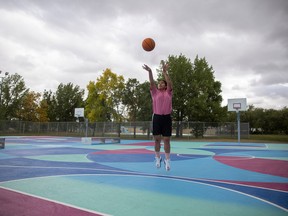 This specific artwork is different from the perspective that it is not displayed on a wall or in a gallery. It is a gigantic canvas that can be walked upon.
"I just wish I was 10 feet tall," LaPlante says with a laugh, "so I could have a better view."
So much of what she does reflects the viewpoint she has acquired to this point in her young life, with an emphasis on her Anishinaable/Nehihaw/Michif heritage.
Reflection on that journey takes her back to when she was a young girl, drawing a picture of her aunt's dog.

"I remember asking my aunt for an eraser," LaPlante says. "Auntie Jena said, 'OK, here you go,' and then I said, 'When I grow up, I'm going to fix all my mistakes.'

"That was kind of the first profound story. That's when I first started drawing."

And she hasn't stopped.

"When I'm in the middle of the process, I really like being on that roll where nothing else exists," LaPlante says.

"Life is too short to not be doing what I love, and what I love is art. I get into a trance or into a zone when it comes to making my marks on a paper. Drawing is so expressive, so that's why drawing is one of my main techniques. I feel like I'm in my element."
That is where she would like to stay.

"I really want to keep meeting people," LaPlante says. "At the same time as meeting people, I want to maintain relationships through sports, through art.

"This is a great intersectional experience for me as somebody of many hats, because it brings a lot of people together. So, in a sense, I want art to take me into those places that keep bringing my people together."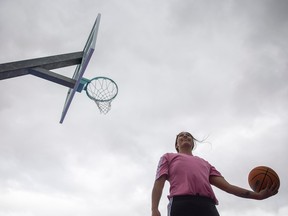 An accompanying goal is to pursue education and embrace art beyond the receipt of her first university diploma. A longer-term goal is to pursue a master's degree and eventually teach.
"I will never stop learning for the rest of my life," LaPlante says. "I guess being a life-long learner means that I will also want to be a life-long teacher."
Would it logically follow, then, that she would like to become an art teacher?

"I hope so," she responds. "I just want to pass on the things that I'm good at, because I started somewhere with people who took time with me.

"Art is so indivisible from the Indigenous culture. I kind of feel that way towards my art. I never really woke up and decided 'I want to be an artist.' I always drew. I always emulated what I saw in front of me. I emulated what I wanted to see in front of me.

"There was no 'aha!' moment. It was always part of my life."

And it always will be.