Charting the Global Economy: BOJ Shocks; US Inflation Cools
(Bloomberg) — Bank of Japan Governor Haruhiko Kuroda shocked markets earlier this week by doubling a cap on 10-year yields, in a move that helps pave the way for possible monetary policy normalization under a new governor.
The change, which blindsided all 47 economists surveyed by Bloomberg ahead of the decision, has the potential upend global markets as the cap has helped keep borrowing costs low worldwide. Later in the week, Japan's key inflation gauge accelerated to the fastest pace since 1981, continuing to fuel speculation the BOJ will surprise markets again.
In the US, the Federal Reserve's preferred inflation gauge continued to retreat, but wages are still rising much too fast for policymakers' liking. Real consumer spending flat-lined, but officials will want to see more than a month of data to indicate demand is substantially cooling.
Here are some of the charts that appeared on Bloomberg this week on the latest developments in the global economy:
Asia
Kuroda's decision to widen the trading band on 10-year bond yields triggered a jump in the yen and roiled global markets. The move shook markets — boosting the yen and bond yields, while sending stocks lower. The implications go far beyond Japan. With the BOJ — the last advanced economy holdout in a global monetary tightening shift — now letting the benchmark yield trade higher than before, the shock will echo across global financial markets.
China's broad budget deficit hit a record so far this year, showing how damaging the now abandoned Covid Zero policy and the ongoing housing slump have been to the economy and to the government's finances. The augmented fiscal deficit was 7.75 trillion yuan ($1.1 trillion) in January to November, according to Bloomberg calculations based on data from the Ministry of Finance.
Economic activity continued to fall in December for China's small firms, with the business outlook weakening further as Covid cases surge amid reopening, according to Standard Chartered Plc. A gauge of business conditions at small and medium enterprises was in contractionary territory for a third straight month in December.
US & Canada
US inflation continued to ease into the end of 2022 and expectations of future increases dropped, reinforcing hopes that the worst bout of price pressures in a generation has finally passed. However, wages are still climbing much too fast as the job market remains tight.
US sales of previously owned homes fell for a 10th-straight month in November, extending a record decline as high mortgage rates continue to stifle affordability. Contract signings to buy single-family houses slumped to a 12-year low, while sales of condominiums also dropped.
Canada's inflation rate decelerated in November but key gauges of underlying price pressures trended higher, potentially dashing hopes for a pause in interest-rate increases. Consumer price data show price pressures remain stubbornly high, even as the economy gears down and higher borrowing costs curb domestic demand.
Europe
UK household incomes fell for a fourth straight quarter, leaving Britons on course for the worst period for living standards in memory as officials estimated the economy was weaker than previously thought. Adjusted for inflation, disposable income per person declined 0.5% in the third quarter, while gross domestic product fell 0.3%.
UK government borrowing surged in November as the public finances came under mounting pressure from rising debt-interest payments and the huge cost of subsidizing energy bills for consumers and businesses. The budget deficit stood at £22 billion ($26.8 billion) –- the highest monthly total in records stretching back to 1993 and almost triple the £8.1 billion reading a year ago.
Emerging Markets
Vietnam is on track this year to bump Britain from its long-time place among the US's top seven goods trading partners, which would be the first time the UK hasn't been in that group in records going back at least to 2004. The UK's share of the US merchandise trade slid to 2.6% through the first 10 months of this year while Vietnam's rose to 2.7%, according to US Census Bureau data.
After some of the world's most aggressive interest-rate hikes, Brazil's inflation has plunged by half in the past six months. That sounds like mission accomplished — except the central bank doesn't see it that way. While the bank's benchmark now offers an inflation-adjusted return of almost 8% — a global high among major economies – traders reckon its next move is more likely to be another bout of monetary tightening because of fiscal policy.
World
Policymakers in Egypt, Morocco and Indonesia raised interest rates this week while those in Hungary, Paraguay and Czech Republic stayed on hold.
–With assistance from Zoe Schneeweiss, Ailing Tan, Liza Tetley, Randy Thanthong-Knight, Lin Zhu, Yuki Masujima (Economist), Philip Aldrick, Andrew Atkinson, Maria Eloisa Capurro, John Liu, Brendan Murray and Reade Pickert.
Canada's economy slowed down in November, but still eked out growth
The Canadian economy grew by 0.1 per cent in November as higher interest rates began to slow spending toward the end of the year.
The Canadian economy grew by 0.1 per cent in November as higher interest rates began to slow spending toward the end of the year.
Statistics Canada's preliminary estimate for December indicates the economy stayed flat, suggesting the economy grew at an annualized rate of 1.6 per cent in the fourth quarter.
The economy grew at an annualized rate of 2.9 per cent in the third quarter.
In November, growth in real domestic product was driven by the public sector, transportation and warehousing and finance and insurance.
Meanwhile, construction, retail and accommodation and food services contracted.
Statistics Canada says economic growth for 2022 was an estimated 3.8 per cent.
Canadian economy grew 0.1% in November, likely was unchanged in December – The Globe and Mail
Canada's economy expanded slightly in November, matching expectations, and likely stalled in December, data showed on Tuesday, broadly in line with the Bank of Canada's expectations for the economy to flatline during the first half of this year.
November gross domestic product (GDP) rose 0.1 per cent in November, Statistics Canada said, and was likely flat in December, according to a preliminary estimate.
"The flash estimate for December suggested that there was little if any growth during the final month of the year. That aligns with our view that the economy is likely stalling," said Royce Mendes, head of macro strategy at Desjardins.
In December, gains in the retail, utilities, and public sectors were offset by decreases in sectors including wholesale, finance and insurance, Statscan said.
Annualized gross domestic product likely gained 1.6 per cent in the fourth quarter, above the Bank of Canada's 1.3 per cent forecast. If the flash estimate proves correct, the economy expanded 3.8 per cent in 2022 from the previous year, above the central bank's 3.6 per cent forecast.
"Today's data show that the Canadian economy continues to cool, but not as yet shift into reverse, in the face of rising interest rates," Andrew Grantham, senior economist at CIBC Capital Markets, said in a note.
The Canadian central bank has raised its key interest rate at a record pace of 425 basis points in 10 months to cool the economy and bring inflation down. After the latest rate hike last week, the Bank of Canada said it would likely hold off on further increases.
Last week, the central bank said the economy would stall and could tip into a mild recession during the first half of this year.
"The overriding message is that the economy is just managing to keep its head above water, which squarely fits with the Bank of Canada's view," said Doug Porter, chief economist at BMO Capital Markets.
Canada's service-producing sector grew 0.2 per cent in November, buoyed by a third straight month of gains in transportation and warehousing. The goods-producing sector contracted 0.1 per cent in November, dragged down by declines in the construction and manufacturing industries.
The Canadian dollar was trading 0.2 per cent lower at 1.3405 to the greenback, or 74.60 U.S. cents, after clawing back some of its earlier decline.
IMF upgrades outlook for the global economy in 2023 – GuelphToday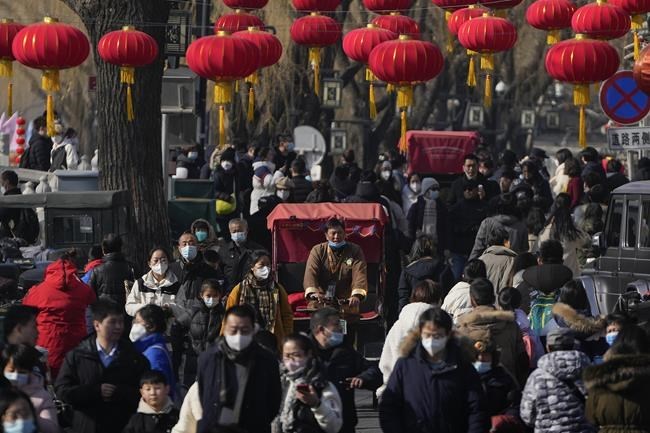 WASHINGTON (AP) — The outlook for the global economy is growing slightly brighter as China eases its zero-COVID policies and the world shows surprising resilience in the face of high inflation, elevated interest rates and Russia's ongoing war against Ukraine.
That's the view of the International Monetary Fund, which now expects the world economy to grow 2.9% this year. That forecast is better than the 2.7% expansion for 2023 that the IMF predicted in October, though down from the estimated 3.4% growth in 2022.
The IMF, a 190-country lending organization, foresees inflation easing this year, a result of aggressive interest rate hikes by the Federal Reserve and other major central banks. Those rate hikes are expected to slow the consumer demand that has driven prices higher. Globally, the IMF expects consumer inflation to fall from 8.8% last year to 6.6% in 2023 and 4.3% in 2024.
"Global conditions have improved as inflation pressures started to abate," the IMF chief economist, Pierre-Olivier Gourinchas, said at a news conference in Singapore. "The road back to a full recovery with sustainable growth, stable prices and progress for all has only started."
A big factor in the upgrade to global growth was China's decision late last year to lift anti-virus controls that had kept millions of people at home. The IMF said China's "recent reopening has paved the way for a faster-than-expected recovery.''
The IMF now expects China's economy — the world's second-biggest, after the United States — to grow 5.2% this year, up from its October forecast of 4.4%. Beijing's economy eked out growth of just 3% in 2022 — the first year in more than 40, the IMF noted, that China has expanded more slowly than the world as a whole. But the end of virus restrictions is expected to revive activity in 2023.
Together, China and India should account for half of this year's global growth, while the United States and Europe contribute 10%, according to Gourinchas.
"China's reopening is certainly a favorable factor that's going to lead to more activity," Gourinchas said. "But this is in the context in which the global economy itself is slowing down."
The IMF's 2023 growth outlook improved for the United States (forecast to grow 1.4%) as well as for the 19 countries that share the euro currency (0.7%). Europe, though suffering from energy shortages and higher prices resulting from Russia's invasion of Ukraine, proved "more resilient than expected,'' the IMF said. The European economy benefited from a warmer-than-expected winter, which held down demand for natural gas,
Russia's economy, hit by sanctions after its invasion of Ukraine, has proved sturdier than expected, too: The IMF's forecast foresees Russia registering 0.3% growth this year. That would mark an improvement from a contraction of 2.2% in 2022. And it's well above the 2.3% contraction for 2023 that the IMF had forecast for Russia in October.
The United Kingdom is a striking exception to the IMF's brighter outlook for 2023. It has forecast its economy will shrink 0.6% in 2023; in October, the IMF had expected growth of 0.3%. Higher interest rates and tighter government budgets are squeezing the British economy.
"These figures confirm we are not immune to the pressures hitting nearly all advanced economies,'' Chancellor of the Exchequer Jeremy Hunt said in response to the IMF forecast. "Short-term challenges should not obscure our long-term prospects — the U.K. outperformed many forecasts last year, and if we stick to our plan to halve inflation, the U.K. is still predicted to grow faster than Germany and Japan over the coming years."
The IMF noted that the world economy still faces serous risks. They include the possibility that Russia's war against Ukraine war will escalate, that China will suffer a sharp increase in COVID cases and that high interest rates will cause a financial crisis in debt-laden countries.
Asked about the impact of U.S. efforts to limit Chinese access to advanced processor chip technology due to security concerns, Gourinchas cautioned that curbs on semiconductor trade and government pressure to pull back industries to within their own borders and limit reliance on foreign partners "potentially could be harmful to the global economy."
"Diversification of supply chains is much more important in trying to improve resilience, improve growth, improve standards of living, rather than moving toward re-shoring or 'friend shoring,'" Gourinchas said.
The global outlook has been shrouded in uncertainty since the coronavirus pandemic struck in early 2020. Forecasters have been repeatedly confounded by events: A severe if brief recession in early 2020; an expectedly strong recovery triggered by vast government stimulus aid; then a surge in inflation, worsened when Russia's invasion of Ukraine nearly a year ago disrupted world trade in energy and food.
Three weeks ago, the IMF's sister agency, the World Bank, issued a more downbeat outlook for the global economy. The World Bank slashed its forecast for international growth this year by nearly half — to 1.7% — and warned that the global economy would come "perilously close'' to recession.
___
AP Business Writer Joe McDonald in Beijing and AP Writer Danica Kirka in London contributed to this report.
Paul Wiseman, The Associated Press