China's economy is still growing. But the recovery is slowing down – CNN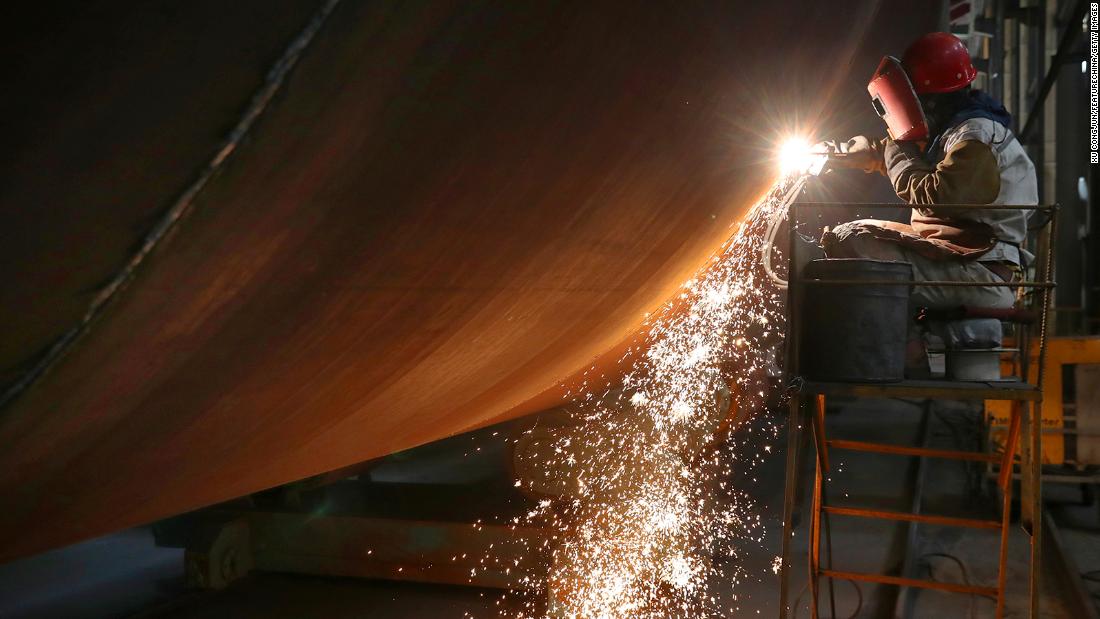 GDP grew 7.9% in the April-to-June quarter compared with the same period a year ago, China's National Bureau of Statistics said Thursday.
That rate of growth was significantly slower than the 18.3% year-on-year increase China registered in the first quarter — though that record-breaking figure largely reflected how much the economy slumped in early 2020, as the coronavirus pandemic was taking hold.
The latest figure was also a bit weaker than expected. Analysts polled by Reuters predicted that China's economy would expand 8.1% in the second quarter.
Because China's initial recovery last year was so rapid, the country has "basically fully recovered," said Julian Evans-Pritchard, senior China economist for Capital Economics.
"In fact, it's above its pre-virus trend," he told CNN Business. "There's just a lot less room for it to continue to grow rapidly, so it's hitting against those constraints, and that's why we're starting to see those growth rates weakened quite considerably."
Recent warning signs
The Chinese economy has
been flashing some troubling signs in recent months. Record commodity prices drove
factory inflation
to the highest levels in more than a decade, while supply chain disruptions caused by
shipping backlogs
and an
energy shortage
held back factory production.
Growth in the services sector
has also slowed recently, as a Covid-19 outbreak in southern China and subsequent containment measures curbed consumer and business activity.
"We are facing a complicated domestic and international environment, especially a rise in commodity prices, which has put significant cost pressure on business," said Liu Aihua, an NBS spokeswoman, at a press conference in Beijing on Thursday. She cited a need to "properly handle" risks and help small and medium-sized businesses grow.
The government also released data showing that some production has slowed in recent month. Industrial output increased 8.3% in June from a year prior, slightly easing from May's 8.8% growth. Output in auto manufacturing dropped more than 4% last month, compared to a year earlier, which Liu attributed mainly to the ongoing chip shortage.
Uneven recovery
Domestic demand, though, remains the weak link, according to Yue Su, principal economist for The Economist Intelligence Unit.
Retail sales growth slowed to 12.1% in June, down from 12.4% in May, according to the data released Thursday. That's the slowest rate of growth this year.
"China's Q2 GDP data continues to indicate uneven recovery," Yue said, adding that retail sales haven't yet recovered to trends seen before the pandemic.
She said reviving domestic demand is going to be "challenging," as households are still stuck with budgeting their limited time and money.
Unemployment is also cause for concern.
The urban unemployment rate held steady at 5% in June, unchanged from May. But the jobless rate among young people increased, jumping to 15.4% for those between the ages of 16 and 24 by the end of June, compared with 13.6% three months earlier.
"We are indeed facing big employment pressure," said Liu from NBS, noting that the number of university graduates hit a new record of nearly 9.1 million people this year. "We must continue to give priority to stabilizing employment and create more jobs."
Still on target
Even though the recovery of the world's second largest economy is pulling back, China is still on track to exceed its annual growth target this year.
"Overall, China's economy looks to be on track for recovery, with the 6% annual growth goal in reach," Chaoping Zhu, global market strategist for JP Morgan Asset Management, wrote in a Thursday research note.
Beijing
set that growth target in early March
as it signaled a need to get back on track with President Xi Jinping's longterm goals for the economy.
The country has also enjoyed some other good news recently. On Wednesday, the National Health Commission said that China has administered more than 1.4 billion doses of Covid-19 vaccines, meaning the country has vaccinated half of its population with at least one dose.
"Resilient external demand could help offset some domestic pressure and support aggregate growth, even if strong export growth looks unsustainable," Zhu said.
— Kristie Lu Stout and CNN's Beijing bureau contributed to this report.
Reopening economy buoys B.C.'s job market – Business in Vancouver
B.C.'s labour market outperformed most of the country in June with a 1.6% (42,100-person) monthly gain and outpaced the national increase of 1.2%.
The province moved through steps 1 and 2 of its restart plan, highlighted by the reopening of restaurant in-house dining and larger organized events, travel and other recreation. The labour market has fully recovered employment losses from the previous two months, exceeding pre-pandemic levels by 0.6%. The latter marks the best performance among all Canadian provinces, reflecting shallower economic restrictions from the pandemic, solid performances in the commodities and technology sectors and a robust housing market.
However, full-time work has similarly lagged, with levels 1.6% lower than in February 2020, while part-time work rose 9%. B.C.'s unemployment rate fell to 6.6% from 7% in May and marked the lowest level since the pandemic began.
Metro Vancouver performance was consistent with employment growth of 1.5%, although unemployment remained higher at 7.4% of the labour force.
There was strong rehiring for accommodation/foodservices (up 12%) employees as dining restrictions were largely lifted. This contributed half of the net monthly increase. Significant gains were also recorded in finance/insurance/real estate (up 4.1%), health care/social assistance (up 3%) and business/building/other support (up 5%). Gains align with broader business and office reopenings. A drop in resource employment and construction were partial offsets to services-driven growth.
Hiring momentum will continue with Stage 3 of the restart plan underway, which allows for larger events, fairs and trade shows, reopenings of casinos and normalization of fitness classes and gyms, while domestic tourism partly offsets international travel restrictions.
The Lower Mainland's housing frenzy continued to cool through June as affordability erosion and satiation of demand pulled forward by the pandemic cut sales. Meanwhile, both buyers and sellers are likely taking a step back to pivoting attention to other activities as social restrictions ease.
Multiple Listing Service sales spanning Metro Vancouver and Abbotsford- Mission (Lower Mainland) reached 6,007 units last month. While still up a lofty 46% from a year ago, this is compared with a 217% increase in May. •
Bryan Yu is chief economist at Central 1 Credit Union.
'Freak-Out' Factor Will Determine Delta's Impact on US Economy – BNN
(Bloomberg) — The rapid spread of the delta variant has sown volatility in financial markets this week, but thus far economists are maintaining their forecasts for an historically strong U.S. recovery.
Key to their relative confidence: officials are unlikely to order renewed lockdowns, and most consumers won't drastically alter their plans. Any change in that assessment, and bets are off.
"The delta variant is posing a growing risk, but it's probably not to the point that we should be making big, negative changes in our outlook," Claudia Sahm, a former Federal Reserve economist who's now a senior fellow at the Jain Family Institute, said in an interview. The outbreak has largely affected the unvaccinated so far, but Sahm said if it keeps spreading, "we're going to find out a lot more about how much of that impacts the vaccinated and how much it freaks them out."
For now, the rough consensus is that spending, travel and business activity will only be affected at the margin. Even late last year, when waves of Covid-19 cases hit the U.S., the recovery continued apace.
U.S. GDP is on course to jump 6.6% this year, and quarterly growth rates will be handily beating the average of the past decade well into 2022, Bloomberg surveys of economists show.
Andrew Husby at Bloomberg Economics highlights three factors that give him some confidence:
While Covid-19 cases have been surging, hospitalizations and deaths haven't
The biggest impact has been in areas of lesser economic importance, such as some southern U.S. states
Some of the groups most at risk are least likely to change behavior
Bloomberg Economics: What's the Delta From Delta Variant? Not Much
Nationwide high-frequency data show that Americans continue to spend and eat out at restaurants, as seen from compilers including OpenTable. New York City last week saw demand for hotel rooms hit its highest since the pandemic hit.
Still, there are inklings of potential change: Los Angeles County has reimposed a mask mandate. Apple Inc. delayed its office reopening. In markets, longer-term Treasury yields — those most sensitive to the outlook for growth — on Thursday were heading for a fourth straight week of declines.
Following are the comments of a number of economists on the delta variant's economic impact:
'Fluid Situation'
"So far, we haven't seen any impact in the U.S. when it comes to real-time data," said Aneta Markowska, Jefferies chief U.S. economist, by phone. "In fact, it looks like momentum actually improved in June, with foot traffic in particular. And that requires the opposite of social distancing."
If Covid-19 "spikes stay localized, it's hard to imagine a big national impact. Is a school reopening in New York State or in California going to be delayed because of a localized outbreak in Louisiana? Probably not. Obviously, it's a fluid situation. It changes the risk profile, but it doesn't change the base case for the U.S. outlook."
JPMorgan's Caution
"The delta variant may impart a little more caution in consumer behavior," Michael Feroli, chief U.S. economist at JPMorgan Chase & Co., wrote in a note Thursday.
JPMorgan trimmed its estimate for consumer spending growth to 4.5% for the third quarter from 5% previously. Still, with inventory gains offering upside risks, Feroli left this quarter's gross domestic product forecast unchanged at 8.3%.
Local Caseload
"I do not think the impact will be marginal," said William Spriggs, chief economist at the AFL-CIO, in an email. Policy makers are underestimating how many people will remain home from work amid rising infections, and that it will hit prime-age workers hardest this time, he said.
"Even though the most-affected states are extremely unlikely to shut down, people stopped economic activity because of local caseload — not because of public orders. So, we could see retail sales continue to remain flat, as they have since March."
Watch Schools
"The variant will do meaningful economic damage if it causes people to resume sheltering-in-place and forces schools to remain online when the school year starts in a few weeks," Mark Zandi, chief economist at Moody's Analytics, said in an email.
"Odds are uncomfortably high there will be other variants that are highly contagious, virulent, and elude our vaccines," he said. But, "putting aside these dark scenarios, it remains highly unlikely the Delta variant would short-circuit the economic recovery."
Vaccination Shield
"At least in the U.S., I just do not see the appetite for taking steps that would discernibly slow the economy — even mask mandates look like they will only be re-applied in a few places," said Stephen Stanley, chief economist at Amherst Pierpont Securities LLC, in an email.
Stanley pointed out in a research note to clients that even though cases have risen at a faster-than-expected pace, nearly half of Americans are now fully vaccinated and more are seeking to be inoculated each day as public health efforts ramp up. That limits the risk of the new Covid-19 variant and helps assuage consumers, he said.
British Example
In the U.K., where the delta variant spread rapidly before it became prevalent in the U.S., "hospitalizations and deaths remain so far below where they were the last time cases were this high," said Neil Dutta, head of U.S. economics at Renaissance Macro Research.
"I don't see much downside to the economy. Consumers remain flush with cash and spending continues apace. Inventories remain low and are likely to rebuilt in the months ahead, supporting manufacturing production. Homebuilders are working through backlogs, particularly now as construction costs have moderated, supporting residential investment. Capital spending intentions remain strong."
©2021 Bloomberg L.P.
Widening Circles – The Startup That's Attracting Big Retail To The Circular Economy – Forbes
The circular economy is no longer a novelty. Instead of buying a drill that will be used two or three times and then locked in a cupboard, increasing numbers of us are renting from our peers via apps.. And rather than making the choice between cheap fast fashion and much less affordable designer labels, millennials and Generation Z'ers, in particular, are comfortable with buying premium brands secondhand. This is, by and large, a good thing – not least because it prevents an awful lot of stuff from piling into the nation's landfill sites.
The circular economy tends to be associated with the startup boom – companies that start out small and build an audience – but it seems bigger names are getting in on the act.,
Witness Fat Llama, a British peer-to-peer rental company launched in 2017. This year the company launched a new enterprise platform aimed at allowing major retailers to offer a rental option to their customers. In the first instance, the focus is on furniture and the company has so far partnered with national brands, John Lewis, DFS, and Sofology.
So what's going on here exactly? The first thing that has to be said is that Britons of a certain age are no strangers to renting high-ticket goods from High Street stores. For instance, track back to the 60s and 70s most consumers opted to pay for their color TVs through monthly rental deals rather than buying outright. It was a question of affordability back then and as wages rose and prices fell (relatively speaking), acquisition became the order of the day.
Today, affordability may still be a factor. As the pandemic drags on many of us may well be reluctant to spend upfront on big-ticket items, such as furniture. Added that is the fact that here in the U.K., house purchase prices have risen beyond the reach of many first-time buyers. And if you're renting an apartment on a short-term lease, maybe you would rather pay monthly for the furniture too.
A Fundamental Shift
These are situational factors, but Fat Llama co-founder, Chaz Englander believes there has been a more fundamental cultural and generational shift. Put simply, the millennial and generation Z cohorts are not that comfortable with a buy, discard forget approach to consumption.
"Sustainability is an enormous issue," Englander says. "People are no longer comfortable with the idea that you buy something and then throw it away. Maybe it goes to eBay or Gumtree for a while but ultimately it ends up in landfill."
As he sees it, people in their twenties are particularly interested in living sustainably and that desire to tread a bit more lightly on the planet is driving the circular economy as whole. Part of the trend is a demand for rental furniture, not just from specialist marketplaces but from big retail names. Hence Fat Llama's list of partners.
But are big retailers – who after have done very well out of charging upfront for their products – really ready to embrace a new paradigm?
Adaptation
Fat Llama's experience suggests that rather than resisting the sustainability trend, some companies have been proactively looking at how to adapt to changes in the consumer marketplace. "We were approached by a household name about building an enterprise platform in 2019," recalls Englander. "
On that occasion, Fat Llama said no, deciding instead to focus on its existing peer-to-peer business. But circumstances changed. "We decided it wasn't something we want to work on at that point but then the pandemic happened and we lost about 80 percent of our transactions. So we decided to look again at a business-to-business solution."
It wasn't quite a case of pushing at an open door. Englander says that while strategists within retail organizations detected demand for rental options, financial directors tended to be a lot more cautious. But now it seems that strategies are indeed changing. Englander cites the example of Sofology – now designing products specifically for rent through its The Loop initiative.. "They have a metal frame which can be reupholstered and reused," he says.
On Trial
In the first instance, Fat Llama ran a trial with John Lewis. Although scheduled for eight weeks, the rental stock sold out in 48 hours.
With that market validated, Fat Llama has developed a rental platform that reflects the brands of participating retailers and is looking ahead to further partnerships.
But is there really a market trend here or just a temporary blip? And will increasing numbers of retailers turn to marketplace providers to open up new circular economy business lines? There are signs of wider changes afoot. Beyond Fat Llama, department store chain Selfridges has also developed a rental offering in collaboration with lending company HURR.
At this point, we're probably looking at a grand experiment that may or may not signal a long-term market sea change but it's certainly the case that retailers are seeing a need to innovate and perhaps also to partner with sharing economy companies.