COMMENTARY: How Canada's COVID-19 vaccine strategy could impact the world – Global News
When the throne speech was delivered on Sept. 23, Canada had already committed over $1 billion in advance purchase agreements with five drug companies for a minimum of 154 million vaccine doses, if and when these candidate vaccines are proven effective and safe.
Two days later, Canada inked another agreement with another company for 20 million more doses, hedging its bets on which of the vaccine contenders will be the first to arrive.
In doing so, Canada joins the premier league of the vaccine nationalists, a handful of rich countries that have pre-purchased (so far) more than half the world's expected short-term supply of vaccines.
READ MORE: Canada signs deal to obtain 20M doses of Oxford coronavirus vaccine candidate
It is understandable that countries want to ensure their ability to protect their citizens' health. But most of the world's population lives in countries without the same financial resources to play the global "me first" vaccine contest. Efforts to elevate national interests over collective global health result in slower progress and limited global capacity to pool resources, while placing the interests of wealthy countries over others, with devastating effects.
Recent modelling compared two scenarios for allocating the first three billion doses of a vaccine that is 80 per cent effective. The "uncooperative" scenario — in which two billion doses went straight to high-income countries, and the rest to everybody else — would lead to 28 per cent more deaths than a "cooperative" scenario, in which the three billion doses are distributed globally, proportional to population size.

1:40


Canada signs new coronavirus vaccine deals



What can Canada do?
To begin, our pledge to the World Health Organization's COVAX Facility's Advanced Market Commitment (AMC) should, at a minimum, match what we invest in procuring vaccine for use within Canada. The facility manages the world's largest and most diverse portfolio of vaccine candidates. High-income countries like Canada that join COVAX have the option to purchase approved vaccines through the facility, even if they have already entered into bilateral purchase agreements with vaccine companies. On Sept. 25, Canada announced that it would do so, committing $220 million to purchase 15 million more vaccine doses from the facility if and as they are approved.
Arguably of more importance, the facility's AMC will provide vaccines to more than 90 eligible poorer countries unable to afford them on their own. The AMC needs to raise $2 billion by December to do so, with the short-term goal of immunizing three per cent of all COVAX countries' populations. As of Sept. 21, only $700 million had been promised. On Sept. 25, Canada committed $220 million to the AMC, on top of $25 million it had already given. This is welcome and commendable, but it is also inadequate.
The AMC's longer-term aim is to reach 20 per cent — a goal that will allow health-care workers and vulnerable populations in poor countries to receive vaccines — but this will depend entirely on how generously high-income countries, philanthropists and drug companies donate to the AMC.
Much more AMC funding is needed now, and going forward. We argue that Canada should commit a dollar-per-dollar amount to the AMC based on what it spends on its own vaccine purchases. This would mean providing up to $1 billion more than its current AMC pledge, with funds flowing through our country's official development assistance (ODA) envelope. Canada has global obligations under international declarations to do so.
Canada says it is a voice for equity and human rights, at home and on the global stage. Actions speak louder than words. Canada in recent years has not been particularly generous in its overseas assistance. We ranked 17th out of 30 of the OECD club of donor nations in 2019, contributing just 0.27 per cent of our gross national income, with no forseeable increase. A $1 billion immediate AMC top-up would still not lift us to our long-pledged 0.7 per cent ODA target.
One billion dollars sounds like a lot of money. But it is only one-fifth the amount the federal government has borrowed weekly since March from the Bank of Canada (which it owns) to finance its pandemic assistance programs. Most less-endowed countries lack the same ability to borrow indefinitely from their own central banks and instead must turn to foreign creditors, with the debt-burden risks that entails. Or do without.
COMMENTARY: (July 12, 2020) 'Vaccine nationalism' could threaten Canada's access to a COVID-19 vaccine
Vaccine manufacturing
According to the CEO of the world's largest vaccine maker, the Serum Institute of India, even with expanded global capacity, it may take until 2024 before there are enough doses for the world's population. In addition to ensuring more generous support for the COVAX Facility, Canada can also ramp up its own vaccine manufacturing capacity. It's already on a pathway to do so, with the government's $126-million investment for a new facility in Montréal. The facility's goal is to produce two million vaccine doses per month for domestic use by summer 2021.
Why not double-down on this investment, and reserving half the output for AMC use to meet urgent global needs? This would signify to all Canadians the importance of a collective response to this pandemic.
Public health is global
As the world eagerly awaits arrival of an effective vaccine, it's important to remember three things. First, the longer-term effectiveness of any vaccine will remain uncertain for some time. Second, even if herd immunity to COVID-19 eventually develops, there will almost certainly be another novel infection in the not-so-distant future. Third, one way to deal with both future pandemic risks and the present short supply of COVID-19 vaccine is to embrace the range of non-pharmaceutical interventions that can flatten and even contain infectious curves. This is especially so in those countries that are home to the half of humanity who still lack access to essential health care.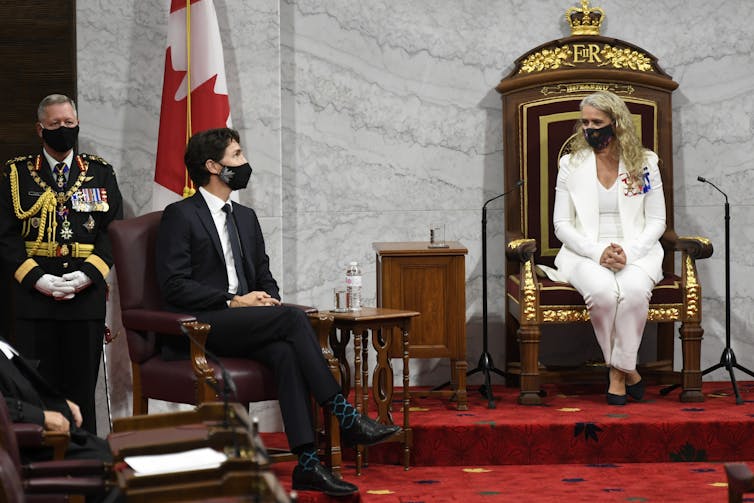 All countries need stronger public health workforces: more nurses, testers, contact tracers and community health workers. All countries need universal health coverage, one of the Sustainable Development Goal targets to which the world (Canada included) committed to achieve by 2030. But it is the poorer half of humanity who needs this more urgently.
So, if Canada and other rich countries in their vaccine nationalism continue inadvertently to crowd out access for poor countries, they should compensate by massively underwriting the investments such countries need to provide the social protection, income support and food security basic to their citizens' health, and to strengthen their health systems with the public health capacity to suppress outbreaks as they arise.
It is in our own national interest to do so. As the Sept. 23 throne speech concluded:
"We cannot eliminate this pandemic in Canada unless we end it everywhere."

Ronald Labonte, professor and distinguished research chair, globalization and health equity, L'Université d'Ottawa/University of Ottawa; Katrina Plamondon, assistant professor, School of Nursing, Faculty of Health & Social Development, University of British Columbia; Mira Johri, professeure titulaire, École de santé publique, Université de Montréal, and Srinivas Murthy, clinical associate professor, Faculty of Medicine, University of British Columbia
This article is republished from The Conversation under a Creative Commons licence. Read the original article.
Stock market live updates: Dow slides 900, VIX jumps above 30, reopening stocks lead losses – CNBC
Dow closes down more than 600 points
The market indexes finished a dreary Monday off of session lows but still down sharply. The Dow lost 650 points, while the S&P 500 fell 1.9%. The Nasdaq Composite was the relative outperformer but still sank 1.6%. — Jesse Pound
Pelosi finishes call with Mnuchin but 'progress depends on' McConnell
House Speaker Nancy Pelosi's spokesman said on Twitter that the Democratic leader remains "optimistic" about a pre-election deal after Monday's phone call with Treasury Secretary Steven Mnuchin. However, spokesman Drew Hammill said that Democrats are still waiting on the White House to accept its language around Covid-19 testing and that "our progress depends on Leader McConnell agreeing to bipartisan, comprehensive legislation." — Jesse Pound
Market trimming losses in final hour
Stocks have eased back from their session lows as the end of the session approaches. The Dow last traded down 690 points, while the S&P 500 and Nasdaq Composite were down 2% and 1.8%, respectively. — Jesse Pound
Volatility index climbs above 33
The Cboe Volatility Index extended its gain for the session to nearly 6 points and traded above the 33.4 level. The measure commonly known as the "fear gauge" is on track for its highest close since Sept. 3. If it closes above 33.6 it will the highest reading since June. — Jesse Pound
Final hour of trading: Stocks plunge to start the week
The major averages were sharply lower with an hour left in the trading session amid concerns over a spike in coronavirus cases and stalled stimulus talks. The Dow dropped 735 points, or 2.6%. The S&P 500 slid 2.1% and the Nasdaq Composite pulled back 1.9%. —Fred Imbert
Bernstein says no update from Pfizer on vaccine is potentially worrying
Pfizer management previously said that they expected to have an update on the company's Covid-19 vaccine in October. But the month is now nearing its end and the company still hasn't provided additional information, which Bernstein said could potentially be worrying. "Some investors have begun to ponder if this delay means the first interim analysis has missed, and, if so, what this means for the likely efficacy of the vaccine," the firm said in a note to clients.
Pfizer, which reports earnings on Tuesday before the opening bell, is developing its vaccine candidate in partnership with BioNTech. — Pippa Stevens
S&P 500 still well above next support level, BTIG says
The S&P 500 was still trading about 5% above its next support level despite Monday's sell-off, according to a note from BTIG's Julian Emanuel and Michael Chu.
"The market is likely to drift lower near term (first SPX support at 3,209) in the face of Stimulus disappointment … Virus resurgence … and intensifying Election uncertainty," the strategists said in a note Monday morning. — Jesse Pound
The election could be closer than investors think, strategist says
Wall Street may have been warming up to the idea of so-called Blue Wave as former President Joe Biden holds a sizeable lead in the national polls. However, Aegon Asset Management's Frank Rybinski thinks investors should brace themselves for a very close contest.
"A lot of the local races are a lot closer" than the national polls, said Rybinski, the firm's chief macro strategist. He also noted that a recent Gallup poll found that 56% of Americans thought they were better off today than they were four years ago.
"That's the first reading [on that question] above 50% that we've had going back like 40 years," he said. "If [former House Speaker] Tip O'Neill was right and all politics are local, you don't get more local than your own household finances. That tells me this is going to be a much tighter race than the national polls suggest." —Fred Imbert
Longer term outlook 'keeps me optimistic,' Lindsey Bell says
Ally Invest Chief Investment Strategist Lindsey Bell pointed to rising Covid-19 cases and the sagging hopes for a stimulus deal as reasons for Monday's sell-off. Still, she said the outlook for next year and beyond served as motivation for investors to hold firm.
"Put it all together, and the setting feels eerily familiar. I'm keeping my eye on 2021 projections and the longer-term outlook. That keeps me optimistic about staying invested," Bell said. — Jesse Pound
Investors should buy this dip, UBS advisor says
Teresa Jacobsen, managing director at UBS Wealth Management, said she thinks investors should buy during Monday's market sell-off despite uncertainties around stimulus and the coronavirus pandemic.
"On a day like today where you're seeing volatility, this is giving investors a chance to build positions, and we're encouraging clients to use that volatility do so," Jacobsen said.
Jacobsen said there was the potential for a more dramatic sell-off in the short term but pointed to a strong earnings season so far and progress on vaccines as reasons for this to not be a protracted downturn.
"I think there a lot of positives over the longer term for investors," she said. — Jesse Pound
Pelosi says two sides still differ on testing plan
House Speaker Nancy Pelosi said in a letter to Democratic lawmakers that she and the White House still disagree about health care portions of an additional stimulus bill, including a testing strategy for the coronavirus.
"In all of our legislation, we have stressed the importance of testing, but the Administration has never followed through. The Republicans' continued surrender to the virus – particularly amid the recent wave of cases – is official malfeasance," Pelosi said. "We must come to agreement as soon as possible. But we cannot accept the Administration's refusal to crush the virus, honor our heroes or put money in the pockets of the American people," she said. — Jesse Pound
Monday's double whammy serves as a 'harsh reminder,' strategist says
The sharp sell-off on Monday, triggered by a record surge in new coronavirus cases and waning hopes for a stimulus deal before the election, served as a reminder that we are not out of the woods yet in terms of the economic recovery, according to Ryan Detrick, chief market strategist for LPL. "The double whammy of a stalled stimulus bill and new highs in cases is a harsh reminder of the many worries that are still out there," Detrick said. "Most of the recent economic data has been strong, but when you see parts of Europe going back to rolling shutdowns, it reminds us this fight is still far from over." The Dow dropped 950 points at its session low in afternoon trading, and the S&P 500 last traded 2.7% lower.— Yun Li
Here are some of the biggest movers midday
Dunkin' Brands — Dunkin' shares spiked after the company said it was in early talks about potentially being acquired by Inspire Brands.
Hasbro — Shares of the toy maker fell sharply despite the company posting better-than-expected results for the previous quarter.
Lordstown Motors — The Ohio-based electric vehicle maker saw its stock briefly jump in the company's public-market debut. The stock began trading on Monday after a reverse merger with DiamondPeak Holdings, a SPAC.
Click here to read more. —Fred Imbert
Markets at midday: Stocks drop, Dow heads for worst day since September
The major averages were sharply lower on Monday as concerns over the growing number of U.S. coronavirus cases and a lack of fiscal stimulus dented market sentiment. The Dow traded more than 700 points lower, or 2.6%, and was headed for its biggest one-day drop since Sept. 3. The S&P 500 slid 2.1% and was on pace for it worst day since Sept. 23. The Nasdaq Composite dropped 1.7%. —Fred Imbert
Volatily Index jumps above 30
The Cboe Volatility Index jumped about 3.7 points to trade above 31.20 on Monday morning. The index, often called Wall Street's "fear gauge," hasn't closed above 30 since Sept. 8. The measure is still well below where it was during the coronavirus-sparked sell-off in March. — Jesse Pound
Stock sell-off accelerates
Stocks continued their downward march throughout morning trading. At the low, the Dow fell 714 points for a loss of 2.52%. The S&P 500 declined 2.14% at its low, while the Nasdaq Composite dipped 1.73%. — Pippa Stevens
Dow on pace to break below its 50-day moving average
Monday's sell-off has put the Dow Jones Industrial Average on pace to close below its 50-day moving average level of 28,021.68 for the first time since Sept. 29. The moving average is a widely watched momentum indicator. The 30-stock average has not closed below 28,000 since Oct. 6 when the Dow closed at 27,772.76.
The S&P 500 fell 1.4% in morning trading to around 3,418, just above its 50-day moving average level of 3,409.08. — Gina Francolla, Yun Li
Airlines, cruise line operators lead declines
Amid a surge in Covid-19 cases and stalled stimulus talks, airlines and cruise line operators led stocks lower on Monday. The two groups are especially sensitive to an uptick in coronavirus cases.
United Airlines dropped 4.6%, while Delta, American, Alaska Air and JetBlue were all down more than 3%.
Norwegian Cruise Line, Royal Caribbean and Carnival all declined more than 7%. — Pippa Stevens
BlackRock downgrades Treasuries ahead of election
BlackRock on Monday downgraded U.S. Treasuries and upgraded their inflation-linked peers ahead of the election on a growing likelihood of significant fiscal expansion, which could trigger a rise in price pressures. "Markets are increasingly reflecting a unified Democratic government outcome that may lead to a significant fiscal expansion," Mike Pyle, BlackRock's global chief investment strategist said in a note. "This electoral outcome would bring forward the market pricing of the higher inflation regime that we were already reflecting in our strategic asset views." The benchmark 10-year yield, which moves opposite prices, hit a four-month high of 0.84% last week. — Yun Li
Netflix, Amazon in the green
Amid a broad sell-off on Monday, Netflix and Amazon were among the stocks trading in the green. The two tech companies are seen as beneficiaries of stay-at-home trends, and as Covid-19 cases surge across the U.S. and the world, investors wagered they could be set to accelerate gains. Each stock was about 1.5% higher during early trading. — Pippa Stevens
Cramer says the market should focus on Dunkin' bid, not poor SAP results
CNBC's Jim Cramer shrugged off the steep slide in SAP shares after the software company's disappointing earnings report, saying he believes its quarterly results should not guide broader investor behavior.
"I thought that the market should have focused on Dunkin' Donuts, because here has been a red-hot stock, doing incredibly well, and then gets a bid anyway," Cramer said on "Squawk on the Street." "If we just focus on Dunkin', what does it say about so many of our stocks that have actually been doing well?"
He also noted a positive analyst note on Calvin Klein-owner PVH, as well as an upgrade for the stock of Kontoor Brands, which owns the Wrangler brand. "The whole process of being casual at home, another positive thesis, so I'm seeing too much good, not enough bad, to let SAP color this morning," he said. – Kevin Stankiewicz
Stocks decline as stimulus talks stall
Stocks dropped out of the gate on Monday as stimulus talks drag on. The Dow Jones Industrial Average declined 303 points for a loss of 1%, while the S&P 500 shed 0.96%. The Nasdaq Composite opened 0.82% lower. A surge in Covid-19 cases across the country also weighed on sentiment. — Pippa Stevens
SAP plunges 20% as company sends a warning on Covid impact on business
As Covid-19 cases surge, a warning from Europe's biggest software company that businesses are holding back on spending added to the chill in markets Monday morning.
SAP cut its earnings and revenues forecast for 2020, noting that its customers are spending less, as virus cases surge in Europe. "Lockdowns have been reintroduced in some regions, recovery is uneven and companies are facing more business uncertainty," SAP said.
SAP also said it was shifting more of its efforts to cloud computing, a move that is expected to depress its margins. JPMorgan cut its rating on the company to neutral from overweight.
SAP shares were down 20% Monday, wiping about $30 billion off its valuation in its worst trading day in 12 years. — Patti Domm
Here are Monday's biggest analyst calls of the day: Apple, Palantir, Winnebago, Lululemon & more
Evercore ISI added Apple to the tactical outperform list.
JPMorgan initiated Zscaler as overweight.
Bank of America upgraded Kontoor Brands to buy from neutral.
Raymond James upgraded D.R. Horton and Toll Brothers to outperform from market perform.
Atlantic Equities reinstated Apple as overweight.
JPMorgan added Lululemon to the focus list.
Morgan Stanley initiated Palantir as overweight.
Citi upgraded Winnebago to buy from neutral.
Pro subscribers can read more here. – Michael Bloom
Covid cases spike over the weekend
Coronavirus cases are spiking in the U.S. and abroad, raising concerns about the pandemic into the winter months. The U.S. reported 83,757 new Covid-19 cases on Friday, passing the last record of roughly 77,300 cases seen in mid-July, according to data compiled by Johns Hopkins University. On Saturday, the U.S. reported another 83,718 new coronavirus cases.
The U.S. on Sunday set a new daily record of 68,767 cases on a seven-day average, according to a CNBC analysis of data from Johns Hopkins University.
White House chief of staff Mark Meadows said the U.S. is not going to control the coronavirus pandemic on Sunday. "We're not going to control the pandemic," Meadows told CNN. "We are going to control the fact that we get vaccines, therapeutics and other mitigations."
Cases are also spiking around the world, with Italy, France and Spain seeing outbreaks worsen. Spain ordered a nationwide curfew on Sunday and Italy tightened restrictions over the weekend.
Global cases are over 43 million and U.S. cases are more than 8.6 million. — Maggie Fitzgerald
AstraZeneca says its coronavirus vaccine produces immune response
Shares of AstraZeneca rose 0.8% in the premarket after the company said its coronavirus vaccine candidate triggered an immune response among adults.
"It is encouraging to see immunogenicity responses were similar between older and younger adults and that reactogenicity was lower in older adults, where the COVID-19 disease severity is higher," an AstraZeneca spokesman told CNBC via email. "The results further build the body of evidence for the safety and immunogenicity of AZD1222." —Fred Imbert, Sam Meredith
Ant Group on track for largest IPO on record
China-based Ant Group will raise $34.5 billion in its dual initial public offering, making it the biggest listing of all time. The financial technology giant said it will split its stock issuance across Shanghai and Hong Kong, issuing 1.67 billion shares in each location. Based on where the company priced the new shares, Ant Group's valuation stands at $313.37 billion.
The prior largest IPO on record was Saudi Aramco, which raised just over $29 billion in its IPO. — Arjun Kharpal, Pippa Stevens
Dunkin jumps after announcing potential merger
Shares of Dunkin' Brands surged 17% in premarket trading after the company said in a statement that it is exploring a deal with Inspire Brands that would take the Dunkin' Donuts parent private. Dunkin' has already reclaimed its pre-pandemic highs. — Jesse Pound
Stimulus hopes dwindle
With the election less than two weeks away, hopes are dwindling that an agreement on additional stimulus measures will be reached by Nov. 3. Over the weekend White House chief of staff Mark Meadows and House Speaker Nancy Pelosi accused each other of moving the goalposts on stimulus talks in separate interviews with CNN. — Pippa Stevens
Dow futures drop more than 200 points
U.S. stock futures came under pressure during early trading on Monday as Covid-19 cases across the country surge. Futures contracts tied to the Dow Jones Industrial Average fell 264 points, indicating a more than 300-point drop at the opening bell. S&P 500 futures shed 0.88%, while Nasdaq 100 futures declined 0.7%.
The U.S. reported more than 83,000 new Covid-19 cases on both Friday and Saturday, topping the previous high of 77,300 new cases in July, according to data from Johns Hopkins University. Amid the spike, White House chief of staff Mark Meadows said in a CNN interview that "We're not going to control the pandemic. … We are going to control the fact that we get vaccines, therapeutics and other mitigations."
The major averages are coming off a week of losses. The Dow and S&P each snapped a three-week winning streak, while the Nasdaq posted its first down week in five. — Pippa Stevens
Wall Street slumps again as coronavirus counts keep climbing – Business News – Castanet.net
Photo: The Canadian Press
Stocks are slumping sharply in afternoon trading on Wall Street Monday and deepening last week's losses, as a troubling climb in coronavirus counts threatens the global economy.
The S&P 500 was 2.3% lower and on track for its worst day in more than a month. The Dow Jones Industrial Average was down 826 points, or 2.9%, at 27,508, as of 12:42 p.m. Eastern time, and the Nasdaq composite was down 2%.
Stocks also weakened across much of Europe and Asia. In another sign of caution, Treasury yields were pulling back after touching their highest level since June last week.
Coronavirus counts are spiking in much of the United States and Europe, raising concerns about more damage to the still-weakened economy. The U.S. came very close to setting back-to-back record daily infection rates on Friday and Saturday. In Europe, Spain's government declared a national state of emergency on Sunday that includes an overnight curfew, while Italy ordered restaurants and bars to close each day by 6 p.m. and shut down gyms, pools and movie theatres.
Hopes are fading, meanwhile, that Washington will be able to deliver more support for the economy anytime soon. House Speaker Nancy Pelosi and Treasury Secretary Steven Mnuchin spoke several times last week on a potential deal to send cash to most Americans, restart supplemental benefits for laid-off workers and provide aid to schools, among other things.
But deep partisan difference remains on Capitol Hill, and time is running out for anything to happen before Election Day on Nov. 3. Any compromise reached between House Democrats and the White House would also likely face stiff resistance from Republicans in control of the Senate.
Worries about the diminishing prospect for more stimulus in the short term helped drive the S&P 500 to a 0.5% drop last week, its first weekly loss in the last four.
"While we are seeing nations attempt to stifle the spread of the virus through more localised and tentative restrictions, it seems highly likely that we will eventually see a swathe of nationwide lockdowns if the trajectory cannot be reversed," said Joshua Mahony, senior market analyst at IG in London.
"Traders remain torn as they weigh up the potential impending benefits of a U.S. stimulus package and potential vaccine," he added.
The U.S. economy has recovered a bit since the stay-at-home restrictions that swept the country early this year eased, and economists expect a report on Thursday to show it grew at an annual rate of 30.2% during the summer quarter after shrinking 31.4% during the second quarter.
But momentum has slowed recently after a prior round of supplemental unemployment benefits and other stimulus that Congress approved earlier this year expired.
In European stock markets, Germany's DAX lost 3.7%, and France's CAC 40 fell 1.9%. The FTSE 100 in London slipped 1.2%.
In Asia, Japan's Nikkei 225 dipped 0.1%, South Korea's Kospi fell 0.7% and stocks in Shanghai lost 0.8%.
Husky Halts West White Rose Construction for 2021 – VOCM
Husky says it is continuing to work with the provincial government to discuss how new federal funding can support the long-term success of the White Rose project and the offshore, but admits, the possibility of abandoning the project remains on the table. This comes after word that Cenovus intends to buy out the company.
Husky cancelled construction on West White Rose for the 2021 season following a review in September.
Husky says it will continue to operate as a separate, independent company if the merger with Cenovus closes. Once that process is complete, additional work will be undertaken to review all assets and determine its go-forward business case according to Husky officials in Calgary.
Husky tells VOCM News West White Rose continues to be key to extending the life of the White Rose oilfield in the offshore, however, all options are on the table and "accelerating abandonment remains a possibility."
Earlier Story
Shares of Cenovus Energy are down following the merger in the oil industry while Husky's shares are up. Husky and Cenovus, both based in Calgary, are joining forces in these troubling economic times.
The White Rose expansion project, with most of its onshore component in Argentia, was mothballed after the federal and provincial governments declined an offer to invest.
Larry Short, a portfolio manager with Short Financial in St. John's, wasn't surprised by the merger as it's reflective of what's happening in North America. There was no mention of Husky's east coast operations in the news release announcing the merger, but Short doesn't see that as anything significant.
Short says Husky is in a healthier position today than it was on Friday before the merger.