Conrad Black: Trump may lose, but he's not defeated … despite the media's efforts – National Post
Article content continued
The media-anticipated great blue Democratic election wave was not even a ripple. The much-vaunted Russian interference didn't happen. The violent accusations against the postmaster general of voter suppression bandied all around the Trump-hating media never occurred either. America's greatest contemporary failure is the media. Their debacle and that of their polling affiliates in the election is only the latest in a long sequence of profound American media failures and breaches of public trust. They were eager accomplices in the propagation of the monstrous falsehood that there had been criminal collusion between Russia and the Trump campaign in 2016. Some were willing collaborators but most were witless dupes in constantly circulating lurid calumnies about the president's alleged treason. When that malignant canard floundered into oblivion there was scarcely a word of self-criticism in all the press of the United States. The New York Times passed off a virtual janitor in the Homeland Security Department as a senior White House official anonymously defaming the president in their pages. Joe Biden, on the night before the election, repeated the total falsehood confected by the editor of the Atlantic magazine that the president had described American war dead as "suckers and losers."
The national American media almost never reported that 80 per cent of coronavirus sufferers are afflicted also by other life-threatening ailments, or that even as more and more people are infected, 99 per cent of them recover and are thereafter immune for at least some period, or that a great many who have contracted the coronavirus in the United States and other advanced Western countries have yet to be reported, which means that these countries are a good deal closer to a state of what is inelegantly called "herd immunity" than has been reported. Even in such an electoral Armageddon as this, with millions of ballots to be recounted, American newscasters of all persuasions are constantly, as if to reassure themselves, announcing that America's electoral and justice systems are, wait for it and brace yourselves, "the envy of the world." The U.S. is a half-jungle; it is magnificent in its way, and operates on a scale the world has not seen since the height of the Roman Empire, but it repels much of the world. That doesn't matter; the United States is a democracy and the Americans can run their country any way they want and it's no one else's business; but the imputation to the rest of us of being prostrated with envy of American life is a fantasy.
Kyrie Irving Imposes 'Media Blackout,' Won't Speak To Reporters This Season – Forbes
Kyrie Irving was tentatively scheduled to do a Zoom interview with reporters on Friday, just as Kevin Durant and his other Nets teammates have been doing in recent days.
Now it appears Irving won't speak to the media at all this season. ESPN's Brian Windhorst reported on "The Jump" that Irving will conduct a "media blackout" this season, and Irving issued this statement.
Irving, the former St. Patrick (N.J.) High School and Duke star, has had some missteps with the media in the past.
In 2017, when he was with the Cleveland Cavaliers, he claimed that the Earth was flat.
It became a major story and even NBA Commissioner Adam Silver — who, like Irving, went to Duke — was asked to offer his opinion.
"Kyrie and I went to the same college," Silver said then. "He may have taken some different courses."
Irving later ended up apologizing for his comments.
"To all the science teachers, everybody coming up to me like, `You know I've got to reteach my whole curriculum?' I'm sorry," Irving said. "I apologize. I apologize."
In October, Irving made some controversial comments about new Nets coach Steve Nash.
"I don't really see us having a head coach," Irving said on the podcast, "The ETCs With Kevin Durant." Referring to Durant, he said, "K.D. could be a head coach. I could be a head coach."
Speaking this week on a Zoom with reporters, Nash tried to diffuse the situation.
"I read what he said, and I think it was one phrase at the end of a bunch of things he said about being excited — about having me in this position and coaching — and then maybe taken to another level that seemed incredible in headlines, which is fine," Nash said. "I'm in a fortunate position where I get to coach Kevin Durant and Kyrie Irving. What we've dealt here in a short period of time with how we're going to prep and play is exciting. I'm thrilled to get to coach those guys.
"One statement that I don't think necessarily was completely — wasn't meant the way it was taken by the press, that doesn't bother me at all."
Without using the words "load management," Nash also said he would be surprised if Durant or Irving played all 72 games this season. Durant is coming off Achilles surgery, and Irving off shoulder surgery.
Through it all, Irving has continued to financially support his alma mater, now called The Patrick School. In 2018, he funded the renovation of the gym, locker room, weight room and lounge at the school.
He has also mentored younger players, like Seton Hall guard Bryce Aiken and Jonathan Kuminga, the former Patrick School star now with the G League Ignite team, and pledged $1.5 million to WNBA players forgoing last season due to coronavirus or social justice concerns.
Irving, Durant and the Nets open the preseason Dec. 13 against the Wizards and the regular season Dec. 22 at home against the Warriors.
Kyrie skips media availability, releases statement – theScore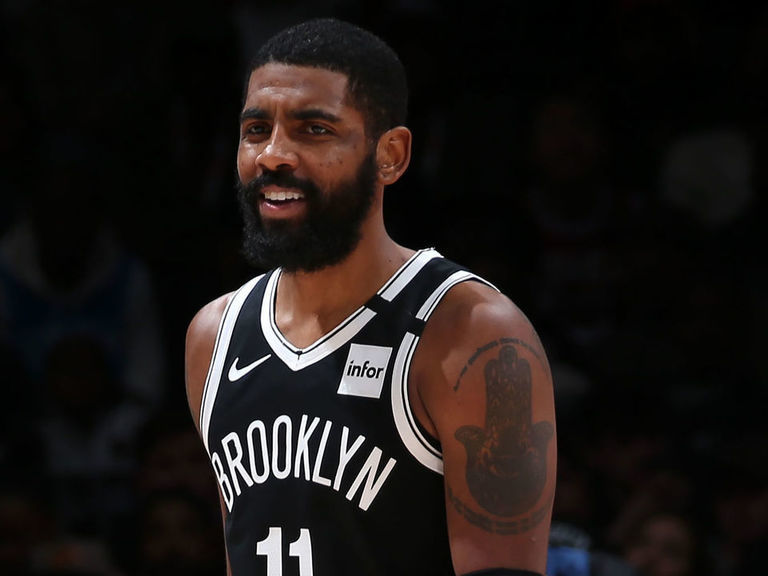 As the NBA prepares for its 2020-21 season to begin on Dec. 22, the enigmatic Kyrie Irving did not provide access to reporters on Friday as part of the Brooklyn Nets' media week.
Instead, the 28-year-old guard released a written statement "to ensure that (his) message is conveyed properly," per ESPN's Malika Andrews.
Here's Irving's statement in full:
COVID-19 has impacted us all in many ways, so I pray for the safety and health of our communities domestically and abroad. I am truly excited for the season to start and I am also praying that everyone remains safe and healthy throughout this journey.

Instead of speaking to the media today, I am issuing this statement to ensure that my message is conveyed properly.

I am committed to show up to work everyday, ready to have fun, compete, perform, and win championships alongside my teammates and colleagues in the Nets organization. My goal this season is to let my work on and off the court speak for itself.

Life hit differently this year and it requires us, it requires me, to move differently. So, this is the beginning of that change.
The league's collective bargaining agreement requires veteran players to "participate in photograph and media sessions" as early as the 22nd day prior to the first game of the regular season.
Additionally, under a section pertaining to promotional activities, the CBA states: "Upon request, the player shall consent to and make himself available for interviews by representatives of the media conducted at reasonable times."
It's unclear whether Irving's statement constitutes participation in the Nets' training camp media session or whether certain allowances have been made in regard to media availability within the amended agreement due to COVID-19.
In an injury-shortened debut season with the Nets in 2019-20, Irving averaged 27.4 points, 6.4 assists, 5.2 rebounds, and 1.4 steals per game across 20 appearances.
Singer from Montreal's south shore becomes social media sensation – Global News
When COVID-19 struck in March, all of singer songwriter Damien Robitaille's musical gigs got cancelled. He had been touring in Europe, but quickly cut short his work trip to return to his home in Longueuil.
With his children living in Europe, Robitaille found himself alone and with a lot of time on his hands.
"I had two options: either I could just sit at home be depressed or just do what I know what to do…sing, sing, sing," he said.
So, to pass the time, Robitaille started posting videos of cover songs on social media. For the first 100 days of lockdown, he posted a new video each day. He taught himself the songs in one day, using his piano, drums and a shaker to make his music.
The quirky, but charming videos typically get a few thousand views on various social media platforms. His song choices ranged from everything from classics like Queen's Bohemian Rhapsody to Jump by Van Halen.
But this week, 39-year-old Robitaille posted a video that struck a chord with social media influencers.
He made a cover video of the popular 90s song, Pump up the Jam by Technotronic. His dog, Suki made an appearance in his video.
"The one perfect take was when my dog decided to pop into the scene and photo bombed," he said. "I tried to keep a straight face and keep singing to the end. Then I was like, 'Do I keep this? The dog ruins the video', but then I think she helped to bring it to the next level."
Former basketball player Rex Chapman, with one million Twitter followers, retweeted the video. So did actor Elijah Wood, and this week, Quebec Premier François Legault gave him a thumbs up. Robitaille estimates that the video was seen on all his social media platforms about 10 million times.
"I am so touched by the outpouring of love," he said. "I'm also like finally finally it broke through. It took 137 songs for the dam to open up, and now the waters are flowing."
The Franco-Ontarian Robitaille mainly sings in French, releasing a Christmas album last year.
But sitting home alone during the pandemic, with his children living in Europe, he got inspired.
He sometimes spends up to 12 hours a day learning the songs and recording his videos, all on his own. He often dresses up in costumes, because he says he's putting on a show for his audience.
The songs don't bring him any money. Robitaille says he simply gets joy from all the positive feedback he's receiving.
"For me it's a gift spreading joy and happiness for everyone. People need some good news in these dark times," he said.
Robitaille doesn't know what's next for him. But he'll keep posting his videos, hoping they bring smiles and a few minutes of joy to those who need it.