Contest open to young artists; art grads needed more than ever – SooToday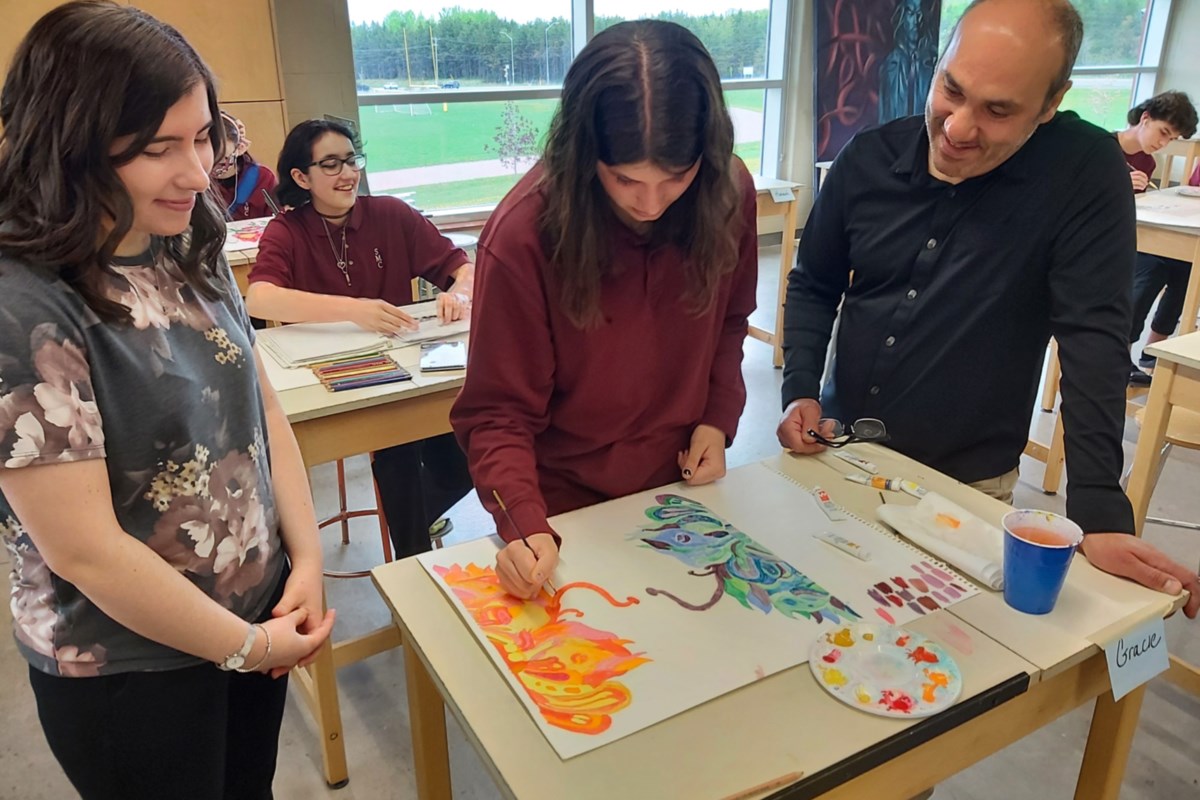 Art students in Grades 6, 7 and 8 are invited to submit samples of their work to be included in a separate exhibition and contest within the annual St. Mary's College art show to be held at the Second Line East high school beginning at 7 p.m. Tuesday, June 14.
Students have until 3 p.m. Thursday, June 9 to submit their drawings, painting or digital art work with their identification and contact information in person at SMC's main office.
While the SMC art show is an annual event – featuring work by artists from Grades 9 to 12 and including not only visual art but also musical and dance performances in one night – this year marks the first show and contest for students in Grades 6 to 8.
The contest is the brainchild of Adriano DiCerbo, SMC art teacher and Samantha Lance, an SMC graduate now pursuing a career as an art show curator in Toronto.
"Adriano approached me with this idea. He wanted to get the ball rolling on this and try to attract kids' attention to this. We came up with the title Spring Back To Life, to get students to think about what inspires you about this new season?" Lance said.
That includes:
What images of spring best represent your personal connection to this season?
What moments of spring do you cherish?
Are there certain aspects of spring (flowers, plants, landscapes, animals) that hold a special place in your heart?
The contest poster has been designed and will be sent out soon to parents and teachers across the H-SCDSB system.
DiCerbo hopes word will get out to art students in Grades 6 to 8 students in other school boards.
Students and parents can contact DiCerbo by email
Lance will judge the Grades 6 to 8 art show.
"I first got immersed in visual arts in Grade 10 with Mr. DiCerbo's class and then I started helping with the arts festivals from Grade 10 to 12 and I realized, while curating the work, that art is what I wanted to do as a career," Lance said.
Lance graduated from SMC in 2017 and went on to study art for four years at Toronto's Ontario College of Art & Design – OCAD University.
There she earned her Bachelor of Fine Arts, specializing in Criticism and Curatorial Practice, learning how to organize art shows at galleries, museums, art shows and festivals.
She plans to attend the University of Toronto in September to begin a Master of Curatorial Studies program.
At OCAD, she was inspired by the work of many artists including Vincent Van Gogh, American photographer Nicolas Bruno and Christian painter Akiane Kramarik.
"After I graduated from high school I came back to help curate the arts festival at SMC. Every year it was nice to see the work and the talent students brought to the table," Lance said.
"I appreciate art history and love looking at the different types of media people bring into their art. When I go for my Masters in Toronto I want to support local, national and international artists by showcasing their art," Lance said, adding she'll always enjoy keeping in touch with the Sault arts scene.
Admission to the June 14 SMC art show is free for kids, $10 for adults.
Proceeds from admission go to Tumaini Afrika, a Sault Ste. Marie-based, non-registered group of volunteers dedicated to working with children and women in Kenya in such spheres as education and nutrition.
"After COVID, everybody needs this art show," Lance said.
Both Lance and her high school art mentor DiCerbo spoke of the importance of art and art education for kids despite the heavy emphasis on science, technology, engineering and math in schools.
"Art speaks when words can't," Lance said.
"Art gives anyone – students, young and old – to speak about their background, their culture and their response to everything that's happening in the world in their own way, it gives them that freedom to do that. That's so critical, to express yourself, and to have that confidence."
As for exposing younger students to art at an early age, Lance smiled "if we nurture this at the beginning in younger students we could be fostering the next Monet or Van Gogh."
"I believe in having a well-rounded education. Yes, science and math, but the arts as well," DiCerbo said.
"That enables students to have creative skills, critical thinking skills and they need those opportunities to be self expressive. It's an incredibly valuable skill for the 21st Century, more than we realize. It helps us to connect with nature and each other. An arts festival is a celebration of when we come together and celebrate creativity."
"There are jobs out there for creative people," DiCerbo said.
"They're just not as visible as the teacher, the doctor, the dentist. There are so many creative people behind the scenes working in traditional and digital media, architectural studies, the business world needs creative thinkers. They're needed."
"Imagine Paris without the Eiffel Tower. What if the Mona Lisa vanished? It's priceless. These are iconic pieces of art that help define who we are. The Group of Seven helps define who we are. Filmmakers, musicians give us a sense of identity and belonging. How can we possibly take that out of our world? We need more of that particularly during these times more than ever before," DiCerbo said.
"Hopefully we get a lot of submissions," Lance said.
"We're not expecting students to donate a huge painting or drawing, but it'll be exciting to see what comes in."
Lance said she hopes it will be an encouragement for kids to start building a portfolio and consider a career in art.
It's late in the school year but kids can submit work they've done earlier in the current school year.
Prizes of $100, $75 and $50 will be awarded to first, second and third place winners in the Grade 6-8 show and competition.
Storage As Art: The Best Pieces For Trying This Stunning Trend – The Zoe Report
Storage products have exploded in the past few years, thanks to major proponents of organization like The Home Edit. At the same time, unique, artistic objects and vessels have become highly sought after in order to create an Instagrammable space. For the longest time, it seemed like you had to choose between the two — you could either create a sterile-but-tidy environment, or you could show off your personality. There was no in between. Fortunately, though, makers have realized that many people desire a balance of the two scenarios, and have turned to creating storage as art that helps keeps things in place while infusing style into the home.
One of the most recent examples of this was the collaboration between jewelry brand Mejuri and Claude Home, a contemporary vintage and furniture design company. Working together, the two recently came up with a buzzy set of trays that both hold accessories and act as objets d'art, effectively solidifying this merging of qualities as one of this year's trends to know.
But, of course, these aren't the only brands on board; plenty of other creators have been bringing storage and high design together for a while. And whether you're looking for small products that will keep desk items in place or entire pieces of furniture made to store your stuff with serious style, they've pretty much created it all. Ahead, some of TZR's favorite examples of the storage-as-art trend.
We at TZR only include products that have been independently selected by our editors. We may receive a portion of sales if you purchase a product through a link in this article.
Shop The Trend
Africa's NFT Scene Is Booming – International Attention Could Take it to the Next Level – ARTnews
Last November, Art X Lagos, West Africa's biggest art fair, partnered with leading NFT platform SuperRare to host Reloading…, one of the first NFT exhibitions for African artists. Featuring artists from Nigeria, Morocco, South Africa, Senegal, and elsewhere, the show has been described by those in West Africa's scene as a major milestone drawing international attention to what African digital artists are doing.
The show "brings so much liberty and independence to the artists, and really just opens up their options," Tokini Peterside, founder of Art X Lagos, told Reuters at the time.
Meanwhile, in March, the Centre for Contemporary Art Lagos held an introductory digital workshop on NFTs, moderated by Tomiwa Lasebikan, co-founder of Buycoins Africa. A month later, the African Digital Art Network launched the NFT marketplace Nandi to, as co-founder Chinedu Enekwe told Decrypt, "build an ecosystem" that can "help brands and creators to get paid."
The buzz around Reloading … and these other initiatives is reflective of the fact that cryptocurrencies and digital art already have a major presence in Nigeria and across Africa. And it is only getting bigger.
Between July 2020 and June 2021, Africa saw $105.6 billion in cryptocurrency payments, a roughly 1200 percent increase over the previous year, according to a March report by blockchain data platform Chainalysis. Meanwhile, Nigeria, Kenya, and South Africa were all ranked in the top ten countries for crypto use.
But despite this seemingly wide crypto adoption, African digital art still has challenges to overcome.
Early last year, the Nigerian government banned banks and financial institutions from using cryptocurrencies, causing many Nigerians to empty their crypto wallets in a wave of panic. While Nigeria announced new rules earlier this month to ease the restrictions, over a dozen African countries still have full bans – including Algeria, Egypt, Morocco, and Tunisia.
The bans have handicapped the digital art ecosystems in those countries. While more tech-savvy Nigerians were able to get around the ban, Victor Ekwealor, a Nigerian tech journalist, told me, it prevented most from investing in crypto art in the months after.
"Many African artists market to me directly because there are not enough collectors to buy their art," Daliso Ngoma, a South African NFT collector and founder of African Technopreneurs, told me.
Similarly, Rodney Asikhia, the owner of Tribes Art Africa, a contemporary art gallery in Lagos, observed,"The rate of patronage of NFTs by African artists is relatively low when compared to the patronage of works by artists from elsewhere."
This problem arises because most collectors of digital art by African artists are Africans. And Africa simply does not have enough high net-worth investors to collect NFTs at competitive international prices that could sustain the larger ecosystem. More global acceptance and patronage of the works of these artists by international collectors would lead to the greater growth of digital art on the continent.
Another obstacle to the ecosystem is the weak economies of African countries. Minting an NFT could cost anywhere from a few dollars up to several hundred, depending on gas fees – the fluctuating processing fee for crypto transactions – and the platform on which the digital work is minted. However, even just initializing your account will cost approximately $60-70 on most platforms, according to The Verge. In countries such as Nigeria or Kenya, where the minimum wage is approximately $100 – 130 per month, many artists struggle to earn enough to mint their works.
Artists like Osinachi, Young Kev, Kevin Kamau, and others agree that providing artists funds to mint their first NFTs would boost participation in the crypto space. Some artists have even taken it upon themselves to do so on an informal person-to-person basis, playing their part in making this field of blockchain assets expansive and inclusive.
But while artists have provided support to each other, Africa's NFT sector needs infrastructure comparable to the traditional art world. In that self-sustaining ecosystem, artists make work, gallerists and art dealers market and promote it, and collectors buy it. Meanwhile, art institutions exist to support, develop, and sustain artists as well as facilitate the growth and promotion of art. Introducing this high level of organization and functioning to the digital art space would help onboard more interested people, along with the experienced players, to grow and promote digital art across Africa.
Towards this end, Charles Mbata, a digital art collector and curator, and Chuma Anagbado, an artist and entrepreneur, are bringing together artists, enthusiasts, and cultural figures to build a crypto art community in Nigeria.
One of their initiatives is the Nigeria NFT Community, which organizes programs and fosters collaborations between artists in the space to get recognition by a wider, more global audience. Through a collection like Ape of Lagos, the community aimed to spotlight African artists creating NFTs on the Ethereum blockchain. They also organized 3rd Dimension, a virtual reality exhibition for Nigerian digital creators. A similar forthcoming exhibition is Metanoia, which will be held in New York, Nairobi, and Lagos. Other communities like Africa NFT Community, Black NFT Art, and Network of African NFT artists have filled similar roles, helping artists garner more sales, exhibitions and critical engagement. These communities have also facilitated training and information dissemination to artists and other creatives interested in NFTs.
People have often talked about how the NFT craze is driven by money and not the quality of the art. There is some validity to that opinion. It is undeniable that Beeple's $69.3 million NFT sale at Christie's and Osinachi's NFTs achieving prices of $80,000 have created investment interest for collectors and hopes of a goldrush for artists.
But there are African creatives who are interested in doing serious work with NFTs. Nigerian graphic designer Mayowa Alabi, also known as Shutabug, said in an interview earlier this year that he wants his digital art to tell a larger story. Johannesburg-based art director Fahtuwani Mukheli, believes NFTs level the international playing field and give African artists access to audiences they may otherwise not have had access to. In an interview with TRT World, he said that NFTs "make us [African artists] compete completely with everyone at the same time in the world."
This expanded access and reach have convinced many African artists and art world professionals that it is therefore important to pay attention to the kinds of art they put out in the world – art that seriously engages with African reality and identity.
The digital art ecosystem in Africa can yet experience more growth if more is done to overcome the challenges it currently faces.
While there may not be immediate solutions to difficult home economies or unfavorable crypto laws, we can provide education to expand understanding of the space, develop infrastructure to onboard and diversify collectors, and to provide artists training on how to position their work for the ever-evolving market, while improving their artistic vision.
North Bay news: Gallery in South River features sound art display | CTV News – CTV News Northern Ontario
An art gallery in South River, south of North Bay, is taking a different approach to everyday sounds.
A new display captures sound through interactive sound art.
When you turn the crank on a refurbished circular ball machine, steel balls whiz about and orbit until they fall into the hole where they hit a microphone which activates a sound system.
It's one of two new pieces at New Adventures in Sound Art, a gallery dedicated to sound and media art.
"We are interested in things that use electronics and interactivity, and also acoustic sounds. About twenty years ago, there were very few opportunities for presenting artwork with sound," said Darren Copeland of New Adventures in Sound Art
The gallery worked with Ottawa-based artist and composer, Jesse Stewart, and colleague, Matt Edwards, to bring in two new interactive displays called Orbits and Gong Show.
"With sound art, a lot of this work is about challenging the dominance of sight and visual communication," said sound artist Jesse Stewart.
Gong Show features three gongs hung from the gallery and an iPad in the window.
The gongs play sounds when someone walks in front of the iPad's motion tracker system, prompting mechanical strikers to strike the gongs.
"These pieces encourage listening, a sense of wonder or discovery, so we don't just hear with our ears. We also hear with our bodies," said Stewart
Since 2001, new adventures in sound art began with year-round programming and sound performances in Toronto.
In 2017, it relocated to South River.
"This year, we're focussing on alternative ways of making music, using your body and moving around, and other projects we have that use the body as a way of listening."
The two outdoor exhibits will be on display until September 26th…