Cookie contest, art auction fundraise for Highlands arts programs
Dozens of people from the Highlands School community came out Saturday for its annual Culinary Arts Cook-Off fundraiser.
Organizers called this year's main draw – a cookie contest – a "friendly competition" between local amateur and professional chefs.
The entries featured haskap jam, lemon and lime, and a wish, similar to a fortune cookie. Samples were sold for $1.
"We have 12 entries this year – from amateur to professional to professional bakers – and they each bring their cookie creation. We all get to sample it. It was a feeding frenzy in here earlier," laughed organizer Nickela Anderson. "And then we have a judges room with some professional foodies paired with some students."
Four awards were to be handed out: overall people's choice, judges' choice, kids' choice and most creative.
Between cookies, attendees could also bid on items in Saturday's live auction and view those listed in an online auction running throughout the weekend.
All of the proceeds raised by the "cookie-off" and auctions will be put toward school arts programs, Anderson told CTV News Edmonton.
"We need some more theatre and stage equipment, artists in residence, art space field trips, industrial design equipment like 3D printers and things like that. And all that art that's on auction is collaborative pieces built by each class. So every student has something on offer here today," she said.
"It's a great way to connect our students and the school community with different kinds of creative arts, like the culinary arts. So it broadens out what it means to be an artist in what people think of as the traditional sense."
Some of the student creations included painted charcuterie boards, framed cityscape artwork and book nooks portraying scenes from popular novels.
Previous fundraisers raised as much as $18,000, Anderson said, so organizers were hoping to exceed that.
More information about the virtual auction closing Sunday at 8 p.m. is available online.
With files from CTV News Edmonton's John Hanson 
The Art Collection of David Bowie: An Introduction – Open Culture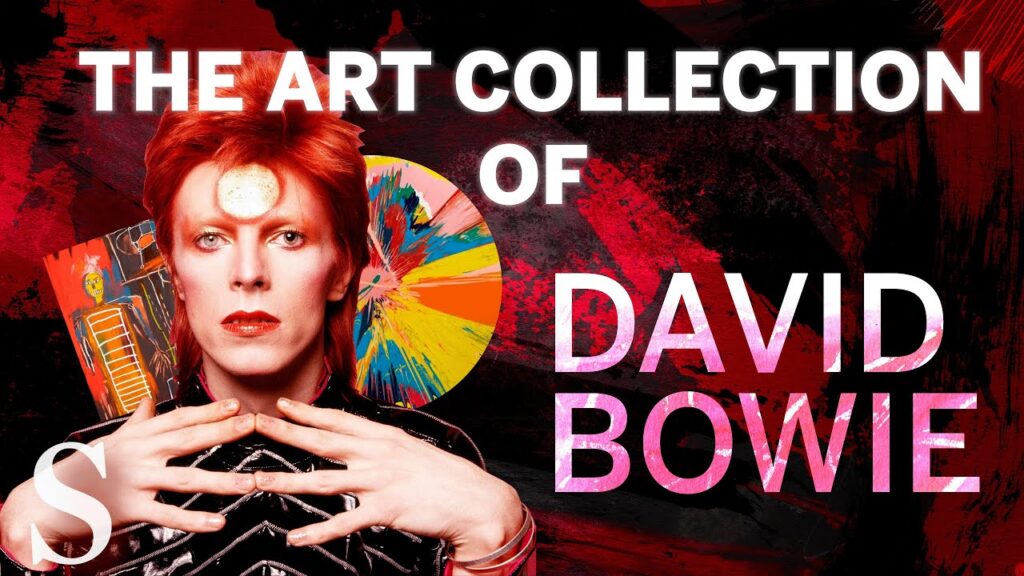 Today, it hardly surprises us when a successful, wealthy, and influential rock star has a large art collection. But David Bowie, ahead of the culture even at the outset of his career, began accruing art well before success, wealth, or influence. He put out his debut album when he was twenty years old, in 1967, and didn't hesitate to create a "rock star" lifestyle as soon as possible thereafter. As the world now knows, however, rock stardom meant something different to Bowie than it did to the average mansion-hopping, hotel room-trashing Concorde habitué. When he bought art, he did so not primarily as a financial investment, nor as a bid for high-society respectability, but as a way of constructing his personal aesthetic and intellectual reality.
Bowie kept that project going until the end, and it was only in 2016, the year he died, that the public got to see just what his art collection included. The occasion was Bowie/Collector, a three-part auction at Sotheby's, who also produced the new video above. It examines Bowie's collection through five of its works that were particularly important to the man himself, beginning with Head of Gerda Boehm by Frank Auerbach, about which he often said — according to his art buyer and curator Beth Greenacre — "I want to sound like that painting looks." Then comes Portrait of a Man by Erich Heckel, whose paintings inspired the recordings of Bowie's acclaimed "Berlin period": Low, "Heroes," Lodger, and even Iggy Pop's The Idiot, which Bowie produced.
As we've previously featured here on Open Culture, Bowie also loved furniture, none more so than the work of the Italian design collective known as Memphis. This video highlights his red Valentine typewriter, a pre-Memphis 1969 creation of the group's co-founder Ettore Sottsass. "I typed up many of my lyrics on that," Bowie once said. "The pure gorgeousness of it made me type." Much later, he and Brian Eno were looking for ideas for the album that would become Outside, a journey that took them to the Gugging Institute, a Vienna psychiatric hospital that encouraged its patients to create art. He ended up purchasing several pieces by one patient in particular, a former prisoner of war named Johann Fischer, enchanted by "the sense of exploration and the lack of self-judgment" in those and other works of "outsider" art.
The video ends with a mask titled Alexandra by Beninese artist Romuald Hazoum, whom Bowie encountered on a trip to Johannesburg with his wife Iman. Like many of the artists whose work Bowie bought, Hazoumè is now quite well known, but wasn't when Bowie first took an interest in him. Made of found objects such as what looks like a telephone handset and a vinyl record, Alexandra is one of a series of works that "play on expectations and stereotypes of African art, and are now highly sought after." Bowieologists can hardly fail to note that the piece also shares its name with the daughter Bowie and Iman would bring into the world a few years later. That could, of course, be just a coincidence, but as Bowie's collection suggests, his life and his art — the art he acquired as well as the art he made — were one and the same.
Related content:

Behold the Paintings of David Bowie: Neo-Expressionist Self Portraits, Illustrations of Iggy Pop, and Much More
96 Drawings of David Bowie by the "World's Best Comic Artists": Michel Gondry, Kate Beaton & More
Bowie's Bookshelf: A New Essay Collection on The 100 Books That Changed David Bowie's Life
How Aladdin Sane Became the Most Expensive Album Cover Ever — and David Bowie's Defining Image
"David Bowie Is" — The First Major Exhibit Dedicated to Bowie Spans 50 Years & Features 300 Great Objects
Meet the Memphis Group, the Bob Dylan-Inspired Designers of David Bowie's Favorite Furniture
Based in Seoul, Colin Marshall writes and broadcasts on cities, language, and culture. His projects include the Substack newsletter Books on Cities, the book The Stateless City: a Walk through 21st-Century Los Angeles and the video series The City in Cinema. Follow him on Twitter at @colinmarshall or on Facebook.
Masha Titova's "The Music of Art" – The New Yorker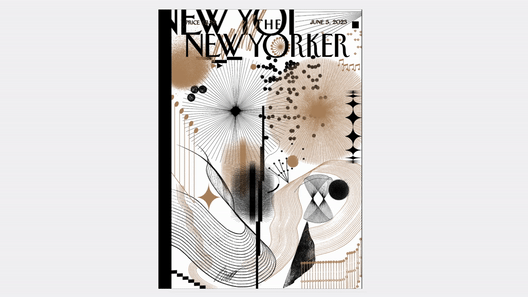 It's not often that the cover of The New Yorker, traditionally a storytelling image signed by the artist, reflects what goes on behind the scenes at the magazine—but that is what the black and copper shapes designed by Masha Titova for the cover of the June 5, 2023, Music Issue, available to read in its entirety here, manage to do.
The first step was connecting with Titova, a Russian artist who relocated to Montenegro last year, after the Russian invasion of Ukraine. I asked Titova to use her sense of design to orchestrate a portrayal of a variety of sounds. Titova says, "I don't play an instrument, but I love music, especially its rhythms, which often inspire me. And when I design, I try to harmonize the various visual shapes as if they were part of a musical composition."
Once we settled upon the image, we recorded the aural elements that make up the cover's malleable melody. Some of our more musically adept staffers—including Nick Trautwein, a senior editor who moonlights as a saxophonist, and David Remnick, the editor, on guitar—gathered to interpret Titova's shapes, selecting the ones they wished to play. Julia Rothchild, a managing editor, who contributed piano, viola, and voice, described the process as "an exercise in synesthesia. What sound would that square make, or those triangles? A thud, or a flutter?"
Impromptu chamber groups formed: a viola-cello duo, a vocal quintet. The musical respite in the middle of the day presented the opportunity to exercise a different kind of focus from that of closing pieces, or making fact-checking calls. The associate research director Hélène Werner, who has played the cello since she was eight years old, said, "Music set me on my way. It was the organizing principle of my childhood. . . . It demands, of those who play it and listen to it, intellectual commitment and emotional honesty. It is generous in return. There is no better teacher." Rina Kushnir, the art director, also appreciates music for its emotive qualities, for its ability to communicate what is "not possible to express otherwise." Liz Maynes-Aminzade, the puzzles-and-games editor, says that "drumming and writing (puzzles or otherwise) light up some of the same parts of my brain." A unifying factor in everyone's performance was how seriously each performer took their music. One after the other, when their turn came, they paused their casual banter, took a deep breath, played their bit, and only then rejoined the playful green-room atmosphere. It was an unplanned but perfect demonstration of all our colleagues' marvellous dedication to all they do.
The making of a weekly magazine (or of a Web site, a radio show, a festival, any of our many undertakings) is always a concerted endeavor, but that collaboration happens behind the scenes. This multimedia project, programmed by David Kofahl, the head of the interactives department, with the help of the features editor Sam Wolson, gives a glimpse of the way the efforts of many talented individuals and departments combine to insure that The New Yorker appears on your doorstep (or in your in-box), week after week, as good as we can make it.
See below for more covers about music:
Find covers, cartoons, and more at the Condé Nast Store.
OSS art students create 'exciting' new mural for school atrium – OrilliaMatters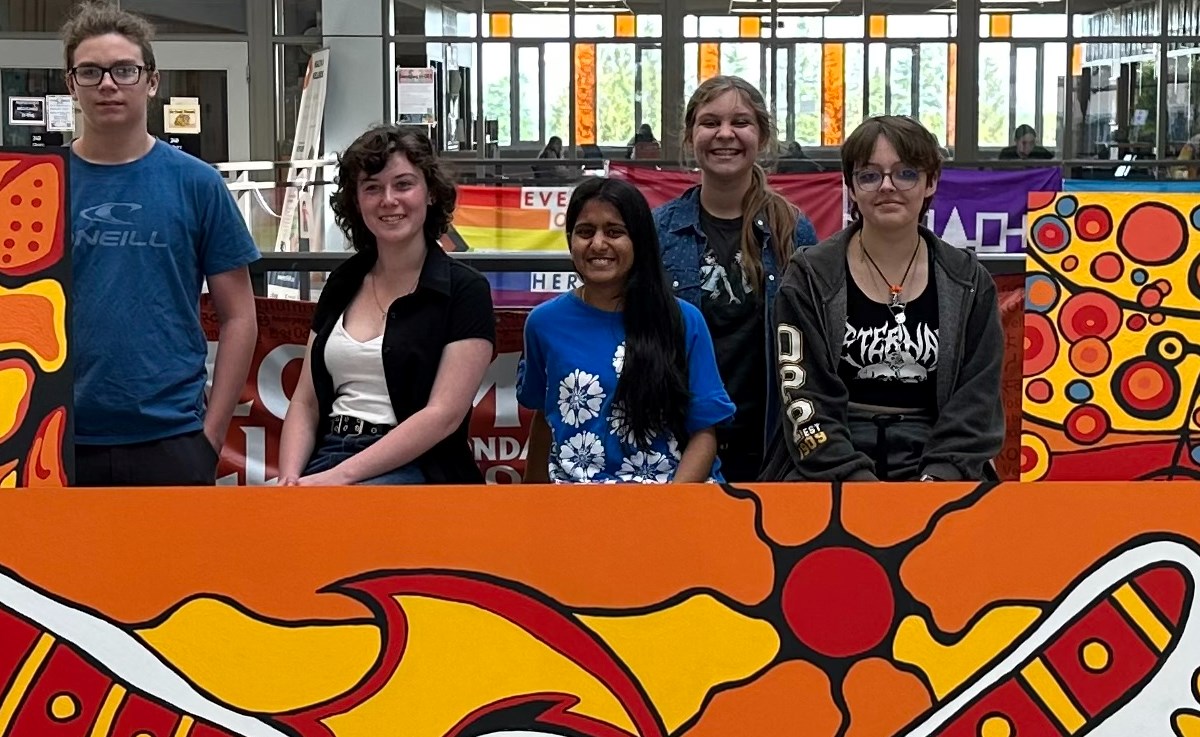 The Orillia Secondary School (OSS) atrium will soon be graced with a new, student-made triptych mural that celebrates school spirit and Indigenous culture and history.
For the past two months, approximately 20 students from grades 9-12 have participated in the brand-new OSS Mural Club, put together by art teachers Steph Dunn and Lindsay Cooper-Wagner.
"We just decided to do this as an extracurricular, to give these artist students a home to have, you know, if they're not involved in in sports or other things," said Dunn. "They kind of found each other and we got to do some creative stuff together as a community."
Together, the group created the Woodlands-style mural.
"It was inspired by one of my Grade 9 students, an Indigenous student, who did a drawing of our (school mascot) Nighthawk in the Woodlands style," Dunn said.
Each piece of the mural reflects something different about the school, the community, and the area's Indigenous history, Dunn explained.
"We kind of adopted that style, and also created a treaty map that's done in the Woodlands style, a kind of (abstraction) of Simcoe County," she said. "We also have a tree that symbolizes … we're all in this in this building together … and there are seven little mini Nighthawks in the trees — they represent the seven grandfather teachings."
The students who participated were happy for the opportunity to help create something meaningful and lasting for their school.
"For me, it was like really exciting to hear, as a Grade 9, I get to finally do something really big," said OSS student Triti Shah. "I do a lot of art, digital (and) traditional, and it's just like a really big thing for me … throughout my childhood. It's really great actually getting to have something up there and out for everyone to see."
Grade 10 student Paige Hodges, who is also an artist in her free time, said it was important to incorporate elements of Indigenous history in the mural.
"That was the the big idea was to really incorporate the indigenous aspects to it," she said. "It is really nice to see that sort of inclusiveness in art pieces that will be displayed everywhere."
The students are looking forward to the mural taking its rightful place in the atrium.
"I think they're going to take a lot of pride in it once it's up," said Dunn.