Coronavirus diaries: social media in an unsocial age – Nature.com
In the absence of seeing friends and colleagues in person, I've been turning a lot more to social media. Under lockdown, this is one of the few ways to stay in contact. I have used WhatsApp and Facebook to connect with friends, and Twitter and LinkedIn for loosely work-related discussions. It's good to be able to interact with people while staying physically distant, but online social media can be difficult. There are three areas that I find most tricky: the time-sink, the acrimony, and the jealousy.
The time-sink. I am easily distracted, so falling down the rabbit hole of social media when I should be working is no surprise. Whenever I open the Internet, I nearly always stay for longer than I'd planned. This isn't unique to social media: I can easily waste time on a Wikipedia hunt, a BBC News binge or a random search on eBay to replace the Star Wars Boba Fett figurine I lost in 1986. My original justification for spending time on social media was that tweeted articles get more citations, helping them to rise above the tsunami of publications out there — although the correlation justifying this is weak. However, my experience of social media has been "Come for the academic citations. Stay for the pitched political battles."
The acrimony. Speaking of which, maybe I am too sensitive, but social media at the moment has become truly unhinged. At the start of the pandemic, Twitter was a good source of information, especially as the epidemiologists and genetics experts shared insights. Sadly, it now resembles a whirlpool of politics, conspiracy theories and madness: 'tweet' is a misleadingly cute word for the aggressive tone of many of the messages on the platform. In the absence of real-world interactions, people seem to have become more and more polarized. A recent study suggested that the fortnight around the end of May and the beginning of June 2020 was the saddest ever on Twitter.
There are a few nice moments on social media, particularly photos of life in lockdown, but they do not outweigh the angry shouting. This discord has spilled into platforms other than Twitter; even WhatsApp has moments when gentle banter turns into a heated debate, without the resolution that would follow an argument with friends in the pub.
The jealousy. But my biggest issue with social media under lockdown is that I draw comparisons with other people and their careers. My worst, self-destructive tendency is framing my own academic career in terms of other people's achievements. This is not helped by social media, where encountering someone else celebrating a paper or a grant can sometimes make me feel envious of their success.
I know that this is not healthy, and it has not got better during lockdown. It seems that every academic on Twitter is now working on the coronavirus. This has led me to spend a lot of time tormenting myself about not shifting my whole laboratory over to coronavirus research when I first heard of it in January. SARS‑CoV-2 is a respiratory virus, so it would have aligned closely with my research interests and experience. This line of what-iffery is really unhelpful: my group is quite small, all my team members already have specific projects, and I had neither the money nor the capacity to start working on something completely new. But seeing the large amounts of research funding being diverted to an area that overlaps with my own interests brings out the green-eyed monster in me.
Social media has a tendency to simplify our complex personas into a single narrative: my social-media persona is not my true self. I think the commonest impression that you get of other academics on social media is one of relentless success. This is not even the impression that people set out to make: sharing papers is a way to celebrate the team that has worked so hard to complete the study. But the rolling stream of papers can create an atmosphere of one-upmanship, even if unintentionally. Again, the lack of conversations in person, rather than online, does nothing to dispel the bunker mentality.
So with the lockdown in England now at stage 3 on a 5-stage scale (5 is the strictest), maybe it is time to scale back my social-media addiction. It does seem as if the fog is lifting slightly. My lab has generated the first new data in 12 weeks, I have seen my parents and finally been able to get an online grocery-delivery slot.
With these changes, and the ramping back up of my day job, we have decided to make these diary entries monthly rather than weekly. I hope you have enjoyed reading them as much as I have writing them.
MacGregor Critical of Canadian Media for Coverage of 'Act of Terror' at Rideau Hall – My Cowichan Valley Now
Our local Member of Parliament is responding to Canadian Ranger Corey Hurran breaching the grounds of Rideau Hall recently with shotguns, revolvers, and a rifle.
In a tweet, Cowichan-Malahat-Langford MP Alistair MacGregor wrote, "You don't break into the grounds where the PM lives, armed with multiple loaded firearms, wanting to have a chat."
MacGregor said we need to call this what it is, 'an act of terror' and it's surprising at the way this incident has been portrayed in the Canadian media.
"The way its been portrayed in the media is problematic because I think we need to call this out for what it is, it's an act of terror; when a person tries to intimidate or threaten the head of our government with loaded weapons," said MacGregor. "I'm actually quite surprised that this hasn't been more of a newsworthy event."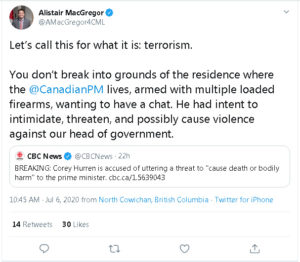 Corey Hurran, a 46-year-old Canadian Ranger from Manitoba breached the grounds of Rideau Hall, where the Prime Minister was staying on Thursday, with loaded shotguns, a rifle, and a revolver.
MacGregor said it's surprising how the media is portraying this 'act of terrorism,' and this type of incident needs to be condemned.
"I just think we need to condemn this kind of thing and express our condolences to the Prime Minister and to his family, it must have been a very scary thing," said MacGregor. "He has good security around him but the fact that it happened in the first place is very problematic."
On Friday, Hurran was charged with 22 offences, the majority of which were firearms-related charges.
They included Careless Use of a Firearm, Possession of a Weapon for a Dangerous Purpose, and Possession of a Prohibited or Restricted Firearm.
He remains in custody and is expected back in court on July 17th.
U.S. looking at banning Chinese social media apps, including TikTok, Pompeo says – CBC.ca
Secretary of State Mike Pompeo said on Monday that the United States is "certainly looking at" banning Chinese social media apps, including TikTok, suggesting it shared information with the Chinese government, a charge the company denied.
"I don't want to get out in front of the president, but it's something we're looking at," Pompeo said in an interview with Fox News, referencing Donald Trump.
U.S. lawmakers have raised national security concerns over TikTok's handling of user data, saying they were worried about Chinese laws requiring domestic companies "to support and co-operate with intelligence work controlled by the Chinese Communist Party."
Pompeo said Americans should be cautious in using the short-form video app owned by China-based ByteDance.
"Only if you want your private information in the hands of the Chinese Communist Party," Pompeo remarked when asked if he would recommend that people download TikTok.
In response to his comments, TikTok told Reuters it has never provided user data to China.
"We have no higher priority than promoting a safe and secure app experience for our users. We have never provided user data to the Chinese government, nor would we do so if asked," TikTok said in an emailed statement.
The app, which is not available in China, has sought to distance itself from its Chinese roots to appeal to a global audience.
Increasing China-U.S. tensions
Pompeo's remarks also come amid increasing U.S.-China tensions over the handling of the coronavirus outbreak, China's actions in the former British colony of Hong Kong and a nearly two-year trade war.
TikTok was recently banned in India along with 58 other Chinese apps after a border clash between India and China.
Reuters reported late on Monday that TikTok would exit the Hong Kong market within days, after China's establishment of a sweeping new national security law for the region.
Hong Kong returned to Chinese rule in 1997 with the guarantee of freedoms and far-reaching autonomy under a "one country, two systems" formula agreed to with Britain.
EU executive expresses concern over Hungary's media freedom – The Guardian
BUDAPEST (Reuters) – A senior European Commission official has expressed concern for the independence of Index.hu, one of Hungary's last major independent news websites and a leading critic of Prime Minister Viktor Orban's government.
"What you are doing, the values you are fighting for, media freedom and pluralism, are essential for democracy," Vera Jourova, the commission's Vice President for Values and Transparency, said in a message to Index published on its web site. "You can count on my support."
Editor-in-chief Szabolcs Dull said last month that Index was at risk of losing its independence because of "external influence".
He said Index wanted to remain free of government influence and undue pressure from businessmen and advisers with government ties.
Orban has extended his influence over many walks of life in Hungary during his decade-long rule.
Pro-government businessman Miklos Vaszily bought a major stake in a company with control of Index's revenue stream in March, raising fears of interference with the web site to favour Orban.
Vaszily, who has not returned Reuters requests for comment, has denied he wants to muzzle Index, saying economic problems need to be fixed. But staff are on alert as Vaszily had previously turned their competitor, Origo.hu, into a government mouthpiece.
Jourova said Index's business situation should not be used as a pretext to undermine its freedom.
"While readership and audiences have been record high, revenues have been heavily hit. Economic pressure should not turn into political pressure…I would like to express my solidarity with the staff of Index."
Media freedom was a key issue when the EU warned Hungary in April to respect the bloc's values as it fought against the coronavirus pandemic.
(Reporting by Marton Dunai; Editing by Angus MacSwan)