Coronavirus: The place in North America with no cases – BBC News


.css-94m6rd-HeadingWrapperborder-bottom:solid 1px #BABABA;padding-bottom:1.5rem;.css-94m6rd-HeadingWrapper > *:not([hidden]):not(style) ~ *:not([hidden]):not(style)margin-top:1rem;
.css-1c1994u-StyledHeadingfont-family:ReithSerif,Helvetica,Arial,freesans,sans-serif;font-weight:500;font-size:2rem;line-height:2.25rem;color:#3F3F42;@media (min-width:37.5rem).css-1c1994u-StyledHeadingfont-size:2.75rem;line-height:3rem;.css-1c1994u-StyledHeading:focusoutline-style:none;.css-1c1994u-StyledHeading:focus-visibleoutline-style:auto;
Coronavirus: The place in North America with no cases
.css-15hnagr-Contributorfont-family:ReithSans,Helvetica,Arial,freesans,sans-serif;font-weight:400;font-size:0.8125rem;line-height:1rem;display:-webkit-box;display:-webkit-flex;display:-ms-flexbox;display:flex;-webkit-align-items:center;-webkit-box-align:center;-ms-flex-align:center;align-items:center;color:#696969;.css-15hnagr-Contributor strongfont-family:ReithSerif,Helvetica,Arial,freesans,sans-serif;font-weight:500;color:#3F3F42;
By Jessica Murphy
BBC News, Toronto
.css-11c8au8-MetadataStripfont-family:ReithSans,Helvetica,Arial,freesans,sans-serif;font-weight:400;font-size:0.8125rem;line-height:1rem;margin-top:-0.25rem;color:#696969;
.css-8d0yke-MetadataStripItemdisplay:inline-block;white-space:nowrap;margin-top:0.25rem;max-width:calc(100% – 1em);.css-8d0yke-MetadataStripItem::aftercontent:";display:inline-block;height:1.25em;border-left:#BABABA 1px solid;margin:0 0.5em;vertical-align:-0.25em;.css-8d0yke-MetadataStripItem:last-childmax-width:100%;.css-8d0yke-MetadataStripItem:last-child::aftercontent:none;

Published

.css-1n98t8y-MetadataContentdisplay:inline-block;max-width:100%;

.css-1hizfh0-MetadataSnippetdisplay:inline-block;max-width:100%;overflow:hidden;text-overflow:ellipsis;white-space:nowrap;vertical-align:bottom;.css-1n712b9-IconContainerdisplay:inline-block;width:1em;height:1em;vertical-align:-0.125em;padding-right:0.25em;

6 hours ago
.css-2yhany-StyledTagContainerfont-family:ReithSans,Helvetica,Arial,freesans,sans-serif;font-weight:400;font-size:0.875rem;line-height:1.125rem;
Related Topics
.css-1emjddl-Clusteroverflow:hidden;
.css-1oubwgi-ClusterItemsdisplay:-webkit-box;display:-webkit-flex;display:-ms-flexbox;display:flex;-webkit-flex-wrap:wrap;-ms-flex-wrap:wrap;flex-wrap:wrap;margin:calc(0.5rem / 2 * -1);.css-1oubwgi-ClusterItems > *margin:calc(0.5rem / 2);
.css-dh1p3g-StyledTagdisplay:-webkit-box;display:-webkit-flex;display:-ms-flexbox;display:flex;white-space:nowrap;
.css-1sd1v8r-StyledLinkcolor:#3F3F42;border:1px solid #DB7F7F;font-weight:bold;padding:0.5rem;-webkit-text-decoration:none;text-decoration:none;.css-1sd1v8r-StyledLink:hover,.css-1sd1v8r-StyledLink:focusbackground:#B80000;color:#FFFFFF;Coronavirus pandemic
.css-r83t2i-ComponentWrappermargin:1.5rem 0;
.css-1759m9z-StyledFigurefont-family:ReithSans,Helvetica,Arial,freesans,sans-serif;font-weight:400;font-size:0.875rem;line-height:1.125rem;
.css-uf6wea-RichTextComponentWrappermargin:1rem 0;max-width:36.25rem;
.css-83cqas-RichTextContainercolor:#3F3F42;.css-83cqas-RichTextContainer > *:not([hidden]):not(style) ~ *:not([hidden]):not(style)margin-top:1rem;
.css-14iz86j-BoldTextfont-weight:bold;Covid-19 cases are rising in many parts of Canada, but one region – Nunavut, a northern territory – is a rare place in North America that can say it's free of coronavirus in its communities.
Last March, as borders around the world were slamming shut as coronavirus infections rose, officials in Nunavut decided they too would take no risks.
They brought in some of the strictest travel regulations in Canada, barring entry to almost all non-residents.
Residents returning home from the south would first have to spend two weeks, at the Nunavut government's expense, in "isolation hubs" – hotels in the cities of Winnipeg, Yellowknife, Ottawa or Edmonton.
Security guards are stationed throughout the hotels, and nurses check in on the health of those isolating. To date, just over 7,000 Nunavummiut have spent time in these hubs as a stopover on their return home.
It's not been without challenges. People have been caught breaking isolation and have had stays extended, which has in part contributed to occasional waiting times to enter the some of the hubs. There have been complaints about the food available to those confined there.
But, as coronavirus infections spread throughout Canada, and with the number of cases on the rise again, the official case count in Nunavut remains zero.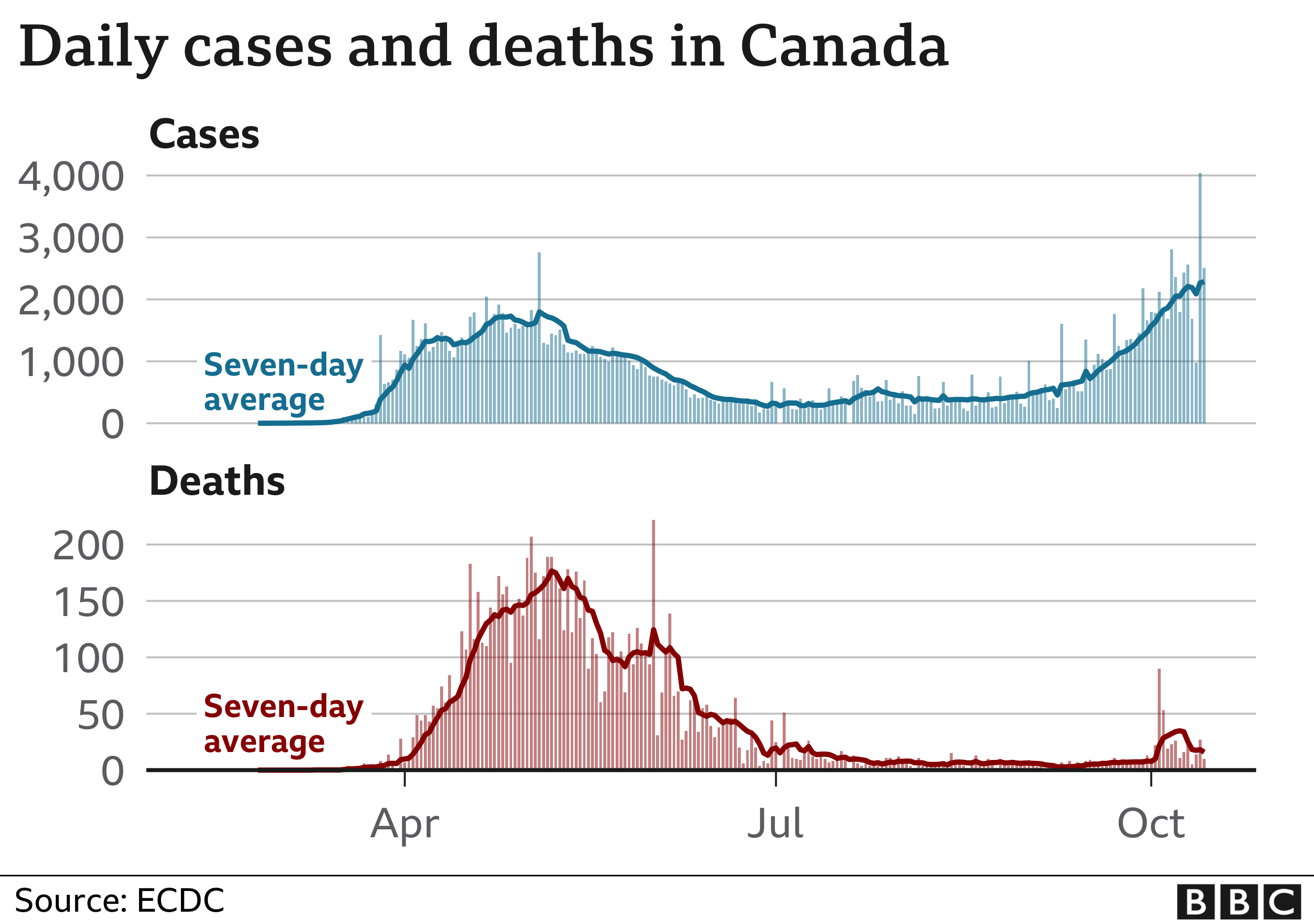 The "fairly drastic" decision to bring in these measures was made both due to the population's potential vulnerability to Covid-19 and the unique challenges of the Arctic region, says Nunavut's chief public health officer, Dr Michael Patterson.
About 36,000 people live in Nunavut, bound by the Arctic Ocean to the north and the Northwest Territories to the west, in 25 communities scattered across its two million square kilometres (809,000 square miles). That's about three times the size of Texas.
The distances are "mind-boggling at times", admits Dr Patterson.
Natural isolation is likely to be part of the reason for the lack of cases – those communities can only be reached year-round by plane.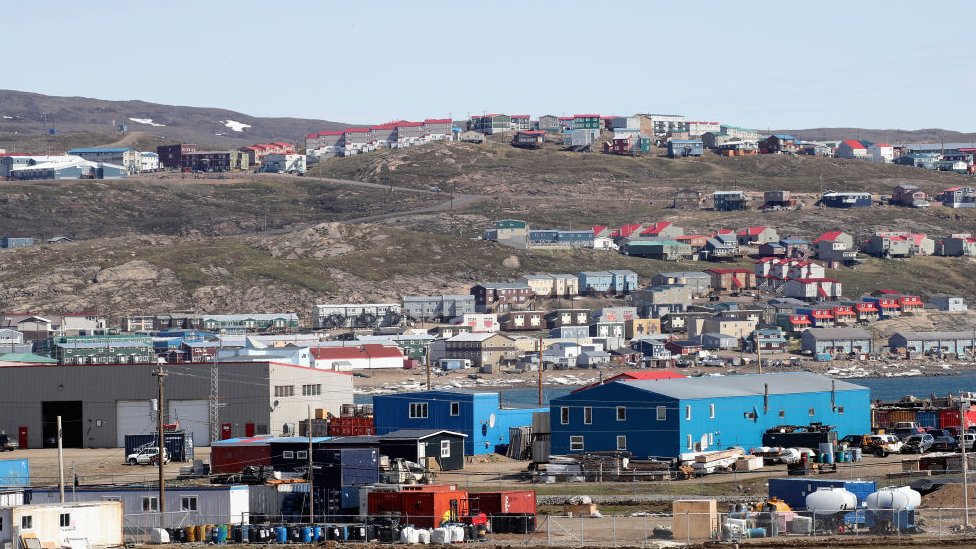 In late September, there was an outbreak linked to workers who flew in from the south to a remote gold mine 160km (100 miles) from the Arctic Circle.
(Those cases are currently being counted as infections in the miners' home jurisdictions, keeping the territory's official case count at nil).
That outbreak has "almost no chance" of spreading in the community because there hasn't been any travel between the mine and any of the communities for months, says Dr Patterson.
But while isolation can help, it can also create hurdles.
.css-1pzprxn-BulletListContainermargin-left:1.5rem;.css-1pzprxn-BulletListContainer *:not([hidden]):not(style) ~ *:not([hidden]):not(style)margin-top:1rem;.css-1pzprxn-BulletListContainer ullist-style-type:disc;.css-1pzprxn-BulletListContainer ollist-style-type:decimal;
.css-yidnqd-InlineLink:linkcolor:#3F3F42;.css-yidnqd-InlineLink:visitedcolor:#696969;.css-yidnqd-InlineLink:link,.css-yidnqd-InlineLink:visitedfont-weight:bolder;border-bottom:1px solid #BABABA;-webkit-text-decoration:none;text-decoration:none;.css-yidnqd-InlineLink:link:hover,.css-yidnqd-InlineLink:visited:hover,.css-yidnqd-InlineLink:link:focus,.css-yidnqd-InlineLink:visited:focusborder-bottom-color:currentcolor;border-bottom-width:2px;color:#B80000;@supports (text-underline-offset:0.25em).css-yidnqd-InlineLink:link,.css-yidnqd-InlineLink:visitedborder-bottom:none;-webkit-text-decoration:underline #BABABA;text-decoration:underline #BABABA;-webkit-text-decoration-thickness:1px;text-decoration-thickness:1px;-webkit-text-decoration-skip-ink:none;text-decoration-skip-ink:none;text-underline-offset:0.25em;.css-yidnqd-InlineLink:link:hover,.css-yidnqd-InlineLink:visited:hover,.css-yidnqd-InlineLink:link:focus,.css-yidnqd-InlineLink:visited:focus-webkit-text-decoration-color:currentcolor;text-decoration-color:currentcolor;-webkit-text-decoration-thickness:2px;text-decoration-thickness:2px;color:#B80000;Project Naming: Adding indigenous names to Canada's history
Most communities don't have the capacity to do Covid-19 testing locally, so tests have to be flown in and out.
Early on, tests results could take a week, meaning "you're really, really far behind by the time you can identify and respond", Dr Patterson says. There are efforts under way to boost testing capacity and turnaround times for results in the territory.
There are also limited medical resources in the north. The 35-bed acute care Qikiqtani General Hospital in Iqaluit, the capital, could handle about 20 Covid-19 patients, Dr Patterson estimates.
In the case of an outbreak, "those people who need treatment, or need admission, many of them will wind up having to go south and so that will another load on our Medivac system".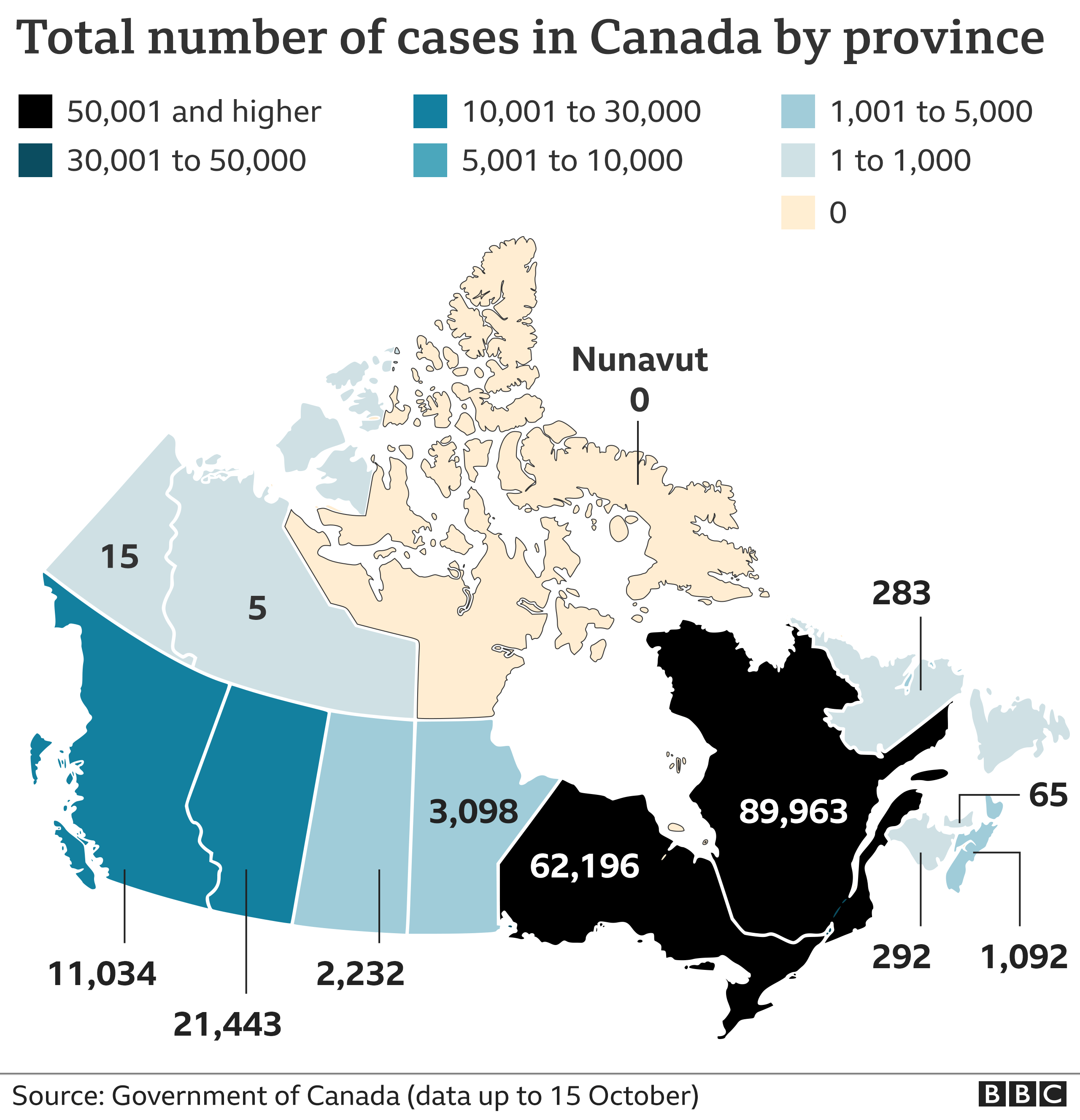 Many Inuit communities – in Nunavut and elsewhere – are potentially at much higher risk.
There are a few factors at play, including inadequate and unsafe housing conditions and high rates of overcrowding, an all too common reality in the territory.
The high prevalence of tuberculosis is another concern.
Inuit, who make up over 80% of the territory's population, are a high-risk group in general for respiratory infections, including tuberculosis, says Inuit Tapiriit Kanatami, a national advocacy group.
Inuit are nearly 300 times more likely to get tuberculosis than non-indigenous Canadians.
His own family experience with the respiratory illness brought home the potential dangers of Covid-19 for Ian Kanayuk.
The 20-year-old student and his mother came down with it a few years ago. He spent nine months on medication, his mother had a lengthy hospital stay.
Both are fine now but "it was really serious", he says.
So he's in favour of the social distancing measures, limits on gatherings, and the mask rules that are in place across the territory despite the lack of cases.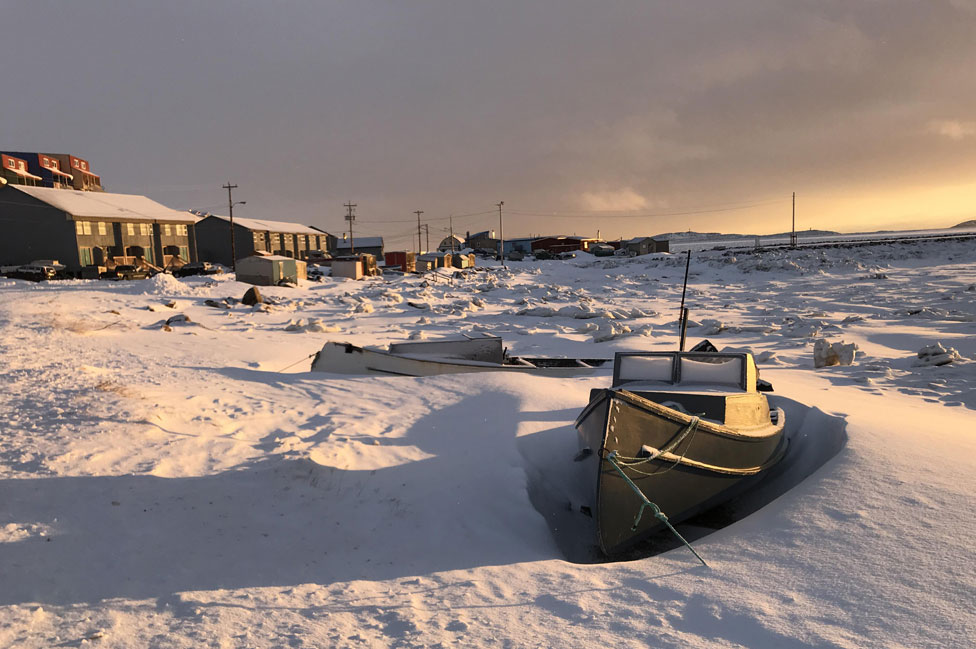 Dr Patterson says those are still necessary because "even though the hubs are there, the hubs aren't perfect". There are also some exemptions to the mandatory out-of-territory isolation, for example for certain critical workers.
So even with no community cases, the pandemic has touched the territory in ways that will be similar to people living throughout Canada.
Mr Kanayuk, like college students in many parts of the world, is disappointed to be studying remotely from his home in Iqaluit, and not in Ottawa, the national capital, where he had plans to attend in-person Nunavut Sivuniksavut, a programme for Inuit youth from across the country.
"It's disheartening to not be able to go down", he says. Then there's the added challenge that slow internet speeds in the territory place on remote learning.
The pandemic has also overwhelmed an already strained mail system, leading to frustrations over length queues to pick up packages.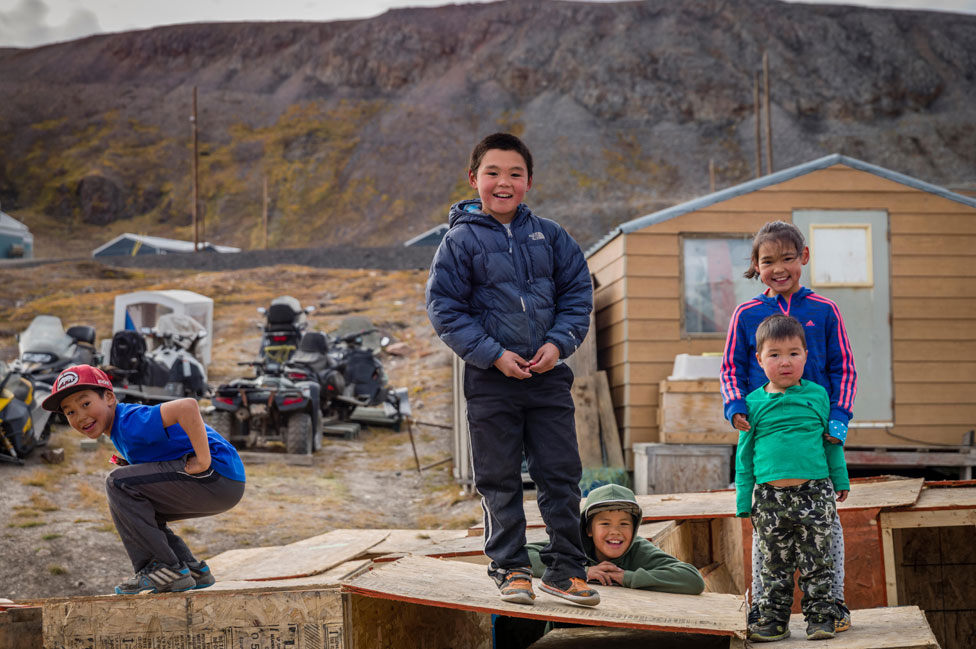 The Iqaluit post office was already one of the busiest in Canada, since so many residents depend on Amazon's free delivery to the Arctic city.
That post office has seen a spike in the number of parcels during the pandemic "beyond anything we could have anticipated", Canada Post said in a statement.
Since the strict measures came into force in Nunavut in March, there has been some relaxing of regulations.
With some conditions, Nunavummiut can now travel to the Northwest Territories and back without isolating, as can people going to Churchill, Manitoba for medical treatment.
But there needs to be measures in place to limit contagion when the virus does make its way to Nunavut, says Dr Patterson, who doesn't think it will be free of Covid-19 forever.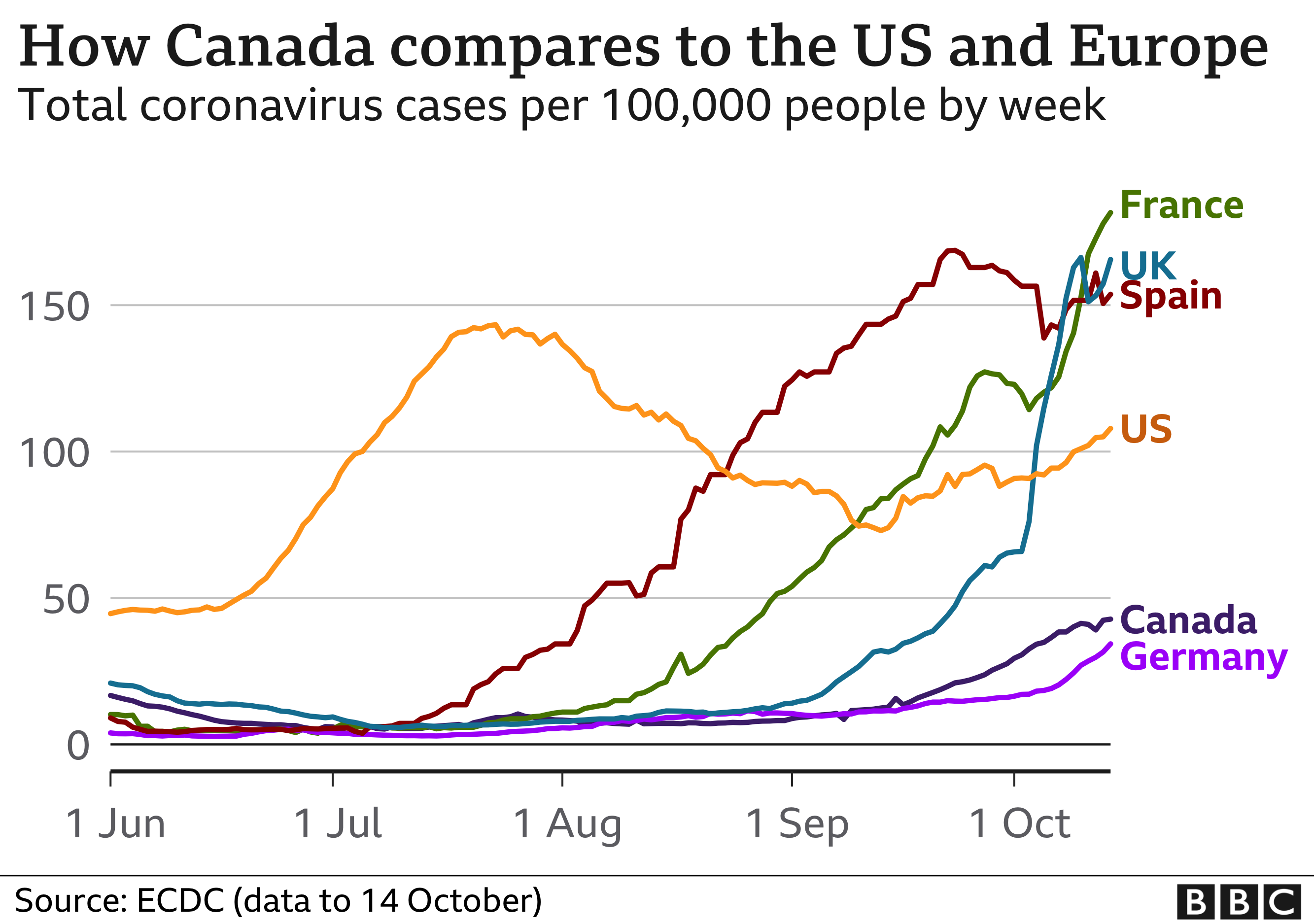 "No. Not indefinitely," he says, "I wouldn't have bet that it would stay this way for this long."
.css-72p885-ComponentWrapper-CrossheadComponentWrappermargin:1.5rem 0;padding-top:1rem;
.css-1jlqpzd-StyledHeadingfont-family:ReithSerif,Helvetica,Arial,freesans,sans-serif;font-weight:500;font-size:1.5rem;line-height:1.75rem;color:#3F3F42;@media (min-width:37.5rem).css-1jlqpzd-StyledHeadingfont-size:2rem;line-height:2.25rem;.css-1jlqpzd-StyledHeading:focusoutline-style:none;.css-1jlqpzd-StyledHeading:focus-visibleoutline-style:auto;
How is the rest of Canada doing?
Canada as a whole managed to stem the tide of the outbreak over the summer months, through full lockdowns in spring to a reopening over the summer.
As of late last week, there had been 191,732 cases nationwide and 9,699 deaths.
But with colder weather approaching, infections have been climbing sharply in many parts of the country, driven by the highly populated provinces of Quebec and Ontario.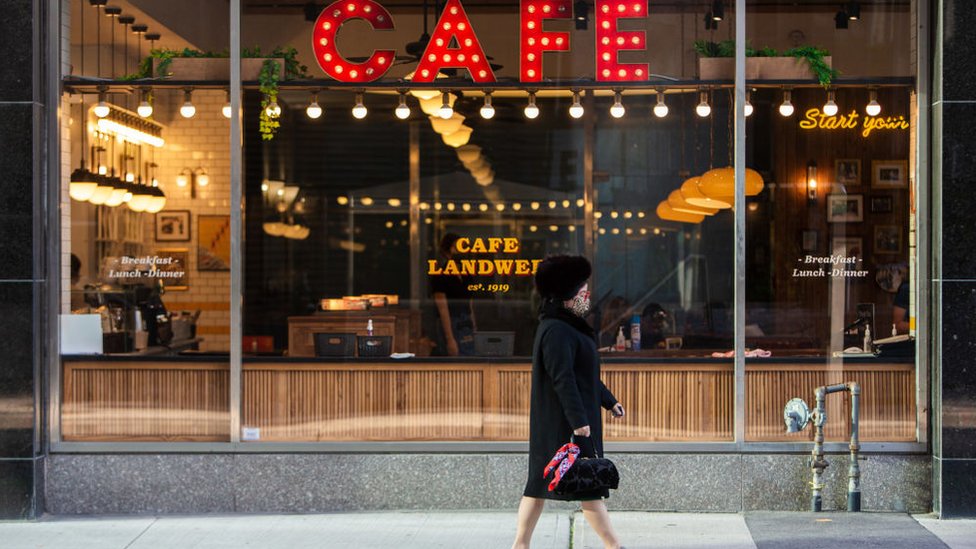 The average number of people sent to hospital each day is also rising in the places with the most cases, and health officials have warned a major surge still has the potential to overwhelm the healthcare system. Additionally, infections have begun making their way back into long-term care homes.
Parts of Ontario and Quebec have brought back some lockdown measures as they try to bring infections under control, pressing pause on such things as indoor dining and gyms in hotspots like Montreal and Toronto.
Other parts of Canada are fairing better.
Atlantic Canada, the four provinces east of Quebec, has been able to limit community spread and has implemented a travel bubble, with free movement for residents and strict 14-day isolation orders for outside travellers.
The country is still lagging in testing capacity, and has experienced long queues and slow turnarounds for results in some areas as children returned to school.
About 77,000 Canadians are being tested daily, but the goal is to be able to test up to 200,000 daily nationwide.
.css-144ki52-SectionWrappermargin:1.5rem 0;padding-top:1.5rem;
Canadians offer mixed confidence in government's vaccine rollout: Nanos survey – CTV News
TORONTO —
Just one in six Canadians are confident in the federal government's rollout of a COVID-19 vaccine once one becomes available, according to the latest data from Nanos Research.
The survey, commissioned by CTV News and released on Monday, asked 1,096 Canadians how confident they are that the government has a "a well organized plan to deliver COVID-19 vaccines to Canadians as quickly as possible" and found that just 16 per cent of respondents said they are "confident," while another 40 per cent said they are "somewhat confident."
"It's very early in this process and I think until we actually see more details and there's more meat on the bone, I expect (the vaccine rollout is) still going to be a bit of a question mark for many Canadians," Nik Nanos, the chair of Nanos Research, told CTV's Power Play.
When broken down regionally, respondents from Quebec offered the most confidence, with 73 per cent of respondents indicating that they are either confident or somewhat confident, while respondents in the Prairies had the least confidence, with 29 per cent indicating they are "not confident" in the vaccine rollout.
On Monday, Moderna Inc. said its testing shows that their COVID-19 vaccine is 94 per cent effective. The company is currently under a "rolling review" process with Health Canada, but has already asked for a emergency use approval in the United States and Europe.
Last week, Prime Minister Justin Trudeau named Maj.-Gen. Dany Fortin to lead Canada's vaccine rollout, with the goal of immunizing half of Canadians by September 2021.
Nanos says that substantial details in the fiscal update about the vaccine rollout will go a long way towards curbing any skepticism from Canadians.
"Anything said relating to the funding of vaccines, the logistics of vaccines, the distribution, the role that the federal government's going to take working with provinces, is probably going to be very well met, but if they don't talk about those things, it's just going to create a greater level uncertainty about the future," he said.
With files from The Associated Press
METHODOLOGY
Nanos conducted an RDD dual frame (land-and cell-lines) hybrid telephone and online random survey of 1,096 Canadians, 18 years of age or older, between November 26th and 29th, 2020 as part of an omnibus survey. Participants were randomly recruited by telephone using live agents and administered a survey online. The sample included both land-and cell-lines across Canada. The results were statistically checked and weighted by age and gender using the latest Census information and the sample is geographically stratified to be representative of Canada.
Individuals were randomly called using random digit dialing with a maximum of five call backs.
The margin of error for this survey is ±3.0 percentage points, 19 times out of 20.
This study was commissioned by CTV News and the research was conducted by Nanos Research.
[embedded content]
Coronavirus: What's happening in Canada and around the world on Monday – CBC.ca
The latest:
Alberta and British Columbia set grim new COVID-19 records on Monday, as new measures take effect and authorities carry out enforcement in an effort to curb rising infections.
Alberta reported 1,733 new cases, breaking a record set just two days ago, along with eight new deaths. There were 453 patients hospitalized with COVID-19, including 96 in ICU beds — both also new records.
"Like all Albertans, I am alarmed by the rising case numbers reported today and over the weekend," Dr. Deena Hinshaw, the province's chief medical officer of health, said at a news conference.
"This is another reminder that COVID-19 has a long incubation period, meaning the actions we take today will not be seen until 10 to 14 days from now."
On Monday, students in grades 7 to 12 moved to online classes under new COVID-19 measures. They will continue with virtual learning until at least Jan. 11.
Meanwhile, British Columbia reported its highest-ever COVID-19 weekend death toll, with 46 deaths confirmed over the last three days.
The province, which doesn't provide COVID-19 data on weekends, also recorded 2,364 new cases, including 277 historical cases that were previously missed because of a data reporting error in the Fraser Health region.
Provincial Health Officer Dr. Bonnie Henry said the majority of those who died — about 80 per cent — were long-term care residents. Since the start of the pandemic, 441 people in B.C. have died of the virus.
"These people have faces, have names, have stories. This tragedy is all of our tragedy," Henry said. "If you are thinking it may be OK to bend the rules, please remember this virus takes lives. It is the lives closest to us that are most at risk when we take risks."
Authorities have been cracking down on those who flout COVID-19 restrictions. On Sunday, a church in Langley was hit with a $2,300 fine for holding an in-person religious service, which is currently prohibited.
And in Vancouver, police say several fines were issued over the weekend after officers were called to break up four separate gatherings — including house parties and a limousine ride — all of which violated provincial COVID-19 protocols.
---
What's happening across Canada
As of 6:30 p.m. ET on Monday, Canada's COVID-19 case count stood at 378,139, with 66,037 of those considered active cases. A CBC News tally of deaths based on provincial reports, regional health information and CBC's reporting stood at 12,130.
On Monday, federal Finance Minister Chrystia Freeland tabled the Liberal government's long-awaited economic statement, with Ottawa eyeing up to $100 billion in post-pandemic stimulus spending.
That comes as Canada's deficit is projected to hit a record high of more than $381 billion for this fiscal year.
Freeland said the government's immediate priority is to do "whatever it takes" to help Canadians and businesses stay safe and solvent. The risks associated with not providing enough economic support right now outweigh those involved in spending too much, she said.
The stimulus package — valued at $70 billion to $100 billion over roughly three years — is intended to build a greener, more inclusive, more innovative and competitive economy, according to the government. It is intended to launch after a COVID-19 vaccine is distributed and life begins to return to normal.
In Saskatchewan, more than 100 medical students have signed an open letter to the provincial government calling for more action to control the spread of COVID-19.
In the letter, the University of Saskatchewan students thank the government for some of the measures already taken, such as mandatory indoor masking, but say they're not enough.
1 resident dead, 46 others infected amid COVID-19 outbreak at Regina's Parkside Extendicare home<a href="https://t.co/VYWdYzlHTK">https://t.co/VYWdYzlHTK</a> <a href="https://twitter.com/hashtag/yqr?src=hash&amp;ref_src=twsrc%5Etfw">#yqr</a> <a href="https://twitter.com/hashtag/regina?src=hash&amp;ref_src=twsrc%5Etfw">#regina</a> <a href="https://twitter.com/hashtag/skpoli?src=hash&amp;ref_src=twsrc%5Etfw">#skpoli</a> <a href="https://twitter.com/hashtag/saskatchewan?src=hash&amp;ref_src=twsrc%5Etfw">#saskatchewan</a> <a href="https://twitter.com/hashtag/covid19?src=hash&amp;ref_src=twsrc%5Etfw">#covid19</a> <a href="https://twitter.com/hashtag/sask?src=hash&amp;ref_src=twsrc%5Etfw">#sask</a> <a href="https://t.co/bLgtwtxgt5″>pic.twitter.com/bLgtwtxgt5</a>

&mdash;@gqinsk
Saskatchewan reported 325 new cases and two COVID-19 deaths on Monday. Along with 49 recoveries, there are now 3,879 active cases across the province.
Officials also reported 123 hospitalizations, which is a new record in Saskatchewan.
Manitoba reported 343 new cases on Monday, along with 11 new COVID-19 deaths, including a man in his 30s and a woman in her 40s. Seven of the deaths are connected to outbreaks at long-term care homes.
The province also hit a new record high for COVID-19 hospitalizations with 342 people in hospital, 43 of whom are in intensive care.
At a press briefing on Monday, Manitoba's chief nursing officer, Lanette Siragusa, noted that the number of COVID-19 hospitalizations has more than tripled compared with only a month ago, and the health-care system continues to be under pressure.
Two Manitoba churches held drive-in services over the weekend, in violation of public health orders capping gatherings at five people and ordering religious services to move online.
WATCH | Steinbach, Man., pastor says RCMP is 'blocking God' by stopping drive-in church service:
Members of a church in Steinbach, Man., a COVID-19 hotspot, clashed with the RCMP when they tried to enforce public health measures prohibiting all gatherings, including religious services. The pastor said officers were 'blocking God.' 2:35
In Ontario, public health measures ramped up in five regions on Monday, with the strictest changes taking effect in Windsor-Essex, which moved to the second-highest "red alert" level on the province's tiered pandemic response plan.
Ontario on Monday reported 1,746 cases of COVID-19, with 622 new cases in Toronto and 390 in Peel Region, which are both under lockdown measures. Health Minister Christine Elliott said in a tweet that more than 39,400 tests had been completed.
The province reported eight additional deaths, bringing Ontario's death toll to 3,656. Hospitalizations hit 618, with 168 in intensive care, according to provincial data.
Ontario's network of labs processed 39,406 more test samples of the novel coronavirus, and recorded a test positivity rate of 4.6%. 618 people are hospitalized with COVID-19 in Ontario, 168 in ICU, 108 are on a ventilator. <a href="https://t.co/22XcdlRiS2″>https://t.co/22XcdlRiS2</a>

&mdash;@CBCAlerts
Meanwhile, a window company in York Region, which is currently in the red alert zone, has declared a COVID-19 outbreak after 62 cases were confirmed there.
Health officials say this is the second outbreak at State Windows Corporation's facility, following an initial outbreak in May that ended up infecting 17 people.
Quebec reported 1,333 new cases of COVID-19 and 23 additional deaths on Monday, bringing the number of deaths in the province to 7,056. Hospitalizations stood at 693 in Quebec, with 94 in intensive care, according to a provincial tally.
The update comes a day after a Montreal long-term care home transferred 20 residents to local hospitals after COVID-19 took hold at the home in the last week, concerning officials and terrifying families.
Quebec long-term care homes were hit hard during the first wave of the pandemic last spring. Many facilities were under-staffed, and in some cases, personnel moved between centres — allowing the virus to spread more easily.
Health officials in New Brunswick reported six new cases on Monday, a day after the province announced 14 new cases.
Newfoundland and Labrador reported one new case on Monday, bringing the total number of cases in the province to 338. Prince Edward Island, which has just four active cases total, had no new cases to report on Monday.
Nova Scotia reported 16 new cases on Monday. The province started using pop-up clinics to test for COVID-19 last week.
WATCH | N.L. premier explains 'difficult decision' to leave Atlantic bubble:
Newfoundland and Labrador Premier Andrew Furey says he is 'following the evidence' with the decision to pull out of the Atlantic bubble for now. 8:30
While the overall numbers are far lower than what health officials are seeing in Central and Western Canada, the recent uptick in COVID-19 cases in several Atlantic provinces sparked enough concern that both Newfoundland and Labrador and P.E.I. decided to temporarily withdraw from the bubble that allowed free movement between the provinces.
Newfoundland Premier Andrew Furey told CBC's Rosemary Barton that his province's decision to temporarily leave the Atlantic travel bubble was a "tough decision — but it was one that we based on evidence."
Not long after the changes announced by Newfoundland and P.E.I., New Brunswick added some border restrictions of its own, saying that people travelling into the province — including people who live in other Atlantic provinces — would be required to self-isolate for 14 days unless exempt.
"Registration for travel into New Brunswick, including New Brunswickers returning home from travel, is also now mandatory," the province said in a statement last week.
Nunavut reported four new cases of COVID-19 on Monday, bringing the number of active cases in the territory to 108.
The Northwest Territories reported no new cases on Monday.
Yukon reported one new COVID-19 case on Monday, after reporting one new case on Sunday. The territory has now reported 47 cases since the pandemic began.
Have questions about COVID-19 in Canada? Join Adrienne Arsenault and Andrew Chang of The National for a virtual town hall.
---
What's happening around the world
WATCH | Consider COVID-19 risks of holiday celebrations, urges WHO chief:
'We all need to consider whose life we might be gambling with' during holiday celebrations because of the coronavirus, says World Health Organization director general Tedros Adhanom Ghebreyesus. 2:19
From The Associated Press and Reuters, last updated at 6:15 p.m. ET
As of Monday evening, more than 63.1 million cases of COVID-19 had been reported worldwide, with more than 40.3 million of those considered recovered or resolved, according to Johns Hopkins University. The global death toll stood at more than 1.4 million.
Moderna Inc. said it would ask U.S. and European regulators Monday to allow emergency use of its COVID-19 vaccine as new study results confirm the shots offer strong protection — ramping up the race to begin limited vaccinations as the coronavirus pandemic worsens.
Multiple vaccine candidates must succeed for the world to stamp out the pandemic, which has been on the upswing in the U.S. and Europe. U.S. hospitals have been stretched to the limit as the nation has seen more than 160,000 new cases per day and more than 1,400 daily deaths.
Moderna is just behind Pfizer and its German partner BioNTech in seeking to begin vaccinations in the U.S. in December. Across the Atlantic, British regulators also are assessing the Pfizer shot and another from AstraZeneca.
In the Asia-Pacific region, Vietnam confirmed on Monday its first locally transmitted case of the coronavirus in nearly three months, after the infection of a man related to a flight attendant who had tested positive after returning from Japan two weeks ago.
The country's health minister ordered provinces and state agencies to tighten screening and controls and contact tracing efforts were launched after the 32-year-old man was confirmed as the first reported domestic infection in 89 days.
With its strict quarantine and tracking measures, Vietnam has managed to quickly contain its coronavirus outbreaks, allowing it to resume its economic activities earlier than much of Asia.
Vietnam crushed its first wave of coronavirus infections in April and went nearly 100 days without local transmission until the virus re-emerged and was quickly contained in the central city of Danang in July.
Indonesia reported a record daily rise in coronavirus infections on Sunday with 6,267 cases, bringing the total to 534,266, data from the country's COVID-19 task force showed.
Cambodia's Education Ministry has ordered all state schools to close until the start of the next school year in January after a rare local outbreak of the coronavirus.
Education Minister Hang Chuon Naron issued a statement late Sunday saying that all schools will be shut to prevent students from being infected. Public schools will remain closed until Jan. 11, the start of the next school year, while private schools must close for two weeks, he said. Students in private schools will be permitted to study online.
Cambodia has reported only 323 cases of the virus since the pandemic began, most of them acquired abroad, with no confirmed deaths.
In the Americas, U.S. health authorities will hold an emergency meeting this week to recommend that a coronavirus vaccine awaiting approval be given first to health-care professionals and people in long-term care facilities.
Counties across California, meanwhile, are imposing stricter COVID-19 restrictions on Monday as cases surge statewide and Thanksgiving travellers return home.
Health officials are preparing for a wave of cases in the next two or three weeks that could be tied to holiday gatherings.
Los Angeles County, for example, will impose a lockdown calling for its 10 million residents to stay home beginning Monday.
WATCH | How testing helped Cornell University become a model of COVID-19 prevention:
At the start of the school year, Cornell University implemented a strategy of regular testing and robust contact tracing on campus. The plan was expensive, but it's prevented any major COVID-19 outbreaks at the New York institution. 8:19
The state reported 7,415 coronavirus hospitalizations on Sunday, citing the most recently available data from the previous day. More than 1,700 of those patients were in intensive care units. California's previous record was 7,170 in July.
As of Sunday, California has had nearly 1.2 million confirmed coronavirus cases and more than 19,000 deaths since the pandemic began. The state reported around 15,600 new cases on Saturday.
Mexico reported 6,388 new confirmed coronavirus infections and 196 additional deaths on Sunday, health ministry data showed.
In Africa, mass vaccination against COVID-19 is unlikely to start in Africa until midway through next year and keeping vaccines cold could be a big challenge, the continent's disease control group said.
Kenya's central bank has cut its forecast for 2020 economic growth by more than half, joining the Treasury in realizing that the coronavirus had inflicted more damage to the economy than previously thought.
In Europe, Prime Minister Andrej Plenkovic of Croatia has tested positive for the coronavirus, following his wife's positive test over the weekend. A government spokesperson said Plenkovic is feeling fine and will continue to perform his duties from his home.
The government on Monday tightened travel restrictions, requesting a negative test for most people seeking to enter the country. Croatia, which has faced weeks of soaring COVID-19 infections, on Monday reported a record single-day death toll of 74 fatalities and 1,830 new infections.
Belgium will let shops reopen from Tuesday but keep other curbs over the festive period, while Italy will ease anti-COVID-19 restrictions in five regions from Sunday. Ireland will allow shops, restaurants, gyms and pubs serving food to reopen next week and permit travel between counties from Dec. 18.
Italy reported 541 coronavirus-related deaths on Sunday, against 686 the day before, and 20,648 new infections, down from 26,323 on Saturday, the Health Ministry said.
While Italy's daily death tolls have been among the highest in Europe over recent days, the rise in hospital admissions and intensive care occupancy is slowing, suggesting the latest wave of infections is receding.
Meanwhile, Greek officials say the number of new infections is waning in most parts of the country, which has been in lockdown for three weeks. The lockdown initially had been set to end Monday but has been extended for another week.
Greece on Monday recorded 1,044 new confirmed infections — down from a record high of more than 3,000 earlier in November — and 85 new deaths.
The hardest-hit country in the Middle East, Iran, had more than 948,000 reported cases of COVID-19 and more than 47,000 recorded deaths.
3 Nova Scotians appointed to the Order of Canada – CBC.ca
Three Nova Scotians have been appointed to the Order of Canada, one of the country's highest civilian honours.
They are among the 114 appointees announced Friday.
The list includes eight companions, 21 officers, one honorary member and 84 members. The full list can be found here.
"Created in 1967, the Order of Canada recognizes outstanding achievement, dedication to the community and service to the nation," said a statement on the office of the Governor General's website.
Appointments are made by the Governor General on the recommendation of the Advisory Council for the Order of Canada. More than 7,000 Canadians have received the honour since its inception.
Jeff Dahn of Halifax, who has led groundbreaking research on lithium-ion batteries, was appointed as an officer.
In 2017, he won the Gerhard Herzberg Canada Gold Medal for Science and Engineering for his work in making batteries increasingly efficient. He also won a Governor General's Award for Innovation in 2016.
Dahn works out of a lab at Dalhousie University. He also began a five-year research partnership with Tesla In 2016.
In the statement, the Governor General's office also commended him for "his mentorship and adroit bridging of academia and industry."
Dahn could not be reached for comment Sunday.
'It's humbling'
Meanwhile, Dr. Ken Wilson and John Eyking were appointed as members.
Wilson, a plastic surgeon in the Halifax area, was appointed "for his nationally recognized expertise in reconstructive and plastic surgery, and for his volunteer work on international medical missions."
"It's humbling, but a very nice addition to a great career," Wilson said of the honour.
In the mid-80s, Wilson became the first person east of Montreal to dedicate himself to doing plastic surgery for children.
"It was a very satisfying thing for me to be able to look after a lot of the children who have either had to travel, or that hadn't had, sometimes, the attention they would've had otherwise," he said.
In the mid-90s, Wilson began working with Operation Smile, an organization that provides surgeries and dental care to children with cleft lip, cleft palate and other facial deformities. He travelled a couple times a year to do surgery in underdeveloped countries, and he estimates he went on about 46 missions.
In the late 1990s, Wilson became the chief of surgery at the IWK children's hospital in Halifax, a position he held for more than a decade.
He stopped practising five years ago, but Wilson now works as a medical consultant for Doctors Nova Scotia and is chair of the board for Operation Smile Canada.
"It was a wonderful career," said Wilson. "I gotta say, I've been very lucky over the years to have the opportunity to do what I did."
While there is no ceremony this year due to COVID-19, Wilson was mailed his snowflake insignia, as well as a "lovely book" detailing the history of the Order of Canada and the many recipients over the years.
'All in a day's work'
Eyking, a farmer and entrepreneur who founded Eyking Farms, was recognized for his "personal and professional dedication to the Cape Breton community, particularly within the agriculture industry."
Eyking, of Millville, N.S., immigrated to Canada in 1963 from the Netherlands. He started a farm, which later grew into a family operation run by him, his wife and their 10 children.
He is also an inductee of the Atlantic Agricultural Hall of Fame.
Reached by phone Sunday, Eyking, 89, was modest about his appointment. He credited his farm's accomplishments to the work of his large family.
"For me, it was all in a day's work and I enjoyed it," he said.
He, too, received a parcel from the Order of Canada, and said he enjoyed the book.
"There's quite a few Cape Bretoners in there," he said.
The recipients will be invited to accept their insignia at a ceremony to be held at a later date.
MORE TOP STORIES