Coronavirus threatens to throw world's biggest phone show into chaos – The Verge
In under three weeks, the collective eyes of the tech industry will turn to Barcelona for Mobile World Congress, the biggest and most important trade show in the world of mobile communications. More than 100,000 attendees from nearly 200 countries are expected every year, and unlike CES in recent times, MWC still regularly manages to entice major manufacturers into announcing their most important devices at the show.
That's the plan, at least — but this year, things may be a little different. The outbreak of the coronavirus in China and subsequent spread to other countries has claimed hundreds of lives. It's also disrupting supply chains vital to the development of smartphones, and wreaking travel havoc in Asia, where most of MWC's marquee exhibitors are based; many countries are restricting flights to and from China. LG and ZTE have already cancelled some plans for the show. It's hard to imagine there won't be further disruption.
MWC 2020 was set to feature an even larger Chinese contingent than ever before, with all of the country's major smartphone brands planning a meaningful presence. As of today, that appears still to be the case. Xiaomi, Vivo, and Honor all tell The Verge that they remain intent on attending. Huawei is also still planning to make announcements at the show despite recently cancelling its Shenzhen developer conference, although sources familiar with the situation say the company is likely to axe certain events and significantly reduce the number of employees who travel. Qualcomm, Lenovo, and Motorola also tell The Verge that plans remain in place for MWC.
The GSM Association, which organizes MWC, maintains it'll be business as usual in Barcelona. That's understandable given the show has a big economic impact of 492 million euros this year, and also generates 14,100 part-time jobs, according to the GSMA. The GSMA is an industry trade body that represents more than 1,200 companies across the mobile ecosystem, and MWC is the chance for thousands to gather for partnerships, deals, and product launches for the global press.
"There is minimal impact on the event thus far," the association said in a statement yesterday. "MWC Barcelona 24-27 February 2020 will proceed as planned across all venues." The GSMA says it will be increasing medical support and disinfection measures on site and communicating best practices to attendees. Speakers will be subject to a new microphone changing protocol. A "no-handshake policy" is also being advised for all at the show, though that sounds impractical to enforce.
It's no surprise to see an everything-is-fine statement from the GSMA at this point. MWC has been hit by public transport strikes multiple times in the past, causing chaos as attendees attempt to get around the city, and the association puts out identical press releases ahead of time to try to assuage fears with talk of contingency plans, which in The Verge's experience tend not to be too effective. All the escalator handrail disinfectant in the world isn't going to convince people they're safe from an airborne virus.
Regardless of reassurances from the organizers and exhibitors, it seems inevitable that the coronavirus will have an effect on MWC. Cases have been surging in recent days, with no sign of the spread of the virus slowing down. It's incredibly easy to get sick at trade shows at the best of times, and this is very much not the best of times. Various authorities are already advising people to avoid public gatherings, let alone events where tens of thousands of attendees are flying around the world to gather shoulder-to-shoulder in the same rooms. With cases of the new coronavirus confirmed in neighboring France and the nearby Canary Islands, a Spanish autonomous community, it'd be understandable if people were to think twice about attending.
LG alluded to that in its announcement, citing "the safety of its employees and [the] general public" and saying it wanted to "prevent needlessly exposing hundreds of LG employees to international travel, which most health experts have advised." ZTE, meanwhile, said it was cancelling its press conference because it tends to be "an overly courteous company and simply [doesn't] want to make people uncomfortable."
It has to be mentioned, too, that Asian people around the world are experiencing a marked increase in xenophobia and racist attacks as a result of the outbreak, as was the case with the SARS virus in 2003. Employees of Chinese companies make up a huge proportion of the hundred-thousand-plus attendees at MWC every year, and racial discrimination is likely to increase at this year's event. If MWC is to go ahead this month, the GSMA must do everything within its capabilities to crack down on this kind of unacceptable behavior.
Whether or not more companies decide to pull out of the show, MWC 2020 is likely to have a very different atmosphere to previous years. As ever, The Verge is planning to attend as long as we expect there to be news to cover — safely. But we already have two fewer companies to meet with than we thought we would, and we'd be surprised if that number didn't grow.
iOS 16 Beta 5: Battery Percentage Now Displayed in iPhone Status Bar – MacRumors
With the fifth beta of iOS 16, Apple has updated the battery icon on iPhones with Face ID to display the specific battery percentage rather than just a visual representation of battery level. The new battery indicator is available on iPhone 12 and iPhone 13 models, with the exception of the 5.4-inch ‌iPhone 12‌/13 mini. It is also available on the iPhone 11 Pro and Pro Max, XS and XS Max, and iPhone X.

Battery percent has not been present on iPhones that have ‌Face ID‌ because of the lack of space on either side of the notch that houses the TrueDepth camera hardware. The new design adds the specific battery level to the battery icon, providing a better idea of battery status at a glance.
In iOS 15 and earlier versions of iOS, the battery icon shows a visual of the battery level, but it does not provide a specific percent. To get that information, ‌iPhone‌ users need to swipe down into Control Center or swipe over to the Today center view to see the battery widget.
The battery icon changes colors based on the status of the battery, and the color of the ‌iPhone‌'s wallpaper. When charging, for example, the battery icon is green and shows a charging indicator.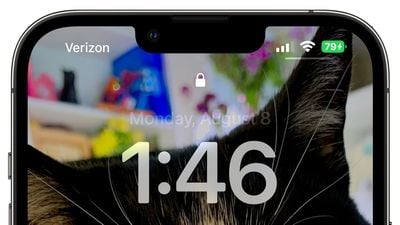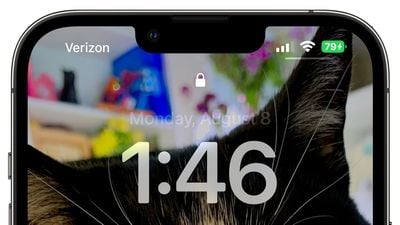 Battery percentage can be toggled on and off in the Settings app in the Battery section. The battery percentage feature appears to be available on most iPhones that have a notch, but it is not an option on the iPhone 12 mini, ‌iPhone 13‌ mini, ‌iPhone 11‌, or ‌iPhone‌ XR perhaps due to space constraints and/or display quality.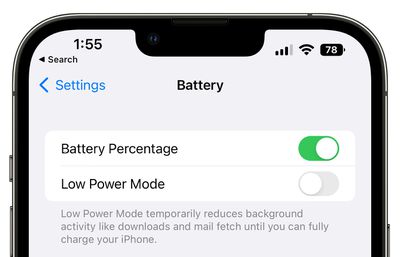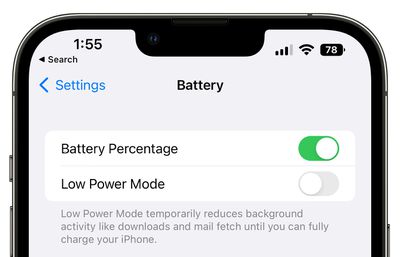 ‌iOS 16‌ beta 5 is available to developers at the current time, and Apple will be releasing a public beta in the near future.
Popular Stories
How to watch Samsung Galaxy Unpacked 2022 in Canada – MobileSyrup
Samsung will hold its next Galaxy Unpacked event today, August 10th, at 6am PT/9am ET.
As usual, we don't know exactly what will be featured there, although it's expected that we'll see the Galaxy Fold 4, Galaxy Flip 4, new Galaxy Watches and more.
Canadians interested in tuning in to the Unpacked 2022 livestream can do so via the Samsung Newsroom, Samsung's website or Samsung's YouTube channel.
It's also worth noting that to coincide with Unpacked 2022, Samsung is offering a $100 e-voucher to use towards your next purchase of any Samsung product. To claim this, you'll need to register through this site and provide some information, including your name, phone number and current device.
What are you looking forward to seeing at Unpacked 2022? Let us know in the comments.
WhatsApp to bring screenshot blocking to THESE types of messages – HT Tech
WhatsApp to now bring the ability to block screenshots to View Once messages. Know when this feature is coming.
WhatsApp is constantly adding new features to enhance the texting experience and these are coming faster than we could get used to them. Lately, the developers have focused on enhancing the privacy for users with a couple of new features. The ability to leave WhatsApp groups silently has draw a lot of attention lately. One can also choose who can see your online status going forward, and who can't. However, there is another new feature that will help those who want to share sensitive media and can't risk someone taking a screenshot of the same.
A while ago, WhatsApp rolled out the ability to send messages that can only be viewed once. The View Once feature currently only allows the media to be shown once but someone can still take a screenshot of the media, thus denying the point of the feature. Now, WhatsApp is modifying the feature, wherein it prevents the ability to take a screenshot. The feature is under development and WhatsApp hasn't revealed the date yet.
WhatsApp to block screenshot
"View Once is already an incredibly popular way to share photos or media that don't need to have a permanent digital record. Now we're enabling screenshot blocking for View Once messages for an added layer of protection. We're testing this feature now and are excited to roll it out to users soon," says WhatsApp in its official blog.
WhatsApp will also reveal more about this and several other features in the days to come via its own campaign. "To spread the word about these new layers of protection, we're also kicking off a campaign to educate people about the new features and our continued commitment to protecting your private conversations on WhatsApp. We hope people enjoy getting to use these new features and benefit from several options that help you keep your messages secure. We look forward to your feedback on what to build next," it says.
Prior to this WhatsApp, recently released the ability to transfer message backups from Android to iOS devices. The same can be done from iOS to Android as well.