Cuba opens up its economy to private businesses – BBC News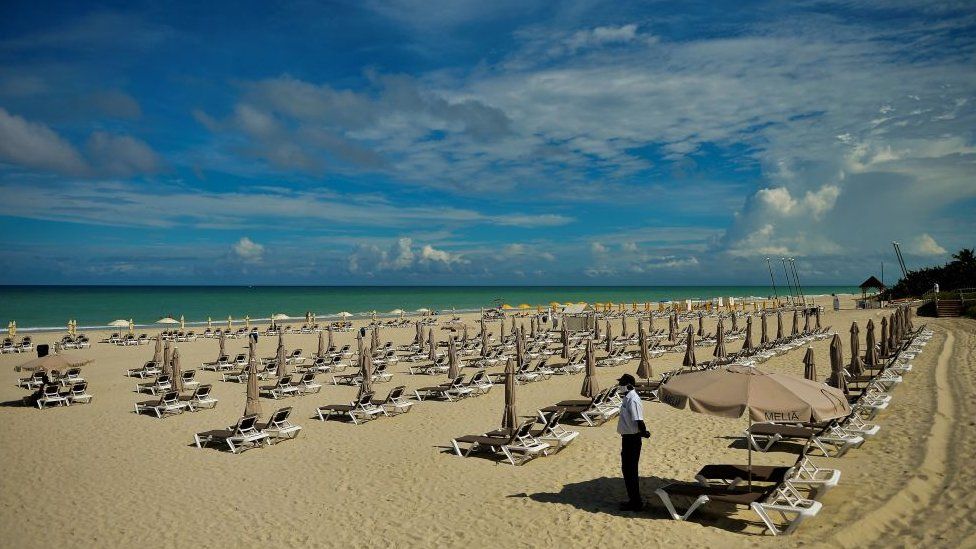 Cuba has announced it will allow private businesses to operate in most industries, in what is a major reform to its state-controlled economy.
Labour Minister Marta Elena Feito said the list of authorised industries had expanded from 127 to more than 2,000.
Only a minority of industries would be reserved for the state, she said.
The communist country's economy has been hit hard by the pandemic and US sanctions introduced by the Trump administration.
Last year its economy shrank by 11% – its worst decline in almost three decades – and Cubans have been facing shortages of basic goods.
Ms Feito said just 124 industries would be exempt from private involvement. She did not mention which ones, but the AFP suggest it could be related to industries considered strategic to the state such as media, health and defence.
"That private work continues to develop, is the objective of this reform," Ms Feito said, stressing that this "will help free the productive forces" of the private sector.
Apart from hundreds of thousands of small farms, Cuba's non-state sector is composed mainly of small private businesses run by artisans, taxi drivers and tradesmen.
Almost 40% of private businesses operate in the island's tourist industry, which has been hard hit by the pandemic and sanctions.
New US President Joe Biden – who was Barack Obama's vice-president – has previously signalled that he wants to improve US-Cuban relations but observers say it is not clear how high it might be on his priority list.
Growing the economy, not cutting debt, must be our priority – The Irish Times
The economic policy response to the pandemic has been compared to wartime. Coronavirus has changed many things, not least the terms of the debate about government intervention in the economy. The raw numbers speak for themselves.
In Ireland, the initial response consisted of measures that totalled around €24.5 billion. This amounted to 14 per cent of the annual size of the economy, as measured by GNI* – which tries to strip out some of the distortions caused by the multinational sector. The cost has grown as restrictions have been extended. The eventual size of the bill will, of course, depend on how long those restrictions last.
Fourteen per cent (and growing) of your economy is a bill that would have been unimaginable a year ago, particularly as most of it has been borrowed. Most economists would have said that it is a fiscal trick impossible to pull off, at least not without a crisis in government debt markets.
We haven't had a crisis because most of the money was lent to us by the ECB. Depending on which looking glass you use, we are either borrowing from ourselves or printing the money. Or, ultimately, a bit of both.
The UK chancellor, Rishi Sunak, last week made, by my calculations, his 16th fiscal announcement of the pandemic. He called it a budget. It was really just another update (albeit an extensive one) on spending and taxation in the wake of the crisis. Pages of estimates and pure guesses about the future of the UK economy revealed a pandemic bill, so far, reckoned to be £407 billion. That's about 19 per cent of UK GDP. Sunak stated, correctly, that nothing like this has ever been seen, apart from during the two world wars.
So it looks like the UK has been more generous than Ireland. But we are probably not comparing like with like. It is too early to be reaching that kind of judgement. Either way, we are looking at jaw-droppingly large numbers, amounts of borrowed money that have caused barely a flutter of excitement in government debt markets. Until very recently, at least.
That wartime comparison was also drawn recently by Ken Rogoff, former chief economist at the IMF. During the great financial crisis, Rogoff became famous in certain circles for warning that governments shouldn't allow debt to reach, let alone exceed, 100 per cent of GDP. Such thinking lead to the subsequent decade of austerity. Conventional wisdom dictated that debt had to be stabilised and preferably reduced.
Rogoff recanted this week, Well, sort of. He admitted that his 100 per cent warning was, in reality, just a rule of thumb for normal times. Recognising just how abnormal current circumstances are, he suggested that today's priority should be spending on pandemic relief and, I think, trying to grow your way out the problem.
Rule of thumb
Debt-to-GDP is a ratio. All we have are Rogoff-style rules of thumb about what is sustainable – or not. Economics provides zero precision about the right ratio. Austerity was about managing down the numerator: that focus on borrowing. The current crisis means that we should focus on the denominator: get growth up.
It's a point of view not shared by Sunak. He presented a gloomy outlook for the UK economy and did nothing about that outlook: the pandemic will leave permanent scars. In the short term, he extended supports and reliefs until September. For the medium term all that awaits the UK are tax hikes and spending cuts. It was, said Simon Wren-Lewis, professor at Oxford, an austerity budget resonant of the Cameron-Osborne years.
Sunak laid claim "to levelling with the British people". He didn't. He should have said that we have little idea about where the economy will be in the years following the pandemic's end and that he will act appropriately when we do know.
If anyone believes he means to raise taxes and slash spending in the run-up to the next general election, I have a bridge to sell them. He should have said that all the forecasts, slavishly followed by all of the media, will all be wrong.
Sunak said nothing about Brexit costs, the green economy or the social care crisis. There was no extra money for front line workers. He did nothing for the UK's rate of economic growth. It was all about the numerator, not the denominator.
The Economist newspaper this week called for a post-pandemic rewrite of the social contract. Sunak's response was a big raspberry.
If Paschal Donohue is looking for pointers about what to do in a post-crisis world he should not take any cues from the UK. Sunak got it wrong and revealed a mindset unmoved by the seismic changes wrought by the pandemic. A century ago Keynes wrote prophetically about the post-war fiscal settlement and the awful consequences of wrong-headed orthodoxy. He would marvel about how little has changed.
Pandemic relief is one thing, the next is growth. The US is where all of the new thinking – and action – is going on. The bet – not without risks – is that we have to focus on the denominator.
Bond markets may or may not in future be so quiescent but much power here lies in the hands of the ECB. Growing our economies – and that social contract rethink – are the mammoth tasks that await.
US Economy Ready to Surge With Stimulus, Expanding Vaccines – BNN
(Bloomberg) — With Democrats on the verge of passing an almost $2 trillion stimulus bill and Covid-19 vaccinations moving ahead, the U.S. economic outlook is much sunnier than it looked in early January.
The latest Bloomberg monthly survey of economists shows the annualized pace of growth in the first quarter will be 4.8%, twice as fast as respondents expected just two months ago. For the full year, gross domestic product is projected to rise 5.5%, which would be the fastest since 1984 and is up from January's estimate of 4.1%.
After January's key run-off elections in Georgia, where Democrats secured two Senate seats to win slim control of the chamber from Republicans, economists were generally penciling in a pandemic relief package worth around $1 trillion. Democrats stuck together to push through a bill almost double that size; no Republican senators voted for the plan on Saturday. The plan next goes back to the House for a final vote.
An additional round of $1,400 stimulus checks for millions of Americans, combined with supplemental jobless benefits and the acceleration in vaccinations, should help sustain growth throughout the year, said Stephen Stanley, chief economist at Amherst Pierpont Securities LLC.
Government stimulus will "give a shot of adrenaline for a short period of time," Stanley said. He noted that "it will kind of fade out, and the more fundamental aspect of things, which is really just opening up and getting back to something closer to the pre-pandemic norm for activity, should kick in."
The Bloomberg survey of 67 economists was conducted Feb. 26 to March 3.
While economic growth is primed for a strong 2021, it could also mean another partisan divide over the next item on President Joe Biden's legislative agenda: a multitrillion-dollar plan focusing on infrastructure.
What Bloomberg Economics Says…
Easing activity restrictions and rising vaccinations will allow consumer spending to regain its long-held status as the key economic engine this year. While another round of stimulus is set to push growth to its pre-pandemic trend by midyear, a stealth buildup of $1.7 trillion in extra savings means even more dry tinder for spending.
— Yelena Shulyatyeva and Andrew Husby, economists
For the full note, click here
Democrats hope the package could get bipartisan support, but Republicans — and possibly some moderate Democrats — are likely to be concerned about how the proposal would be funded, certain add-on provisions, and the size of the overall plan, especially if the economy shows sustained progress in the coming months.
U.S. Vaccines Pass 85 Million Doses
Recent reports have shown broad economic improvement in the U.S. Retail sales rose in January by the most in seven months, and a measure of U.S. manufacturing expanded at the fastest pace in three years in February.
The labor market, which has been slower to recover, showed a higher-than-expected employment gain in February, though jobs remain well below pre-pandemic levels.
Meanwhile, the daily rate of vaccinations has quadrupled and new coronavirus infections have plummeted since early January. Governors in Texas and Mississippi — despite criticism from health experts — announced plans to lift coronavirus-related restrictions entirely, citing a decline in hospitalizations and an increase in inoculations.
Getting the pandemic under control is still key to the economic recovery, "and then the checks, and the money — all this stuff will accelerate it really quickly once you've done that," Heather Boushey, member of the White House Council of Economic Advisers, said in an interview.
©2021 Bloomberg L.P.
Spike in Canada exports to U.S. leads to surprise January trade surplus
By Julie Gordon
OTTAWA (Reuters) – Canada's exports to the United States, its largest trading partner, rose sharply in January, leading to a surprise trade surplus, Statistics Canada said on Friday.
Canada's trade surplus with the rest of the world was C$1.41 billion ($1.11 billion) in January, the largest since July 2014. Analysts polled by Reuters had predicted a deficit of C$1.40 billion.
"In a sea of really bad news this is an island paradise. Everything is up," said Peter Hall, chief economist at Export Development Canada.
"This is very strongly driven by our top trading partner," Hall said, noting that demand from the United States will continue to be strong as its economy strengthens with increased vaccinations spurring a broader recovery from the COVID-19 pandemic.
The Canadian dollar clawed back some of its earlier decline after the data, trading 0.1% lower at 1.2678 to the greenback, or 78.88 U.S. cents.
Canada's exports jumped 8.1% in January, led by a large sale of used aircraft to the United States. Even without the atypical aircraft sale, aggregate exports would have been up, with strong exports of gold bars, crude oil and lumber.
Excluding the swings of 2020, exports posted their largest increase since August 1995.
"The return to surplus in January … is consistent with expectations that Canada's trade position will improve through 2021 amid returning global demand and firmer energy prices," said Ryan Brecht, a senior economist at Action Economics.
Canada's export of services rose slightly on an increase in transportation services, but they still remain 16.3% below the February 2020 level.
Imports edged up 0.9% in January, mostly on higher imports of energy products. Canada's December trade deficit was revised to C$1.98 billion.
(Reporting by Julie Gordon in Ottawa, additional reporting by David Ljunggren and Dale Smith, Fergal Smith in Toronto; Editing by Paul Simao and Bill Berkrot)