Culture Days celebration of all art forms was a virtual blockbuster – OrilliaMatters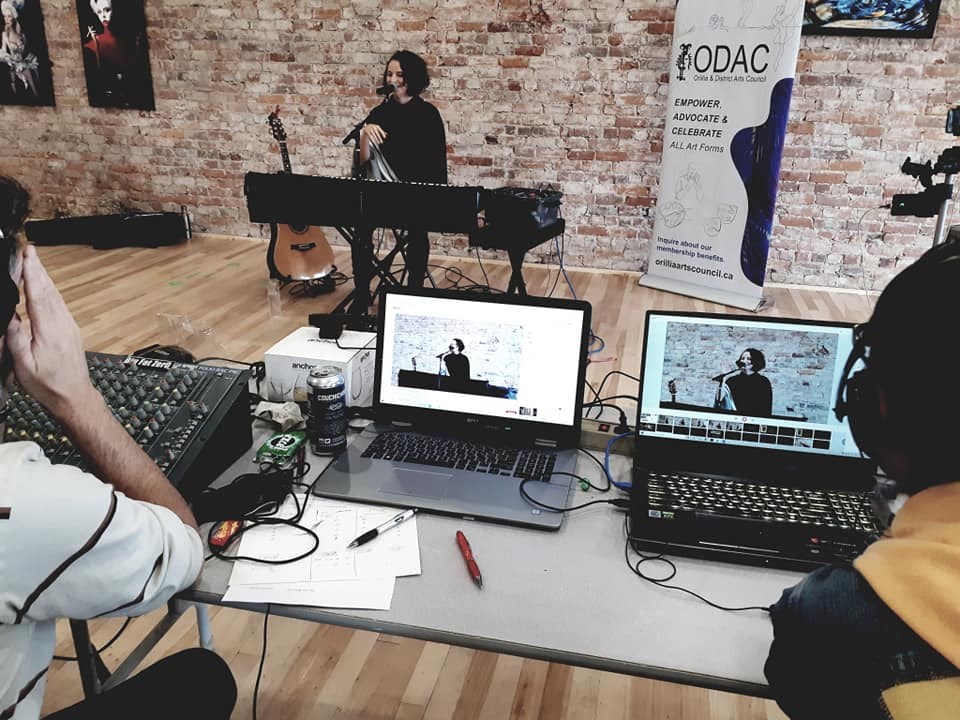 I want to start off this week by congratulating the Orillia District Arts Council, the City of Orillia Community Services Department (formerly the Parks Recreation and Culture Dept.), and Creative Nomad Studios on a very entertaining and successful virtual Culture Days event last Saturday.
My partner and I tuned in a few times during the day and it was hard to tear ourselves away.
The curation of all the different events, as well as the "fillers" in between, was topnotch, and the live streaming was excellent. It's not easy to pull off a full day of livestreaming with multiple people, places, and things, and it was pulled off impeccably. Kudos to Michael Martyn and Anitta Hamming for doing just that!
I really enjoyed the emphasis on all the different kinds of arts that there was in the programming. ODAC has, over the past several years, looked like more of a place for visual artists, but every arts form was embraced and supported in this event: performing arts, storytelling, special FX makeup, acting, videography, music, history, visual art and more.
It really went with ODAC's new tagline, displayed on the banner in many of the features: Educate, Advocate, Celebrate, All art forms. Congratulations ODAC and everyone else, you did exactly that on Saturday. The day's events will be available to be re-watched shortly, I will let you know the link when it's available.
Speaking of ODAC, it has partnered with Orillia Museum of Art and History and the City of Orillia Community Services Department for the annual Orillia Regional Arts and Heritage Awards again this year. All the nominees have been announced, and there are many, across five categories:
In Education: Stacey Schat and Doug Ironside; Otter Art Club.
In Emerging Artist: Chief Lady Bird; Marta Solek; MJ Pollak; Norman Robert Catchpole.
In Events: The Essential Concert Series; Kevin Jon Gangloff and Roots North Revisited and Orillia Youth Centre events; Dick Johnston and the Take a Vet to Dinner event.
In Heritage: Carolyn Leclair and Elite Printing: Sarah Pickard and the Sawbones Society; Marcel Rousseau; Ron and Ann Harrison; and David Town.
Qennefer Browne Award: Rusty Draper; Molly Farquharson; Roy Menagh; Phil Jackman; Gaia Orion; Will McGarvey.
Among such a wealth of talented people, who will the lucky recipients be? Find out at the virtual awards night on Nov. 25 at 7 p.m. on the Orillia Museum of Art and History's YouTube channel, here.
Congratulations to all the nominees, we really have an arts and heritage sector to be proud of, in this small town.
There are actually quite a few events coming up, both virtual and in-person, as we all learn to navigate these strange pandemic times in a safe and responsible manner.
Of course, Halloween is this weekend, and the good news is, trick or treating isn't cancelled, according to the Simcoe Muskoka District Health Unit. The unit does advise however, to include a face mask in your costume, stay six-feet apart, only trick or treat outside and with members of your own household, and perhaps use tongs to hand out candy. So, stay safe if you are going that route.
Alternatively, you may have pre-registered for the Trunk or Treat event at ODAS Park, or are thinking of going to the Quarentine-O-Ween event at It Happens Tech Repair. Trunk or Treat is full up, but the later event is going on Oct. 31 from 5 to 9 p.m. at 1-222 James St. W. where you can pop by for a safe Halloween treat.
Or maybe you are opting to have a safe event at home with members of your household. If you are staying home, you can have an amazing soundtrack to your night with the Dylan Lock Halloween Driveway Concert, Live on Facebook, starting Oct. 31 at 5:30 p.m. at Dylan Lock's Facebook page, here. So far this year, the driveway concert series has raised over $55,000 for local charities. Check out this event and have a rock 'n' roll Halloween.
Another option is to check out the drive-in movie at Orillia Square Mall on Oct. 30 at 7 p.m. The movie is the family-friendly Gnomeo and Juliet and cost is $20 a carload, with proceeds going to Building Hope. There are also giveaway goodie bags to the first 50 cars! To register your car, please contact the mall administration office at 705-325-2366.
And Jakob Pearce is playing at Fionn MacCool's in Orillia on Oct. 31 starting at 8 p.m. They have a heated patio! Enjoy!
Coming up, OMAH is hosting a plein air watercolour workshop with local artist Julianna Hawke. It's happening Nov. 3 from 11 a.m. to 3 p.m. at the beautiful Stephen Leacock Museum. For more details and to register, go here.
I don't usually mention activities outside of the Orillia area, but this new virtual world does change things up a bit, and there is a virtual event nearby that I want to tell you about. The Culture Alliance of Georgian Bay, which encompasses Beausoleil First Nation, Midland, Penetang, and Tiny and Tay townships, is putting on a huge virtual cultural conference, starting on Nov. 3 and running throughout the month.
Your $25 ticket gives you access to all eight sessions and the breakout discussions and the speakers are amazing, including keynote speaker Katherine Nicholls. Katherine is a New York-based business exec who is chair of the New York State Council on the Arts.
The theme of the conference is Obstacles and Opportunities, and there have been plenty of both and will continue to be, for the cultural sector. If you are involved in the cultural world and community in any way, I urge you to check this out, there is a lot of good information to be found here.
On Nov. 7, the annual Kiwanis Club of Orillia auction is going online, lots more details on that next week!
Just announced, Jerry Leger will be performing live in an online fundraiser for Dress for Success Orillia and Barrie, on Dec. 1 at 8 p.m. Admission will be by donation and the event celebrates Giving Tuesday, the antidote to Black Friday. Will be a fun evening of great music by this amazing Canadian musician.
Mariposa Folk Festival is having another online mini concert, this one featuring Buffy Sainte-Marie, at some point in November. We will let you know as soon as we know!
Also in November, Craig Mainprize is having a solo show, at the newly renovated Creative Nomad Studios. The opening reception will be November 12, with an artist's talk happening November 21. We will let you know more when we know!
Speaking of Creative Nomad, membership categories are now available for purchase and tours of the building can be booked! Check out lots more information on this hotly anticipated cultural centre, through the website here.
Have a safe and careful Halloween and see you next week! If you have arts news, send it to annaproctor111@gmail.com by Tuesday at noon.
Visit the city's tiniest art gallery: Five things to do in Saskatoon this weekend – Saskatoon StarPhoenix
In an effort to help Saskatoon residents share art with one another, Suzy Schwanke has created the Free Little Art Gallery YXE outside her home at 332 Hilliard St. E.
Article content
Whether you're interested in art, a virtual party, some outdoor activities or cleaning up around the house, there's a little bit of something for everyone this weekend in Saskatoon.
1. Visit the Free Little Art Gallery
In an effort to help Saskatoon residents share art with one another, Suzy Schwanke has created the Free Little Art Gallery YXE outside her home at 332 Hilliard St. E. Designed in the style of community libraries and kitchen boxes, visitors to the gallery can take a piece of art, leave a piece of art, or do both. You can check out some of the artwork on Instagram @Freelittleartgalleryyxe.
2. Hit up The Bassment's virtual party
Featuring the music and talents of eight Saskatoon bands, The Bassment presents InTune 2021 — a free online party playing from 2 to 9 p.m. on Saturday and Sunday. The shows will be streamed live through the Bassment's Facebook and YouTube pages.
3. Check out local performers
Article content
Watch as some of Saskatoon's performing artists share their work in Episode 1 of Persephone Theatre's Open Stage, which was published earlier this month. The episode is available to watch whenever you want at persephonetheatre.org and features Peace Akintade, Kathie Cram, Amanda Trapp, Sketchy Bandits, Carla Orosz and Ellen Froese.
4. Have some family fun
The Fuddruckers Family Fun Centre (2910 8th St. E) is open from 10 a.m. to 11 p.m. Monday through Sunday, weather permitting. Families can practice their skills on the 18-hole Putt N' Bounce miniature golf course, reach new heights on The Rock climbing wall or take a swing at the Grand Slam batting cages. More information is available at fudds.ca or by calling 306-477-0808.
5. Drop off your hazardous waste
The City of Saskatoon is holding its first Hazardous Household Waste Drop Off of the year on Sunday from 9 a.m. to 3:30 p.m. at the Civic Operations Centre (57 Valley Rd.). The drop off is open to Saskatoon residents from residential properties only. Products eligible for drop off include aerosols, automotive fluids, batteries, cleaners, light bulbs, yard chemicals and more. Learn more at saskatoon.ca/hazardouswaste.
The news seems to be flying at us faster all the time. From COVID-19 updates to politics and crime and everything in between, it can be hard to keep up. With that in mind, the Saskatoon StarPhoenix has created an Afternoon Headlines newsletter that can be delivered daily to your inbox to help make sure you are up to date with the most vital news of the day. Click here to subscribe.
YK ARCC celebrates 10 years by pushing for NWT art gallery – Cabin Radio
Its trailer doubles as one of the NWT's only art galleries. Now, the Yellowknife Artist-Run Community Centre is turning 10 years old.
The group, YK ARCC for short, formed in 2011 in a downtown Yellowknife church scheduled for demolition. "There was always something going on," recalled Métis artist Rosalind Mercredi, owner of the city's Down to Earth Gallery, who was YK ARCC's first president.
"I think it was so good to be able to have a space where people wanted to work on stuff and, if they had bigger projects they wanted to do, there was a space to do it. It was pretty vibrant times, I would say, for art."
Though the organization stayed in the church for less than a year, it has brought art and shows to Yellowknife since. Temporary homes have included an apartment above a Vietnamese restaurant and empty spaces in the Centre Square Mall.
Casey Koyczan, a Tłı̨chǫ artist from Yellowknife pursuing a Master of Fine Arts degree at the University of Manitoba, held some of his first shows with YK ARCC's help.
"It really helped to be able to show work within an environment that was conducive to more of a fine arts aesthetic as opposed to … a coffee shop, or a pub, or something like that," said Koyczan, who was on YK ARCC's board.
"YK ARCC felt like it was getting to more of a formal-exhibit kind of feel."
'We need a territorial gallery'
The group made headlines shortly after opening a mobile art gallery in a trailer. At the beginning of the pandemic, the team took art to residents by accepting reservations through Facebook then driving the gallery to make house calls in different neighbourhoods.
"Because it's so small, we might be the only gallery in Canada that didn't have to close," said longtime board member Sarah Swan. "It has a limited capacity. We knew we could still operate it safely."
Yet the trailer's success simultaneously illuminated what YK ARCC's members believe is a glaring deficiency in the NWT: the absence of a territorial gallery.
The cost of rent makes it difficult for the non-profit to hold on to one space for any length of time. Many of the spaces that are available in Yellowknife don't work well for art shows.
"We need a territorial gallery," former board member Dan Korver said.
That doesn't mean a commercial gallery geared toward profit, he clarified. Instead, Korver wants a space where artists can show their work and engage with an audience "for art's sake."
The Prince of Wales Northern Heritage Centre is the only large-scale, non-commercial, gallery fitting that bill in the NWT. It hosts two fine art exhibits a year.
"It's just simply not enough," said Swan. "There are so many more artists and so much more work out there to show, so many more ideas."
"We created the mobile gallery in the first place to feel that exhibition gap, but also, we created it to be a piece of agitation in itself. That's why we called it the Art Gallery of the Northwest Territories.
"It's really pathetic that our territorial gallery is a trailer. We all joke that if there ever is a real gallery of the Northwest Territories that's not in a trailer, we'll happily give the name back."
Koyczan described obstacles in establishing his career that stemmed directly from the lack of a territorial art gallery.
"Back when I was showing at YK ARCC, it wasn't recognized by the Canada Arts Council," he said. "Therefore, when you go to apply for grants and funding … and you provide your CV saying that you showed work at YK ARCC, they check their records and say the show basically didn't exist because they don't recognize it as a legitimate gallery.
"I've had to work really hard on exporting myself and making artwork that is impactful so that, regardless of where I was located, it would be recognized by people in the south, or around North America, or internationally.
"The NWT needs a contemporary gallery. It's just holding us back, not having that space."
'No GNWT mandate' for a gallery
In a written statement to Cabin Radio, the territorial Department of Education, Culture, and Employment said it has no plan to create a territorial gallery.
The department said it "does not have a mandate to create physical infrastructure for the arts."
"However," the response continued, "the GNWT would be happy to work with regional organizations to see how the GNWT can support their plans."
Korver believes government involvement in creating an artist-run centre or non-commercial gallery should be limited to provision of funding, so any gallery can remain community-driven and independent.
"We need that physical space, but how do you run it?" he wondered. "Is it better to just provide a grassroots organization – or organizations, maybe there shouldn't just be one – with stable funding so they can provide those spaces and run those spaces?"
More spaces that can host art are on the way.
Makerspace YK moved into the old After 8 pub this January and is planning workshops and exhibits. The City of Yellowknife expects to open a visitor centre in the Centre Square Mall that would include art displays.
Meanwhile, the territorial government is set to release its updated NWT Arts Strategy this June. The previous territorial arts strategy, released in 2004, had identified a need for more arts spaces.
As a gallery owner, Mercredi said she is curious to see how the strategy is implemented.
"You can make a strategy but if the plan doesn't have an implementation idea behind it, then really just sits," she said. "How do you implement it when most of the arts organizations don't have enough infrastructure or people to put those things together?"
Swan said YK ARCC will continue to run its mobile gallery while celebrating its 10th anniversary this year. Members have applied for funding to run a series of "emerging curator workshops."
"Art is our passion," Swan said. "I think there's just this drive to share.
"Because we know how good art can be, or how amazing and fully developed it can be, we want to fight for that. We want to try to grow the art community in Yellowknife."
Related
Imaginations, creativity of Mountview students on display at Cariboo Art Beat
Creative, imaginative artwork of students from Mountview Elementary School will be on public display at the gallery of Cariboo Art Beat until April 9.
"The students of Mountview elementary were all invited to participate in an art contest," Tiffany Jorgensen said, an artist at Cariboo Art Beat.
Each class was separately judged by three professional artists at Cariboo Art Beat, Jorgensen said, based on the students' creativity, techniques, use of space and originality.
"It was extremely difficult to select pieces from the abundance of beautiful art presented," she said. "There is so much talent and fantastic imaginations."
The artist of each selected piece was given formal invitations to their art show to distribute to whomever they choose, and Jorgensen said anyone is free to view the beautiful artwork throughout until April 9.
Honoured at the show were works from local artists Ryker Hagen, Annika Nilsson, Rylie Trampleasure, Angus Shoults, Izabella Telford, Isabella Buchner, Kai Pare and more.
"Come view their wonderful pieces to get a glimpse into the minds of our creative youth," Jorgensen said.
"It's been so fun. The kids have come in and seen their work on display with their grandparents, parents, and they're all so excited."
Following up on the success of the Mountview art show, Jorgensen said more elementary schools have been invited to participate.
April will feature the works of Nesika and Big Lake, followed by Marie Sharpe and Chilcotin Road next month.
Cariboo Art Beat is located at 19 First Ave., under Caribou Ski Source for Sports' entrance on Oliver Street.
---
Source:– Williams Lake Tribune – Williams Lake Tribune