How do AI art generators work, and should artists fear them?
Throughout human history, technological progress has made some workers obsolete while empowering others. Workers in industries such as transport and manufacturing have already been strongly impacted by advancements in automation and artificial intelligence.
Today, it's the creative sector that's on the line. Visual artists, designers, illustrators and many other creatives have watched the arrival of AI text-to-image generators with a mix of awe and apprehension.
This new technology has sparked debate around the role of AI in visual art and issues such as style appropriation. Its speed and efficiency have triggered fears of redundancy among some artists, while others have embraced it as an exciting new tool.
What is an AI text-to-image generator?
An AI text-to-image generator is a software that creates an image from a user's text input, which is referred to as a prompt. These AI tools are trained on huge datasets of pairs of text and images.
DALL-E 2 and Midjourney have not yet made their datasets public. However, the popular open-source tool Stable Diffusion has been more transparent about what it trains its AI on.
"We did not go through the Internet and find the images ourselves. That is something that others have already done," said Professor Björn Ommer, who heads the Computer Vision and Learning Group at Ludwig Maximilian University of Munich.
Ommer worked on the research underpinning Stable Diffusion.
"There are now big data sets which have been scraped from the Internet, publicly available. And these we used, mainly the LAION datasets, which are out there, consisting of billions of images that we can train upon," he told Euronews Next.
LAION is a non-profit organisation that collects image-text pairs on the Internet. It then organises them into datasets based on factors such as language, resolution, likelihood of having a watermark and predicted aesthetic score, such as the Aesthetic Visual Analysis (AVA) dataset which contains photographs that have been rated from 1 to 10.
LAION gets these image-text pairs from another non-profit organisation called Common Crawl. Common Crawl provides open access to its repository of web crawl data, to democratise access to web information. It does this by scraping billions of web pages monthly and releasing them as openly available datasets.
Training the AI
Once these datasets of image-text pairs are gathered and organised, the AI model is trained on them. The training process teaches the AI to make connections between the visual structure, composition and any discernible visual data within the image and how it relates to its accompanying text.
"So when this training then finally completes after lots and lots of time spent on training these models, you have a powerful model that makes the transition between text and images," said Ommer.
The next step in the development of a text-to-image generator is called diffusion.
In this process, gaussian or "random" visual noise is incrementally added to an image, while the AI is trained on each iteration of the gradually more "noisy" image.
The process is then reversed and the AI is taught to construct, starting from random pixels, an image that is visually similar to the original training image.
"The end product of a thousand times adding a tiny bit of noise will look like you pulled the antenna cable from your TV set and (there's) just static, just noise there – no signal left anymore," Ommer explained.
The AI model is trained on billions of images in this way, going from an image to noise and then reversing the process each time.
After this stage of the training process, the AI can then begin to create, from noise, images that had never existed before.
In practice, this means that a user can now access a text-to-image generator, enter a text command into a simple text box, and the AI will generate an entirely new image based on the text input.
Each text-to-image AI has keywords that its users have discovered through trial and error. Keywords such as "digital art", "4k" or "cinematic" can have a dramatic effect on the outcome, and users have shared online tips and tricks to generate art in a specific style. A typical prompt might read as "a digital illustration of an apple wearing a cowboy hat, 4k, detailed, trending in artstation".
Appropriation of art style
The ethics of AI text-to-image generators have been the subject of much debate. A key issue of concern has been the fact that these AIs can be trained on the work of real, living, working artists. This potentially allows anybody using these tools to create new work in these artists' signature style.
"I think we're going to have to figure out either a way for artists to get compensated if their names or images come up in the datasets, or for them to just completely opt-out if they don't want to have anything to do with it," video collage artist Erik Winkowski told Euronews Next.
On the issue of stylistic appropriation for financial gain, he added that "if a brand campaign is obviously appropriated from a person's artwork, whether it was made with AI or otherwise, it's just not a good thing. And I hope that they'll be a public standing up against that".
In November, the online art community Deviant Art announced that it would add its own AI text-to-image generation tool DreamUp to its website.
All of Deviant Arts users' artwork on the website would then be automatically available to train the AI.
However, within 24 hours of the announcement, facing strong pushback from its community, Deviant Art changed its policy. Instead, users would have to actively choose to opt in to train the AI.
Shutterstock, a stock image marketplace, now plans to integrate DALL-E's text-to-image generator and compensate the creators whose work was used to train the AI.
Unfair competition or powerful new tool?
At the 2022 Colorado state fair, Jason Allen's AI-generated artwork 'Théâtre D'opéra Spatial' – which was created using Midjourney – won in the category of "emerging digital artists".
The award sparked much controversy and debate around the future of art. Amid the publicity, Allen launched a new company, AI Infinitum, which offers "luxury AI prints".
Some artists are concerned about the speed and accuracy at which an AI text-to-image generator can create artwork. A tool like Stable Diffusion can, in a matter of seconds, create multiple artworks that would take artists hours or days to produce.
This has concerned some creatives who fear that their skills may be made obsolete by this technology.
"I've seen the goal of my research never wanting to replace human beings, human intelligence or the like," Ommer told Euronews Next.
"I see Stable Diffusion much like a lot of other tools that we're seeing there, as just an enabling technology which enables the artist, the human being, the user utilising these tools to then do more or do the things that they were already doing better, but not replacing them from the best".
The next stage of AI art
AI text-to-image generators are continually being improved and some researchers and tech companies are developing the next stage of generative visual art.
Meta has released examples of its text-to-video AI currently in development, which can produce a video from a user's text input.
Meanwhile, Google has unveiled DreamFusion, a text-to-3D AI that builds upon the technology of text-to-image generators to generate 3D models without the need for datasets containing 3D assets.*
Some visual artists such as Winkowski have already started incorporating generative AI tools into their workflow and pushing the technology to create animated art.
In his recent short film titled 'Leaving home', Winkowski drew certain frames and allowed Stable Diffusion to generate the frames in between.
"It's almost like having a superpower as an artist, really," he said.
"That's really exciting. And I think we're maybe going to be able to take on more ambitious projects than we ever thought possible".
Architects Embrace AI Art Generator Midjourney – Bloomberg
[unable to retrieve full-text content]
Architects Embrace AI Art Generator Midjourney Bloomberg




Source link
7 Leading Curators Predict the Defining Art Trends of 2023 – Artsy
Art
Ayanna Dozier
In 2022, we witnessed a rise in neo-surrealist art, NFTs, and textile-based art practices. These were trends that were bubbling to the surface by the end of 2021, but weren't fully realized until the spring of the following year. Now, many other styles are emerging as key genres that may have their moment this year.
Artsy spoke to seven leading curators who lent their expertise and shared their insights on which styles and themes may newly emerge or continue to garner attention in 2023. Many anticipate that the sociopolitical climate will continue to inform artists' practices, with some predicting a rise in more provocative art that critiques religion and systemic oppression.
Other curators are looking to Latin American new media practices, and are excited by how artists like Castiel Vitorino Brasileiro and Xandra Ibarra use video and installation to create immersive environments that challenge the separation between the screen and the body. Meanwhile, others are intrigued by the possibilities and questions that AI will continue to raise in relation to authorship in the art world.
All the curators expressed an overall interest in artists who push the limits of their given medium, and continue to expand upon their practices in innovative ways. Overall, there is excitement and hopeful promise that 2023 will bring about a year of artistic risks.
Larry Ossei-Mensah
Independent Curator; Co-Founder, Artnoir
New York
Portrait of Larry Ossei-Mensah by Aaron Ramsey. Courtesy of Larry Ossei-Mensah.
Larry Ossei-Mensah predicts that abstraction by artists of color will become even more prominent in 2023. The genre, Ossei-Mensah believes, is essential to shifting the public's belief that artists of color should only make representational work that is immediately legible. As an example, he pointed to the divisive reaction towards Hank Willis Thomas's recently unveiled public sculpture The Embrace (2022). Ossei-Mensah also expects that abstract masters like Mo Booker, Raymond Saunders, Howardena Pindell, Emma Amos, Atta Kwami, and Barbara Chase Riboud will receive overdue recognition in 2023 as more institutions reexamine their bodies of work in relation to the younger generation they've inspired.
Ossei-Mensah anticipates that criticism by writers of color, specifically those who engage with abstract art's relationship to cultural practice, will be particularly impactful on the art world. He cited the work of Hilton Als, Robin Givhan, Folsade Ologundudu, and Doreen St. Felix as ones to watch. Additionally, he listed the 2023 solo exhibitions of artists Chase Hall, Guadalupe Maravilla, Ming Smith, Tomashi Jackson, Frank Stewart, Amoako Boafo, Kennedy Yanko, and Anoushka Mirchandani as indicative of what's to come this year.
Hans Ulrich Obrist
Artistic Director, Serpentine Galleries
London
Portrait of Hans Ulrich Obrist by Andrew Quinn. © Andrew Quinn.
Hans Ulrich Obrist is looking towards the work of Black, Indigenous, and Latinx artists who are rethinking notions of ownership, land, and the body in relation to futurity. He is particularly excited by immersive and interactive new media art, like video games. As he explained, "Video games are to the 21st century what movies were to the 20th century, and novels to the 19th century. Today, it's much easier for artists to develop their gaming environments."
Obrist referenced the work of Gabriel Massan at the Serpentine Galleries as a key example of an artist who is "uncovering new meanings on video games and phenomenology…that invites players to activate a fantastical and disorienting world populated with Massan's digital sculptures, bespoke animation, films, camerawork, and sound developed by his collaborators," he said. Obrist situates Massan within an incredible generation of artists from Brazil, including Jota Mombaça and Ventura Profana, who use technology to reexamine futurity and a sense of place while in dialogue with decolonial thought and practice.
Adrián Villa Rojas, Yinka Shonibare, and Otobong Nkanga, as Obrist noted, are similarly starting transnational dialogues that imagine a new future for us all. "As artist Ian Cheng often told me, at the heart of his art is a desire to understand what a world is," Obrist said. "Now more than ever, the dream is to be able to possess the agency to create new worlds."
Vivian Crockett
Curator, New Museum
New York
Portrait of Vivian Crockett by Ciara Elle Bryant. Courtesy of the New Museum.
Vivian Crockett is fascinated by what will emerge in the fields of new media art, film, and photography, particularly by artists of color from Latin America. In 2022, more opportunities arose for critical reflection on Latin American art and artists, as evident at the Whitney Biennial "Quiet as It's Kept," and the Focus and Platform sections of The Armory Show. This will likely continue through 2024 as Adriano Pedrosa mounts the 60th edition of the Venice Biennale's international exhibition, becoming the first Latin American curator in its 122-year history.
When approaching Latin American art, Crockett emphasized that an understanding of the continent's political landscapes is crucial. "There is an increased acknowledgement of white supremacist logic affecting Latin American countries, both historically and in the present moment, resulting in more explicit conversations around race, class, and Indigenous struggles for autonomy," she said.
Eileen Jung
Curator, Bronx Museum
New York
Portrait of Eileen Jung. Courtesy of the Bronx Museum.
Eileen Jung predicts that land art, Indigeneity, and immersive art practices will take center stage in 2023. In particular, she pointed to artists who use conceptual art to navigate history and memory, including Firelei Báez, Chloë Bass, Maria Berrio, Andrea Chung, Joana Choumali, Sean Desiree, Abigail DeVille, Anaïs Duplan, Scherezade García, Guadalupe Maravilla, Daniel Lie, and Jodie Lyn-Kee-Chow. Jung added, "Each of these artists have unique perspectives and contributions, and through their work, they've introduced a level of newness and depth to the overall artistic zeitgeist."
Jung further elaborated that artists who provide counternarratives to the dominant historical record, and push the boundaries of their medium across abstract and figurative painting as well as sculpture, will continue to set the trends. She specifically noted the practices of Derek Fordjour, Tomashi Jackson, Sara Jimenez, Anina Major, Natalia Nakazawa, Angel Otero, Kevin Quiles Bonilla, Amina Ross, Tariku Shiferaw, Jean Shin, and Saya Woolfalk. Jung added that the critical scholarship of Lisa Lowe, Anna L. Tsing, and Saidiya Hartman will continue to inform artistic pulses.
She remains excited for new rediscoveries in 2023, like how ceramics has been in recent years. "Another area that is often overlooked are those artists who are self-taught, often labeled as 'outsider artists' (e.g., those whose work does not reflect an overt influence from the mainstream art world), and are bringing a new energy to the field," Jung wrote to Artsy.
Jesse Firestone
Curator, Montclair State Galleries
Montclair, New Jersey
Portrait of Jesse Firestone by Jenna Bascom Photography, LLC's Associate Photographer Nelson. Courtesy of Montclair State Galleries.
Jesse Firestone is on the lookout for more genre-breaking art in 2023. In particular, they point to outsider art practices—like using humor or making provocative works with unconventional material and subject matter—as big trends for the year. "I think performance artists who embrace failure while taking their work seriously, but aren't self-serious, will receive a lot more attention," they said. "There is a lot to learn from this type of work and I think people are hungry to see how we can work with imperfection, messiness, and unpredictability. 2023 is a year of embracing risk."
Firestone's attention to risk comes out of crypto art's tumultuous year in 2022. The incredibly rapid rise and subsequent fall of NFTs have demonstrated that, while artists will continue to innovate art with new technology, some trends might crash as fast and they rose. Firestone believes that artists will continue to learn from the market and reflect upon the failures of these experiences in their work. Because of the NFT crash, Firestone sees physical media art, or art that embraces the body, as major for 2023. This is work they actively support as a curator: "Ultimately I like being able to provide artists with the space to stretch, take risks, and succeed in those efforts," Firestone said.
Rachel Vera Steinberg
Curator, Smack Mellon
New York
Portrait of Rachel Vera Steinberg by Inna Svyatsky. Courtesy of Smack Mellon.
Rachel Vera Steinberg is excited for a greater number of artists to further deepen the mystery of art production across sculpture and computer-generated art. She is inspired by artists who push the boundaries of the medium they are working in, as well as the space in which they exhibit. She cited the work of Emily Clayton, Tomi Faison, and Charisse Pearlina Weston as key examples. Steinberg also anticipates more conceptually driven work in relation to text- and discourse-based art, like K Allado-McDowell's recent book Amor Cringe (2022), which was co-written with AI software.
Additionally, Steinberg predicts that last year's challenges around systemic injustice will usher in artists addressing class and social equity in the art world. "One of the most impactful trends from this past year was the proliferation of AI image generators," she said. "It's hard to forecast this as a direction, but it has the potential to further call into question images as receptacles of meaning."
Separately, Steinberg believes that more artworks inspired by religion will reach the fore in 2023. "I feel like we are entering a moment of reconsidering religion, inclusive of, but also beyond, its relationship to spirituality," she explained. "I see this formally in visual symbols and materiality: For example, in the way an artist like Tammy Nguyen incorporates metal leaf to reference illuminated manuscripts, but also in other modes of production that are trending, such as a heightened interest in metal work."
Zoé Whitley
Director, Chisenhale Gallery
London
Portrait of Zoé Whitley by James Gifford-Mead. Courtesy of Zoé Whitley.
Zoé Whitley is looking to painters who are embracing unconventional materials or pushing the limits of their painting practice to render something vibrantly different and new. "The artists who currently inspire me defy genre expectations," she said.
Furthermore, Whitley is looking forward to artists collaborating more with nonprofit organizations. She hopes that these partnerships, and their accompanying resources, will support ambitious art practices and culminate into long-running exhibitions that a greater number of viewers will be able to see and experience.
These later points are greatly influenced by Tricia Hersey's manifesto Rest is Resistance (2022) and Avery Gordon's Ghostly Matters: Haunting and the Sociological Imagination (1997), which both argue for a process of slowing down with media materials to allow for their presence to be felt, haunting the audience.
Ayanna Dozier
Ayanna Dozier is Artsy's Staff Writer.
Tom Sachs Reveals New McDonald's Public Art – HYPEBEAST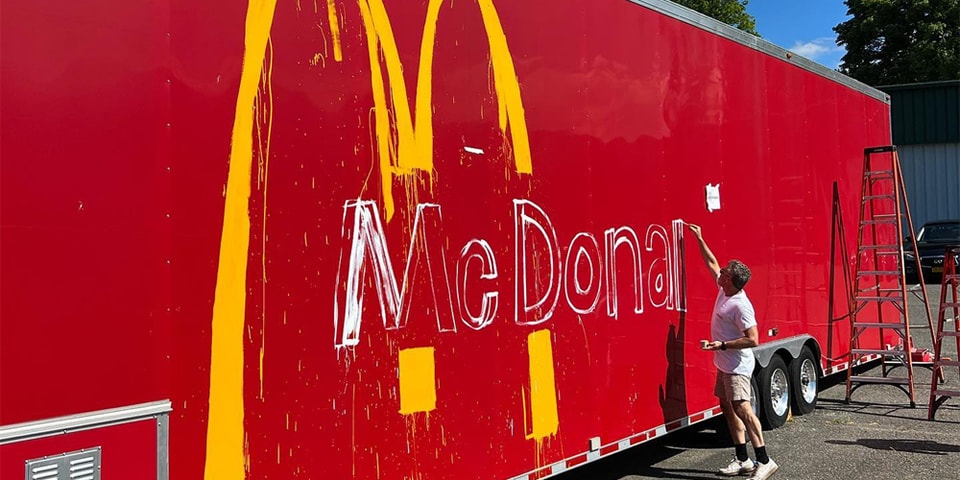 Over the weekend, contemporary visionary Tom Sachs took to Instagram to reveal a new public art piece.
Sachs is taking street art to the next level, showcasing the process of his "Enamel on Trailer" piece that he painted on the side of a red trailer in the middle of Connecticut. The post features a series of images of Sachs painting his own rendition of the McDonald's golden arches and branding. The piece includes signage on the bottom right corner of the trailer and appears to be dated in 2022. A closer look sees that Sachs finds perfection in imperfection as paint leaves streaks from the dripping.
The caption of the Instagram also showcases the dimension as well as the location of the piece — Max Power Motors in New Milford, Connecticut, and is "on display 24/7." The post also shows a Google Map zoom in on where Max Power Motors is located in the world, giving fans who might be interested or passing by, a chance to view the work.
Take a look below.
In other art news, here is an official look at Jahan Loh's Doraemon Sofubi toys.