Dave Charles launches Covid 'At Home Studio' system with Glenn Prins
The broadcaster and the engineer, Charles and Prins have created an MRI Home Studio set-up that offers broadcasters a cost-effective, hi-fi option to keep on-air safe at home and deliver professional quality audio streams to keep on-air operations running smoothly and efficiently.
"What we're offering is a studio in a box solution for radio stations that are doing terrestrial broadcasting, looking for a way to keep their staff safe and at home, and delivering it at an affordable price," Charles explains.
"Most stations have a lot of the equipment. necessary What we're doing is showing them how to put it together and make it viable, so they can maintain Plan B, and Plan B is providing a way for radio stations to have all their broadcasts done from home studios with professional sound and tech support. We have a couple of engineers who will talk you through the set-up and are on call if and when needed," he continues.
"Radio station may have two-thirds of the stuff needed to set up a home studio, but what they don't have is the clean feed audio that gives you that professional quality audio and we are offering that. It's not the typical zoom audio that sounds compressed. And if they have a need for programming consultancy, we can certainly talk about that as well, but the bottom line is  we want to make sure they can get to where the shows and news reports can be done from home with the same audio quality and frills they have in the station studios, and all packaged in a very affordable way."
The package all-in is priced at about C$8,000.
Call Glenn Prins at 705 717-3111 and get all the details you require on MRI Home Studios. – David Farrell
Up to 10 free music channels are now available on Comcast Xfinity, Distro TV, Freecast's Select TV, Channel Plus on LG, MX Player and XUMO, boosting the web service's audience reach potential in the market by over 40 million. Stingray currently counts 400 million subscribers in 156 countries.
Separately, Stingray Group Inc. says revenue in its fiscal Q1 ended June 30 fell by 35 percent to $52.3M as the impact of the pandemic hit revenue from radio operations. However, management is optimistic that its global media business will be able to resume rapid growth as the impact of the pandemic fades and new services come out in Canada, the United States and further abroad. – Sources: Stingray & The Canadian Press
Now that the deal is closed and the company is going private, Torstar's new owners are focusing on the future of the company.
Job one? Listening to their new employees.
"We will be going into the office and sitting down and listening and hearing perspectives on what we need to do. We will listen to everyone," said Bitove in an interview Wednesday afternoon. Bitove said he and Rivett will meet with executives and editors in a series of small, socially distant get-togethers and will also be holding a digital town hall for all Torstar employees. – Josh Rubin, The Star
Among the lineup of 50 titles participating in this year's festival are four Crave-supported films: the Crave original documentaries Inconvenient Indian (from Michelle Latimer) and The New Corporation: The Unfortunately Necessary Sequel (from Joel Bakan and Jennifer Abbott), as well as the feature films Falling (from Viggo Mortensen) and Beans (from Tracey Deer), which received funding through Bell Media's The Harold Greenberg Fund. – Media release
I received the same 47-page document that the players got. The rules and procedures are the same for everyone, players and staff. There's a nice outdoor area right outside (Rogers Place, the Oilers home rink) we call The Yard. Tim Hortons has been giving us free coffee and doughnuts and sandwiches. There's basketball, a golf simulator and a giant screen outside, so guys are out there watching games. In one restaurant on Friday – the night before the playoffs – there was NHL staff, players from opposing teams, coaches and GMs, referees and linesmen, all dining out under one roof. I said, this feels like the Twilight Zone. – Patrick Maloney, London Free Press
The crews at AT&T SportsNet and Penguins Radio Network are working hard to call playoff hockey from home. – Michelle Crechiolo, Penguins team reporter
With everything happening in the world are we really still arguing whether Don Cherry should still be on the air? There is nothing sad about an adult male being held to account for their words. Hell hath no fury like a white man who feels other white men are being marginalized. – Jody Brimacombe, Fresh Daily
In recent years, the NBA star has added another dimension to his public persona by hosting his own podcast. He has interviewed athletes and chefs, authors and bankers, politicians and actors. For a self-described introvert, Redick thinks of it as an exercise in personal development — and as a way for him to connect with an even broader audience.
"It's given me a medium to express myself," he said.
Now, Redick hopes to expand his platform. – Scott Cacciola, The New York Times
Chatham Asset Management has a growing presence in the news industry. In 2016, it took a majority stake in Postmedia, one of Canada's largest newspaper companies. Since that deal went through, 1,600 Postmedia employees have been laid off, and more than 30 of its publications have been shut down. Chatham is also the principal owner of American Media Inc., the parent company of The National Enquirer and other supermarket tabloids. – Marc Tracy, The New York Times (subscription)
The Insider Interviews podcast, created and hosted by marketing strategist and journalist E.B. Moss has posted a new episode featuring a live chat with RAIN president Brad Hill, and an excerpt of the recently produced RAIN Global Podcast Leadership Summit. (See/hear the YouTube version below.)
All episodes of the Insider Interviews podcast, plus subscription links, can be found here – RAIN News
[embedded content]
Coleman Insights' test list is generated by compiling the most consumed songs from the past year by streaming, sales and radio airplay as measured by MRC Data/BDSradio. The company tested these songs with 1,000 people ages 12-54 across the US and Canada utilizing Coleman Insights' FACT360 Strategic Music Test platform. Due to the cancellation of this year's Worldwide Radio Summit, the findings were released via webinar.  The research findings start getting interesting at the 16-minute mark.
[embedded content]
RIP
Edmonton's hockey and media communities' paid tribute to longtime local broadcaster Tim Dancy on Monday after news of his death emerged. The former play-by-play commentator for the Edmonton Oilers later spent time in that same role for the Saskatchewan Roughriders. He went on to work for other media companies like Shaw and 630 CHED. – Phil Heidenreich, Global News
– Peter Rakobowchuk, a journalist with Canada's national news agency whose high energy delivery was instantly recognizable to decades of listeners, has died.
More widely known by his radio moniker Peter Ray — a supervisor early on told him it sounded smoother — the irrepressible Rakobowchuk had been undergoing chemotherapy for liver cancer. He was 71.
Source: – FYI Music News
London social media campaign celebrates newcomers working in the health sector – Global News
Saskatchewan reported 19 new cases of the novel coronavirus on Saturday as the province hit a new single-day testing record.
Of the new cases, 15 are in the Saskatoon area, with 13 of them being linked to known cases or events, says the Ministry of Health.
Two new cases have been reported in the central east and Regina zones.
As of Saturday, Saskatchewan has a total of 1,863 reported cases. Two cases previously reported have been removed as they live outside of Saskatchewan, say officials.
There are 134 active cases of COVID-19 in Saskatchewan, with a total of 1,705 people who have recovered from the virus.
Here is a breakdown of where Saskatchewan's active cases are:
Saskatoon: 83
Regina: 19
Central West: 8
Central East: 5
South East: 5
South Central: 4
North Central: 3
South West: 3
North West: 1
Far North East: 1
Far North West: 1
North East: 1
There are eight people in hospital, all who are receiving inpatient care.

1:33


Saskatoon chamber of commerce asks SHA for mask-wearing ad blitz



Saskatchewan's COVID-19 death toll remains at 24 people.
[ Sign up for our Health IQ newsletter for the latest coronavirus updates ]
Coronavirus breakdown
Here is a breakdown of total Saskatchewan cases by age:
318 people are 19 and under
603 people are 20 to 39
577 are 40 to 59
303 people are 60 to 79
62 people are 80 and over
Women make up 51 per cent of the cases, men make up 49 per cent.
Officials said 931 cases are linked to community contact or mass gatherings, 279 are travel-related, 534 have no known exposure and 119 are under investigation by public health.
There have been 69 cases involving health-care workers.
Saskatchewan has completed 183,216 COVID-19 tests to date, up 2,984 from Friday, making it the highest daily number of tests performed to date, according to data provided by the Ministry of Health.
The previous record was set on Sept. 18, when 2,984 tests were performed.
Questions about COVID-19? Here are some things you need to know:
Symptoms can include fever, cough and difficulty breathing — very similar to a cold or flu. Some people can develop a more severe illness. People most at risk of this include older adults and people with severe chronic medical conditions like heart, lung or kidney disease. If you develop symptoms, contact public health authorities.
To prevent the virus from spreading, experts recommend frequent handwashing and coughing into your sleeve. They also recommend minimizing contact with others, staying home as much as possible and maintaining a distance of two metres from other people if you go out. In situations where you can't keep a safe distance from others, public health officials recommend the use of a non-medical face mask or covering to prevent spreading the respiratory droplets that can carry the virus. In some provinces and municipalities across the country, masks or face coverings are now mandatory in indoor public spaces.
For full COVID-19 coverage from Global News, click here.
© 2020 Global News, a division of Corus Entertainment Inc.
Bill Maher Scolds Media For Being "No Help Amplifying" His Concerns Donald Trump Won't Leave Office Peacefully – Deadline
UPDATED with video: President Donald Trump pretty much secured the main talking point for this week's Real Time With Bill Maher after a Wednesday press conference in which Trump refused to commit to a peaceful transfer of power if he lost the November election to Joe Biden.
The topic of the concern over whether Trump would refuse to vacate the White House peacefully has been front and center for Maher for almost two years. It came up time and time again in Friday night's show, from pressing Sen. Bernie Sanders on what a plan might look like if Trump declined to exit in January if Biden wins, to clear frustration that it's taken "mainstream media" outlets so long to catch up to his concerns.
"It does f*ckin' stick in my craw that nobody listened to me and that I got no help from the New York Times, Washington Post, CNN — mainstream media, should have amplified," he said. "Mainstream media — I got no help amplifying the point I was making."
The subject took up the majority of the opening conversation from Sanders, who appeared via video (Maher was back in the studio for a third week in a row in front of a notably small, socially distanced audience).
"If Trump attempts to stay in office after losing, there will be a number of plans out there to make sure he is evicted from office," Sanders said, echoing some of what he said in his last Real Time appearance in April. At one point during a Sanders answer, Maher nudged back, "I still don't know what the plan is." (See the entire video above.)
During the midshow panel with author and CNN political analyst Bakari Sellers and Manhattan Institute fellow and podcaster Coleman Hughes, an engaging discussion on race eventually turned back to what Maher called "the theme that has obsessed me."
He showed two montages — one of previous Real Time episodes dating to April 2018 featuring Maher asking the question of what if Trump doesn't leave office if he loses, another of Trump mentioning Maher's theory during several rally speeches.
[embedded content]
Afterward, he turned to Trump's comments earlier in the week.
"There's a headline I saw in the New York Times yesterday, 'Trump Won't Commit to Peaceful Transfer of Power' — and it was on page 15," Maher said. "This was not the paper I grew up with, but OK."
He relayed the main points of Trump's comments, in response to a question from Playboy reporter Brian Karem, which included the president saying "we're going to have to see what happens." Maher read a passage from NYT reporter Michael Crowley's report, which said in part that "Mr. Trump's refusal — or inability — to endorse perhaps the most fundamental tenet of American democracy, as any president in memory surely would have, was the latest instance in which he has cast grave uncertainty around the November election and its aftermath."
"I would put that on the front page – but that's just crazy me," Maher said.
He added that he was going to drop the subject — though that doesn't seem likely with 38 days to go until the election.
Maher is off next week and returns with a fresh show October 9.
Molly Russell social media material 'too difficult to look at' – BBC News


.css-94m6rd-HeadingWrapperborder-bottom:solid 1px #BABABA;padding-bottom:1.5rem;.css-94m6rd-HeadingWrapper > *:not([hidden]):not(style) ~ *:not([hidden]):not(style)margin-top:1rem;
.css-1c1994u-StyledHeadingfont-family:ReithSerif,Helvetica,Arial,freesans,sans-serif;font-weight:500;font-size:2rem;line-height:2.25rem;color:#3F3F42;@media (min-width:37.5rem).css-1c1994u-StyledHeadingfont-size:2.75rem;line-height:3rem;.css-1c1994u-StyledHeading:focusoutline-style:none;.css-1c1994u-StyledHeading:focus-visibleoutline-style:auto;

.css-11c8au8-MetadataStripfont-family:ReithSans,Helvetica,Arial,freesans,sans-serif;font-weight:400;font-size:0.8125rem;line-height:1rem;margin-top:-0.25rem;color:#696969;
.css-8d0yke-MetadataStripItemdisplay:inline-block;white-space:nowrap;margin-top:0.25rem;max-width:calc(100% – 1em);.css-8d0yke-MetadataStripItem::aftercontent:";display:inline-block;height:1.25em;border-left:#BABABA 1px solid;margin:0 0.5em;vertical-align:-0.25em;.css-8d0yke-MetadataStripItem:last-childmax-width:100%;.css-8d0yke-MetadataStripItem:last-child::aftercontent:none;
.css-2yhany-StyledTagContainerfont-family:ReithSans,Helvetica,Arial,freesans,sans-serif;font-weight:400;font-size:0.875rem;line-height:1.125rem;
Related Topics
.css-1emjddl-Clusteroverflow:hidden;
.css-1oubwgi-ClusterItemsdisplay:-webkit-box;display:-webkit-flex;display:-ms-flexbox;display:flex;-webkit-flex-wrap:wrap;-ms-flex-wrap:wrap;flex-wrap:wrap;margin:calc(0.5rem / 2 * -1);.css-1oubwgi-ClusterItems > *margin:calc(0.5rem / 2);
.css-dh1p3g-StyledTagdisplay:-webkit-box;display:-webkit-flex;display:-ms-flexbox;display:flex;white-space:nowrap;
.css-1sd1v8r-StyledLinkcolor:#3F3F42;border:1px solid #DB7F7F;font-weight:bold;padding:0.5rem;-webkit-text-decoration:none;text-decoration:none;.css-1sd1v8r-StyledLink:hover,.css-1sd1v8r-StyledLink:focusbackground:#B80000;color:#FFFFFF;Social media regulation debate
.css-r83t2i-ComponentWrappermargin:1.5rem 0;
.css-1759m9z-StyledFigurefont-family:ReithSans,Helvetica,Arial,freesans,sans-serif;font-weight:400;font-size:0.875rem;line-height:1.125rem;
.css-uf6wea-RichTextComponentWrappermargin:1rem 0;max-width:36.25rem;
.css-83cqas-RichTextContainercolor:#3F3F42;.css-83cqas-RichTextContainer > *:not([hidden]):not(style) ~ *:not([hidden]):not(style)margin-top:1rem;
.css-14iz86j-BoldTextfont-weight:bold;Instagram has passed thousands of pages of "pretty dreadful" material from the account of Molly Russell to her family's legal team, a court heard.
The 14-year-old killed herself in 2017 after viewing graphic images of self harm and suicide on the platform.
A pre-inquest hearing on Friday was told not all the material had been studied yet as it was too difficult for lawyers and police to look at for long.
A date for the inquest itself is yet to be set.
The inquest will look at how algorithms used by social media giants to keep users on the platform may have contributed to her death.
Oliver Sanders QC told Barnet's Coroner's Court how Instagram's parent company Facebook had recently released a "significant volume" of material relating to the case.
He said: "We haven't been able to review it all yet. Some of it is pretty dreadful and it is not something that can be reviewed in a long sitting and certainly not late at night."
He added certain parts of the material had been redacted and lawyers and police were trying to find out why.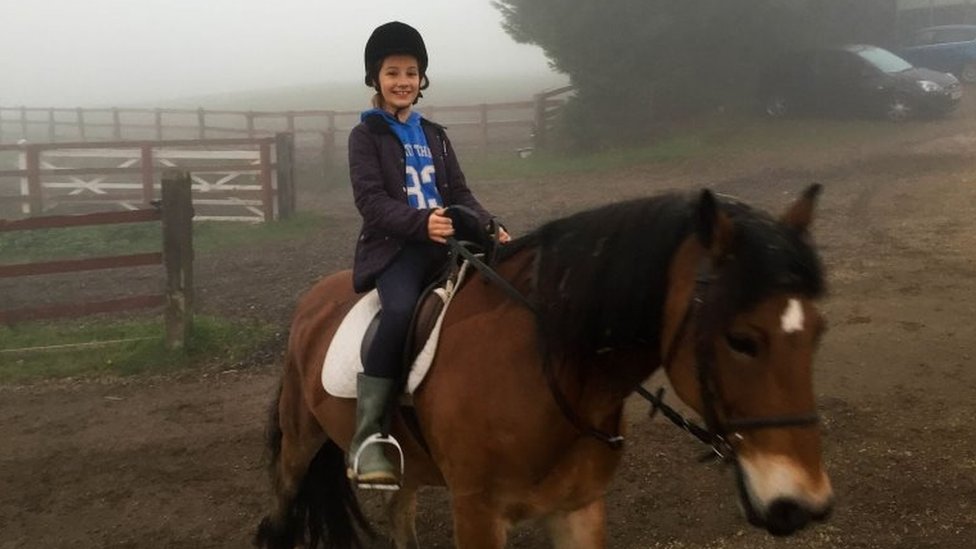 The court also heard the investigation was seeking the cooperation of Snapchat, WhatsApp, Pinterest, Facebook and Twitter, although until recently only Pinterest had co-operated fully.
But Snapchat could not disclose data without an order from a US court, WhatsApp had deleted Molly's account and Twitter was reluctant to handover material due to European data protection laws, the hearing was told.
Coroner Andrew Walker said "some or all" of those social media companies could be named as interested parties in the inquest as they would be "best placed" to give technical information for the case.
He also asked for a psychologist with expertise in the potential psychological impacts of viewing extreme material to be appointed to give evidence.
A further pre-inquest review is due to take place on 26 November.
.css-po6dm6-ItalicTextfont-style:italic;
If you've been affected by
.css-yidnqd-InlineLink:linkcolor:#3F3F42;.css-yidnqd-InlineLink:visitedcolor:#696969;.css-yidnqd-InlineLink:link,.css-yidnqd-InlineLink:visitedfont-weight:bolder;border-bottom:1px solid #BABABA;-webkit-text-decoration:none;text-decoration:none;.css-yidnqd-InlineLink:link:hover,.css-yidnqd-InlineLink:visited:hover,.css-yidnqd-InlineLink:link:focus,.css-yidnqd-InlineLink:visited:focusborder-bottom-color:currentcolor;border-bottom-width:2px;color:#B80000;@supports (text-underline-offset:0.25em).css-yidnqd-InlineLink:link,.css-yidnqd-InlineLink:visitedborder-bottom:none;-webkit-text-decoration:underline #BABABA;text-decoration:underline #BABABA;-webkit-text-decoration-thickness:1px;text-decoration-thickness:1px;-webkit-text-decoration-skip-ink:none;text-decoration-skip-ink:none;text-underline-offset:0.25em;.css-yidnqd-InlineLink:link:hover,.css-yidnqd-InlineLink:visited:hover,.css-yidnqd-InlineLink:link:focus,.css-yidnqd-InlineLink:visited:focus-webkit-text-decoration-color:currentcolor;text-decoration-color:currentcolor;-webkit-text-decoration-thickness:2px;text-decoration-thickness:2px;color:#B80000;
self-harm
,
eating disorders
or
emotional distress
, help and support is available via
the BBC Action Line
.
.css-144ki52-SectionWrappermargin:1.5rem 0;padding-top:1.5rem;