'Deplorable evil': Full text of the Pope's residential school apology
MASKWACIS, ALTA. — Pope Francis delivered an apology to Indigenous residential school survivors in Maskwacis, Alta., after a visit to the former site of the Ermineskin Indian Residential School on Monday.
Here is the full text of his address:
Madam Governor General. Mr. Prime Minister. Dear Indigenous Peoples of Maskwacis and of this land of Canada. Dear brothers and sisters.
I have been waiting to come here and be with you. Here, from this place associated with painful memories, I would like to begin what I consider a penitential pilgrimage. I have come to your native lands to tell you in person of my sorrow, to implore God's forgiveness, healing and reconciliation, to express my closeness and to pray with you and for you.
I recall the meetings we had in Rome four months ago. At that time, I was given two pairs of moccasins as a sign of the suffering endured by Indigenous children, particularly those who, unfortunately, never came back from the residential schools. I was asked to return the moccasins when I came to Canada, and I will do so at the end of these few words, in which I would like to reflect on this symbol, which over the past few months has kept alive my sense of sorrow, indignation and shame. The memory of those children is indeed painful; it urges us to work to ensure that every child is treated with love, honour and respect. At the same time, those moccasins also speak to us of a path to follow, a journey that we desire to make together. We want to walk together, to pray together and to work together, so that the sufferings of the past can lead to a future of justice, healing and reconciliation.
That is why the first part of my pilgrimage among you takes place in this region, which from time immemorial has seen the presence of Indigenous Peoples. These are lands that speak to us; they enable us to remember.
To remember, brothers and sisters, you have lived on these lands for thousands of years, following ways of life that respect the Earth, which you received as a legacy from past generations and are keeping for those yet to come. You have treated it as a gift of the Creator to be shared with others and to be cherished in harmony with all that exists, in profound fellowship with all living beings. In this way, you learned to foster a sense of family and community, and to build solid bonds between generations, honouring your elders and caring for your little ones. A treasury of sound customs and teachings, centred on concern for others, truthfulness, courage and respect, humility, honesty and practical wisdom.
Yet if those were the first steps taken in these lands, the path of remembrance leads us, sadly, to those that followed. The place where we are gathered renews within me the deep sense of pain and remorse that I have felt in these past months. I think back on the tragic situations that so many of you, your families and your communities have known; of what you shared with me about the suffering you endured in the residential schools. These are traumas that are in some way reawakened whenever the subject comes up; I realize too that our meeting today can bring back old memories and hurts, and that many of you may feel uncomfortable even as I speak. Yet, it is right to remember, because forgetfulness leads to indifference and, as has been said the opposite of love is not hatred, it's indifference and the opposite of life is not death, it's indifference. To remember the devastating experiences that took place in the residential schools hurts, angers, causes pain, and yet it is necessary.
It is necessary to remember how the policies of assimilation and enfranchisement, which also included the residential school system, were devastating for the people of these lands. When the European colonists first arrived here, there was a great opportunity to bring about a fruitful encounter between cultures, traditions and forms of spirituality. Yet, for the most part that did not happen. Again, I think back on the stories you told: how the policies of assimilation ended up systematically marginalizing the Indigenous Peoples; how also through the system of residential schools your languages and cultures were denigrated and suppressed; how children suffered physical, verbal, psychological and spiritual abuse; how they were taken away from their homes at a young age, and how that indelibly affected relationships between parents and children, grandparents and grandchildren.
I thank you for making me appreciate this, for telling me about the heavy burdens that you still bear, for sharing with me these bitter memories. Today I am here, in this land that, along with its ancient memories, preserves the scars of still open wounds. I am here because the first step of my penitential pilgrimage among you is that of again asking forgiveness, of telling you once more that I am deeply sorry. Sorry for the ways in which, regrettably, many Christians supported the colonizing mentality of the powers that oppressed the Indigenous Peoples. I am sorry. I ask forgiveness, in particular, for the ways in which many members of the church and of religious communities co-operated, not least through their indifference, in projects of cultural destruction and forced assimilation promoted by the governments of that time, which culminated in the system of residential schools.
Although Christian charity was not absent, and there were many outstanding instances of devotion and care for children, the overall effects of the policies linked to the residential schools were catastrophic. What our Christian faith tells us is that this was a disastrous error, incompatible with the Gospel of Jesus Christ. It is painful to think of how the firm soil of values, language and culture that made up the authentic identity of your peoples was eroded, and that you have continued to pay the price of this. In the face of this deplorable evil, the church kneels before God and implores his forgiveness for the sins of her children. I myself wish to reaffirm this, with shame and unambiguously. I humbly beg forgiveness for the evil committed by so many Christians against the Indigenous Peoples.
Dear brothers and sisters, many of you and your representatives have stated that begging pardon is not the end of the matter. I fully agree: that is only the first step, the starting point. I also recognize that, looking to the past, no effort to beg pardon and to seek to repair the harm done will ever be sufficient and that, looking ahead to the future, no effort must be spared to create a culture able to prevent such situations from happening. An important part of this process will be to conduct a serious investigation into the facts of what took place in the past and to assist the survivors of the residential schools to experience healing from the traumas they suffered.
I trust and pray that Christians and civil society in this land may grow in the ability to accept and respect the identity and the experience of the Indigenous Peoples. It is my hope that concrete ways can be found to make those peoples better known and esteemed, so that all may learn to walk together. For my part, I will continue to encourage the efforts of all Catholics to support the Indigenous Peoples. I have done so at various times and occasions, through meetings, appeals and also through the writing of an Apostolic Exhortation. I realize that all this will require time and patience. We are speaking of processes that must penetrate hearts. My presence here and the commitment of the Canadian Bishops are a testimony to our will to persevere on this path.
Dear friends, this pilgrimage is taking place over several days and in places far distant from one another; even so, it will not allow me to accept the many invitations I have received to visit centres like Kamloops, Winnipeg and various places in Saskatchewan, Yukon and the Northwest Territories. Nonetheless, please know that all of you are in my thoughts and in my prayer. Know that I am aware of the sufferings and traumas, the difficulties and challenges, experienced by the Indigenous Peoples in every region of this country. The words that I speak throughout this penitential journey are meant for every Native community and person. I embrace all of you with affection.
On this first step of my journey, I have wanted to make space for memory. Here, today, I am with you to recall the past, to grieve with you, to bow our heads together in silence and to pray before the graves. Let us allow these moments of silence to help us interiorize our pain. Silence. And prayer. In the face of evil, we pray to the Lord of goodness; in the face of death, we pray to the God of life. Our Lord Jesus Christ took a grave, which seemed the burial place of every hope and dream, leaving behind only sorrow, pain and resignation, and made it a place of rebirth and resurrection, the beginning of a history of new life and universal reconciliation. Our own efforts are not enough to achieve healing and reconciliation: we need God's grace. We need the quiet and powerful wisdom of the Spirit, the tender love of the Comforter. May he bring to fulfilment the deepest expectations of our hearts. May he guide our steps and enable us to advance together on our journey.
This report by The Canadian Press was first published July 25, 2022.
The Canadian Press
Two families found dead trying to enter US from Canada: Police – Al Jazeera English
Authorities have launched an investigation following the discovery of eight bodies in a marshy area of the St Lawrence River in Quebec near Canada's border with the United States.
The Akwesasne Mohawk Police Service said six bodies were found about 5pm (21:00 GMT) on Thursday in the marsh in Tsi Snaihne, Akwesasne. Two more were discovered on Friday.
At a news conference on Friday, deputy police chief Lee-Ann O'Brien said the dead belonged to two families — one of Romanian descent with Canadian passports, the other Indian. One child under the age of three was among the fatalities, she said.
"All are believed to have been attempting illegal entry into the US from Canada," O'Brien said at the press conference.
Later that day, the chief of the Akwesasne Mohawk Police Service, Shawn Dulude, said that one of the two additional bodies recovered was that of an infant from the Romanian family.
The deaths came one week after the United States and Canada announced the expansion of a border agreement granting them the authority to expel asylum seekers who cross the nations' shared border at unofficial points of entry.
O'Brien said the bodies were found near a capsized boat belonging to a missing man from the Akwesasne Mohawk community, which stretches along both sides of the St Lawrence River, with land in Ontario and Quebec on the Canadian side, and in New York state.
Authorities were awaiting the results of post-mortem and toxicology tests to determine the cause of death.
Marco Mendicino, Canada's minister of public safety, said the Canadian Coast Guard and the Quebec provincial police force were assisting Akwesasne police in their investigation.
[embedded content]
"The news coming out of Akwesasne is heartbreaking," the minister wrote on Twitter. "I've reached out to Grand Chief Abram Benedict to express our condolences. As we await more details, my thoughts are with the loved ones of those lost."
Canadian Prime Minister Justin Trudeau also expressed his condolences to the families. "This is a heartbreaking situation, particularly given the young child that was among them," he told reporters.
"We need to understand properly what happened, how this happened and do whatever we can to ensure that we're minimising the chances of it happening again."
Last month, the Akwesasne Mohawk Police Service and the Saint Regis Mohawk Tribal Police reported a recent increase in undocumented entries through their lands and waterways. The statement said some people required hospitalisation.
In January, the police force noted that people involved in human smuggling had attempted to use shorelines along the Saint Lawrence River in the area.
'Put human lives at risk'
Trudeau unveiled the expanded border deal, known as the Safe Third Country Agreement (STCA), last week during US President Joe Biden's first official visit to Canada since taking office.
Since 2004, the STCA has forced asylum seekers to make claims for protection in the first country they arrive in — either the US or Canada, but not both.
That has meant that people already in the US could not make an asylum claim at an official port of entry into Canada, or vice versa, and allowed border authorities to uniformly turn people back at official land crossings.
The expanded agreement unveiled on March 24 closed a loophole in the STCA that previously allowed asylum seekers who crossed into Canada at unofficial points along the border to have their protection claims assessed once they were on Canadian soil.
The White House said last week that the restrictions would now also be applied "to migrants who cross between the ports of entry".
Advocates slammed the move, saying applying the STCA to the entire 6,416km (3,987-mile) land border between the US and Canada would not prevent people from seeking to cross, but would only force them to take more dangerous routes.
The news coming out of Akwesasne is heartbreaking.

I've reached out to Grand Chief Abram Benedict to express our condolences.

As we await more details, my thoughts are with the loved ones of those lost.

— Marco Mendicino (@marcomendicino) March 31, 2023
Migrant justice advocates laid the blame for the most recent deaths on policymakers.
"The Safe Third Country Agreement (STCA) and other immigration laws are meant to deter migration from the global south by making border crossing deadly," Nazila Bettache, a member of the Caring for Social Justice Collective, said in a statement on Friday.
"Let's be clear, these deaths were predictable and predicted — and in that sense they are intentional."
Samira Jasmin, spokesperson for the Solidarity Across Borders advocacy group, added that "these immigration policies put human lives at risk! We cross borders for a better world and instead face death".
Local authorities disputed the idea that the closure played a role in the most recent deaths.
"Right now what I can tell you is this has nothing to do with that closure," O'Brien said. "These people were believed to be gaining entry into the US. It's completely opposite."
The STCA applies in both directions, however, and US Border Patrol processed 3,577 people who crossed into the US irregularly from Canada last year, CBS News recently reported, citing government data.
Earlier this year, a family of four from India — including two children — were found frozen to death in the central Canadian province of Manitoba near the border with the US.
Authorities said they had attempted to cross over the border by foot on January 19 during severe winter weather and died from exposure.
A Haitian asylum seeker who came to Quebec via a popular, informal border crossing known as Roxham Road was also found dead at the frontier in late 2022 after attempting to go back to the US to rejoin his family.
Terrible – and just days after the US/Canada deal.

Again and again, we see punitive + deterrence-based asylum policies have horrifying and tragic consequences.

Consequences borne by migrants fleeing persecution. Consequences that are getting harder to describe as unintentional. https://t.co/mouezQ6cRF

— Danilo Zak (@DaniloZak) March 31, 2023
Police recover 2 more bodies from St. Lawrence River near Ontario-Quebec border – CBC.ca
Eight people are dead after they tried on Thursday to cross the St. Lawrence River into the United States near Akwesasne — a community which straddles Quebec, Ontario and New York state — according to officials. One other person is still missing.
Police recovered two more bodies from the river Friday, after discovering six bodies and an overturned boat during a missing person search Thursday afternoon.
The bodies are those of six adults and two children: one under the age of three who had a Canadian passport, the other an infant who was also a Canadian citizen, according to Shawn Dulude, the police chief for the nearby Kanien'kehá:ka community of Akwesasne. Dulude spoke to reporters at a Friday news conference.
They were found in a marsh on the riverbank.
They are believed to have been an Indian family and a Romanian family who were attempting to cross into the U.S., according to police.
Casey Oakes, 30, an Akwesasne resident, remains missing, police said. Oakes was last seen on Wednesday around 9:30 p.m. ET boarding a small, light blue vessel, leaving Cornwall Island. He was dressed in black, wearing a black face mask and a black tuque.
WATCH | Dulude speaks about the victims:
Shawn Dulude, the chief of the Akwesasne Mohawk Police Service, says eight bodies have now been found after an overturned boat was spotted in the water on Thursday afternoon.
He was later reported missing, leading to the search efforts that found the bodies. Oakes is a person of interest in the case, said Dulude.
Police located Oakes's vessel near the bodies, Lee-Ann O'Brien, the deputy chief of police for the Akwesasne Mohawk police service, said on Friday morning. Akwesasne is about 120 kilometres west of Montreal.
The IDs of the victims have not yet been released, pending notification of their next of kin.
A storm brought high winds and sleet into the area on Wednesday night. "It was not a good time to be out on the water," O'Brien said.
"It could have been anything that caused this tragedy," he said. "It could have been a faulty boat, it could have been human error and that the investigation will determine."
Kevin Sturge Lazore, captain of the Akwasasne Fire Department's Station 3, sent 15 volunteer firefighters to search the river on Thursday after Oakes's family reported him missing. Another dozen or so volunteers from other stations in the community joined the effort.
The firefighters recovered the boat, its hull dented on the bottom as if it had hit ice or a rock, Lazore said.
WATCH | 80 illegal crossings this year:
Akwesasne Mohawk police Chief Shawn Dulude says they have intercepted 80 attempted illegal crossings into the U.S. through their territory since January.
He and O'Brien said the boat was small, and wouldn't have been able to safely carry seven or eight people.
"What that boat could handle and the amount of people in it, it doesn't make a pretty picture," Lazore said, standing by the fire department dock on the water.
Friday morning, the water was calm and mirror-like. "It can change in the blink of an eye," Lazore said, noting waves were more than a metre high Wednesday night.
"The river is always the major concern…. Our elders tell us, always be careful, especially in the spring, with the runoff, the current is stronger and the water is freezing."
Other attempted crossings
The volunteer firefighters were only searching for one person when they discovered the first six bodies.
"It's hitting them now," Lazore said, adding they had begun a debrief Thursday evening to process what they had seen, but were interrupted by a call for a structure fire.
Thursday wasn't the first time Lazore's team has been called on to search for missing people who have tried to cross the border.
He said they rescue people attempting to enter the U.S. or Canada over the river and its tributaries about three or four times a year.
"It gets hard. It wears the guys down."
Almost exactly a year ago, they rescued a group of six Indian nationals who had just made it into the United States on the river when the boat they were in hit a shallow bank and got stuck.
They were able to stand up in the boat and were rescued by the volunteers and Akwasasne Police Department — which received $6.5 million from the Quebec government last year to help it deal with the increased flow of human smuggling in the area.
"They were lucky. It could have been a lot worse," Lazore said.
WATCH | Police search waters near Akwesasne:
Police continued the search for two people missing on Friday after the bodies of six people were recovered from the St. Lawrence River near Akwesasne, on the Ontario, Quebec and New York borders.
The fire station is next to a recreation centre where community members gathered Friday afternoon. They sit across a road from the Tsi'Snaihne River.
A police helicopter circled above.
Next to the fire station, a group of men lit a sacred fire early that morning and kept it going throughout the day. Lazore said the fire was to honour the families and Oakes.
Smuggling on the rise
O'Brien, the deputy police chief, said the community has seen an uptick in human smuggling into the U.S. There have been 48 incidents so far this year, she said.
But the recent deaths had nothing to do with the closure of the Roxham Road illegal border crossing, she added.
"That closure was people seeking refuge, leaving the U.S. to Canada. These people were believed to be gaining entry into the U.S. It's completely the opposite."
Most of those who try to enter the U.S. through the area are Indian and Romanian families, she said, but she said she "had no idea" why that was the case.
Ryan Brissette, a public affairs officer with U.S. Customs and Border Patrol, says the agency had seen a "massive uptick in encounters and apprehensions" at the border.
The agency saw more than eight times as many people try to cross from Canada into the U.S. in 2022 compared to previous years, he said. Many of them — more than 64,000 — came through Quebec or Ontario into New York.
"Comparing this area in the past, this is a significant number," Brissette said.
"There's a lot of different reasons as to why this is happening, why folks are coming all of a sudden through the northern border. I think a lot of them think it's easier, an easy opportunity and they just don't know the danger that it poses, especially in the winter months."
Eight bodies found in St Lawrence River near US-Canada border – BBC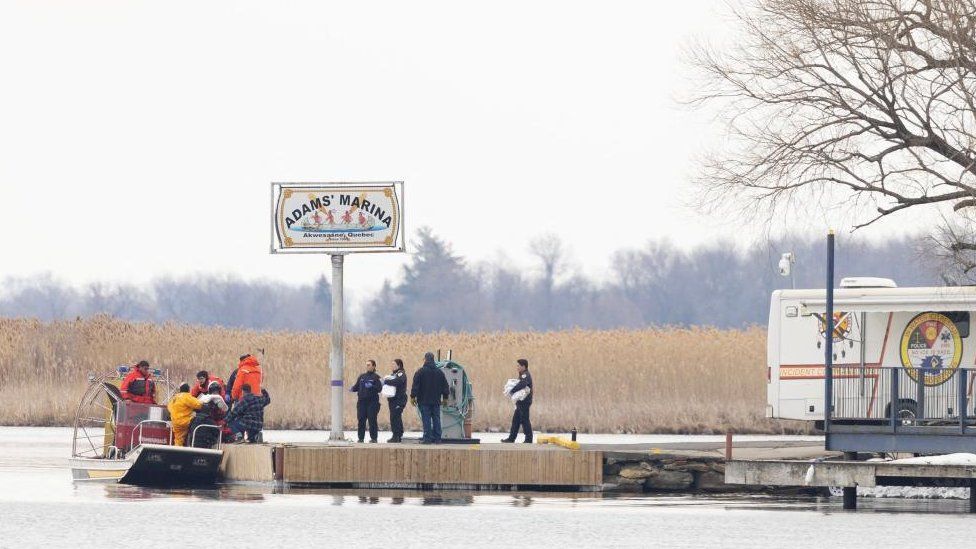 Authorities say they have recovered the bodies of eight migrants, including two children, who died trying to cross illegally from Canada into the US.
A police helicopter spotted two more bodies in the St Lawrence River on Friday. Two families from Romania and India are among the dead.
It is unclear if there is any link between Mr Oakes and the families.
Police said the first body was found around 17:00 local time (21:00 GMT) in a marsh in Tsi Snaihne in Akwesasne, a Mohawk territory right between the US-Canada border.
The other bodies were discovered nearby. Their identities have not yet been released by police.
The dead were six adults and two children.
One child was under the age of three and had a Canadian passport. The other infant was also a Canadian citizen, a local police chief told reporters at a Friday news conference.
The bodies are believed to be from two families, one of Romanian descent and one of Indian descent, Lee-Ann O'Brien, deputy chief of Akwesasne Mohawk Police Service, told reporters.
"All are believed to have been attempting illegal entry into the US from Canada," Ms O'Brien said. She added that weather conditions were rough in the area on Wednesday night.
The bodies were found in the Quebec area of Akwesasne, a Mohawk community whose territory includes parts of Ontario, Quebec and New York State. It is located about 120km west of Montreal.
Canadian Prime Minister Justin Trudeau said: "This is a heartbreaking situation.
"We need to understand properly what happened, how it happened and do whatever we can to minimize the chances of this ever happening again."
Bodies of people attempting to cross into the US from Canada have been discovered at other locations in recent months.
In January, police in Canada found the bodies of four people, including an infant, in a snow field near Emerson, Manitoba, by the US-Canada border. The dead are believed to be a family from India, US officials said.
A Montreal man was also found dead near the US-Canada border in December. Fritznel Richard, 44, was trying to cross into the US to reunite with his wife and child.