Dollar eases, yuan at 5-month high as Biden-Xi talks sound friendly
The dollar eased broadly against riskier currencies and the yuan scaled a five-month high on Tuesday, as talks between U.S. and Chinese leaders seemed to have an amicable start, while traders awaited looming U.S. retail sales data.
The euro also scraped off a 16-month low and rose almost 0.2% to $1.1383 as it licks wounds from a drubbing on Monday amid concerns about COVID-19 outbreaks and pushback on rate hike expectations from Europe's central bank chief.
Calling U.S. President Joe Biden an "old friend," his Chinese counterpart Xi Jinping said their countries must increase communication and cooperation. Both leaders stressed their responsibility to avoid conflict in opening remarks.
By the halfway point in talks, the yuan had climbed to its highest since June in onshore trade at 6.3666 per dollar. The risk-sensitive Australian and New Zealand dollars also rose about 0.2% each while the safe haven yen eased a fraction.
"Xi called Biden "my old friend" and said that the two countries should work together," said Qi Gao, Asia FX strategist at Scotiabank. "Therefore, the situation after the meeting should be better," he said, helping the yuan and other currencies which are sensitive to the tone of U.S.-China ties.
The Aussie also shrugged off more jawboning from central bank head Philip Lowe who in a speech again pushed back on market pricing for hikes as soon as 2022, arguing inflation was likely to lag well behind spikes seen elsewhere.
The Aussie traded just above its 50-day moving average at $0.7368. Swaps markets are still priced for 100 basis points of hikes by early 2023.
The kiwi, which is awaiting a central bank meeting in New Zealand next week, edged up to $0.7060 with the broadly positive mood in Asia. [AUD/]
The yen fell slightly against the euro and the dollar, last trading at 114.16 yen per dollar and 129.95 yen per euro.
SALES DATA DUE
U.S. retail sales data is due at 1330 GMT and follows a surprisingly weak consumer sentiment reading last week and an unexpectedly strong business conditions survey, which had helped to lift Treasury yields on Monday.
Economists expect month-on-month growth accelerating to 1.2% and a surprise on the upside would further highlight the contrast across the Atlantic where European Central Bank head Christine Lagarde has emphasised the economy's fragility.
The common currency crumbled to a 16-month low of $1.1356 in the wake of her comments pushing back on market expectations of tightening and lacks chart support until around $1.12. The drop propelled the U.S. dollar index to 2021 high of 95.595.
"We expect the cautiousness of the ECB on policy to limit recovery prospects for the euro against the dollar in the coming months," said Rabobank senior FX strategist Jane Foley.
"Our current mid-2022 forecast of EUR/USD at $1.14 is looking outdated … we will be revising our forecasts later in the week."
The gulf in tone across the Channel sent the euro on its steepest slide against the pound in six months on Monday as Bank of England Governor Andrew Bailey told a parliamentary committee he was "very uneasy" about inflation.
Sterling was steady at 84.71 pence per euro and a fraction stronger on the dollar at $1.3433 on Monday. [GBP/]
Canada's central bank chief Tiff Macklem was even more forthright and said "we are getting closer" to hikes in an opinion piece, driving the Canadian dollar to a four-and-a-half year high against the euro.
Bitcoin has drifted lower from last week's all-time high and slipped about 4% to a 10-day trough of $60,700 and fellow cyptocurrency ether was also off peaks and fell 5% to $4,320.
========================================================
Currency bid prices at 0357 GMT
Description RIC Last U.S. Close Pct Change YTD Pct High Bid Low Bid
Previous Change
Session
Euro/Dollar
$1.1381 $1.1367 +0.12% -6.85% +1.1386 +1.1360
Dollar/Yen
114.1850 114.1850 -0.04% +10.50% +114.3050 +114.1400
Euro/Yen
129.94 129.74 +0.15% +2.38% +130.0700 +129.7000
Dollar/Swiss
0.9240 0.9246 -0.09% +4.42% +0.9257 +0.9238
Sterling/Dollar
1.3431 1.3415 +0.11% -1.70% +1.3437 +1.3412
Dollar/Canadian
1.2501 1.2511 -0.08% -1.83% +1.2517 +1.2493
Aussie/Dollar
0.7357 0.7348 +0.14% -4.35% +0.7368 +0.7343
NZ
Dollar/Dollar 0.7055 0.7045 +0.16% -1.74% +0.7063 +0.7040
All spots
Tokyo spots
Europe spots
Volatilities
Tokyo Forex market info from BOJ
(Editing by Shri Navaratnam and Jacqueline Wong)
Nobody seems to know what's going on with the economy – CNN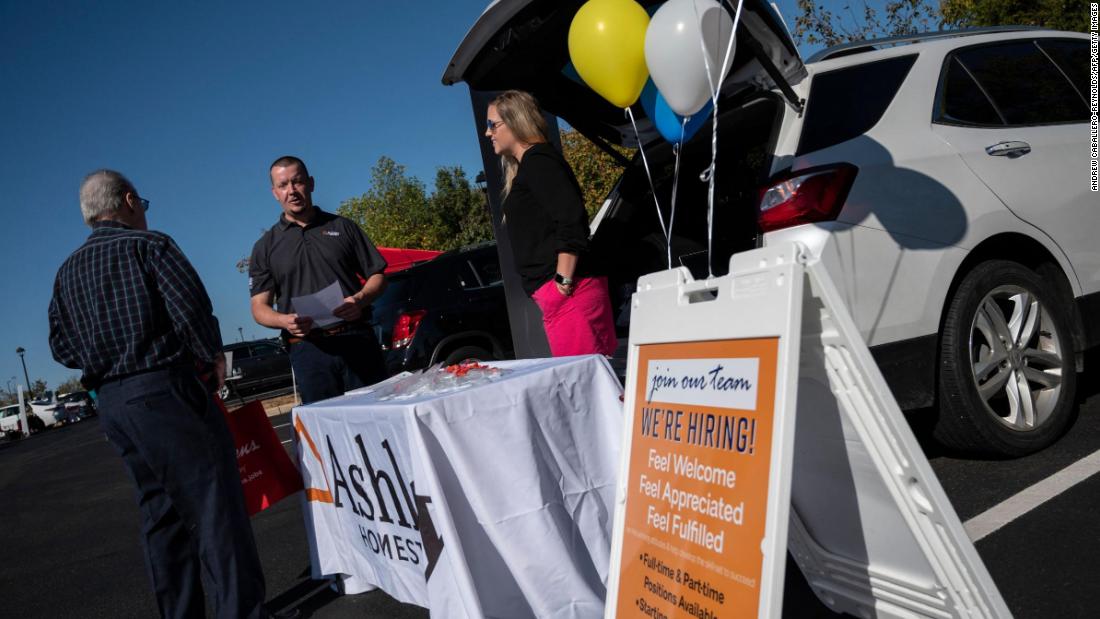 The economy is on the road to recovery from the coronavirus pandemic, reeling from inflation or a source of disappointment on jobs creation, depending on who you're talking to.
It's probably all three, and what happens from month to month seems to be something of a surprise. That element of unpredictability might be the most normal possible thing given the shock of the pandemic — the extraordinary government intervention to save the economy is unlike anything anybody alive today has ever seen.
It's hard to decide how important any single thing is.
Omicron Variant May Be Good For Economy – Forbes
The omicron variant of Covid-19 has sparked great fear. With time, we may find the fear to have been justified, but we may find the opposite: that this is good news for the economy.
It's still early days for our knowledge of omicron. Waiting to learn more seems to make sense, but consider this: Business decisions are being made every day. Any person who waits for perfect certainty—about the economy, technology or Covid-19—will never make a single decision. In many areas decisions have to be made this week. So it's worthwhile to consider how omicron may be good for the economy.
Omicron seems to be displacing the delta variant in South Africa. Ted Wenseleers showed that delta's share of total Covid-19 cases in South Africa has plummeted while omicron has surged. Because the early indications show that omicron was highly transmissible, it could well displace the delta variant around the world.
So far omicron has triggered a surge in infections in South Africa, but not a comparable increase in deaths. There's good reason for the virus to mutate to be less dangerous. Bugs that kill their hosts don't replicate as much as bugs that allow their hosts to remain alive. Many viruses in the past have evolved to be milder. We cannot take this idea too far, however.
The omicron virus may have mutated so that it has greater ability to infect those who already had been exposed to earlier variants. That's no surprise to South African scientists, who have observed a very high past infection rate in their population. The virus could not get ahead by finding people never exposed to any version of Covid-19, so it found a way to infect the previously ill, this theory goes.
BioNTech CEO Ugur Sahin said recently that current vaccines probably help protect against severe illness from the omicron variant, and that new vaccines are under development that would be more targeted against omicron. Given the speed with which our vaccines were developed, we may have new versions being tested in the lab right now. The question will be how long we have to wait for regulatory approval.
From an economic forecasting viewpoint, business leaders should consider the upside potential of omicron. Although it is way too early to be sure, we may find that the disease becomes dominated by a less dangerous mutation. Illness would continue if this happens, but with fewer deaths and hospitalizations. People would come to feel more comfortable dining out, traveling and seeking routine non-Covid healthcare tests and procedures. The rosy view is far from certain, but current evidence is not more pessimistic.
Companies that that are especially sensitive to the Covid pandemic should try to delay big decisions. We'll have better information in the coming weeks. But decisions that cannot be delayed should probably consider the possibility of a stronger economy rather than greater Covid problems.
Can the global economy battle through another COVID-19 setback? – Aljazeera.com
Video Duration 26 minutes 00 seconds 26:00
From:
Counting the Cost
A new coronavirus variant has forced governments to impose travel bans just as economies were starting to recover.
Last week, after scientists in South Africa identified a new coronavirus variant, borders were suddenly closed off to passenger travel from Southern African countries, oil prices fell more than 10 percent, and stock markets took a hit.
Markets and economies are expected to face weeks of uncertainty as investors closely watch for updates on Omicron. What comes next largely depends on what scientists discover and how quickly they do so.
Also, green hydrogen has been hailed as the energy of the future; can it help decarbonise economies?