Edmonton's Caulfield brothers battle COVID-19 misinformation with art, science – Globalnews.ca
Two Edmonton brothers who are also prominent academics are combining science and art to battle misinformation amid the COVID-19 pandemic.
Sean and Timothy Caulfield's latest project in the fight against fake news invites people to take a pause and think, before sharing.
The brothers said it's part of a broader project to combat misinformation.
"We really want to come at this issue from every angle we possibly can," Timothy said. "That includes using creative communication strategies like graphic art and fine art."
The images feature a megaphone spewing liquid onto a grey canvas, or a pair of lungs with a looming black funnel above them. You can find the Caulfield brothers' work in an online exhibition here. Sean said the work will eventually be shown in galleries, starting with upstate New York in January.
The duo believes having an audience pause to think about a piece of abstract art is important.
"Art is often kind of complex. It makes people slow down. That's one of the things we need to do with misinformation. We need to think in a more nuanced way," Sean said. "Art has a role in helping people do that."
Timothy, who is the Canada research chair in health law and policy at the University of Alberta, said misinformation can have serious consequences.
"It's causing death," he said. "It's causing financial loss, it's having an adverse impact on health and science policy. It's adding to a chaotic information environment."
Sean, centennial professor in the Department of Art and Design at the University of Alberta, said his work, paired with hashtags #ThinkAccuracy or #SuperSpreader, leave much open for interpretation.
"Lots of things can come up [when viewing the art]. There are issues around anxiety, isolation…these are complex and emotional things that are hard to articulate," Sean said. "Art can also play a role in that."
Timothy said there is empirical evidence that a moment of pause, like one given by art, can help combat misinformation.
"If we can get people to stop and think about accuracy, we can have a measurable impact on the spread of misinformation," he said. "We're using these images to illustrate some of the empirical and policy work we're doing."
The brothers are both part of the Royal Society Canada Task Force on COVID-19, where Sean's art will be circulated.
"I love working with my brother. It's really rewarding," Timothy said. "And most people love the project. It's been fantastic."
© 2020 Global News, a division of Corus Entertainment Inc.
Hariri Pontarini To Design Art Gallery of York University – Urban Toronto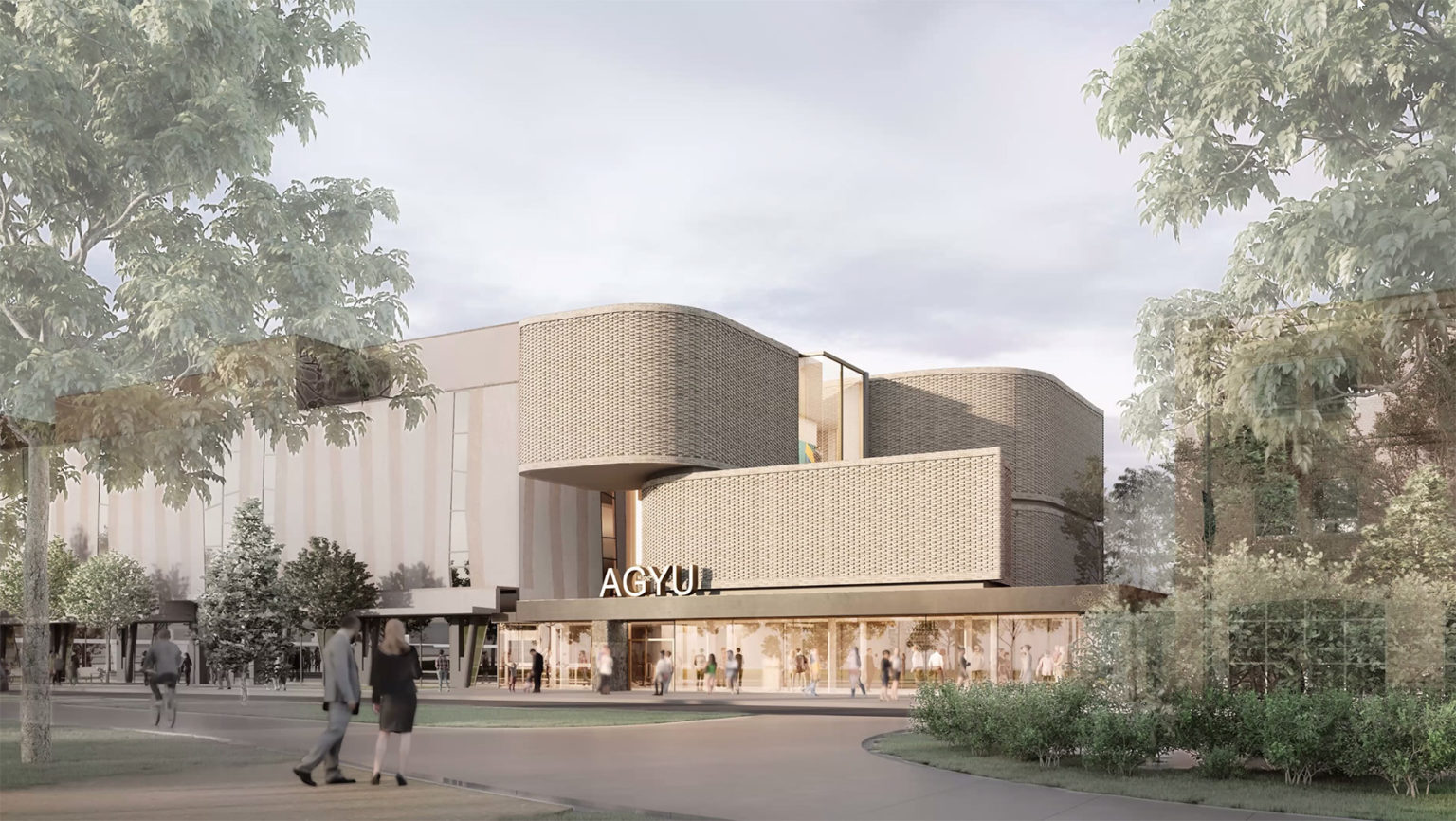 Hariri Pontarini Architects (HPA) have been selected to design a new, stand-alone art gallery at York University. The new building will become a centrepiece at the Keele Campus, building upon the rich history of the Art Gallery of York University (AGYU), and magnifying its reach into the local community and the world beyond.
Rendering of the winning design. Image courtesy of Hariri Pontarini Architects.
Boasting a contemporary, contextual design with the firm's signature curves, HPA's proposal stood out in the online design competition which saw a wide show of interest from strong contenders in the architectural community. Moriyama and Teshima Architects and gh3 were also on the shortlist. All three firms have received Governor General's Medals in Architecture.
The new building will be located at the heart of the School of Arts, Media, Performance & Design, adjacent to the Harry W. Arthurs Common, steps from the subway station. The three-storey building will highlight contemporary and historic art and include a ground level event space with four separate gallery spaces set within a xeriscape garden.
AGYU's collection currently contains 1,700 works including…
prominent donations of works by Norval Morrisseau and Andy Warhol
200 prints and sculptures by renowned and influential Inuit artists including Kenojuak Ashevek and Kananginak Pootoogook
paradigmatic work by Canadian "Automatistes" Jean-Paul Riopelle and Paul-Emile Borduas
American Modernists such as Helen Frankenthaler and Kenneth Noland
RISE, an internationally acclaimed film by Bárbara Wagner and Benjamin de Burca, featuring performances from some of Toronto's most influential spoken word and rap artists.
Aerial: The new building will sit at the heart of York Keele Campus' School of Arts, Media, Performance & Design, adjacent to the Harry W. Arthurs Common, between the Accolade East Building and the Centre for Film & Theatre. Image courtesy of Googlemaps.
Founding Partner Siamak Hariri cites his excitement to help reimagine the AGYU's future, "To signify this transformation, we were inspired by metaphor and nature. Like a butterfly, each of the five wings of the new gallery extend their reach out to the campus and of course beyond. Responding to the AGYU's aspiration to expand the social and civic role of the gallery, the building will have a powerful presence, a new presence, embracing the full University Common, and welcoming and attracting visitors to all the wonder it has to offer."
The AGYU opened in 1988 and moved into its current 3,000 ft² in 2006. The new building, combined with the AGYU's existing space, will form a unified art institution and an important hub for artistic engagement. "The new design reflects our vision of an accessible and collaborative art gallery that serves as a space for creation, exhibition and appreciation of diverse art and culture," says President & Vice- Chancellor Rhonda Lenton.
Philanthropists and art collectors Joan and Martin Goldfarb donated $5 million towards the gallery, kicking off this expansion and flagging the importance of the arts on campus. The eponymous Joan and Martin Goldfarb Gallery will honour the Goldfarb's long history of supporting the arts at York University.
Rendering of the winning design, aerial view from across the Harry W. Arthurs Common. Image courtesy of Hariri Pontarini Architects.
With this win, HPA adds to its notable cultural and institutional portfolio, which includes the recently opened Tom Patterson Theatre in Stratford, and the internationally award-winning Bahá'í Temple of South America.
You can learn more from our Database file for the project, linked below. If you'd like to, you can join in on the conversation in the associated Project Forum thread, or leave a comment in the space provided on this page.
* * *
UrbanToronto has a new way you can track projects through the planning process on a daily basis. Sign up for a free trial of our New Development Insider here.
Province puts up $100K to get more art into public places on P.E.I. – CBC.ca
The province has set aside $100,000 over the next two years to develop a public art policy for the province.
Michelle MacCallum, director of cultural development with Innovation PEI, says it will enable the province to commission and acquire public art for government sites such as hospitals, schools and parks.
"I love seeing artwork all over our province," she said.
"I think about how much it delights and engages and sometimes challenges people when they come upon public art."
Different than art bank
MacCallum said it will also be another opportunity for Island artists to display their work and earn money from it.
She said it will be different from the provincial art bank.
"This is more specific to sites. So if we were building a new school or some kind of provincial government office building, if you think about it, the building in and of itself is a public entity. But there's nothing, there's no art around it. It doesn't say anything about it, about the people that use it, about what it's for," MacCallum said.
"So public art is there to augment the site specifically rather than just acquiring a catalog of the best of art, which is what the art bank does."
Selected by jury
MacCallum said they will consult with architects and developers of potential sites, then put out request for proposals. The art will be selected by a jury.
She said there are a few sites being considered, but it's too soon to disclose the locations.
More from CBC P.E.I.
Art world star gives back by buying work of the undiscovered – Yahoo Canada Finance
Business Wire
Spero Health has announced plans to open their newest addiction treatment clinic in Hopkinsville, KY as part of the organization's quick response to the growing need for expanded services as communities continue to see an increase in drug overdose deaths. CARF -accredited and community based, Spero Health is a national leader in providing care for individuals struggling with substance use disorders and will bring affordable, high quality addiction treatment services through a combination of telehealth and in-person visit options at this new clinic. Located at 111Susan Avenue, it is set to open its doors on December 1st. The new Hopkinsville Clinic joins a network of more than 45 Spero Health locations throughout Kentucky, Ohio, Tennessee, Virginia and Indiana, providing care for more than 8,400 patients each month. To ensure access to care is not a barrier to treatment, Spero Health accepts Kentucky Medicaid and most commercial insurance plans. Individuals who need addiction treatment services are encouraged to call: 270-962-2255 for more information or to schedule an appointment.