Events to Watch for in the Global Economy – Bloomberg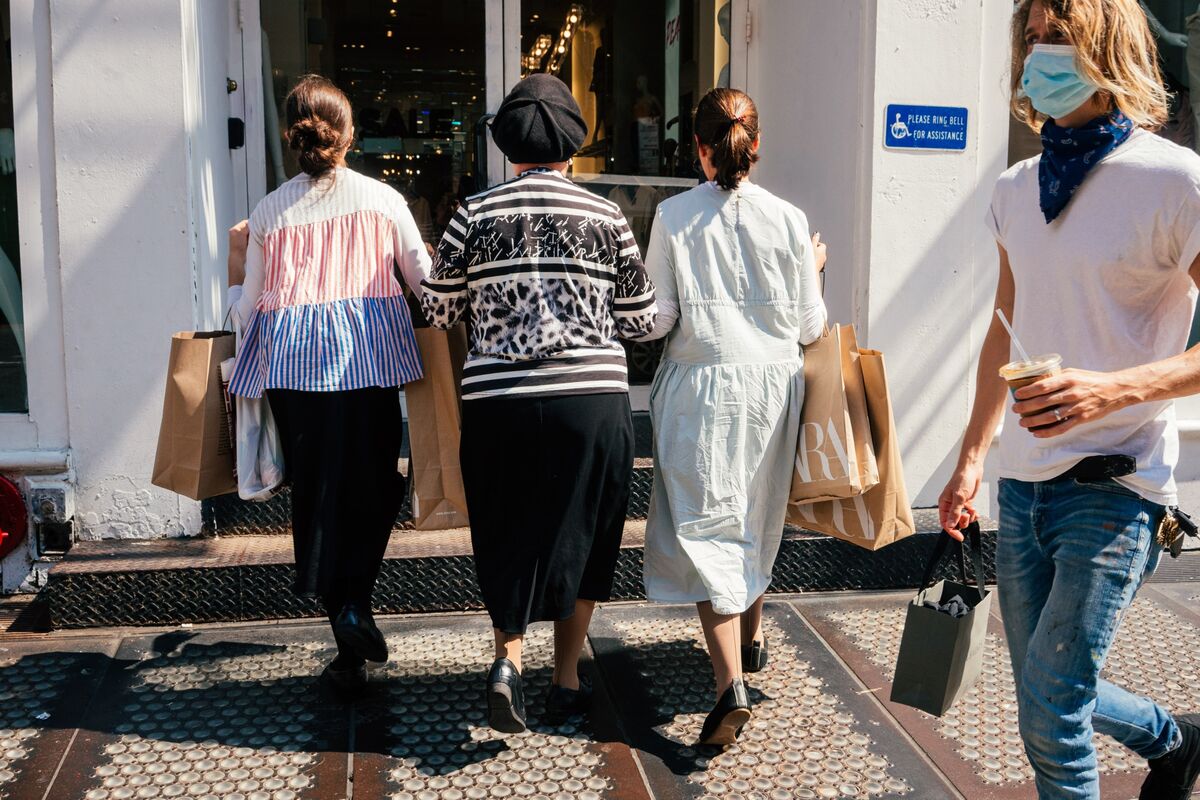 Sign up for the New Economy Daily newsletter, follow us @economics and subscribe to our podcast.
U.S. consumer inflation and prices paid to producers probably advanced at healthy paces in September, suggesting cost pressures continue to percolate.
High under-employment and long-term unemployment are keeping an over-heating economy on ice | Greg Jericho – The Guardian
Afghanistan's population faces extreme hunger as collapsing economy, drought and conflict hamper access to food – The Globe and Mail
More than half of Afghanistan's population – 22.8 million people – will face extreme hunger over the winter months as the country plunges deeper into a worsening food crisis.
A collapsing economy, drought and conflict have severely affected access to food in the country, United Nations agencies warn. The Integrated Food Security Phase Classification released Monday by the Food Security and Agriculture Cluster of Afghanistan, and co-led by the Food and Agriculture Organization of the UN and the UN World Food Programme, is reporting the highest number of people with acute food insecurity ever recorded in the 10 years that the analysis has been conducted in Afghanistan.
The report shows a 37-per-cent increase in the number of Afghans facing acute hunger since the assessment in April, 2021.
The Taliban's takeover of the country in August has had a significant impact on the economy. More than 500,000 Afghan security-force members lost their jobs and civil servants have not been paid in more than three months, the report said. Taliban control meant a freeze of US$9.5-billion in government assets, causing the economy to deteriorate further; likewise the value of the currency. Foreign aid accounted for 40 per cent of Afghanistan's GDP and its future is also uncertain, but some countries said they will continue to provide support through UN agencies and international organizations.
Hsiao-Wei Lee, the World Food Programme's deputy country director in Kabul, told The Globe and Mail that she's spoken with Afghans who have told her about how much harder life has been, saying they are desperate. "If you were to go to the market here, you would find people selling their carpets and their household furniture to try to generate some money so that they can pay for food."
She added: "We're at a point where we either respond and respond with the depth and level of assistance that's required or … we would face potential levels of starvation or death."
The report said that more than 3.2 million children under 5 are expected to suffer from acute malnutrition by the end of the year. Earlier this month, World Food Programme and Unicef said one million children were at risk of dying from severe acute malnutrition without lifesaving intervention.
Chris Nyamandi, Save the Children's country director in Afghanistan, said his organization sees young children in its clinics every day who are "wasted from severe malnutrition because they have nothing but scraps of bread to eat," adding that when winter comes, they will see more children going hungry than ever before.
"Afghan children need the world's help if they are going to have even a fighting chance of surviving this crisis. We will continue doing everything we can to get them life-saving services they need, but for aid efforts to continue we urgently need governments to step up with more aid to the country," he said in a statement.
Save the Children cited Ottawa's August announcement to spend an additional $50-million in humanitarian aid to Afghanistan as an initial response to the crisis, but said that with needs escalating, "additional life-saving support is desperately needed."
Guillaume Dumas, a spokesperson for International Development Minister Karina Gould, said the government allocated more than $27.3-million in humanitarian assistance in 2021, and an additional $50-million for Afghanistan and the region as announced in August.
"This substantial contribution of $50M included direct funds for partners with operational capacity on the ground like the World Food Programme," he said in an e-mail, adding that the WFP is Canada's largest humanitarian partner.
"Our government remains committed to Afghanistan and the Afghan people and we will continue to do all that we can to support them," he said.
David Beasley, executive director of the World Food Programme, said the country is now among the worst, if not the worst, humanitarian crisis in the world.
"We are on a countdown to catastrophe and if we don't act now, we will have a total disaster on our hands," he said in a statement.
"Hunger is rising and children are dying. We can't feed people on promises – funding commitments must turn into hard cash, and the international community must come together to address this crisis, which is fast spinning out of control."
The UN agencies made a plea to the international community for financial help. The World Food Programme said it's planning to increase its humanitarian assistance to meet the needs of more than 23 million Afghans, which might require US$220-million a month. The Food and Agriculture Organization of the UN is looking for US$11.4-milion in urgent funding and an additional US$200-million for the agricultural season.
We have a weekly Western Canada newsletter written by our B.C. and Alberta bureau chiefs, providing a comprehensive package of the news you need to know about the region and its place in the issues facing Canada. Sign up today.
Nigeria launches eNaira amid hope, scepticism – and plenty of uncertainty
Nigeria on Monday became the first African nation to launch a digital currency – the eNaira – a move its leaders said will expand access to banking, enable more remittances and even grow the economy by billions of dollars.
Africa's most populous nation joins the Bahamas, the first to launch a general purpose central bank digital currency, known as the Sand Dollar, in October. China has ongoing trials and Switzerland and the Bank of France have announced Europe's first cross-border experiment.
But experts and cryptocurrency users in the continent's biggest economy say the fact that there are more questions than answers regarding the eNaira – and a large amount of worry over the consistency of Central Bank (CBN) rules – means the government faces a tough path to make the eNaira a success.
Central Bank Governor Godwin Emefiele said during Monday's launch that there had been "overwhelming interest and encouraging response", adding that 33 banks, 2,000 customers and 120 merchants had already registered successfully with the platform, which is available via an app on Apple and Android.
Some 200 million nairas' worth of eNaira, which will maintain parity with the traditional currency, has been issued to financial institutions, he said. President Muhammadu Buhari said use of the currency could grow the economy by $29 billion over ten years, enable direct government welfare payments and even increase the tax base.
Nigeria's young, tech-savvy population has eagerly adopted digital currencies. Cryptocurrency use has grown quickly despite a Central Bank ban in February on banks and financial institutions dealing in or facilitating transactions in them.
Nigeria ranked seventh in the 2021 Global Crypto Adoption Index compiled by research firm Chainalysis. Official digital currencies, unlike crytocurrencies such as bitcoin, are backed and controlled by the central bank.
But some of what drove Nigeria's enthusiastic adoption of cryptocurrencies was the Central Bank's own shifting rules regarding accessing foreign currency – and the naira's plunging value on parallel markets that saw savings shrink.
"It's not clear looking at the CBN's body of work that Nigerians would be comfortable using this," said Ikemesit Effiong, head of research with Lagos-based consultancy SBM Intelligence.
He added that the CBN had not yet made clear whether users could transfer eNaira back into traditional naira, whether they could use cryptocurrency to buy or sell the eNaira or even whether there would be physical locations to use and transfer eNaira, or whether it would be entirely digital.
"There are more questions than answers, even though we are looking at the launch of this digital currency. The fact that this is the case so late in the game is concerning," he told Reuters.
The CBN issued a nine-page FAQ, which said eNaira users would access it via the phone app, internet banking or a code dialled from mobile phones, but it did not address transferability or other questions raised by Effiong.
Only three local television channels were allowed to attend the launch, and officials took no questions.
For 28-year-old Ebuka Joseph, an art dealer and enthusiastic cryptocurrency user in the commercial capital, Lagos, the uncertainty means he will stay on the sidelines, for now.
His concerns centre on whether he would easily be able to change eNaira back into normal currency.
"I have had issues trusting the central bank … because they have already banned crypto," he told Reuters. "I want to hear from people, see people use it, before I venture into it."
(Reporting by Libby George; Editing by Nick Macfie)