Facebook launches Messenger Rooms for unlimited video calls with up to 50 people – GSMArena.com news – GSMArena.com
Today Facebook has unveiled its response to the crazy growth of Zoom over the past few weeks of the COVID-19 related lockdowns happening pretty much worldwide.
Facebook Messenger already had video chat functionality, but it was limited both in the total number of people allowed to participate, and also in its requirement that all of them have a Facebook account.
With the new Messenger Rooms, that changes. First up, you can host video chats of up to 50 people, and those who don't have a Facebook account can still join – they'll receive a link to the Room you have created. With one click they can then join the conversation – just like with Zoom. Importantly, Messenger Rooms has no time limit whatsoever.
If you join a Room through the Messenger app, then you can play with AR effects and new features like immersive backgrounds and mood lighting. The creator of a Room chooses who can see and join it, and can remove anyone from the call at any time, as well as lock the Room if they don't want anyone else to enter. And you can of course leave a Room whenever you want. Rooms you create through a Facebook Group are open by default to members of that Group.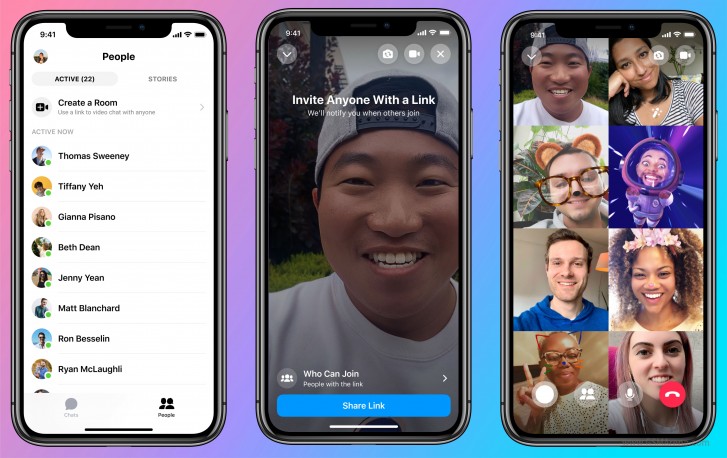 The Rooms feature is not end-to-end encrypted, because "there are significant challenges" to providing such encryption for video calling with large groups of people. However, Facebook says it's actively working towards this for the future. In the meantime, Room content is encrypted between participants and the Facebook servers, that are "placed in only a handful of countries that have strong rule of law". The company also promises that it doesn't watch or listen to your audio or video calls.
Messenger Rooms is rolling out "in some countries" this week, and will expand globally "in the coming weeks".
Apple buys machine lelearninganing company to improve Siri – Macworld UK
According to reports Apple has purchased a company that will help with its development of Siri – Apple's voice control operated virtual assistant.
Apple took over machine learning company Inductiv in April 2020, according to a Bloomberg report.
Apple confirmed the takeover of Iductiv with its standard statement: "Apple buys smaller technology companies from time to time, and we generally do not discuss our purpose or plans".
Inductiv has developed a technology that can detect and eliminate errors in large amounts of data. According to Bloomberg: "Having clean data is important for machine learning, a popular and powerful type of AI that helps software improve with less human invention."
One of the co-founders Ihab Ilyas is a University of Waterloo university professor with interests in the fields of Big Data, machine learning and data curation. He is also the co-founder of a similar startup called Tamr, which deals with data cleansing. The other co-founders are also machine learning experts: University of Wisconsin-Madison assistant professor Theodoros Rekatsinas and Stanford University associate professor Christopher Re.
Three Inductiv employees (Josh McGrath, Mina Farid, Ryan Clancy) have changed their LinkedIn profiles to state that they have been with Apple since April 2020.
This article originally appeared on Macwelt. Translation by Karen Haslam.
Toronto-based duo create custom puzzles
A duo of award-winning Toronto-based creatives has found a unique way to support local businesses while providing hours of engagement to fill Canadians' increased downtime.
Paddy Harrington, creative designer and founder of Frontier, and Rich Pauptit, celebrated printer and president of Flash Reproductions, are teaming up with independent Canadian businesses and artists who are facing financial hardship due to COVID-19 to create custom thematic jigsaw puzzles.
"Puzzle sales have skyrocketed as people look for engaging things to do at home," explains Harrington. "We believe that people would prefer to do puzzles of their favourite local spots, while also supporting those businesses–and PieceTogether was born."
Each 300-piece PieceTogether puzzle features an image from a local business and sells for $35, with $15 from every puzzle sold going directly to the business. Customers are able to offer additional donations at checkout.
Since launching on May 27, PieceTogether has partnered with local businesses like Rosalinda Restaurant, Dora Keogh Irish Pub, The Cameron House, Renya, Shacklands Brewing Co., and Stackt market.
According to sources like Calgary's Castle Toys, puzzle sales have increased by as much as 370 per cent in the last year, and while those numbers are likely to decrease as the Canadian economy gradually reopens, PieceTogether can continue to provide a valuable revenue stream for businesses and artists as they attempt to adjust to the new landscape.
"Even as restrictions ease, many of these smaller businesses will still have to operate at a loss; it's going to be difficult for a long time," Pauptit adds. "It's just devastating to think that some of our favourite neighbourhood places to visit may have to close down. With PieceTogether puzzles, you get something fun to do at home as well as an easy way to support these vital independent businesses. Plus, it's a special keepsake that people will enjoy for years to come."
Independent businesses and artists from across Canada can participate by setting up a profile and uploading an image to create their own custom puzzle.
Source: – Eat North
Now you can buy puzzles of Toronto businesses – NOW Magazine
In Toronto, puzzles have become an increasingly popular pandemic pastime. Seemingly endless time indoors means we're all partying like it's 1799, with local gift and game shops having a hard time keeping puzzles in stock.
A new Toronto startup wants to combine our newly-minted jones for jigsaws with the opportunity to help out struggling small businesses. PieceTogether is a new project that creates jigsaw puzzles featuring images of beloved local businesses – and gives $15 from every $35 sale directly back to the business.
"Even as restrictions ease many of these smaller businesses will still have to operate at a loss, it's going to be difficult for a long time," said co-founder Rich Pauptit in a release. "It's just devastating to think that some of our favourite neighbourhood places to visit may have to close down."
By buying a puzzle, he adds, "you get something fun to do at home as well as an easy way to support these vital independent businesses."
Among the first wave of puzzles available for purchase: The Cameron House's iconic exterior, the leafy cocktail bar Reyna, a cool bottle of beer from Shacklands, and a bird's eye view of Stackt, with even more on the way. Check out the full lineup here.