Federal Approval of AstraZeneca COVID-19 Vaccine Changes Vaccine Roll-Out Plan – VOCM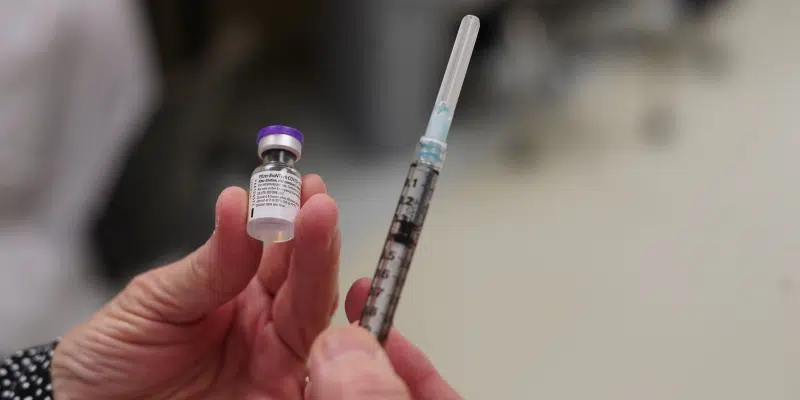 Federal approval of the AstraZeneca vaccine forced some last-minute changes to the province's vaccine roll-out plan.
Health Minister John Haggie says the new vaccine could be available in Canada as soon as late March.
Dr. Janice Fitzgerald says the AstraZeneca vaccine will provide more flexibility as it is stable at between 2 and 8 degrees and can be transported easily and stored in a fridge.
While the AstraZeneca vaccine's efficacy is not as great as the two vaccines currently being used by Public Health, it still offers "pretty significant" protection says Dr. Fitzgerald.
Public Health is still looking at ways to incorporate AstraZeneca into the vaccination program.
Air Canada anticipating recovery in demand as travel restrictions are eased – Yahoo Canada Finance
Air Canada is anticipating a recovery in demand in the coming months as travel restrictions are eased and leisure passengers look to get away after being grounded by COVID-19.
Although overall bookings remain below pre-pandemic levels, customer interest began to increase in June with the elimination of quarantines for fully vaccinated returning Canadians and the removal of other travel restrictions.
"We can now optimistically say that we are turning a corner, and we expect to soon see correlated financial improvements," CEO Michael Rousseau said Friday during a conference call.
"Indications are that the worst effects of the COVID-19 pandemic may now be behind us. Based on what we are seeing in other markets that are further along in reopening in Canada, we anticipate travel will resume at a quickening pace."
Rousseau said bookings are steadily increasing for domestic, transborder and Atlantic markets as well as to sun destinations for the coming winter. Future bookings In some weeks of June were ahead of the same period in 2019.
"We expect the most recent announcements of the Government of Canada relaxing existing measures will further help strengthen the interest of our customers in flying again."
Current demand is largely for leisure and visiting friends and family, but Air Canada expects to see a progressive return of corporate demand in September and October, added chief commercial officer Lucie Guillemette.
That could be aided by the ability of Canadian passengers to rely on COVID tests taken in Canada for trips of less than 72 hours.
"We are encouraged by some of the commentary from our peers in the United States with regards to overall business travel recovery," she told analysts.
Guillemette said that rebuilding its U.S. operations as the largest foreign carrier is key to its recovery. That will also expedite the recovery of international long-haul operations as it seeks to achieve or exceed its share of the U.S. long-haul global market.
The Atlantic business will recover quicker than the Pacific or Latin America because of high vaccination rates, strong cultural and business connections with Europe and strong leisure interest from Canadians.
"We are already observing healthy demand signals for Europe into 2022," she added.
The Montreal-based company says it lost $1.17 billion or $3.31 per diluted share, compared with a loss of $1.75 billion or $6.44 per share a year earlier.
Adjusted profits were $1.08 billion or $3.03 per share.
Revenues during the three months ended June 30 surged 58.8 per cent to $837 million from $527 million in the second quarter of 2020. Passenger revenues more than doubled to $426 million from a year ago which marked the first full quarter to be impacted by the pandemic. Cargo revenues increased 33 per cent to a record $358 million.
Air Canada was expected to post $2.76 per share in adjusted profits on $848.2 million of revenues, according to financial data firm Refitinitv.
The country's largest airline increased its seat capacity by 78 per cent compared to the same time last year, and was down 86 per cent from the second quarter of 2019. It plans to increase available seat miles in the third quarter so capacity will be 65 per cent below the same period in 2019.
In August, its domestic capacity is expected to be about two-thirds of what it was in 2019.
"The third-quarter outlook pointed to healthy demand recovery and a significant improvement in daily cash burn," Walter Spracklin of RBC Dominion Securities wrote in a report.
Air Canada says it has refunded about $1 billion for non-refundable tickets and expects to pay an additional $200 million in the third quarter, which will be covered by the federal government's $1.4 billion refund credit facility.
The airline says it has recalled about 2,900 employees in June and July as it restores service this summer to destinations, particularly in Canada and the U.S. More workers will be called back for the fall season.
Air Canada has retained about half of its workforce, including the vast majority of pilots who have remained current and ready to fly when conditions warrant.
While it works to rebuild operations, the airline said it is also preparing to meet the challenges from increased competition stemming from expansion plans for Porter Airlines and Flair Airlines. Porter plans to add jet service from several gateways, including Toronto's Pearson airport, in the second half of next year, while Flair is adding aircraft and routes.
"We certainly welcome healthy competition. but suffice to say, we will be ready to deal with that situation," Rousseau said of Porter.
He also said the failed purchased of Transat may have been beneficial long-term, but it would have been very difficult to integrate while also focusing on the post-COVID recovery.
This report by The Canadian Press was first published July 23, 2021.
Companies in this story: (TSX:AC)
Ross Marowits, The Canadian Press
Active COVID-19 cases in Ottawa rise as vaccinations slow – CTV Edmonton
OTTAWA —
The number of active COVID-19 cases in Ottawa is back above 40 for the first time in two weeks, as the city's vaccine administration pace slows down.
Ottawa Public Health reported seven new cases of the virus in Ottawa on Friday. There were no new resolved cases for the second straight day, so the number of active cases has climbed to 41.
It's the most since July 9, when there were 43 active cases in the city.
There are still no COVID-19 patients in hospital in the city, which has been the case for nine days now.
Earlier provincial officials had reported 10 new cases in Ottawa on Friday. Their numbers sometimes differ from Ottawa Public Health's data due to different reporting times.
The city administered an average of about 5,500 second shots on Wednesday and Thursday, down from more than 13,000 second doses per day last week.
Eighty-three per cent of eligible residents have received at least one shot. Sixty-nine per cent are now fully vaccinated.
Earlier this week, the city closed several vaccination clinics due to decreasing demand.
OTTAWA'S KEY COVID-19 STATISTICS
Ottawa is now in Step 3 of Ontario's Roadmap to Reopen plan.
Ottawa Public Health data:
COVID-19 cases per 100,000 (July 15 to July 21): 3.9 (up from 2.7)
Positivity rate in Ottawa (July 16 to July 22): 0.5 per cent (up from 0.2 per cent July 14-20)
Reproduction number (seven day average): 1.28 (up from 1.18)
Reproduction values greater than 1 indicate the virus is spreading and each case infects more than one contact. If it is less than 1, it means spread is slowing.
ACTIVE CASES OF COVID-19 IN OTTAWA
There are 41 active cases of COVID-19 in Ottawa on Friday, up from 24 on Wednesday. It's the most active cases in the city in nearly two weeks.
For the second straight day, no more people have recovered after testing positive for COVID-19. The total number of resolved cases of coronavirus in Ottawa is 27,134.
The number of active cases is the number of total laboratory-confirmed cases of COVID-19 minus the numbers of resolved cases and deaths. A case is considered resolved 14 days after known symptom onset or positive test result.
HOSPITALIZATIONS IN OTTAWA
Ottawa Public Health is reporting zero people in Ottawa hospitals with COVID-19 related illnesses for a ninth straight day.
There are no patients in the intensive care unit.
These data are based on figures from Ottawa Public Health's COVID-19 dashboard, which refer to residents of Ottawa and do not include patient transfers from other regions.
COVID-19 VACCINES IN OTTAWA
Ottawa Public Health updates vaccine numbers on Mondays, Wednesdays and Fridays. As of Friday:
Ottawa residents with 1 dose (12+): 765,350 (+2,089)
Ottawa residents with 2 doses (12+): 624,143 (+10,919)
Share of population 12 and older with at least one dose: 83 per cent
Share of population 12 and older fully vaccinated: 69 per cent
Total doses received in Ottawa: 1,237,860 (+8,008)
*Total doses received does not include doses shipped to pharmacies and primary care clinics, but statistics on Ottawa residents with one or two doses includes anyone with an Ottawa postal code who was vaccinated anywhere in Ontario.
VARIANTS OF CONCERN
Ottawa Public Health data*:
Total Alpha (B.1.1.7) cases: 6,830 (+7)
Total Beta (B.1.351) cases: 405
Total Gamma (P.1) cases: 35 (+1)
Total Delta (B.1.617.2) cases: 43 (+5)
Percent of new cases with variant/mutation in last 30 days: 45 per cent
Total variants of concern/mutation cases: 9,117 (+8)
Deaths linked to variants/mutations: 101
*OPH notes that that VOC and mutation trends must be treated with caution due to the varying time required to complete VOC testing and/or genomic analysis following the initial positive test for SARS-CoV-2. Test results may be completed in batches and data corrections or updates can result in changes to case counts that may differ from past reports.
COVID-19 CASES IN OTTAWA BY AGE CATEGORY
0-9 years old: Zero new cases (2,299 total cases)
10-19 years-old: One new case (3,572 total cases)
20-29 years-old: One new case (6,234 total cases)
30-39 years-old: Three new cases (4,246 total cases)
40-49 years-old: Zero new cases (3,649 total cases)
50-59 years-old: One new case (3,332 total cases)
60-69-years-old: One new case (1,962 total cases)
70-79 years-old: Zero new cases (1,095 total cases)
80-89 years-old: Zero new cases (856 total cases)
90+ years old: Zero new cases (520 total cases)
Unknown: Zero new cases (3 cases total)
CASES OF COVID-19 AROUND THE REGION
Eastern Ontario Health Unit: Zero new cases
Hastings Prince Edward Public Health: Two new cases
Kingston, Frontenac, Lennox & Addington Public Health: Zero new cases
Leeds, Grenville & Lanark District Health Unit: Zero new cases
Renfrew County and District Health Unit: Three new cases
What you need to know about COVID-19 in Ottawa on Thursday, July 22 – CBC.ca
Recent developments:
Ottawa reported nine more COVID-19 cases on Thursday.
Ontario reported 185 new cases of COVID-19, the most on a single day in two weeks.
Does your doctor or dentist have to tell you if they've been vaccinated against COVID-19? Technically, no.
Escapade festival holds pop-up clinic to vaccinate concertgoers before show.
Volunteers share how it feels to administer 200,000 doses.
State of emergency has ended in Ottawa.
What's the latest?
Ottawa Public Health reported nine more cases of COVID-19 Thursday, and no new deaths, but key indicators are on the rise.
Thursday's provincial case count is up somewhat from one week ago when the province logged 143 further infections.
Some health-care workers may choose not to tell their patients their vaccine status because they value their privacy or have a medical condition that's preventing them from getting vaccinated, and they don't want to face stigma, a bioethicist told CBC.
Escapade Music Festival is holding a pop-up vaccine clinic this weekend with Ottawa Public Health, to make sure its concertgoers will be fully protected before attending its September event.
A team of volunteers shared their experiences administering 200,000 doses of the COVID-19 vaccine at the Horticulture building at Lansdowne as the clinic closed this week.
After nearly sixteen months, the municipal state of emergency in the City of Ottawa has lifted as of 12:01 a.m. today.
WATCH | 'It's been wonderful': Retired nurse reflects on going back to work at vaccination clinic:
Karen Wallace-McFaul, a retired nurse, says coming back to work at a vaccination clinic has "filled a void" by allowing her to help with the fight against COVID-19. 1:04
How many cases are there?
As of Thursday, 27,761 Ottawa residents have tested positive for COVID-19. There are 34 known active cases, 27,134 cases considered resolved, and 593 cases where people have died.
Public health officials have reported more than 50,300 COVID-19 cases across eastern Ontario and western Quebec, including more than 49,200 resolved cases.
Elsewhere in eastern Ontario, 197 people have died. In western Quebec, the death toll is 215.
Akwesasne has had nearly 700 residents test positive and 10 deaths between its northern and southern sections.
Kitigan Zibi has had 34 cases and one death. Tyendinaga Mohawk Territory has had 11, with one death. Pikwakanagan hasn't had any.
CBC Ottawa is profiling those who've died of COVID-19. If you'd like to share your loved one's story, please get in touch.
What are the rules?
Eastern Ontario:
Ontario is in Step 3 of its reopening plan.
The latest step allows for indoor dining, with capacity limits based on everyone being able to keep an acceptable distance.
Gyms, movie theatres and museums are able to reach a capacity of 50 per cent inside.
Larger general gathering limits have risen to 25 people inside and 100 people outside. Those limits are even higher for organized events, leading to the resumption of summer festivals and professional sports.
A detailed plan for the next school year is in the works, according to the education minister.
Western Quebec
Western Quebec is now under green zone restrictions, the lowest on the province's four-colour scale. Its distancing length is now one metre.
Ten people are allowed to gather inside private residences and 20 people outdoors — which increases to 50 if playing sports. Organized games are permitted outdoors again and gyms are open.
People can eat both indoors and outdoors at restaurants and bars.
Personal care services and non-essential businesses can open. As many as 3,500 people can gather in a large theatre or arena and at outdoor festivals.
What can I do?
The novel coronavirus primarily spreads through droplets that can hang in the air.
People can be contagious without symptoms, even after getting a vaccine. Coronavirus variants of concern are more contagious and are established.
This means it is important to take precautions now and in the future like staying home while sick — and getting help with costs if needed — keeping hands and surfaces clean and maintaining distance from anyone you don't live with, even with a mask on.
Vaccines curb the spread of all types of the coronavirus.
WATCH | What the end of the pandemic could look like:
As Canada sees declining COVID-19 case counts and rising vaccination rates, experts say the pandemic could end either with changes to the virus or enough immunity in the population. 2:17
Masks, preferably ones that fit snugly and have three layers, are mandatory in indoor public settings in Ontario and Quebec and recommended in crowded outdoor areas.
There's federal guidance for what vaccinated people can do in different situations.
Fully vaccinated Canadians and permanent residents can now skip the 14-day quarantine. People have to show proof of a recent negative COVID-19 test to enter Canada by land without a fine.
The federal government has announced fully vaccinated U.S. citizens and permanent residents living there would be able to visit Canada without having to quarantine starting Aug. 9, while tourists from all other countries would be allowed as of Sept. 7.
Health Canada recommends older adults and people with underlying medical conditions get help with errands.
Anyone with COVID-19 symptoms should self-isolate, as should those who've been ordered to do so by their public health unit. The length of self-isolation varies in Quebec and Ontario.
Vaccines
Four COVID-19 vaccines have been deemed safe and approved in Canada. Three are in use, with the Pfizer-BioNTech vaccine the only one approved for children aged 12 to 17.
Canada's task force says people can wait up to 16 weeks between doses. There are factors pushing provinces to drastically speed up that timeline, including supply and the more infectious delta variant.
That same task force says it's safe and effective to mix first and second doses.
There is evidence giving a second dose of a Pfizer or Moderna vaccine offers better protection for people who got a first AstraZeneca-Oxford shot. Both Ontario and Quebec are giving people who got a first AstraZeneca dose the option to get a second of the same kind.
More than 2.8 million doses have been given out in the Ottawa-Gatineau region since mid-December, including more than 1.36 million in Ottawa and more than 450,000 in western Quebec.
Eastern Ontario
Ontario is vaccinating anyone age 12 or older.
People can look for provincial appointments opening up online or over the phone at 1-833-943-3900. Pharmacies continue to offer vaccines through their own booking systems, as do some family doctors.
Local health units have flexibility in the larger framework, including around booking, so check their websites for details. They offer standby lists for doses on short notice and recently, more walk-in options.
Campaigns are shifting to target those who are eligible to get their a second shot sooner or who haven't yet got their first. Some mass clinics have closed.
Check out this weeks <a href="https://twitter.com/hashtag/COVID19Vaccine?src=hash&amp;ref_src=twsrc%5Etfw">#COVID19Vaccine</a> walk-in clinic schedule. These walk-in clinics are available to RCD residents 12 years of age and older! <a href="https://twitter.com/hashtag/IGotTheShot?src=hash&amp;ref_src=twsrc%5Etfw">#IGotTheShot</a> <a href="https://twitter.com/hashtag/VaccinesWork?src=hash&amp;ref_src=twsrc%5Etfw">#VaccinesWork</a><br><br>You can find this schedule by visiting our <a href="https://twitter.com/hashtag/COVID19Vaccine?src=hash&amp;ref_src=twsrc%5Etfw">#COVID19Vaccine</a> Rollout Webpage here: <a href="https://t.co/OhXjNC74WM">https://t.co/OhXjNC74WM</a> <a href="https://t.co/9G4mUIHqbT">pic.twitter.com/9G4mUIHqbT</a>

&mdash;@RCDHealthUnit
Vaccine bookings depend on the supply being sent to health units, which generally aren't reporting the supply problems of previous months.
Western Quebec
Quebec is vaccinating anyone 12 and older. Its goal is to provide second doses four weeks after the first.
People who qualify can make an appointment online or over the phone or visit one of the province's permanent and mobile walk-in clinics.
People may have to show proof of being fully vaccinated to access certain services if there is an autumn surge of cases.
Symptoms and testing
COVID-19 can range from a cold-like illness to a severe lung infection, with common symptoms including fever, a cough, vomiting and loss of taste or smell. Recently, a runny nose and headache have become more common.
Children tend to have an upset stomach and/or a rash.
If you have severe symptoms, call 911.
Mental health can also be affected by the pandemic, and resources are available to help.
In eastern Ontario:
Anyone seeking a test should make an appointment. Check with your health unit for clinic locations and hours.
Ontario recommends only getting tested if you fit certain criteria, such as having symptoms, exposure or a certain job.
Staff, caregivers and visitors who have been fully-immunized and show no symptoms of the coronavirus no longer need to be tested before entering a long-term care facility.
People without symptoms but who are part of the province's targeted testing strategy can make an appointment at select pharmacies. Rapid tests are available in some places.
Travellers who need a test have a few more local options to pay for one.
In western Quebec:
Tests are strongly recommended for people with symptoms and their contacts.
People can make an appointment and check wait times online. Some walk-in testing is available.
Call 1-877-644-4545 with questions, including if walk-in testing is available nearby.
First Nations, Inuit and Métis:
First Nations, Inuit and Métis people, or someone travelling to work in a remote Indigenous community, are eligible for a test in Ontario.
Akwesasne has COVID-19 vaccine clinics, with information online or at 613-575-2341. Anyone in Tyendinaga who's interested in a test can call 613-967-3603 and should watch the website for dedicated vaccine clinics.
Inuit in Ottawa can call the Akausivik Inuit Family Health Team at 613-740-0999 for service, including testing and vaccines, in Inuktitut or English on weekdays.
The last day for Ottawa's Indigenous vaccination clinic is July 29.
For more information