Fewer COVID-19 tests in B.C. could be driving lower case numbers, Dr. Bonnie Henry says – CBC.ca
Daily COVID-19 case numbers have been declining in B.C., but Provincial Health Officer Dr. Bonnie Henry says fewer people getting tested could be driving that trend.
Case numbers provided Tuesday, covering a five-day reporting period, were the lowest in British Columbia since early November and continued a downward trend B.C. has been seeing since restrictions took effect province-wide in late November.
But the number of tests done over those five days dropped by around 50 per cent compared to the same period in the previous week. Just 4,675 tests were completed in the last 24 hours, compared to 8,515 on Dec. 22.
"We expect testing to go up this week and it is likely that we'll see more cases," Henry said.
"Partly it's people don't want to be tested and have to isolate before this holiday, which is worrisome because we know that people are getting together — some people — and even if it's just your household … you may bring this into your household and spread it to them."
Some of the decline in testing could be due to private testing at places like film productions taking a pause. At the same time, new case counts have declined over the last five days at the same rate they were dropping before the holidays began.
Henry reiterated the importance of keeping to COVID-19 health orders and guidelines: wearing a mask in indoor public spaces, maintaining physical distances and not socializing with anyone outside of one's own household.
Maintaining COVID-19 vigilance, she said, will be crucial with New Year's Eve just days away and the United Kingdom coronavirus variant now appearing in Canada.
"We need to all take a step back," Henry said. "We know that people are compelled to be with each other during celebrations and we need to support each other to stay apart and connect with each other safely."
Six-week vaccine pilot project to kick off Monday at Metro Toronto Convention Centre – Global News
A pilot program is set to start administering COVID-19 vaccines in Toronto on Monday at the Metro Toronto Convention Centre.
It will be the city's first vaccination clinic in a community setting. The hope is that it will set the stage for what the future rollout of COVID-19 vaccines will look like when they become available to the public.
While hospital staff have been rolling up their sleeves for weeks, frontline shelter workers told Global News they had no idea when it would be their turn to get vaccinated for COVID-19.
Diana Chan McNally, with the Toronto Drop-In Network, said when the decision was announced last Monday it was a shock. "It was completely unexpected," McNally said.
Tommy Taylor, who works in the Toronto shelter system, said "when it came time for things like vaccination, we just didn't know where we were going to be on the schedule… just given how far we seemed to be of a thought on everything else."
Starting tomorrow, the six-week pilot project in Toronto will be administering shots for staff working in shelters, harm reduction sites, and other community agencies.
Taylor said the news is a relief for him and his colleagues.
"Being a part of this vaccine really starts to put to rest some of those fears that we have had," Taylor said. "Certainly waiting to hear if we were part of the plan that was a scary period of time."
Officials said the site will be able to administer upwards of 250 COVID-19 vaccines per day. The program structure allows them to scale their work up or down depending on the number of doses available.
On Sunday, Premier Doug Ford and Toronto Mayor John Tory toured the operation. "It's going to be a pilot project that we can expand right across the province," Ford said. "I know General Hillier is looking at 50 different sites across the province."
The plan is to use the pilot project as way to prove the model works, and iron out any issues that might arise.
"There will be a playbook issued out of this if you can call it that will tell everyone how to make sure based on the lessons learned right here that you can do this effectively," Tory said.
Those who qualify, sign up online. McNally explained that agencies were tasked with coming up with a list of staff who would be eligible. Those individuals received a link to register. But McNally said, given the supply and time frame, it is possible not everyone will get in during the pilot project. "There is the potential that some folks might not be able to receive the vaccine in this round," McNally said.
However, officials said it's a start, and every shot administered is one step closer to making sure everyone is protected.
Quebec reports 50 more COVID-19 deaths, partial tally of 1744 cases – The Daily Courier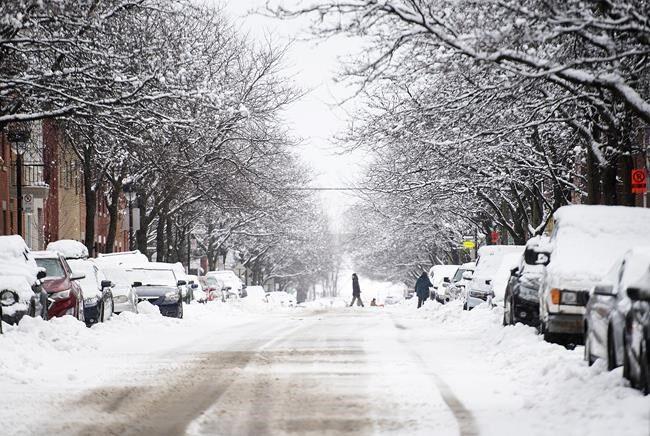 Boxes of doses of Moderna's COVID-19 vaccine arrived by plane in nine Cree communities in Quebec's James Bay region over the weekend and were immediately put to work to protect the community, the head of the regional health board said Sunday.
Bertie Wapachee, the chairperson of the Cree Board of Health and Social Services of James Bay, said vaccination was already underway in many of the communities, with the rest of the vaccine centres opening on Monday.
"In some ways, it represents a light at the end of the tunnel for us," he said in a phone interview.
"It's an added tool to defeating the virus as we move forward."
Wapachee said he didn't know the exact number of vaccines received, but said the communities would be able to offer a first dose to any adult community members who want them.
He said the remote Cree communities are especially vulnerable to COVID-19 outbreaks due to overcrowded housing conditions that make isolating difficult, as well as a limited number of local health-care workers.
He said he was "confident" most of the community members would want the shot.
The region has contended with at least one outbreak involving about 40 cases.
While there are logistical challenges in delivering the vaccine to isolated communities, Wapachee said the area is well-served by regional airline Air Creebec, a strong team on the ground and a population that has done a good job respecting the health measures overall.
Meanwhile, Quebec reported 50 new deaths due to COVID-19 on Sunday as well as a preliminary total of 1,744 new cases.
The province said a delay in transmitting data from Quebec's labs means the number of cases is incomplete and will be adjusted in a future update.
Hospitalizations declined for the third straight day, down 14 to 1,460.
There were also 12 fewer people in intensive care, for a total of 215.
While the number of new cases recorded in Quebec has declined slightly over the past week, Health Minister Christian Dube said on Twitter that it's too soon to describe the movement as a trend.
He urged Quebecers to keep following health measures because the battle is "not yet won."
The province administered just over 8,800 doses of vaccine on Saturday, he added.
Quebec has reported a total of 242,714 cases and 9,055 deaths since the pandemic began.
This report by The Canadian Press was first published Jan. 17, 2021
COVID-19: Provinces work on revised plans as Pfizer-BioNTech shipments to slow down – Chemainus Valley Courier
Canada's procurement minister is urging drugmaker Pfizer-BioNTech to get the country's COVID-19 vaccine delivery schedule back on track as soon as possible, as the two provinces hardest hit by the pandemic warned slower shipments will mean changes to their respective game plans.
Anita Anand said she understands and shares Canadians' concerns about the drug company's decision to delay international vaccine shipments for four weeks to upgrade production facilities in Europe.
"We are once again in touch with representatives from Pfizer to reiterate firmly the importance for Canada to return to our regular delivery schedule as soon as possible," she said on Twitter Saturday. "Pfizer assured us that it is deploying all efforts to do just that."
She noted that shipments for the upcoming week will be largely unaffected, and said the government will provide updates as they become available.
Ontario's chief medical officer of health, Dr. David Williams, said the delay will likely have an effect on the province, though the full impact of the move is not yet known.
"We understand that this change in supply could see deliveries reduced by at least half for Canada in the coming weeks," Williams said in a statement Saturday.
"We will assess and take appropriate action to ensure we can continue providing our most vulnerable with vaccines."
In Ontario, long-term care residents, caregivers and staff who already received their first dose of Pfizer's vaccine will receive their second dose between 21 and 27 days later, no more than a week longer than originally planned.
But that time frame will be longer for anyone else receiving the Pfizer vaccine, with second doses being delivered anywhere from 21 to 42 days after the initial shot.
Quebec Health Minister Christian Dube said Friday the reduced shipments mean that 86,775 of the 176,475 doses of the vaccine expected by Feb. 8 won't be delivered as planned.
Officials are establishing a new distribution plan, but the Quebec Health Department said the strategy to immunize as many people as possible within priority groups will be maintained, with a delay of up to 90 days for the second dose.
Officials in Saskatchewan said COVID-19 vaccinations will continue as doses are received, with Premier Scott Moe telling reporters Friday that the province's strategy for the two-dose regime depends on steady shipments.
That province says 2,857 vaccine doses were administered Friday — a record to date — with a shipment of 4,900 doses of Moderna vaccine also arriving and set to be distributed.
Dr. Theresa Tam, Canada's chief public health officer, said in a statement that given the current trajectory of the epidemic, cases will continue to rise unless there's significant progress in interrupting spread.
The latest forecasts suggest the country could be dealing with 10,000 new daily cases by the end of January. Meanwhile, hospitalizations and deaths, which tend be one to several weeks behind a spike in the disease, are still on the rise.
For the seven-day period ending Jan. 14, Canada averaged 4,705 hospitalizations across the country with 875 patients requiring intensive care treatment. During the same period, an average of 137 deaths were reported daily.
On Saturday, Ontario topped 3,000 cases and added another 51 deaths linked to the virus.
In Quebec, 2,225 new infections were reported along with 67 deaths attributed to the virus, pushing the province over the 9,000 death mark since the beginning of the pandemic.
In the east, New Brunswick continues to report the highest daily COVID-19 cases, with 27 new cases reported Saturday.
The province's 267 active cases is the highest in the Atlantic Canada, where cases have remained relatively low.
Saskatchewan reported 270 new COVID-19 cases and two further deaths on Saturday.
The Canadian Press
---
Like us on Facebook and follow us on Twitter.
Want to support local journalism during the pandemic? Make a donation here.