Fields out duels Lawrence, leads Ohio State past Clemson in Sugar Bowl – Sportsnet.ca
NEW ORLEANS — Justin Fields threw six touchdown passes to outshine Trevor Lawrence and No. 3 Ohio State avenged last season's painful College Football Playoff loss to Clemson with a 49-28 victory in the Sugar Bowl semifinal Saturday night.
The Buckeyes (7-0) head to the CFP title game for the first time since the inaugural playoff to face No. 1 Alabama on Jan. 11 at Hard Rock Stadium in South Florida. Ohio State beat the Crimson Tide in the semifinals on the way to the 2014 national championship.
In a matchup of quarterback prodigies from Georgia, Fields might have given the Jacksonville Jaguars something to think about what do to with that first pick in the NFL draft. Lawrence is the presumptive No. 1, but Fields outplayed him on this night, going 22 for 28 for 385 yards. He set a Sugar Bowl record for TD passes and did it playing more than half the game after taking a vicious shot the side that forced him to miss a play and spend time in the medical tent.
Lawrence was 33 for 48 for 400 yards and three total touchdowns in what is expected to be the junior's final college game. His final pass was intercepted, but Clemson (10-2) went 34-2 in his starts and won a national title when he was a freshman.
The third meeting between Clemson and Ohio State in the playoff, and fourth bowl matchup since the 2013 season, was a game the Buckeyes had been pointing toward ever since a 29-23 loss to Tigers in the Fiesta Bowl last year.
That score was everywhere the Buckeyes turned in the Woody Hayes Athletic Center in Columbus this year.
A chance for revenge was nearly derailed when the Big Ten cancelled fall football in August because of the pandemic. An abbreviated Big Ten season caused more headaches, with the Buckeyes having three games cancelled because of COVID-19 issues, including their own outbreak.
The playoff committee still liked Ohio State enough to put the Buckeyes in the final four, despite much griping from various parts of the country, including Clemson.
Ohio State coach Ryan Day talked all week about what a great story it would be for the Buckeyes to survive this rollercoaster of a season and still reach their goal.
Clemson took a 7-0 lead on the opening drive and then went up 14-7 with Lawrence and Etienne running for scores.
From there it was all Buckeyes. Fields threw touchdown passes to tight ends Luke Farrell and Jeremy Ruckert on consecutive drives to give Ohio State a 21-14 lead early in the second quarter.
Operating without offensive co-ordinator Tony Elliott, who did not make the trip while in COVID-19 protocols, the Clemson offence couldn't respond. The Buckeyes kept rolling behind Field, though not without a major scare.
Field scrambled on a third-and-long and took a hard shot to the right side from Clemson linebacker James Skalski that put the Buckeyes star into a fetal position before rolling over onto his back in obvious pain.
The play was reviewed for a targeting foul that resulted in Clemson's top linebacker being ejected and a first-and-goal for the Buckeyes.
Fields came out for one play and returned to immediately throw a 9-yard touchdown pass to Chris Olave that made it 28-14.
Fields went to the injury tent with Ohio State athletic trainers on Clemson's next possession, which didn't last long.
Fields was right back out there on the Buckeyes next drive. He took another hit on a scramble and slowly got up. After each play, he moved gingerly, but with Trey Sermon running hard and the Buckeyes providing good protection, Fields continued to carve up the Tigers.
He hit Ruckert for a 12-yard score with 11 seconds left in the half.
A year after blowing 16-0 first-half lead in last year's excruciating semifinal loss to Clemson, the Buckeyes handed the Tigers their largest halftime deficit (21) since the 2012 Orange Bowl against West Virginia (29 points).
The second half started with Clemson looking like it might have another comeback in it. Fields was intercepted in the Tigers' end zone and Lawrence came back with an 80-yard touchdown drive to cut it to 35-21.
Nervous time for the Buckeyes? Not for long. Fields threw a perfectly placed bomb to Olave for a 56-yard touchdown pass that made it 42-21 with 4:55 left in the third quarter.
And if there was any doubt, Fields threw another rain-making TD pass to Jameson Williams that officially went into the books as a 46-yarder, but travelled over 50 in the air.
THE TAKEAWAY
Ohio State: Sermon followed up his school-record 331-yard rushing Big Ten championship game with 193 on the ground and another 61 receiving. The Oklahoma transfer is having a late-season breakout similar to Ezekiel Elliott's in 2014.
Clemson: Coach Dabo Swinney complained Ohio State's six-game schedule was too short to warrant a playoff spot and might even give the Buckeyes an unfair advantage. Yes, he said the Buckeyes were good enough to beat the Tigers, but he placed Ohio State 11th on his coaches' poll ballot just the same. It was nothing personal, Swinney said, but the Buckeyes sure looked as if they took it that way, beating Clemson for the first time in five bowl meetings.
MISSING
The Buckeyes were without second-leading rusher Master Teague, starting guard Harry Miller and two defensive ends in Tyler Friday and Zach Harrison. Ohio State did not give details of their absences but all four had played in the Big Ten championship two weeks ago.
NEXT
Ohio State: The Buckeyes will make their second appearance in the College Football Playoff national championship game. They beat Oregon to win the 2014 title.
Clemson: The Tigers open next season with a doozy of a non-conference game against Georgia in Charlotte.
The Edmonton Oilers know that an ugly 3-1 win in Toronto is still a win – Edmonton Journal
Article content continued
ADAM LARSSON. 7. Turned in a tremendous defensive effort, including 2 big shot blocks late with the Leaf's net empty. A smart 2nd Period clear was just 1 of a half-dozen sharp plays he made with either his stick or his body. +1 with 5 blocks in a rock-solid 19:50. If Larsson can deliver this kind of effort consistently, what a boon it would be for this club in its own end.
SLATER KOEKKOEK. 7. This is fast looking like a terrific pickup. Koekkoek and Larsson formed a pretty effective shut-down pairing, allowing Barrie and Russell to see some softer minutes (in which they thrived). Koekkoek had 2 shots, a hit and 2 blocks against a lot of tough comp. A number of cycle busters and a couple clears at important times. Looking good.
KYLE TURRIS. 4. Nothing doing with the puck (0 points, 0 shots and weak shot shares). Turris did turn in an intelligent defensive effort. The most notable of those was an essential faceoff win in his own zone to relieve the pressure after he and his mates had been pinned deep. But as a 3C, they need more from him.
JOAKIM NYGARD. 4. Worked hard enough but came out on the short end of scoring chances by a 2-to-1 margin while he was on the ice. And committed a 1st Period turnover. Could be a candidate to be replaced on Friday.
JESSE PULJUJARVI. 6. Has a solid game in a lot of little but important ways. Good net front presence on the 3rd Period Power Play and was rewarded with an assist after a pass deflected off his skate. An extra effort diving play helped Ethan Bear clear the zone after pressure in the 2nd. Another good clear of the D-zone in the 3rd. Then finished his night with a solid body check on Marner.
Canadiens @ Canucks: Game thread, rosters, lines, and how to watch – Habs Eyes on the Prize
How to watch
Start time: 10:00 PM EST / 7:00 PM PST
In the Canadiens region: TSN2 (English), RDS (French)
In the Canucks region: Sportsnet Pacific
Streaming: NHL.tv/NHL Live, RDS Direct, Sportsnet Now, TSN Direct
It was a difficult off-season for the Vancouver Canucks, losing their starting goaltender, Jacob Markstrom, and a key offensive player, Tyler Toffoli, from the roster — and to teams now within their own division, no less. The decisions by those free agents to move on has led to a watered-down lineup that has some proper weapons at the top, then some members who would have a difficult time cracking opposing rosters.
Vancouver's loss was Montreal's gain, adding Toffoli to play on a third line that has all the hallmarks of a second. He only has one point on the season so far, but that's worse news for the Canucks than it is for the Canadiens because he has been getting his chances, and will be eager to start converting them versus his former team.
After getting a rare night of rest on Monday, Carey Price is back between the pipes for the first of what will probably be two games of this three-game series. He had an exceptional game versus the Oilers on Saturday, and will be called upon by the likes of J.T. Miller, Elias Pettersson, and Quinn Hughes as the Canucks try to put a 1-3 start behind them.
Montreal Canadiens projected lineup
Forwards
| Left Wing | Centre | Right Wing |
| --- | --- | --- |
| Left Wing | Centre | Right Wing |
| #90 Tomas Tatar | #24 Phillip Danault | #11 Brendan Gallagher |
| #92 Jonathan Drouin | #14 Nick Suzuki | #17 Josh Anderson |
| #73 Tyler Toffoli | #15 Jesperi Kotkaniemi | #40 Joel Armia |
| #41 Paul Byron | #71 Jake Evans | #62 Artturi Lehkonen |
Defencemen
| Left Defence | Right Defence |
| --- | --- |
| Left Defence | Right Defence |
| #8 Ben Chiarot | #6 Shea Weber |
| #44 Joel Edmundson | #26 Jeff Petry |
| #77 Brett Kulak | #27 Alexander Romanov |
Goaltenders
| Starter | Backup |
| --- | --- |
| Starter | Backup |
| #31 Carey Price | #34 Jake Allen |
Vancouver Canucks projected lineup
Forwards
| Left Wing | Centre | Right Wing |
| --- | --- | --- |
| Left Wing | Centre | Right Wing |
| J.T. Miller | Elias Pettersson | Brock Boeser |
| Tanner Pearson | Bo Horvat | Nils Hoglander |
| Antoine Roussel | Adam Gaudette | Jake Virtanen |
| Tyler Motte | Jay Beagle | Brandon Sutter |
Defencemen
| Left Defence | Right Defence |
| --- | --- |
| Left Defence | Right Defence |
| Quinn Hughes | Travis Hamonic |
| Alexander Edler | Jalen Chatfield |
| Nate Schmidt | Tyler Myers |
Goaltenders
| Starter | Backup |
| --- | --- |
| Starter | Backup |
| Braden Holtby | Thatcher Demko |
Draisaitl scores winner, Oilers down Maple Leafs – TSN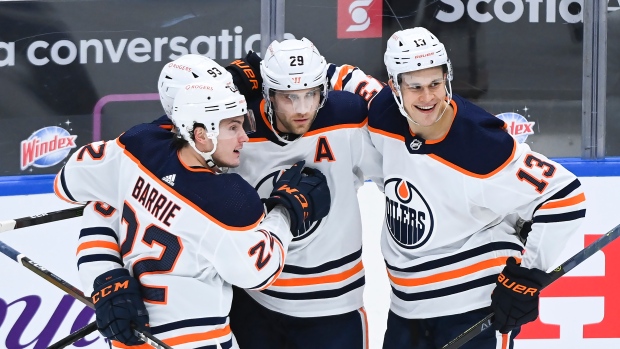 TORONTO — A mouth-watering matchup featuring some of hockey's most gifted players fell far short of expectations Wednesday.
And that suited the Oilers just fine.
Leon Draisaitl scored the winner on a third-period power play as Edmonton defeated the Toronto Maple Leafs 3-1 on a night where two offensive juggernauts largely cancelled each other out.
"Sometime the boring games are the most solid," Draisaitl said after burying his first of the season to help snap a two-game slide. "We were very solid for 60 minutes … that's a huge win.
"That's more the way we want to play."
Kailer Yamamoto was credited with the opening goal for the Oilers (2-3-0), who were coming off consecutive home losses to the Montreal Canadiens, when the Leafs fumbled the puck into their own net in the first. Mikko Koskinen made 25 saves to get the win, while Josh Archibald scored into an empty net with 1:06 left in regulation.
Auston Matthews replied for Toronto (3-2-0), which got 19 stops from Frederik Andersen.
Correctly billed as a battle of superstars between Matthews and Oilers captain Connor McDavid, one of the only positives from a neutral's perspective was the fact no fans paid for tickets inside an empty Scotiabank Arena because of COVID-19 protocols.
"I think both teams watched the pre-scout and were just trying to key in on the top guys," Matthews said. "It was a pretty uneventful game. Not really much going on.
"Not really expected, but we've got to do a much better job creating."
Edmonton and Toronto will go back at it again Friday in the second of nine North Division meetings between the clubs in the NHL's 56-game abbreviated schedule. Matthews said while the Leafs mostly contained McDavid and Draisaitl — no slouch himself as the reigning Hart Trophy and Art Ross Trophy winner — at 5 on 5, that shouldn't mean sacrificing their own offensive identity.
"Obviously we key in on those two guys," said the Leafs centre, who spent some of the off-season training with McDavid in Arizona. "They're extremely dangerous — two of the top players in the world — but we can't get away from our game. We've got to go out there and play our game and try to produce offence. We've got to play to win, not play to contain two guys.
"We were just too safe."
Draisaitl snapped a 1-1 tie on the man advantage at 9:12 of the final period with Jake Muzzin in the penalty box for tripping when Ryan Nugent-Hopkins' initial shot hit Edmonton's Jesse Puljujarvi in front.
The goal snapped an 0-for-12 streak for a power play that led the league with a success rate of 29.5 per cent in 2019-20 before the season was halted by the pandemic.
"Maybe that's the bounce that we needed," Draisaitl said. "Maybe that's one we deserved."
Toronto wasn't able to do much in response before Archibald fired his first into an empty net.
"We're frustrated with the way we started the season," Draisaitl added. "That's a very good team over there — very skilled, very dangerous. Letting up one goal against a team like that, that's always a success."
Trailing 1-0 through 40 minutes, the Leafs evened things up at 6:44 of the third when Matthews outmuscled Zack Kassian in the corner before firing shortside for his second on Koskinen.
Toronto once again dressed 11 forwards and seven defencemen, but was left with just 10 skaters up front when Joe Thornton took a hit from Archibald and headed to the locker room with what looked like an arm or wrist injury early in the period.
Head coach Sheldon Keefe said post-game it appears the 41-year-old "will definitely miss some time."
The Leafs came in feeling good about themselves after consecutive victories over the Ottawa Senators and Winnipeg Jets, while the Oilers were in a different frame of mind following those losses to Montreal to close out their four-game homestand to open the season.
Playing its first road contest since March 5, Edmonton grabbed a 1-0 lead at 10:42 of the first on a strange own goal. After the Leafs couldn't get out of their zone, Yamamoto fed a pass from behind Andersen's net that Toronto winger Jimmy Vesey intercepted before accidentally firing a clearing attempt in off Muzzin for Yamamoto's second of the campaign.
The Leafs held the Oilers to just three shots in the period, but Andersen had to be sharp with a pad save on Alex Chiasson late to keep the deficit at one.
Edmonton's power play — which went 0 for 10 and gave up two short-handed goals in those losses to Montreal — got two chances in the second, but continued to struggle with former Leafs defenceman Tyson Barrie quarterbacking the first unit in place of the injured Oskar Klefbom.
Toronto blue-liner T.J. Brodie then blasted a one-timer late in the period that hit Koskinen, struck William Nylander in front and dribbled just wide.
The Leafs got their second man advantage off that sequence when McDavid, who scored a highlight-reel goal that even brought Wayne Gretzky out of his seat to put a bow on Edmonton's 6-4 victory in Toronto last January, was whistled for hooking.
Wayne Simmonds fired a shot looking for a tip from Mitch Marner that hit the post before Matthews flubbed one attempt and saw Koskinen snag another with his glove inside the empty rink.
"It was a strange game," Keefe said. "It was the first game that felt like a game with no fans.
"Being on the bench, it just felt like one of those nights where you try and get something going. We didn't feel like we ever really got there."
Notes: Puljujarvi's assist on the winner was his first NHL point since Jan. 19, 2019, after spending all of last season in Finland. … The Oilers head to Winnipeg for two following Friday's game before hosting the Leafs on Jan. 28 and 30. … Toronto opens a four-game Alberta road trip Sunday and Tuesday in Calgary.
This report by The Canadian Press was first published Jan. 20, 2021.
___
Follow @JClipperton_CP on Twitter