For Hong Kongers, Canada is beaten path out of China's grip
By Sarah Wu
TORONTO (Reuters) – A second generation of Hong Kongers is heading to Canada for refuge from political uncertainty, but unlike their parents in the 1980s and 1990s, this time seems for good.
Cities such as Vancouver and Toronto are a magnet for those looking to escape as China tightens its grip on the territory of 7.5 million people. Some 300,000 already have Canadian citizenship after many families initially moved there ahead of Hong Kong's return from British to Chinese rule in 1997.
Back then, many families separated, with one parent staying in Hong Kong for work, usually fathers who were dubbed "astronauts" as they soared through the sky on visits. Among those who went to Canada, many eventually returned, lured by the booming economy and what still seemed to be a relatively free environment.
Things have changed.
With recent pro-democracy protests virtually snuffed out and Beijing enshrining control last year via a national security law, bags are being packed once more.
"Staying in Hong Kong is not an option anymore," said Maria Law, 39, who moved to Vancouver last year with her two girls ahead of her husband. "I'd rather have a free future for my daughters instead of making money while they have to keep their mouths shut."
For Law, a former flight attendant, history has repeated itself.
She is part of a rare cohort of double political emigres.
Taken to Vancouver when she was 12, Law remembers daily speakerphone calls from the living room with her father, who was earning the family bread as a hotel chef back in Hong Kong.
Enthusiasm for the calls waned as it became clear he was staying. Yet like many such "satellite" children, separated from one or both parents, Law eventually followed in her father's footsteps to return to Hong Kong herself for work in 2004.
"When I was young, I asked my father why I had to move. But now I am in his position, I understand," she said. "He sacrificed more than we did. He's the one who had to be alone."
LEARNING FROM MISTAKES
Thanks to Canada's liberal immigration system, 335,646 Hong Kongers moved there between 1984 when Britain's handover was declared and 1997, according to the Canadian International Council think tank. That was most of the half-million exodus.
This time, Britain may take most Hong Kongers as it offers visas to potentially 300,000 people.
The flow to Canada may also be large, with existing Canadian passport-holders in Hong Kong from the first wave and new immigration pathways for the younger generation.
A Hong Kong government spokesman said concerns about erosion of freedoms were "totally unsubstantiated" and that the security law had stopped chaos. "People's decisions to remain in or leave Hong Kong, or anywhere for that matter, are based on many factors including job situation, schooling, business and investment opportunities or personal/family reasons," he added.
China's Hong Kong and Macau Affairs Office, and the Hong Kong Liaison Office, Beijing's top representative body, did not respond to requests for comment.
The scars of the first uprooting are informing the second.
"I'm not going to make the same mistakes as my parents, like having a satellite family," said Tsang, a 36-year-old legal compliance officer who did not want to give her first name because she was yet to resign from work in Hong Kong.
Her parents' marriage did not survive separation, but Tsang hopes to do better. Her daughter and husband move to Vancouver this month and she is to join them after selling their home.
In Law's case, she is eagerly waiting for her husband, for whom it is a wrench to leave his wider family and career as a university IT officer, to rejoin the family in Vancouver.
In October, she gave him the sponsorship paperwork and urged him not to miss their girls' growing up. To her relief, he returned the forms on Jan. 1. While he waits to travel, he watches his younger daughter's growth spurt via a screen and waits for both girls to say hello before he sleeps.
It is hard to track exactly how many Hong Kongers are moving to Canada as so many can travel freely between the two.
New visa applications from Hong Kong rose more than 20% to 10,819 in 2020, Canadian immigration says.
The Hong Kong government did not have data, but the Security Bureau estimated 7,000 people may have emigrated in 2019, 1,300 to Canada. However, that methodology is based only on applications for documents showing no criminal records, which many departing Hong Kongers do not in fact request.
BUNS AND NEWSPAPERS FROM HOME
Social media posts about paperwork, schools, real estate and jobs abound for Hong Kongers returning to Canada.
One frequently-asked-questions group by the "Return Vancouver" Facebook page has 5,800 members.
Miu Chung Yan, a University of British Columbia professor of social work, and himself from Hong Kong, said those returning to Canada were often giving up better-paying jobs at home but had long known they would return for children's education or retirement.
Violent scenes of blazing streets and protesters clashing with police in 2019, plus China's subsequent response, hastened their decision-making.
Pre-handover immigrants created ethnic enclaves with strip malls featuring Hong Kong-style cafes, Cantonese-speaking dentists and Chinese supermarkets.
In Richmond, a Vancouver suburb, 21.9% of residents counted Cantonese as their first language, followed by 20% for Mandarin, the main language in the rest of China, in a 2016 census.
In Markham, just north of Toronto, the vast Pacific Mall shares the same name as Hong Kong's centrally-located Pacific Place shopping centre.
Pacific Mall's corridors bear the names of major arteries in Hong Kong, such as Hollywood Road or Hennessy Road.
In nearby plazas, those nostalgic for Hong Kong fare can pick up warm pineapple buns with a cold slab of butter and Chinese-language newspapers Sing Tao and Ming Pao.
Jason, who plans to move back to Canada with his wife and nine-year-old twins, acknowledges he is "a little bit confused" about his identity.
His father moved to Hong Kong during Mao Zedong's rule after four of 10 siblings starved to death in mainland China, he said. His parents sent him to high school in Canada in 1993 at 13.
But in 2001, his father's construction company was struggling and he had to drop out of college to return to Hong Kong, where he later became a furniture salesman.
Over the years he noticed Hong Kong transforming: the luxury flats he fitted were increasingly owned by mainland Chinese. Mandarin became the more common language with customers in the famous IFC and ICC commercial towers.
"It's kind of sad," said Jason, who did not give his full name as he is yet to tell his twins about leaving. "Every time I have a gathering with friends or chit-chat with colleagues, the only topic is 'where are you going to live'?"
(Reporting by Sarah Wu in Toronto; Editing by Marius Zaharia and Andrew Cawthorne)
The latest news on COVID-19 developments in Canada for March 8 – The Tri-City News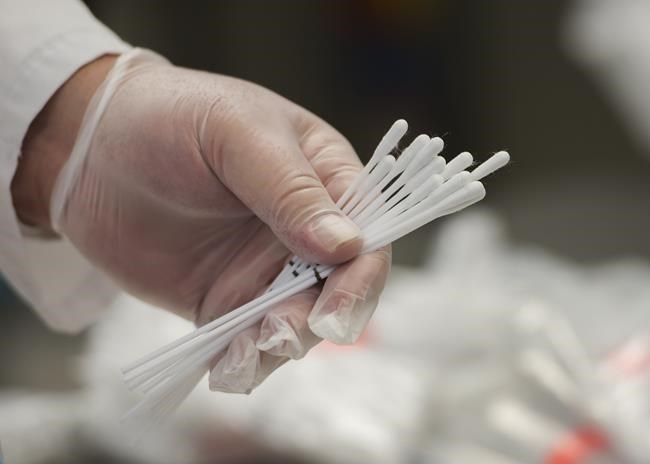 The latest news on COVID-19 developments in Canada (all times Eastern):
6:35 p.m.
Alberta is reporting 278 new cases of COVID-19 and six additional deaths.
The province says six cases of a more contagious variant have also been detected, bringing that total in Alberta to 659.
There are 254 people in hospital, with 36 of them in intensive care.
Health Minister Tyler Shandro says he believes it's safe enough to immediately lift some more public-health restrictions.
—
6:30 p.m.
Alberta is lifting more COVID-19 public-health restrictions, including allowing more people to shop in retail stores and malls.
Health Minister Tyler Shandro says the retail limit is increasing to 25 per cent capacity from 15 per cent.
He says banquet halls, community halls and conference centres can open for meetings, while weddings of up to 10 people and funeral services with a maximum of 20 people are allowed.
Lessons and practices for youth and post-secondary sports can go ahead with a cap of 10 participants.
And there can be rehearsals and performances — without an audience and confined to 10 people — for youth and adult dance, singing and theatre activities.
—
6:15 p.m.
B.C. is reporting 11 more deaths and 1,462 new cases of COVID-19 over the last three days as the death toll in the province nears 1,400.
Provincial health officer Dr. Bonnie Henry says more than 4,800 cases are active, including 240 people hospitalized with the illness.
She says 144 more cases of variants of concern have been detected in B.C. for a total of 394, of which 87 cases are active.
There have been 333,327 doses of COVID-19 vaccine administered in B.C., including nearly 87,000 second doses.
—
4 p.m.
Prince Edward Island is reporting two new cases of COVID-19 today.
Health officials say the new cases involve two men in their 20s.
They say one man recently travelled outside Atlantic Canada and the other is a close contact of a previously reported infection.
P.E.I. has 28 active reported cases of COVID-19.
—
3:05 p.m.
Saskatchewan is reporting 97 new cases of COVID-19 and two more infections caused by a more contagious variant.
Health officials say a provincial lab confirmed two additional cases of the variant first detected in the United Kingdom in the Regina area.
The ministry also confirmed a previously reported presumptive case to be the B.1.1.7 variant.
To date, Saskatchewan has seen nine cases of variants of concern.
—
3 p.m.
Quebec is announcing it will not follow recommendations from Canada's national vaccine expert panel regarding the newly approved Oxford-AstraZeneca vaccine.
The province said today in a news release its provincial vaccine expert committee is recommending that all approved doses be used immediately — particularly for people in their 70s — to reduce death and hospitalizations.
Canada's National Advisory Committee on Immunization has said the AstraZeneca vaccine is not recommended for people aged 65 years and over because of insufficient data.
Quebec says the fact the AstraZeneca vaccine doesn't need to be kept frozen will help officials conduct more mobile vaccinations campaigns and reach patients at home.
—
2 p.m.
Ontario's health minister says people won't be asked to provide proof of their pre-existing health conditions to access a COVID-19 vaccine during the second phase of the rollout.
Christine Elliott says she believes most people will come to the clinics when they are permitted and not take advantage of the honour system.
The vaccine will be offered starting in April to people with specific health conditions like organ transplant recipients, those living with obesity and those receiving treatments that suppress the immune system.
Elliott says local public health units will screen people as they arrive at the clinics and may be able to check with a person's family physician, but that will not be mandatory.
—
1:35 p.m.
New Brunswick is reporting five new cases of COVID-19 today.
Two cases in the Moncton region involve people in their 20s and are travel-related.
The other cases are in the Miramichi area and are linked to a previously reported infection.
There are currently 36 active reported cases in the province and three people in hospital with the disease, including one in intensive care.
—
1:35 p.m.
Manitoba is reporting 63 new COVID-19 cases and one death.
On a per capita basis, the northern part of the province continues to be hardest hit.
—
12:55 p.m.
Manitoba is expanding its vaccination program again.
The minimum age to book an appointment for the general public is being dropped by five years — to 60 and up for First Nations people and 80 and up for all others.
—
12:45 p.m.
Newfoundland and Labrador is reporting three new cases of COVID-19.
Health officials say all three cases involve close contacts of previously reported infections.
The province has 84 active reported cases and three people in hospital with the disease.
Newfoundland and Labrador has reported a total of 1,009 COVID-19 cases and six deaths linked to the virus.
—
12:15 p.m.
Prime Minister Justin Trudeau says March 11 will be a "national day of observance" for the COVID-19 pandemic.
The day is meant to commemorate the 22,000 people in Canada who have died from the disease and to acknowledge all the other ways lives have changed over the past year.
In a statement, Trudeau says that includes kids' missed birthday parties, seniors' increased isolation, lost jobs and failing businesses.
The day is also meant to honour workers in health care and other essential front-line services.
—
12 p.m.
Nova Scotia is reporting no new cases of COVID-19.
Health officials say the province has 24 active reported infections.
Two people in the province are in hospital with the disease, including one in intensive care.
Nova Scotia has reported a total of 1,659 COVID-19 cases and 65 deaths linked to the virus.
—
11:45 a.m.
Ontario is reporting 1,631 new cases of COVID-19 and 10 more deaths today.
The province says the daily case count is higher than expected due to a "data catch-up process" in its system.
No other details about the issue have been provided.
The province has lifted its stay-at-home order in Toronto, Peel Region and North Bay, the last three regions where it was still in effect.
—
11:05 a.m.
Quebec is reporting 579 new cases of COVID-19 as well as nine additional deaths due to the illness.
None of the deaths occurred in the past 24 hours.
Hospitalizations declined by two to 590, with 108 people in intensive care, which is one more than a day earlier.
The province administered 15,249 doses of vaccine Sunday, bringing the total to 564,302.
—
This report by The Canadian Press was first published March 8, 2021
The Canadian Press
Canada set to receive more than 910000 doses of COVID-19 vaccines this week – CTV News
OTTAWA —
Canada is set to receive 910,000 COVID-19 vaccine doses this week as pharmaceutical companies ramp up deliveries to make good on their contractual obligations by the end of the month.
The Public Health Agency of Canada says the country will receive nearly 445,000 shots from Pfizer-BioNTech for the second week running as the companies settle into a rhythm following a lengthy lull in January and much of February.
The remaining 465,000 shots are expected from Moderna, as the pharmaceutical firm steps up its delivery schedule from once every three weeks to once every two.
The influx of new shots comes as the federal government looks for vaccine-makers to finalize delivery of a total of eight million doses by March 31.
That includes 5.5 million from Pfizer-BioNTech — up from the four million originally expected — and two million from Moderna. Canada received 500,000 doses of the AstraZeneca-Oxford vaccine last week.
The federal government is not expecting any new deliveries from AstraZeneca-Oxford, nor does it anticipate receiving shipments of the newly approved vaccine from Johnson & Johnson until next month.
At that point, however, both manufacturers are on tap to deliver millions of shots per month.
That includes more than a million doses per week from Pfizer-BioNTech starting in the last week of March and into the following month.
"In April, we are anticipating a steep increase in vaccine availability," Maj.-Gen. Dany Fortin, the military officer overseeing Canada's inoculation distribution effort, said last week.
"This includes 23 million doses of both Pfizer and Moderna between April and June, and at least 1.5 million doses of the AstraZeneca Serum Institute of India vaccine arriving by mid-May."
Johnson & Johnson, whose single-dose vaccine received Health Canada approval on Friday, is the fourth inoculation to receive the green light from the regulator.
It uses a modified common-cold virus to carry a piece of the SARS-CoV-2 virus that causes COVID-19 to convince the body to mount an immune response to prevent future infections.
Clinical trials found it to be 66 per cent effective against moderate COVID-19-related illness, 85 per cent effective against severe illness, and 100 per cent effective against death.
"We can be really increasingly optimistic in our outlook and that is really great," Dr. Theresa Tam, Canada's chief public health officer, said on Friday.
Procurement Minister Anita Anand said the government has now confirmed total deliveries of 36.5 million vaccine doses by Canada Day which would be more than enough to get a single dose to each adult Canadian by then.
That doesn't include any of the 10 million doses purchased from Johnson & Johnson, and includes none of the 20 million doses coming directly from AstraZeneca.
Every vaccine except Johnson & Johnson's is given in two doses, but provinces are moving to implement new guidance from the National Advisory Committee on Immunization stating those shots should be spaced out up to four months apart rather than three or four weeks.
Provinces are making the move to get more people vaccinated with a first dose, after real-world evidence showed strong data that one dose is highly effective on its own.
Nearly 1.7 million Canadians have now received at least one dose, and the pace of vaccinations has accelerated in the last two weeks. In the past seven days alone, more than 457,000 people were vaccinated, 2 1/2 times as many as in a similar period two weeks before.
This report by The Canadian Press was first published March 8, 2021
PM designates March 11 national day of observance for Canadians who died of COVID-19 – CTV News
OTTAWA —
The federal government is designating March 11—the one-year anniversary of the World Health Organization declaring COVID-19 a global pandemic—a national day of observance to commemorate those who have died due to the virus.
Prime Minister Justin Trudeau announced the new day in a statement on Monday, saying it will also signify a reflection on the "significant impacts" all have felt due to COVID-19, from isolation and unemployment to losing time with friends and family.
"Early last year, our lives, and the lives of everyone around the world, were forever changed by the emergence of COVID-19," Trudeau said. "Today – one year after the first known death of a Canadian to the disease – we now mourn the tragic loss of more than 22,000 parents, siblings, friends, and loved ones."
The government is inviting Canadians to think this week about those who have died and the health-care and other essential workers who have been on the front lines of the fight against the novel coronavirus.
"During this crisis, Canadians have remained resilient. They have helped neighbours, given to organizations, put signs in their windows to support our health care workers, and lent a hand wherever possible," read the statement.