Forgot to Pre-Order Your iPhone 13 or 13 Pro? Apple Store Pickup Remains an Option for Launch Day – MacRumors
iPhone 13 and iPhone 13 Pro pre-orders began last Friday at 5:00 a.m. Pacific Time, and soon after, shipping estimates for select models began slipping to late September or early October for some models.

If you weren't prepared to get up at an early hour or you haven't got round to pre-ordering for another reason, there's still a chance to get an ‌iPhone 13‌ mini, ‌iPhone 13‌, ‌iPhone 13 Pro‌, or ‌iPhone 13 Pro‌ Max in your hands when they launch on Friday.
In the United States and other countries that have Apple retail stores, such as Canada, the United Kingdom, and Australia, many ‌iPhone 13‌ models are still available for in-store pickup on Friday, September 24.
Even if a particular iPhone model isn't estimated to be delivered on launch day, it's still possible to reserve some versions for in-store pickup.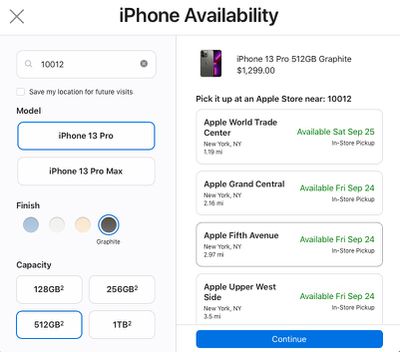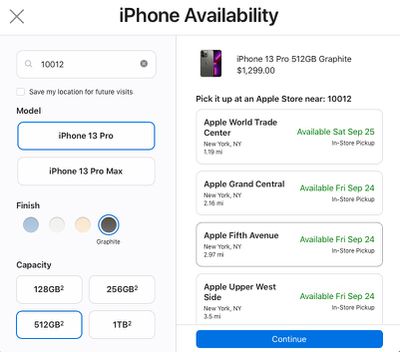 An ‌iPhone 13 Pro‌ in Silver with 128GB of storage, for example, is currently estimated to ship in 4-5 weeks on Apple's online store. However, the device is available for pickup on September 24 at multiple retail stores in several countries.
Once you proceed to the checkout and click the blue "Checkout" button, select "I'll pick it up," then choose a store location, pickup date, and an available 15-minute check-in window from the options.
If you will be picking up the ‌iPhone‌ personally, enter your phone number. If someone else will be arranging the pickup, enter his or her contact information. The person making the pickup must be carrying a valid photo ID.
Then, proceed with the checkout process as usual. Once payment has been made, wait until you receive a pickup notification email or text message by September 24 before picking up the ‌iPhone‌. If you don't receive one, call the store.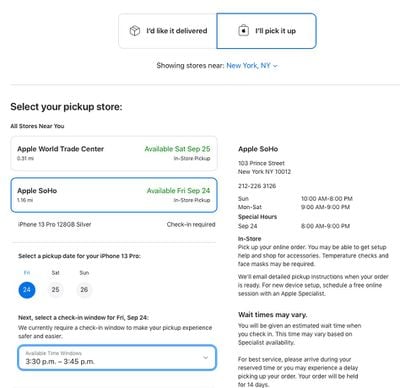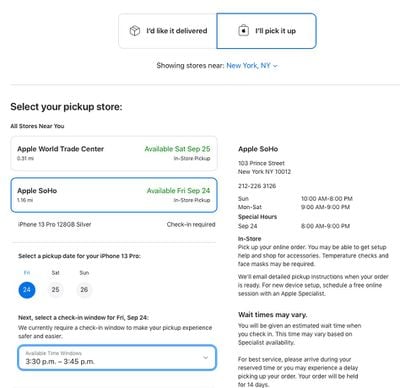 Since the ‌iPhone‌ is paid for ahead of time, the store will hold the device in its back room until you arrive. Your order will be held for 14 days.
Of course, another option is to simply wait until Friday and walk into an Apple store, preferably right when they open. You may have to wait in line, but the queues have typically been shorter in recent years. Note that temperature checks and face masks may be required.
You can use the pickup tool on Apple's website on launch day to check if stores in your local area have stock, or call the store directly.
All in all, there are still a few days to ensure you get your new ‌iPhone‌ on launch day, even if you missed the pre-order rush. Just make sure to select which color, storage, and carrier combinations are still available for pick-up by September 24.
Poll: What do you think about the new MacBook Pro having a notch on the screen? – 9to5Mac
Along with AirPods 3 and new colors for the HomePod mini, Apple introduced the new 14-inch and 16-inch MacBook Pro this week. In addition to a new design and the superpowered M1 Pro and M1 Max chips, the new MacBooks feature a rather controversial addition: a notch at the top of the screen. Now we want to know your opinion on the notch coming to the Mac.
The cutout at the top of the screen on some devices is popularly called the "notch." Apple first adopted the notch in 2017 with the iPhone X, as it was the first iPhone to have an edge-to-edge display. Although the notch is now present in pretty much every iPhone model, Apple had kept the notch limited to its phone until now.
Just like the iPhone, the new 14-inch and 16-inch MacBook Pro feature an edge-to-edge display. As a result, Apple has added a cutout at the top of the screen to house the new 1080p front-facing camera. Interestingly, the new MacBook Pro doesn't have a TrueDepth camera for Face ID, so it's unclear why the company opted for such a large notch.
As we covered on Monday, developers can choose whether they want to take advantage of the notch area on these new Macs, or whether the app should run with a black bar on top. It's worth noting that by default, non-updated apps will run in a "compatibility mode" with the black bar at the top when in full screen.
Apple also pointed out that it made the screen taller in order to place the macOS menu bar in the notch area, so the user will end up having more area to view content.
Of course, some users didn't seem to like the idea of having a notch on a Mac, while others agreed with Apple. Whether you like it or not, I can definitely see the notch coming to other Mac computers in the future.
With that in mind, what do you think about having a notch on the MacBook Pro – and possibly other computers? Let us know in the poll and also in the comments section below.
Check out 9to5Mac on YouTube for more Apple news:
[embedded content]
PayPal in $45 billion bid for Pinterest – sources
PayPal Holdings Inc has offered to buy digital pinboard site Pinterest Inc for $45 billion, people familiar with the matter said on Wednesday, a combination that could herald more tie-ups between financial technology and social media companies in e-ecommerce.
The deal talks come as internet Shoppers increasingly buy items they see on social media, often following "influencers" on platforms such as Instagram and TikTok. Buying Pinterest would allow PayPal to capture more of that e-commerce growth and diversify its income though advertising revenue.
PayPal has offered $70 per share, mostly in stock, for Pinterest, one of the sources said. The online payments provider hopes to successfully negotiate and announce a deal by the time it reports quarterly earnings on Nov. 8, the source added.
The sources cautioned that no deal was certain and terms could change. They asked not to be identified because the matter is confidential.
PayPal and Pinterest did not respond to requests for comment. Bloomberg News first reported on the PayPal-Pinterest talks on Wednesday.
PayPal's offer represents a 26% premium to Pinterest's closing price of $55.58 on Tuesday. PayPal's shares fell over 4% on the news, while Pinterest rose more than 14% to $63.51.
"(The) combination would be a significant positive for PayPal's ongoing monetization initiatives on both sides of its merchant and consumer platforms, especially if Pinterest's social commerce platform gets integrated with Honey's AI into PayPal's destination app," Wedbush analysts wrote in a note.
The payments behemoth was among the big winners of the COVID-19 pandemic, as more people used its services to shop online and pay bills to avoid stepping out. Its shares have risen about 36% in the last 12 months, giving it a market capitalization of nearly $320 billion.
Pinterest also saw a huge spike in users looking for crafts and DIY project ideas, as lockdown curbs kept people at home.
As lockdowns eased, Pinterest has warned about slowing user growth, especially in the United States, its largest market.
Pinterest was valued at about $13 billion when it went public in 2019.
The company is at a crossroads after co-founder Evan Sharp announced last week he would step down as chief creative officer to join LoveFrom, a firm led by Jony Ive, the designer of many Apple Inc products.
Sharp founded the online scrapbook and photo-sharing platform with Ben Silbermann, who is the San Francisco, California-based company's chief executive officer, and Paul Sciarra, who left in 2012.
PayPal had been looking to boost its e-commerce offerings in recent years through acquisitions. It bought online coupon finder Honey Science in 2019 for $4 billion and Japanese buy-now-pay-later (BNPL) firm Paidy for $2.7 billion earlier this year. It acquired return-service provider Happy Returns in May.
SOCIAL MEDIA-DRIVEN COMMERCE
Social media platforms that have not pursued mergers with fintech firms have been working on ways to allow consumers to buy directly from their platforms.
TikTok, for example, is testing a way for users to buy products directly on its short video app. It has partnered with ecommerce giant Shopify and in August began allowing retail brands to link their product catalogs to the app.
Analysts said the PayPal-Pinterest deal talks highlight the potential for other social media and fintech companies to join forces to capture swaths of the e-commerce market.
"Social/interactive commerce is growing in the United States and no one has won it yet. So rather than going against Amazon, PayPal is making a bet on a different kind of shopping model," said Marketplace Pulse e-commerce analyst Joe Kaziukėnas.
(Reporting by Greg Roumeliotis and Arriana McLymore in New York; Additional reporting by Noor Zainab Hussain in Bengaluru and Krystal Hu and Sheila Dang in New York; Writing by Anirban Sen; Editing by Maju Samuel and Richard Chang)
Facebook 'planning to rebrand company' with new name – Al Jazeera English
CEO Mark Zuckerberg plans to talk about the name change at its annual conference on October 28, but it could be sooner.
Social media giant Facebook Inc is planning to rebrand itself with a new name next week, American technology blog the Verge reported on Tuesday, citing a source with direct knowledge of the matter.
Facebook Chief Executive Officer Mark Zuckerberg plans to talk about the name change at the company's annual Connect conference on October 28, but it could be unveiled sooner, the Verge reported.
In response, Facebook said it does not comment on "rumour or speculation".
The news comes at a time when the company is facing increasing government scrutiny in the United States over its business practices.
Legislators from both parties have excoriated the company, illustrating the rising anger in Congress with Facebook.
'A metaverse company'
The rebranding would position Facebook's social media app as one of many products under a parent company, which will also oversee groups like Instagram, WhatsApp, Oculus and more, the Verge report added.
It is not uncommon in Silicon Valley for companies to change their names as they bid to expand their services.
Google established Alphabet Inc as a holding company in 2015 to expand beyond its search and advertising businesses, to oversee various other ventures ranging from its autonomous vehicle unit and health technology to providing internet services in remote areas.
The move to rebrand will also reflect Facebook's focus on building the so-called metaverse, an online world where people can use different devices to move and communicate in a virtual environment, according to the report.
Facebook has invested heavily in virtual reality (VR) and augmented reality (AR) and intends to connect its nearly three billion users through several devices and apps. On Tuesday, the company announced plans to create 10,000 jobs in the European Union over the next five years to help build the metaverse.
Zuckerberg has been talking up metaverse since July when he said that the key to Facebook's future lies with the metaverse concept – the idea that users will live, work and exercise inside a virtual universe. The company's Oculus virtual reality headsets and service are an instrumental part of realizing that vision.
"In the coming years, I expect people will transition from seeing us primarily as a social media company to seeing us as a metaverse company," Zuckerberg said at the time. "In many ways, the metaverse is the ultimate expression of social technology."
The buzzy word, first coined in a dystopian novel three decades earlier, has been referenced by other tech firms such as Microsoft.
The Verge report said a possible name for the company could have something to do with Horizon. Recently, Facebook renamed its in-development VR gaming platform named 'Horizon''to "Horizon Worlds".