Former Israel minister Ayelet Shaked to serve as chairman of Kardan Real Estate
Former minister Ayelet Shaked is joining Kardan Real Estate Enterprise and Development Ltd. and is expected to take up the post of chairman of the board of directors of the building and construction firm.
Shaked is slated to replace current chairman Yosef Grunfeld, who is stepping down from his position within the next few months, Kardan Real Estate Enterprise and Development said in a statement. In the interim, Shaked, who in the past served as interior and justice minister, will initially be appointed deputy chairman of the firm's board.
Terms of Shaked's employment as chairman are still subject to the official approval of the real estate firm's remuneration committee and its board of directors, which are expected to convene in the coming days. Following the approvals, Kardan Real Estate Enterprise and Development will hold a general shareholder meeting to approve Shaked's appointment and terms.
"I am happy to join Kardan Real Estate and continue to work to build the country," said Shaked. "Kardan Real Estate is a veteran and professional company with great potential and I believe that together with the existing management team we will develop it and accelerate it forward."
Kardan Real Estate and Development, founded in 1988, is owned by Kardan Israel, controlled by Roni Biram, Gil Deutsch and Avner Schnur, and managed by Amos Dabush, who serves as CEO. Listed on the Tel Aviv Stock Exchange, the firm is engaged in the initiation and development of residential projects and income-producing properties. In addition, it provides construction services for residential buildings, commercial buildings, public buildings and infrastructures.
In the residential sector, Kardan Real Estate and Development is currently involved in the planning, initiation and execution of some 14,000 housing units across a number of cities in Israel.
Shaked served as justice minister from 2015 to 2019 and as interior minister from 2021 to 2022. Before entering politics, Shaked worked as a software engineer and product marketing manager at the Israeli branch of US chip manufacturer Texas Instruments. She holds a degree in electrical engineering and computer science from Tel Aviv University.
"I believe that Shaked will help us continue the trend of growth and expansion of the company's activities, which is part of its strategy in the coming years," said Dabush.
Nanaimo Real Estate Market Report: January 2023
NANAIMO – Calm start to the year indicates a great time to buy
In January, 46 single-family homes sold in Nanaimo, down 33 per cent from December and 26 per cent from the previous year.
Active listings of single-family homes on the Mid-Island rose 108 per cent year-over-year, but dropped by 4 per cent from December.
The average price for a single-family home in Nanaimo was $795,527 in January, a 23 per cent drop from last year.
Montreal home sales down 36% from January 2022: Quebec real estate association
MONTREAL — The Quebec Professional Association of Real Estate Brokers says Montreal's January home sales fell to a level not seen since 2009 as the market slowdown continued.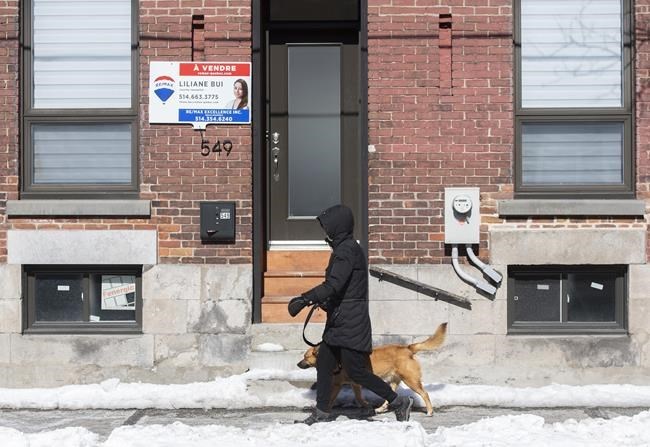 MONTREAL — The Quebec Professional Association of Real Estate Brokers says Montreal's January home sales fell to a level not seen since 2009 as the market slowdown continued.
The association says last month's sales totalled 1,791, down 36 per cent from 2,816 in January 2022.
Charles Brant, the association's market analysis director, says these numbers mean activity is approaching a historic low for the month of January and come as rising interest rates are weighing on homebuyers.
He says first-time homebuyers in particular are taking a cautious wait-and-see attitude despite recent drops in prices.
The median price of a single-family home edged down seven per cent to $500,000 year over year, while condos dipped three per cent to $370,000 and plexes dropped six per cent to $675,000.
As median prices fell so did new listings, which hit 4,598 compared with 4,808 a year ago.
This report by The Canadian Press was first published Feb. 7, 2023.
The Canadian Press
B.C. residential real estate investors unfairly 'painted as speculators': BCREA
Statistics Canada released data last week revealing 23.3 per cent of B.C. homeowners are also investors in the market. The Vancouver census metropolitan area (CMA) had an overall investment rate in condominiums and houses of 21.3 per cent.
"Investors often get kind of painted as speculators who are out to buy up housing and do nothing with it, or flippers or any other kind of pejorative terms that we add to investors. But what this data shows, and what's good to understand, is that they've really invested a lot in a primary rental in Canada," said Brendon Ogmundson. "A lot of the rental units that are being provided are smaller investors who own one unit and are renting it out."
Statistics Canada defines an investor as an "owner who owns at least one residential property that is not used as their primary place of residence." 
In B.C., 73 per cent of properties with multiple dwellings were owner-occupied investment properties. Investor-occupants are more common in the province, making up 9.6 per cent of owners.
This is due to a higher proportion of properties with multiple residential units – 11.7 per cent – such as laneway units or basement suites, according Statistics Canada. The national statistics agency said these types of units are more likely to be owner-occupied.
"So many owners in B.C. have chosen to also be landlords by renting out their basement suites or laneway houses and it's way, way different than any other province in this dataset," Ogmundson said. 

Statistics Canada data breaking down homeowners by investor-type. 
The region of Greater Vancouver A or Electoral Area A, which includes the University Endowment Lands, Barnston Island, Howe Sound communities, Indian Arm and Pitt Lake communities, had a higher proportion of houses and condominium apartments used as an investment at 42.1 per cent compared with the rest of the region. 
The City of Vancouver had a lower proportion at 32.5 per cent.
This difference is attributed to students attending the University of British Columbia, who are more likely to be renters or live in a second property owned by a family member, according to Statistics Canada. 
The proportion of condominium apartments owned for investment purposes by non-resident investors was the highest in B.C. among the provinces – seven per cent.
The rate of condominium apartments used as investment was lower in the Vancouver CMA (34 per cent) than the rest of the province.
Across B.C., non-residents and out-of-province investors owned 43,890 houses used as an investment. This number was typically higher in areas near the Alberta border. 
Out-of-province investors owned 1.6 per cent of homes in B.C., while in-province investors accounted for 9.8 per cent of all investors.