Fossil worm shows us our evolutionary beginnings – BBC News
A worm-like creature that burrowed on the seafloor more than 500 million years ago may be key to the evolution of much of the animal kingdom.
The organism, about the size of a grain of rice, is described as the earliest example yet found in the fossil record of a bilaterian.
These are animals that have a front and back, two symmetrical sides, and openings at either end joined by a gut.
The discovery is described in the journal PNAS.
The scientists behind it say the development of bilateral symmetry was a critical step in the evolution of animal life.
It gave organisms the ability to move purposefully and a common, yet successful way to organise their bodies.
A multitude of animals, from worms to insects to dinosaurs to humans, are organised around this same basic bilaterian body plan.
Scott Evans, of the University of California at Riverside, and colleagues have called the organism Ikaria wariootia.
It lived 555 million years ago during what geologists term as the Ediacaran Period – the time in Earth history when life started to become multi-celled and much more complex.
The discovery started with tiny burrows being identified in rocks in Nilpena, South Australia, some 15 years ago.
Many who looked at these traces recognised they were likely made by bilaterians, but creatures' presence in the ancient deposits was not obvious.
It was only recently that Scott Evans and Mary Droser, a professor of geology at UC Riverside, noticed minuscule, oval impressions near some of the burrows.
Three-dimensional laser scanning revealed the regular, consistent shape of a cylindrical body with a distinct head and tail and faintly grooved musculature.
Ikaria wariootia ranged in size between 2mm and 7mm long, and about 1-2.5mm wide. The largest of the ovals was just the right size and shape to have made the long-recognised burrows.
"We thought these animals should have existed during this interval, but always understood they would be difficult to recognise," Scott Evans said. "Once we had the 3D scans, we knew that we had made an important discovery."
Ikaria wariootia probably spent its life burrowing through layers of sand on the ocean floor, looking for any organic matter on which it could feed.
Great Barrier Reef endures third mass bleaching event in five years – The Weather Network
Scientists that are monitoring the Great Barrier Reef in Australia report that it has suffered its third mass bleaching event in five years. The reef is considered to be the largest living structure in the world, but warming temperatures are straining the corals and are causing these bleaching events to become increasingly common.
A study that was published in April 2018 found that half of the Great Barrier Reef had died since 2016 when this region of the world experienced abnormally warm temperatures. The El Niño and La Niña weather patterns contributed to the extreme conditions, however, neither event was occurring when this year's mass bleaching took place.

Bleached branching coral (foreground) and normal branching coral (background). Keppel Islands in the Great Barrier Reef. Credit: Acropora/ Wikimedia Commons. CC BY-SA 3.0
Oceans cover over 70 per cent of the Earth's surface and have the capacity to store more than 1,000 times the amount of heat than the atmosphere, which is why aquatic environments are particularly sensitive to the greenhouse gas emissions we release.
Corals start to bleach when the water becomes too hot and causes them to expel the colourful algae that live on them. The coral relies on the algae because it is their primary food source, while the coral provides the algae with a protected environment and nutrients needed for photosynthesis. The absence of the colourful algae leaves the coral with a stark white appearance.
HOW WE CAN PROTECT MARINE ECOSYSTEMS
The ecosystems within oceans are complex and can stretch over vast areas, making conservation efforts unique and specific for each region. While the frequency of mass bleachings is worrisome, the good news is that coral reefs can recover if temperatures return back to normal.
Marine experts face many decisions when choosing how to best protect coral reefs and have found that increased monitoring and involvement from local governments and communities have been key factors in successful coral reef conservation projects.
See below for a look at the inspiring work that organizations are doing to conserve coral reefs across the world.
USAID Project REGENERATE, Maldives
The Maldives is a low-lying atoll nation in the Indian Ocean and their economy largely relies on coral reefs for their tourism and fishing industries. Despite experiencing mass bleachings in 1998, 2010, and 2016, the IUCN says that these coral reefs have shown a "great capacity for resilience."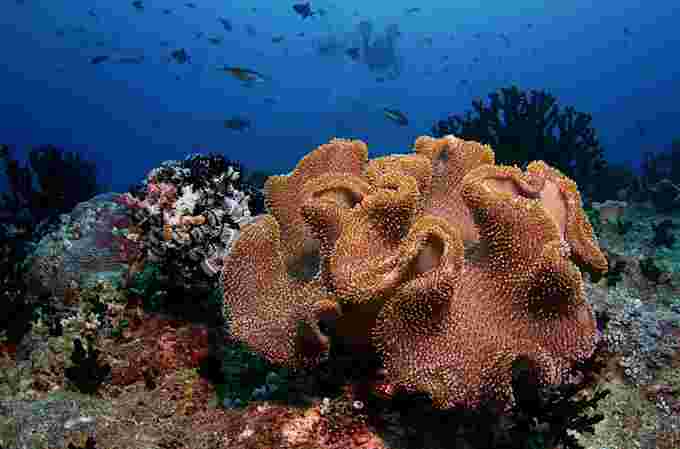 Coral reef in the Maldives. Credit: Tchami/ Wikimedia Commons. CC BY 2.0
Project REGENERATE is funded by the United States Agency for International Development (USAID) and helps local governments and researchers access science and technology and use education and monitoring while providing sustainable financing mechanisms to support resilient marine management.
Southern Leyte Coral Reef Conservation Project (LRCP), Philippines
Coral reefs located in the Southern Leyte province in the Philippines host some of the most biodiverse marine habitats in the world, but face many stressors including abnormally warm temperatures and pollution.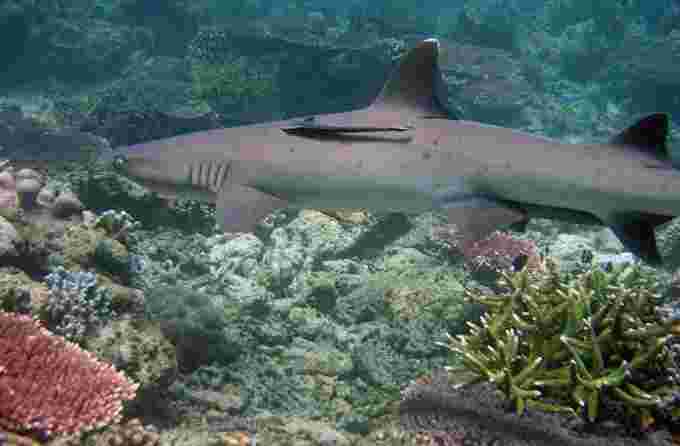 A shark swimming through Tubbataha Reefs Natural Park, which is a protected area of the Philippines in the middle of the Sulu Sea. Credit: Nikswieweg/ Wikimedia Commons. CC BY-SA 3.0
Since 2002 the LRCP has worked with local stakeholders and researchers to increase data collection. The organization's website says that learning more about the reefs will indicate how protected areas improve biodiversity and handle stressors that cannot be controlled, such as atmospheric temperatures.
North Bali Reef Conservation, Bali – Indonesia
Tianyar is a small fishing village on the northeastern coast of Bali and community work there is slowly repairing the damage that coral reefs have sustained over the past century. The North Bali Reef Conservation's website says in the early 1900s coral was harvested and crushed into a fine white powder that would be painted onto homes of the wealthy. Pollution and disruption from the fishing industry have added further stress to reefs that were previously harvested or damaged by anchors dropped by visiting boats.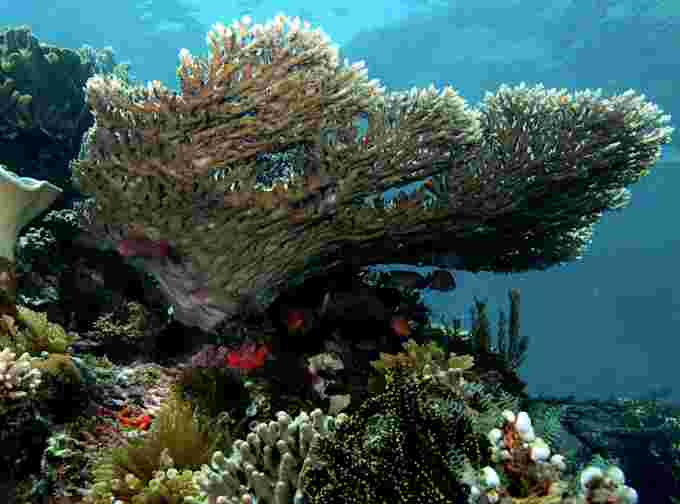 Coral reef in Indonesia. Credit: Nick Hobgood/ Wikimedia Commons. CC BY-SA 3.0
Some of the successful initiatives that the organization has created include a community recycling centre and the installation of over 3,000 artificial reefs that expand the habitat for many aquatic species.
Reef Rescuers, Seychelles
A mass bleaching event in 1998 killed up to 90 per cent of the coral reefs in some areas in Seychelles due to unusually warm temperatures. The reefs suffered another bleaching event in 2016, but by this point, the Reef Rescuers project was already underway.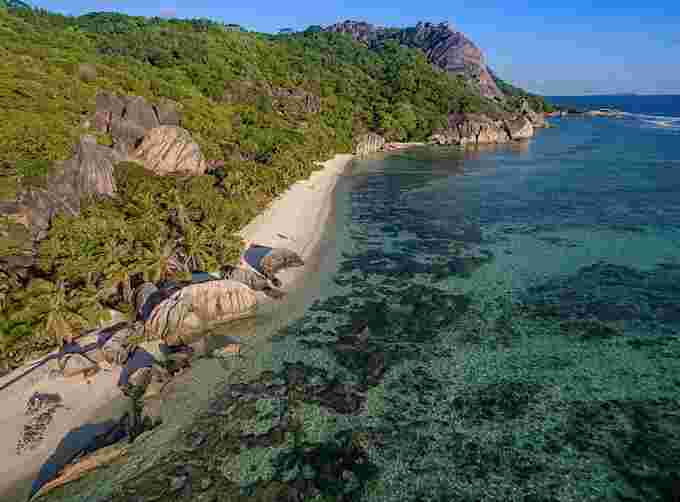 Anse Source d'Argent, Seychelles. Credit: dronepicr/ Wikimedia Commons. CC BY 2.0
The project launched in 2010 and their website states that they were the world's first large-scale coral reef restoration project. Their "coral gardening" technique involves collecting coral fragments from healthy sites, growing these fragments in underwater nurseries to maturity, and then replanting them into degraded reefs. They have successfully transplanted over 24,000 corals and have welcomed dozens of scientific divers from around the world to study their successful restoration techniques.
RangerBot, Great Barrier Reef, Australia
The Great Barrier Reef foundation designed the Rangerbot, which is the "world's first autonomous underwater drone" that is dedicated to protecting coral reefs. This unique machine was designed to meet the foundation's most pressing needs and is able to map expansive underwater areas, monitor coral bleaching indicators and water quality, and control pests like the Crown-Of-Thorns Starfish.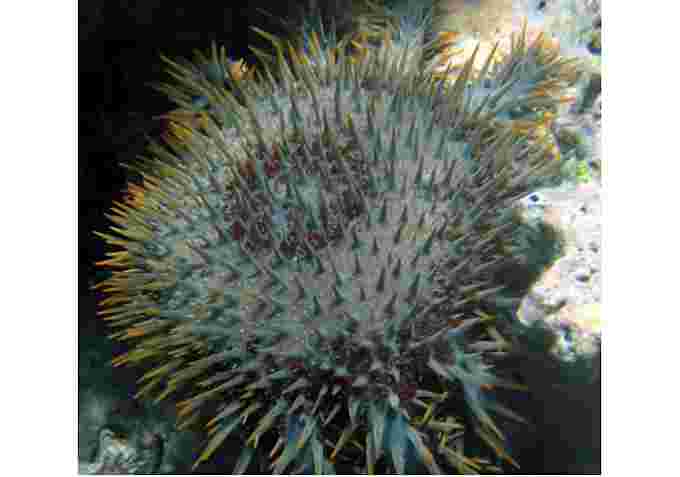 The Crown-Of-Thorns Starfish resembles the biblical crown of thorns and is one of the largest starfish in the world. Credit: Matt Wright/ Wikimedia Commons. CC BY 2.5
In addition to the stress from warming temperatures, booming populations of Crown-Of-Thorns Starfish are challenging the Great Barrier Reef. These coral-eating starfish are not an invasive species but have been responsible for destroying significant amounts of coral reef. RangerBot is able to control the pests' population by locating the starfish with SONAR and multiple cameras. The Crown-Of-Thorns are subsequently killed with a lethal injection from RangerBot.
The coronavirus pandemic is making Earth vibrate less – CTV News
Once-crowded city streets are now empty. Highway traffic has slowed to a minimum. And fewer and fewer people can be found milling about outside.
Global containment measures to combat the spread of the coronavirus have seemingly made the world much quieter. Scientists are noticing it, too.
Around the world, seismologists are observing a lot less ambient seismic noise — meaning, the vibrations generated by cars, trains, buses and people going about their daily lives. And in the absence of that noise, Earth's upper crust is moving just a little less.
Thomas Lecocq, a geologist and seismologist at the Royal Observatory in Belgium, first pointed out this phenomenon in Brussels.
Brussels is seeing about a 30 per cent to 50 per cent reduction in ambient seismic noise since mid-March, around the time the country started implementing school and business closures and other social distancing measures, according to Lecocq. That noise level is on par with what seismologists would see on Christmas Day, he said.
LESS NOISE MEANS SEISMOLOGISTS CAN DETECT SMALLER EVENTS
The reduction in noise has had a particularly interesting effect in Brussels: Lecocq and other seismologists are able to detect smaller earthquakes and other seismic events that certain seismic stations wouldn't have registered.
Take, for example, the seismic station in Brussels. In normal times, Lecocq said, it's "basically useless."
Seismic stations are typically set up outside urban areas, because the reduced human noise makes it easier to pick up on subtle vibrations in the ground. The one in Brussels, however, was built more than a century ago and the city has since expanded around it.
The daily hum of city life means that the station in Brussels wouldn't typically pick up on smaller seismic events. Seismologists would instead rely on a separate borehole station, which uses a pipe deep in the ground to monitor seismic activity.
"But for the moment, because of the city's quietness, it's almost as good as the one on the bottom," Lecocq said.
Seismologists in other cities are seeing similar effects in their own cities.
Paula Koelemeijer posted a graph on Twitter showing how noise in West London has been affected, with drops in the period after schools and social venues in the United Kingdom closed and again after a government lockdown was announced.
Celeste Labedz, a PhD student at the California Institute of Technology, posted a graph showing an especially stark drop in Los Angeles.
Still, seismologists say the reduction in noise is a sobering reminder of a virus that has sickened more than one million people, killed tens of thousands and brought the normal rhythms of life to a halt.
IT SHOWS PEOPLE ARE HEEDING LOCKDOWN RULES
Lecocq said the graphs charting human noise are evidence that people are listening to authorities' warnings to stay inside and minimize outside activity as much as possible.
"From the seismological point of view, we can motivate people to say, 'OK look, people. You feel like you're alone at home, but we can tell you that everyone is home. Everyone is doing the same. Everyone is respecting the rules,'" he said.
The data can also be used to identify where containment measures might not be as effective, said Raphael De Plaen, a postdoctoral researcher at Universidad Nacional Autónoma de México.
"That could be used in the future by decision makers to figure out, 'OK, we're not doing things right. We need to work on that and make sure that people respect that because this is in the interest of everyone.'"
Billions of people are under coronavirus lockdowns – and now the upper crust of the Earth is shaking less – CBS News
About four billion people — roughly half the world's population — have reportedly been told to isolate themselves in their homes to prevent the spread of the coronavirus. And the major decrease in the hum of normal human activity has led to a surprising shift in Earth's vibrations.
Researchers who study the Earth's movement said the mandatory shutdown of transportation systems, businesses and other human activities has correlated with the planet shaking noticeably less than usual. A drop in seismic noise — the vibrations in the planet's crust — is giving scientists the rare chance to monitor small earthquakes, volcanic activity and other subtle tremors that are usually drowned out by the everyday movement of humans.
The quieter vibrations were observed by Thomas Lecocq, a seismologist at the Royal Observatory of Belgium in Brussels, and published this week in an article in the journal Nature. According to Lecocq, such a dramatic decrease in noise can typically only be experienced briefly around Christmas.
Lecocq observed that in Belgium, vibrations caused by human activity have decreased by approximately one-third since COVID-19 isolation measures were introduced by the government. The reduction in noise directly correlates with the closing of schools, restaurants and other public spaces in the country on March 14 and the ban of all non-essential travel on March 18.
While individual human activity such as vehicle traffic or construction sites only cause small movements in the Earth's crust, together they produce a sizable amount of "background noise" that hinder scientists' ability to detect natural events at the same frequency.
Since quarantine measures were introduced, the surface seismometer at the Royal Observatory of Belgium has become more sensitive to quieter seismic activity that it would have previously missed, which could lead to better measurements of small quakes, quarry blasts, storms and crashing ocean waves.
"This is really getting quiet now in Belgium," Lecocq said.
After Lecocq shared his code online, his findings were echoed by seismologists around the world. Researchers in New Zealand, Scotland, New Jersey, England and France have all tweeted similar reports of decreased noise since their respective isolation periods began.
Celeste Labedz, a graduate student in geophysics at the California Institute of Technology in Pasadena, tweeted that even Los Angeles is experiencing a similar reduction in noise. "The drop is seriously wild," she said.
"How does @Princeton 'sound' different now that everyone must #stayathome? Here is the seismic "noise" we record in the basement of Guyot Hall," seismologist Jessica Irving tweeted. "Campus really is quieter now, especially after the tighter restrictions were put in place."
However, many stations are specifically located in remote areas or deep underground to avoid picking up on human activity. These stations are likely to see a smaller decrease or no change at all in noise, said Emily Wolin, a geologist at the US Geological Survey in Albuquerque, New Mexico.
The number of coronavirus cases worldwide continues to skyrocket, with over 1 million confirmed positive cases and over 56,000 deaths as of Friday. But seismologic data show one promising detail — people are listening to health officials and staying home.