From new Mac mini to MacBook Pro, here's what to expect from Apple's M2-based Macs – The Indian Express
For months, there have been rumours that Apple would launch the updated versions of the 14-inch and 16-inch MacBook Pro with new M2 Pro or M2 Pro Max chips sometime before this year. But now it appears that Apple may be done and dusted with new Macs for this year, and any new offerings will only be arriving next year, according to a new Bloomberg report. With new Macs not launching this year, we take a look at all the new Macs in the works at Apple's secret labs.
Mac mini
Apple is apparently working on updated versions of the Mac mini as a refresh to the Mac mini M1 released back in 2020. But while those devices were previously expected to release this year, the launch window has now been pushed to early 2023. It is rumoured that at least one of the Mac mini devices will replace the Intel version, doing away with that chip on that lineup entirely. There are also rumours that Apple will tweak the design a bit, although it isn't clear what it'll look like. Youtuber Jon Prosser believes that the new Mac mini will have a plexiglass-like top with an aluminium frame sandwiched in between. He also expects the size to shrink next year.
MacBook Pro
Apple in 2021 gave the MacBook Pro lineup a complete overhaul, introducing a brand new design (with a notch!), upgraded M1 Pro and M1 Max silicon for the processors, and more. But while the MacBook Air received an M2 refresh this year, the Pro models were left hanging. So it was expected that the update is due later this year, but as already stated above, that'll not be happening.
The next-gen MacBook Pro will likely recycle the 2021 design
Spec-wise, we will obviously be seeing the new M2 chips under the hood of the upcoming machines, which should take their performance to the next level, as if the M1 Pro and M1 Max chips weren't fast enough already. The M2 Max could have 12 CPU cores, according to Mark Gurman, and may use a 3nm fabrication process.
Meanwhile, in terms of design, the next-gen MacBook Pro models will most likely see no changes at all. Apple doesn't like to make frequent design changes, and with the last major design overhaul only done last year, Apple will be sticking to the same formula.
iMac Pro
The M1 iMac launched last year introduced a whole new design for the lineup and included Apple's own chips for the first time. While it was expected at the time that Apple may also launch an iMac Pro alongside the vanilla iMac, that never happened. Cut to now and rumours are doing rounds that Apple may indeed be planning to launch a Pro model next year. It's unclear what chip a potential iMac Pro (2022) will have but back when rumours of the machine first started, it was expected that it will be powered by the M1 Pro or M1 Max. Perhaps we'll be seeing the upgraded versions of those chips powering the iMac now that M2 is here.
Mac Pro
The current Mac Pro is still stuck on Intel right now, but if Apple is all set to release the next-gen Mac Pro, it will arrive with the company's self-designed M2 chips — either an M2 Ultra or even an M2 Extreme.
15-inch MacBook Air
Apple may have bumped up the screen size with this year's MacBook Air from 13-inch to 13.6-inches, but the company's looking to go even bigger with a 15-inch MacBook Air — a first for the series. While rumours about such a machine have been circulating, we could finally see it launch in 2023.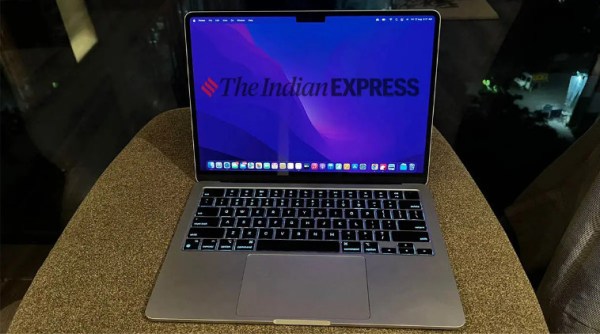 We could see a 15-inch MacBook Air for the first time next year
Gurman suggested that Apple wishes to introduce this model in an attempt to expand its share in the laptop market and offer more choices for consumers. Following that report, Apple analyst Ming-Chi Kuo tweeted that this new model could be powered by an M2 Pro chip. Interestingly, Kuo never used the term Air for the laptop, only calling it the "MacBook."
All Overwatch 2 map changes in Season 2: Shambali Monastery, Rialto, and more
Blizzard officially announced that Overwatch 2 Season 2 will be released on December 6. The fact that the developer is committed to providing regular seasonal updates is one of the key differences between the latest offering and its predecessor.
Players can anticipate a new wave of content that includes new heroes and maps, as well as a completely new Battle Pass and a ton of epic bundles for all of the game's characters.
Overwatch 2 Season 2 will begin as soon as the first season of the game concludes. Blizzard recently provided fans with a closer look at all the new gameplay of the latest hero, Ramattra. They provided information about the skin offerings, balance adjustments, and an introduction of Shambali Monastery, the latest map.
This article will explore all the upcoming map content in further detail as Season 2 approaches.
---
Everything a player needs to know about the map changes in Overwatch 2 Season 2
Season 2 will make its highly anticipated premiere on December 6. Along with their new hero Ramattra, the game will undergo a lot of adjustments. The content update will include a new hero, map, Battle Pass, cosmetics, and other features.
The most recent Overwatch 2 Season 2 trailer and a brand new blog post from Blizzard both contained this information. Alongside previous favorites, the game's regular rotation will include the tank hero Ramattra and the Shambali Monastry map.
Since the developers revealed the new map Shambali Monastery, which will be included in the game in the forthcoming season, fans have been impatiently waiting for more information.
During the Omnic Crisis, Shambali founded the Monastery deep within the Himalayas. According to the game's backstory, it is Zenyatta and Ramattra's home. The latter was the Omnic extremist organization Null Sector's leader. These Omnics appear to have taken refuge beneath the Monastery walls.
The matches on the map appear to take place at night, with fire lamps lighting up various regions and environs, making the map visually appealing. Shambali Monastery will be available in Escort Mode.
Additionally, Overwatch 2 Season 2 will see the return of Blizzard World, the most epic place on earth, and the fan-favorite map, Rialto.
Rialto is an Escort map that takes place primarily in three places: the Grand Hotel and Courtyard, the Rialto Bridge and Dock, and the Talon Headquarters. It shows exactly where tourists may enjoy some local cuisine, take a leisurely gondola ride, visit the Galleria D'arte Omnica, or simply stroll alongside the canal to take it all in.
Blizzard World is an epic park that is styled after the worlds created by Blizzard Entertainment and is constructed in Irvine, California. It has a hyperloop line connection. Recently, the weather forced the closure of some of its rides. It is available in the Payload Mode and starts off in the Warcraft staging area.
Maps Oasis and Nepal will also be accessible in the next season. Hollywood and Watchpoint: Gibraltar will alternately be taken out of the existing map pool. Fans will still be able to enjoy the off-rotation maps in custom games.
How to Prevent iGaming Fraud
Threats to the gambling sector include chargebacks, fraudulent deposits, cheating, and money laundering. Many gambling platforms lack standardized mechanisms for online identity verification and fraud prevention. Through card fraud, identity misrepresentation, and theft,  hackers can get beyond security barriers, and the answer to all these is Flexepin.
You can fund your casino account using Flexepin, a prepaid voucher, to make safe and simple online payments. Since Flexepin is paid for in advance, there is no chance that your bank information or identity could be stolen online. This makes it more secure than standard digital payment options. You may buy Flexepin from practically anywhere in the world without providing any personal details about yourself or your bank.
When enrolling on the official Flexepin website, you will still need to prove your identity, but it is a quick and easy process. The three things that keep users' trust in the Flexepin payment system are how easy it is to use, how safe it is, and how private it is.
Flexepin Cash Top-Up Vouchers are available for purchase in several countries, in a range of currencies, and in pre-set amounts.
History of Flexepin
Novatti Group Companies, an Australian fintech company founded in 2015, came up with Flexepin which is a secure payment gateway solution. It offers its services as a cash top-up voucher, so customers with Flexepin accounts can make purchases and payments online in a safer way. You can protect your identity, personal information, and financial information completely without using credit or debit cards.
With many years of experience in providing payment solutions for businesses, Flexepin is quickly rising to among the top alternative online payment options worldwide. They are undoubtedly developing into a crucial component of the global financial digital environment.
Where Can You Use Flexepin?
The service is available in Australia, Canada, and the whole of Europe. The vouchers for these countries can be bought in stores and on the Flexepin website. The daily limit of $/£/€/2,500 ensures that you have enough time to play your favorite online casino games without going way above your budget.
Advantages of Flexepin
With so many payment options available for Canadian casino players, what makes Flexepin the best choice? There are a few reasons; firstly, data protection. You must restrict who has access to your financial information in this day and age of credit card fraud. You can use Flexepin to gamble online without giving casinos access to your financial information.
When creating a casino account, you must provide your name and contact information. You don't have to divulge your banking information, though, during deposits. This is crucial if you frequently use debit cards because they are connected to your bank, thus increasing the risk of cybercriminals being able to hack into your account.
Although Flexepin does charge a processing fee, it is significantly lower than other platforms such as Visa or Mastercard. There may well be other methods that charge less, but you are assured absolute privacy and protection when using a voucher like Flexepin.
Flexepin is a practical method of payment. Yes, to buy cards online, you must first create an account. But if you go to one of their physical stores, all you need is identification and money. It shouldn't be an issue because there are numerous places in Canada where you can get Flexepin.
Vouchers for Flexepin never expire. But most cards tell you to use the voucher within a year of when you bought the card.
The immediacy of Flexepin in Canada is an additional advantage. It enables Canadian dollars to be used for immediate deposits. Unlike many other casino payment options, Flexepin doesn't charge a fee for deposits to gaming websites.
Disadvantages of Flexepin
We were only able to find two disadvantages for Canadians when it comes to Flexepin, and they are minor at that. To begin, if you use Flexepin to fund your casino account, you will not be able to withdraw. Secondly, you are unable to reverse transactions, so be certain of the amount you are purchasing and depositing at an online casino.
How to Get Started With Flexepin?
After registering on the Flexepin website, you can take advantage of all of the benefits of the payment system.
Before you can buy your first voucher, you have to sign up at Flexepin and pass one identity verification step. The process is pretty straightforward: all you have to do is fill a particular form, enter your contact and personal information, and submit identification documents (photos of the corresponding passport pages).
You only need to wait for representatives from Flexepin to get in touch with you and verify the activation of your account after filling out the form and clicking the "Register" button. Typically, this occurs within 24 hours of sending the registration application.
Redeeming your voucher at an online casino is quick and easy as well. Simply log into your casino account and choose Flexepin for your deposits. You will need to enter a 16-digit voucher code to use your cash. Once you've topped up your account, you can start playing right away!
Online Casinos in Canada That Accept Flexepin
Of course, we wouldn't talk about how great it is to use Flexepin at a casino without providing a list of the best Flexepin online casinos in Canada. Even though it's accepted in more than 44 casinos, we've chosen the top five that we think are best.
Ruby Fortune
Spin casino
Royal Vegas
TonyBet
Casino Planet
As online casino gaming grows, so does iGaming fraud, and it's prudent for you to take the necessary security measures to protect your money and sensitive details. One of those ways is by using Flexepin to make safe and secure online casino payments.
The Arts Add STEAM to STEM at Monsignor Doyle CSS
In Waterloo Region's Catholic schools – as in all Ontario schools – there has been a growing emphasis on enhancing the teaching and learning of the STEM disciplines (Science, Technology, Engineering, and Math).
While these disciplines have always played a major role in the WCDSB's robust menu of learning options, so too have the Arts.
In fact, we like to say it's the Arts put the STEAM in STEM in our schools.
It's been a longstanding belief in WCDSB schools that a comprehensive, quality, inclusive, faith-based education isn't complete unless students have an opportunity to express themselves creatively in a variety of media — be it creative writing, photography, painting, music or via a range of digital platforms.
Nowhere is that opportunity for student expression more visible than at Monsignor Doyle CSS in Cambridge, where Visual Design Art teachers Lori Koebel and Andriana Cipric are carrying on a quarter-century old tradition called, simply, the "Monsignor Doyle Mural Project".
Thanks to the "Mural Project", when you take your first step inside the school it is instantly clear that the creativity splashed across the walls, in the hallways, and in the classrooms is woven into the fabric of what makes "The Home of the Mustangs" truly unique.
The spectacular murals throughout the school have been created over the years by Visual and Design Art Students, as part of their program.
As program participants, Grade 11 and 12 students learn through The Creative Process individually and collaboratively how to address a variety of creative challenges.
Through exploration and experimentation, they apply the elements and principles of design with increasing skill and creativity — producing art that comments and communicates a clear point of view on their school culture and their very own artistic paths.
They embrace the opportunity for their art to create a decorative social, cultural and faith impact in their school, for the betterment of humanity.
And their work speaks for itself.
It's never been truer than it is in the hallways of Monsignor Doyle CSS, that a picture really CAN be worth a thousand words.