Galaxy S11 rumors: Everything we know about Samsung's camera, price, February launch date – CNET
Buzz has been building for months now around the Galaxy S11, the name that industry-watchers are calling Samsung's next flagship phone. The leaks and rumors are only intensifying as we approach 2020, from the Galaxy S11's official lineup and price, to the camera setup and battery (hint: it could be massive).
I throw in my own educated guesses too, because Samsung often follows historical patterns and topical trends. So, certain features make sense.
The Galaxy S11 family of phones is Samsung's first mainstream handset that could help bring 5G's faster data speeds to the masses. Samsung got a start with 5G this year, with the S10 5G, Note 10 Plus 5G, Galaxy A90 5G and Fold (in the UK and South Korea). But these phones either aren't targeting everyday users, and many are variants of 4G devices that already exist.
Headed into the Galaxy S11 launch, Samsung is in a much stronger position than it was a year ago. It made waves in 2019, nabbing a CBET Editor's Choice award for the Galaxy Note 10 Plus and releasing the unforgettable Galaxy Fold. 2020 is only destined to get better — and that goes for Samsung's next foldable phone, too.
There are a lot of specs to absorb, so here they are — the Galaxy S11's most important rumored features so far, plus what we don't know and what we think we might get.
Three models, three sizes: Galaxy S11, S11 Plus, S11 Pro
First things first. The Galaxy S11 isn't going to be one phone, that we know. It's rumored to be three, just like last year's S10 family of 4G models.
Some rumors name the phones as the S11E, S11 and S11 Plus, but more recent whispers, including that from frequent Twitter leaker Evan Blass, suggest S11, S11 Plus and S11 Pro, which is a lot closer to Apple's strategy with the iPhone 11, which is the base model for that line.
Here are the rumored screen sizes:
Galaxy S11: 6.2-inch or 6.4-inch
Galaxy S11 Plus: 6.7-inch
Galaxy S11 Pro: 6.9-inch
Blass also stated that all the Galaxy S11 phones could have curved sides, unlike 2019's Galaxy S10E, which had a flat display that I sometimes preferred.
Feb. 11 or 18 launch, later release dates
The all-important question: When do we get to see this thing for the first time? February is a given. Samsung has unveiled its Galaxy S series in late February or early March for years, sometimes at the Mobile World Congress tech show (aka MWC), sometimes before, and a couple of times, even after.
If Samsung follows last year's model, we'll see the Galaxy S11 and its kin appear shortly before MWC. If we let the rumors guide us, Samsung will show its hand on either Tues, Feb. 11 (this is in Greek) or Tues, Feb. 18. So yeah, February seems solid.
Look for the phone to go on preorder shortly after, with units shipping a week or two after the reveal. I'll continue to update this story with fresh rumors, so come back for more.
Could like a cross between the Note 10 and Galaxy S10
The Galaxy S11 renders are out, and so are the concept designs, which I love because they can bring the rumors to life.
So what might we get with Samsung's S11 phone? Rounded shoulders, which have become the Galaxy S trademark, but with a more squared-off look reminiscent of the Galaxy Note 10. A slim body. Curved sides for all models, unlike the Galaxy S10E's flat screen, which I actually really liked.
The camera array could become square, off to the left, and stick out from the surface, a lot like the iPhone 11 and Google Pixel 4. I really hope that's not the case. Cameras that stick out are more vulnerable to breaking when you drop your phone. A case is an absolute must.
5G guaranteed, but there's a catch
I mentioned 5G earlier. This is a rumored feature, but also a given. The Galaxy S11 is 99.9% likely to use the powerful Snapdragon 865 processor in it, which chipmaker Qualcomm won't make available to phone brands without the 5G modem it pairs with. Ipso facto, you get a phone with the Snapdragon 865, you get a 5G-ready phone.
The same goes for any regions that will package the Galaxy S11 with Samsung's in-house Exynos 990 5G processor, which often happens in Asia, especially Samsung's home country of South Korea. (Ice Universe says Samsung is "determined" to use Snapdragon 865 for South Korean models.)
I promised a catch and here it is. While the Galaxy S11 will be 5G-ready, not every phone may be able to access 5G. Cities and countries that are 4G-only will only be able to use 4G networks, so the 5G Galaxy S11 could very well act like a 4G phone.
We'll see how it all shakes out, but I'd be surprised if Samsung used any chip other than Snapdragon 865. The Galaxy S series is its mainstream flagship and Samsung is the world's largest phone-maker. It will want to put its best foot forward by delivering the phone with the "best" chip.
108-megapixel camera, periscope lens, 5X optical zoom
Now for the fun stuff, the camera. We already talked about how rumors, leaks and renders predict a square camera array overflowing with cameras. It gets wilder.
Samsung is said to be outfitting the Galaxy S11 (or at least one variant) with a 108-megapixel main camera sensor. Is that madness? It sounds like madness. But Chinese brand Xiaomi already beat Samsung to it with the Mi CC9 Pro, which already uses a 108-megapixel camera.
In addition, the Snapdragon 865 chip we talked about above can support a 200-megapixel camera. You may not be using all 108 pixels all the time, but having that extra resolution can be helpful for zooming in and cropping. If you like the sound of all that, thank the chipmaker for making it happen.
Here's what else you could get with the S11 camera (at least on some models), according to Ice Universe and 91Mobiles:
Screen: 120Hz AMOLED display
We talked about phone screens earlier, but here's what else we're likely to get: the ability to turn on a 120Hz screen refresh rate. That will make animations and scrolling a whole lot smoother than the standard 60Hz refresh rate wwe have now.
While a 120Hz refresh rate is great for gaming and other quick transitions (even 90Hz like on the OnePlus 7T), it's a battery hog. The Galaxy S11 could put the power in your hands with settings to switch between 60Hz to preserve battery life and 120Hz if you want to rev up animations.
This is pretty much a done deal since both the Snapdragon 865 and Exynos 990 5G support 210Hz screens.
A whopping 5,000-mAh battery?
Different size phones get different size batteries, and another rumor from the prolific Ice Universe dials in the Galaxy S11 "Plus" battery at 5,000 mAh, which is ridonculous.
Keep in mind that the "Plus" could also be the "Pro" (e.g., the highest-end model of the trio), which makes far more sense to me than the middle phone getting a battery that size. For reference, the Galaxy Note 10 Plus battery is 4,300 mAh and battery life is outstanding.
There have been some phones with ultra-large batteries before, so 5,000 mAh fits my expectations. For instance, the Asus' new ROG Phone II is an Android specs powerhouse, which makes it a gaming beast.
In-screen fingerprint reader
I loved the concept of an in-screen fingerprint reader, until I used it in the Galaxy S10. The accuracy, speed and convenience never quite lived up to the promise for me.
My best-case scenario would be to the Galaxy S11 return to some form of secure face unlock, combined with the in-screen reader. Samsung already knows how to do this well. Remember, the series got iris scanning in the S7, but dropped it for the S10. Google has now done it better, with the Pixel 4's gesture tracking lending a hand.
We could at least see a more robust form of in-screen biometric scanner, if Samsung decides to take advantage of the Snapdragon 865's support for two-finger scanning, which is meant to improve the technology on all fronts. I sure hope it does.
Android 10 and Samsung One UI 2
There's little doubt that every Samsung phone in 2020 will run on Android 10 and the company's own One UI 2, which was announced in October and is now available in beta.
I'm much more excited about Android 10, which brings systemwide dark mode to phones, gesture navigation, some seriously impressive live captioning and new privacy settings. One UI 2 aims to push icons and screen controls toward the bottom of the phone so they're easier to reach one-handed.
Galaxy S11 series: Price will break $1,000
Now for the question on everyone's mind: How much is the Galaxy S11 going to cost me? As always, it will depend on which model you buy.
Let's start with the Galaxy S10 prices for the base storage configuration:
Galaxy S10E: $749, £669, AU$1,199
Galaxy S10: $899, £799, AU$1,349
Galaxy S10 Plus: $999, £899, AU$1,499
Galaxy S10 5G: $1,300, £1,099, AU$2,950
5G costs the phone-makers more to buy and integrate, so we could see a price bump right off the bat. You'll also spend more if you opt for a model with greater storage, say 512GB, assuming Samsung offers it and begins storage at 128GB.
If the largest version ("Pro" or "Plus," depending on the rumors) lines up with the S10 Plus pricing, it'll start at $1,000. With the 5G component and more camera tech, I wouldn't be surprised to see that rise to $1,100, a price that matches the Galaxy Note 10 Plus today.
Originally published earlier this week.
Apple's Battle Royale With Epic Games About to Start for Real – Bloomberg
The legal fight between Apple Inc. and Epic Games Inc. kicks into full gear on Monday with decisions that will influence the future of app stores in the U.S. and how the world's largest technology platforms make money from developers.
U.S. District Judge Yvonne Gonzalez Rogers will decide whether to force Apple to let battle royale video game Fortnite back into the App Store with Epic's in-house payment option. She will also rule if Apple can block third-party apps using Epic's Unreal Engine development software.
Most legal experts expect the judge to extend her temporary injunction for Unreal Engine, but not reinstate Fortnite in the Apple App Store.
"Epic faces an uphill battle," said Mark Lemley, a professor at Stanford Law School. "Apple's pricing policies are problematic, and antitrust law should probably do something about it. But courts are very reluctant to dictate who a company, even a monopolist, has to do business with."
The decisions will have far-reaching consequences especially as authorities across the globe examine whether tech giants including Apple and Alphabet Inc.'s Google have broken antitrust rules. On Monday, the judge will consider if Epic is likely to succeed on the merits of its antitrust claims and whether the company will suffer irreparable harm if she doesn't issue an injunction.
At stake is Apple and Google's ability to charge fees of up to 30% to developers using their app stores. Consumers spent $50 billion worldwide on the App Store and Google Play in the first half of 2020, according to Sensor Tower estimates. That generates billions of dollars in highly profitable revenue for the companies. Some developers deride this an unfair and unwarranted tax. Epic and its Founder Tim Sweeney have led the backlash this year.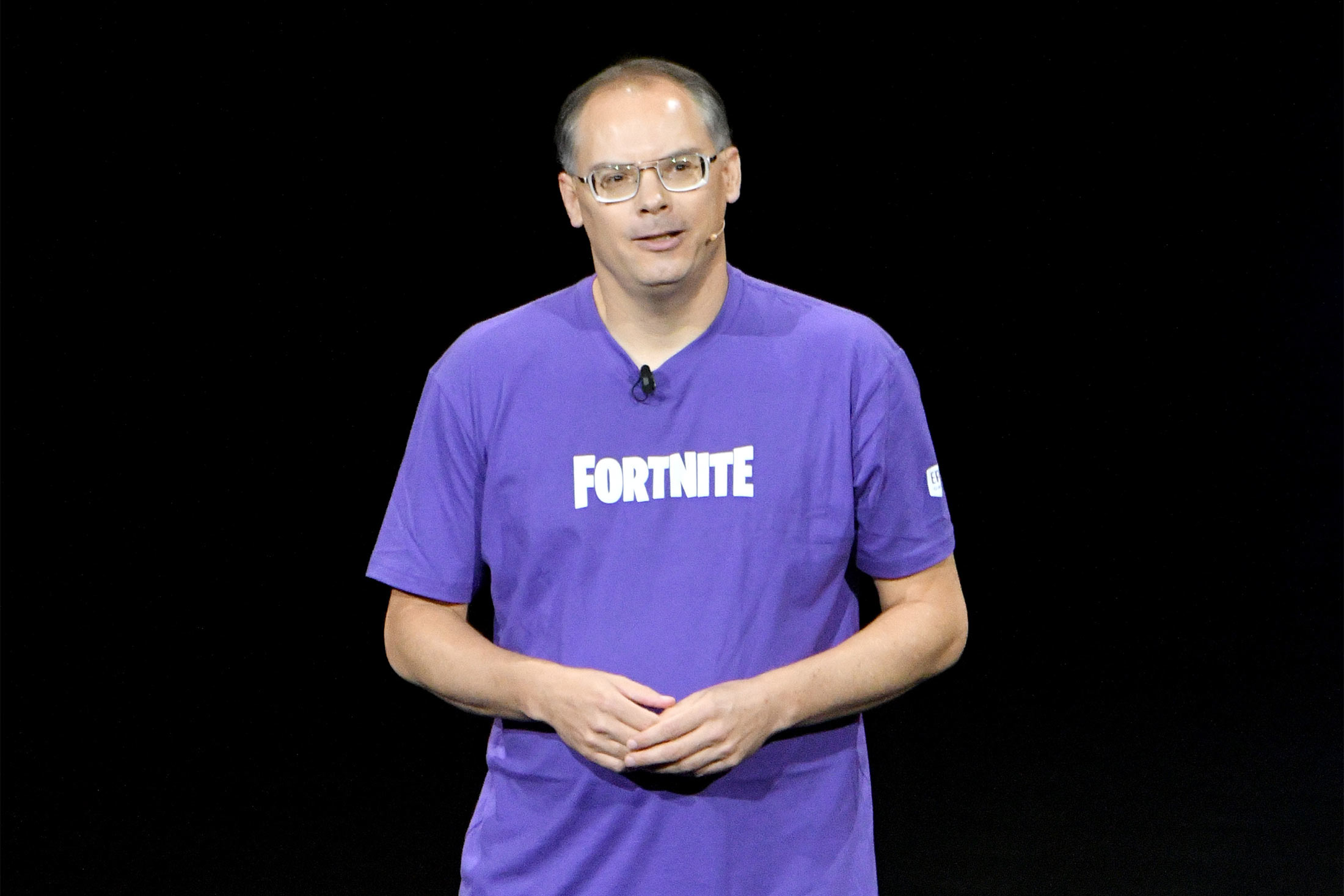 Google may change its policies if the Fortnite case ends up favoring Apple, said Lewis Ward, an analyst at researcher IDC. No matter the outcome, Epic has gained a lot of goodwill among gamers and other developers.
"In the larger court of public opinion, in the U.S., my sense is that Epic is generally viewed as the good guy here, and Apple is viewed as the bad guy," Ward said.
"It has raised the profile of Epic from an already well-respected game company to one that has a philosophy or a vision of where the games industry should go over time," Ward added. "That vision is one that is more aligned with how the internet began, which was open and free and cheap."
Read more: Epic's Battle With Apple and Google Has Roots in the Pac-Man Era
The impact on Epic's business so far has been "fairly negligible," said Doug Clinton, co-founder at Loup ventures — tens of millions of dollars in lost revenue. While players can no longer download Fortnite on their Apple devices, many of them have simply shifted their playing to consoles and PCs. Fortnite climbed SuperData's rankings of top-grossing titles among console games in August, reaching third place. It ranked sixth in July, before the legal spat between Epic and Apple began.
Financially, Apple doesn't have much to lose by kicking Fortnite out. The company has taken in about $350 million in revenue from Fortnite since the game launched on the iPhone in 2018, according to Sensor Tower data. Apple pulled in sales of more than $250 billion in its latest fiscal year.
Read more: Spotify, Match Launch Coalition to Protest App Store Rules
If the court forces Apple to keep distributing Unreal Engine, that could be positive for the iPhone maker. The decision would let other games that use the tools continue distributing their software via Apple's platform, resulting in a 30% cut for each sale or in-app purchase. However, Apple argues that the continued distribution of Unreal Engine by what it considers to be a rogue developer could harm consumer security.
There are broader risks for Apple from the case, though. If Epic continues to paint Apple as the bad guy to younger iPhone and iPad owners who play Fortnite, that could twist the perception of these users toward Apple as a whole. If Epic wins key decisions, that would make it more difficult for Apple to impose its App Store payment system on other developers, curbing a high-margin source of revenue.
The lawsuit might also spur Apple to continue tweaking its store. While the company isn't budging on its 30% cut, it has loosened some restrictions recently, letting a small handful of apps avoid the fee.
Read more: Apple Loosens App Store Rules a Bit After Developer Backlash
How to Find Latitude and Longitude Coordinates Using Google Maps – How-To Geek
As one of the most powerful mapping tools available, Google Maps has a number of features designed to help you pinpoint your location. If you want to know your exact position, you can pull up your GPS coordinates in Google Maps.
You can get coordinates on all platforms, including the Google Maps website, as well as the Google Maps app for Android, iPhone, and iPad.
Use the Google Maps Website to Find Coordinates
You can easily find the GPS coordinates (showing the latitude and longitude) for a location using the Google Maps website. These steps work for Maps in any web browser, not just Google Chrome.
To do this, search for a location in the search bar at the top of the Google Maps website, or use your mouse to zoom in on a location on the visible map. Once you've nailed down a location, right-click it to bring up an additional options menu.
From the pop-up menu, select the "What's Here?" option.
The button will bring up a small location box at the bottom of the page. You'll see a series of numbers under the location.
These are your GPS coordinates, shown as decimal degrees. If you wanted to search for this location in Google Maps again, you could search for these coordinates in the search bar.
Google Maps would then display the location for you to find more information about, or to help you create a custom map showing directions and other areas of interest around it.
RELATED: How to Create a Custom Map in Google Maps
Use the Google Maps Mobile App to Find Coordinates
You can also use the Google Maps mobile app for Android, iPhone, and iPad to locate the exact GPS coordinates for any location worldwide. The steps for Android and Apple users are similar, but the iPhone and iPad have an additional step to follow.
To find GPS coordinates, open the Google Maps app on your smartphone or tablet. You can use the search bar to find a general location or use the map view to locate it manually.
If you're using the map view, you'll need to long-touch and select an unmarked location until a red pin appears.
The coordinates will be displayed in the Google Maps for Android search bar when you drop a pin.
You'll need to tap the "Dropped Pin" box at the bottom of the Google Maps app for iPhone and iPad.
This screen appears after you've dropped a red pin onto the map view.
Tapping "Dropped Pin" will bring up an information menu with the location address, as well as options to save or find directions to the location.
The coordinates for the location will be listed under the address at the bottom of the menu.
RELATED: How to View and Delete Your Google Maps History on Android and iPhone
body #primary .entry-content ul#nextuplist list-style-type: none;margin-left:0px;padding-left:0px;
body #primary .entry-content ul#nextuplist li a text-decoration:none;color:#1d55a9;
Coronavirus: Third of tests in England 'not linked' to new NHS app, developers suggest – Sky News
The developers of the new NHS coronavirus tracing app have admitted that more than 60,000 tests carried out in England yesterday – just under a third of the total – cannot be linked to its systems.
The admission appears to undermine the central role of the software, which is to warn people when they have come into contact with anyone who subsequently tests positive.
The long-awaited NHS coronavirus contact-tracing app launched on Thursday across England and Wales.
However, in a response to a tweet by a user who said they had been tested but could not upload the result because they had not received a code, the app's developers said it is not linked to test results processed in a Public Health England lab or NHS hospital.
"If your test took place in a Public Health England lab or NHS hospital, or as part of national surveillance testing conducted by the Office for National Statistics, test results cannot currently be linked with the app whether they're positive or negative," they wrote.
Official government figures show a total of 210,275 people were tested in England on Friday, including 61,481 in hospitals and PHE labs (Pillar 1) and 148,894 in testing centres (Pillar 2).
The admission on the app's official Twitter account means the results of just under a third (29%) of the tests carried out a day after the app went live could not be linked.
A Department of Health spokesperson said: "We are urgently working to enable positive tests for people who aren't already given a code to be added to the COVID-19 app.
"NHS Test and Trace will continue to contact people by text, email or phone if your test is positive advising you to self-isolate and for those who don't have a code, the contact tracers will shortly be able to provide codes to insert in the app.
"If you book your test via the app the results will be automatically recorded in the app and the isolation countdown will be updated."
Labour's Jonathan Ashworth questioned the issue on social media.
The shadow health secretary tweeted: "We all want to see this app succeed. We've encouraged people to download it.
"But have they really launched an app that doesn't actually link to tests carried out by NHS hospital labs & PHE labs instead only including tests carried out via the outsourced lighthouse lab network??"
The Welsh government pointed out that Public Health Wales results can be processed and urged people to continue using the app.
Posting on Twitter, Welsh health minister Vaughan Gething urged people "shouting" that the app is "useless" to "please calm down".
Health Secretary Matt Hancock has called the new mobile phone app an "important step forward" in the UK's fight against COVID-19.
The app includes a link to enter a code which people receive via email or text message from the testing service if they have tested positive for COVID-19.
It asks users to self-isolate for 14 days if it detects they were in close proximity to someone with coronavirus.
Those who are tested in a NHS hospital, PHE lab or under one of the surveillance studies, including the ONS, and test positive are currently contacted by NHS Test and Trace contact tracers by text, phone or email.
Professor Sir Jonathan Montgomery, former chair of the ethics advisory board for the first edition of the app, said: "This is clearly a glitch. I imagine it won't be that difficult to sort out, and the focus is on making sure the system is integrated.
"If they book the tests with the system they can feed them back into the app, clearly we haven't yet got it right in terms of the other parts of the testing system being able to feed in and we would expect that to be sorted pretty quickly."
Liberal Democrat MP Layla Moran told Sky News: "How on earth can we trust this government with our data with a test-trace isolate system that is meant to be the key to unlocking this country through this pandemic and keeping us all safe, when the very basics of the information that are meant to be given to this app, we find out over a tweet? It is just bizarre."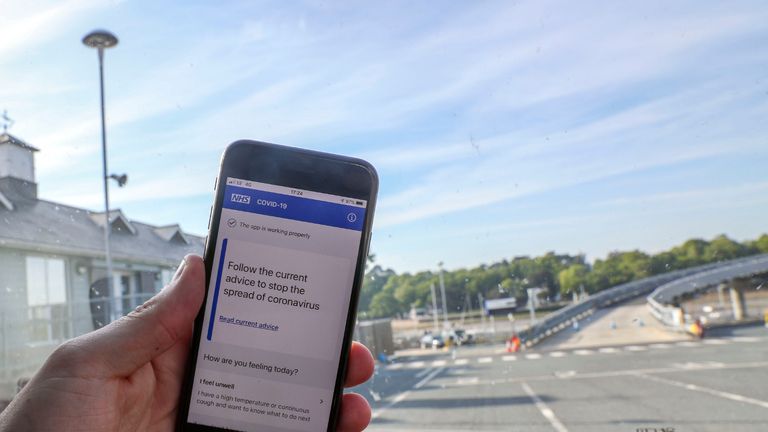 Sky's political correspondent Rob Powell said: "This could be a fairly serious blow to what was touted obviously by the prime minister as a world-beating test and trace system.
"To add insult to injury, this appears to be an England-only issue."