Galaxy S20 dummies show how the three S20 models will compare in size – SamMobile
With the Galaxy S20, it's more or less confirmed that Samsung is no longer interested in offering a compact flagship phone. The smallest of the Galaxy S20 series is expected to have a screen that's 6.2 to 6.3 inches in size and the largest one is expected to go all the way up to 6.9 inches. But things may not be as bad as those screen sizes may suggest. The smallest Galaxy S20 will be equal in size to the Galaxy S10, according to the folks over at XDA Developers who managed to 3D print Galaxy S20 dummies based on design data received from a case maker.
As we have repeated quite often, the smaller bezels around the display on the Galaxy S20, Galaxy S20+, and Galaxy S20 Ultra would have easily allowed Samsung to keep the overall dimensions quite compact for the screen sizes. As you can see in the picture below, the Galaxy S20 with its 6.2-6.3-inch screen is not substantially bigger than the Galaxy S10 with its 6.1-inch screen. Thanks to the taller aspect ratio, it's also not as wide as the S10 and should therefore be easier to hold. The reduced display curve should help on that front as well.
However, the most popular of the Galaxy S20 series might turn out to be the Galaxy S20+, which will be the mid-sized model. The S20+ is a bit taller than the Galaxy S10+, but it's rather negligible considering the S20+ has a 6.7-inch screen and the S10+ has a 6.4-inch display. As for the Galaxy S20 Ultra, it's just a tad taller than the Galaxy Note 10+ as these dummy models show, but the rounder edges should make it less unwieldy than the Note 10+, although one-handed use will naturally be a chore.
Check out the video from XDA Developers below, and let us know what you think about Samsung moving to 6-inch+ screens as standard for its 2020 flagship.
[embedded content]
Voice clip of new Genshin Impact character surfaces, fandom explodes – PCGamesN
If there's one thing Genshin Impact fans love, it's a new character. Mihoyo teased Hu Tao on YouTube and the video swiftly racked up one million views in a few hours. Throw in a bit more mystery, though, and things really go up a level. Genshin Impact is no stranger to leaks, which means we often catch glimpses of upcoming characters before they're completed – as you can likely guess, that leads to a lot of excitement and speculation in the fandom when Mihoyo actually teases something.
Genshin Impact fans are currently rather excited about a potential new pal called Kamisato Ayato. We don't have too much to go on – nor do we know what he actually looks like – though it looks like we now know what he sounds like, and that's enough for fans.
Mihoyo has released a character teaser (below) for an upcoming big Oni lad called Arataki Itto. He's the head of the Araktaki gang that's been causing some mischief for the Tenryou Commission. Once the video fades to black, though, we hear a short clip of a boy speaking to his lord who says that it's "a pity the Tenryou Commission has arrived".
While it's just a tease, fans are convinced it's Ayato, including one prominent dataminer. Needless to say, though, everyone has now forgotten about poor Itto.
It's an itto teaser yet people are freaking about ayato #aratakiitto #Ayato pic.twitter.com/bqNS567adg

— Jiuuuuuu | albedo art 📌 (@Jr0se_onii) December 8, 2021
CONGRATULATIONS TO KAMISATO AYATO FOR ONCE AGAIN TRENDING WITH 5 SECONDS OF A VOICE REVEAL, EVEN THOUGH HE IS STILL FACELESS!! pic.twitter.com/WS17v81M9Q

— Daily Ayato (@AyatoDailyyyyy) December 8, 2021
HE SOUNDS SO HOT #Ayato #AyatoKamisato pic.twitter.com/6exJ0cVh5Z

— Ayato Kamisato (@Ayato_Mains) December 8, 2021
If you'd like to learn more about the potential addition to Genshin Impact's cast, you can check out our Genshin Impact Ayato guide. He's the brother of another character called Ayaka and is pals with Thoma, who we see in Itto's teaser video.
Through in-game voice lines from Ayaka, Thoma, and Sayu, we learn that Ayato is the head of the Kamisato Clan and is kept rather busy with governmental affairs.
For more anime games, you can follow that link.
Genshin Impact Reveals Arataki Itto Character Abilities In New Teaser – Screen Rant
miHoYo, developer of Geshin Impact, has unveiled the abilities of the upcoming character Arataki Itto, along with a new teaser trailer. Arataki Itto is the latest playable 5-star character scheduled to arrive in the game during the ongoing 2.3 update. The leader of the Arataki Gang, Genshin Impact's Itto got a surprise character reveal on social media in October, supposedly in response to leaks that were coming out at the time.
Genshin Impact's current 2.3 update is being well-received by players of the popular free-to-play game. The update is the first of the game's patches to feature its new banner system. Rather than one banner featuring the new 5-star and 4-star characters for the respective update as well as another for reruns of previously released characters, the new system will add a second rerun banner that will be available alongside the first one. This means that during the 2.3 update, a total of three Genshin Impact character banners will be available. The two rerun banners will be released first while the new banner will be released later on.
Related: Genshin Impact 2.4: Confirmed New Playable Characters
Developer miHoYo revealed Arataki Itto's abilities in a new blog post, alongside a character teaser trailer on the Genshin Impact YouTube channel. According to the post, Arataki Itto is a Geo claymore user whose damage primarily comes from his charged attacks due to his unique mechanic. He gains stacks of Superlative Superstrength from his normal attacks, elemental skill, and elemental burst. He can then perform a unique multi-hit charged attack by consuming the said stacks instead of stamina. His normal attack also has the unique trait of not immediately resetting its chain after the player sprints or uses Itto's elemental skill, called Masatsu Zetsugi: Akaushi Burst.
[embedded content]
Watch the video on YouTube here.
Itto's elemental skill sees him throw Ushi, described as the young akaushi bull and auxiliary member of the Genshin Impact Arataki Gang, at an opponent. The impact not only deals Geo damage but also gives Itto a stack of his Superlative Superstrength. Additionally, Ushi also remains on the field and draws the attention of enemies as well as gives Itto even more stacks whenever Ushi takes damage. Lastly, Itto's elemental burst is called Royal Descent: Behold, Itto the Evil and not only puts Itto into an enraged state but also summons the Oni King's Kanabou club. While Itto is in this state, all of his attacks deal Geo damage, his attack speed is increased, he gains Superlative Superstrength stacks during the first and third strike of his combo. On the flip side, Itto also takes more damage while he's enraged.
As for the character teaser trailer, the animated video shows Itto and the other members of the Arataki Gang pulling off a mischievous stunt by taking over the performance of a stage play, even going as far as changing the script of the narration. Unfortunately, both their enjoyment and the audience's is cut short when the Tenryou Commission, the organization led by Genshin Impact's Kujou Sara, arrives to arrest Itto and his crew. The trailer gives players a glimpse into the personality of Itto and the antics he and rest of the Arataki Gang may get up to.
Arataki Itto has been a character of interest since the original leaks, and the official trailer reveal and details from miHoYo have certainly cemented him as one of the most exciting characters to look into when his banner is released. Players will just have to wait until he's available and hope they're able to unlock him before they run out of Primogems or Wishes, but when it comes to dealing damage, the character has the potential to end up being one of the best Geo characters in Genshin Impact.
Next: Genshin Impact's New Character Yun Jin Explained
Genshin Impact is available on PlayStation 4, PC, iOS, and Android.
Source: miHoYo, Genshin Impact/YouTube
.item-num::after
content: '/ ';
How PlayStation Spartacus Can Compete With Xbox Game Pass
Genshin Impact Teaser Trailer Introduces Players To The Foolhardy Oni Arataki Itto – Noisy Pixel
Developer miHoYo has released a new Genshin Impact teaser trailer introducing us to the new character, Arataki Itto, the head of the Arataki Gang. They constantly get caught by Inazuma's Tenryou Commission. The trailer depicts a slightly distorted version of the humans versus oni story while providing comedic insight into Arataki Itto's personality. In the trailer's description, the developer states:
"When the Arataki Gang is involved, even the most traditional repertoire may usher in a new twist. Although some in the audience have enjoyed such a surprise, it has caused some trouble for the Tenryou Commission. So let's see who will get the last laugh this time: Arataki Itto with his booming laughter, or the soldiers who are swift at maintaining law and order."
Arataki Itto will be available for players to wish for starting December 14th. In addition, the new Geo Archer, Canine Warrior Gorou, will also release alongside Arataki Itto. Here's the full information about the character's voice actors and skills: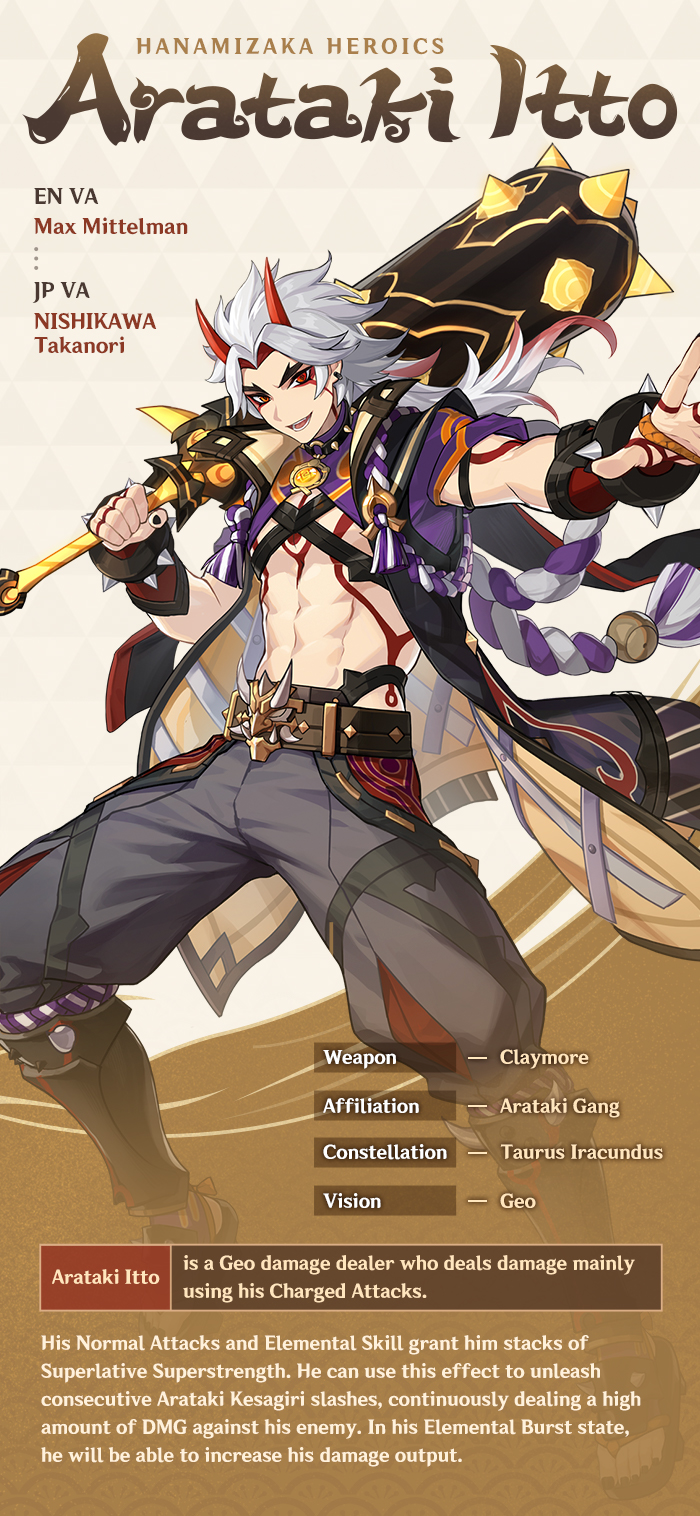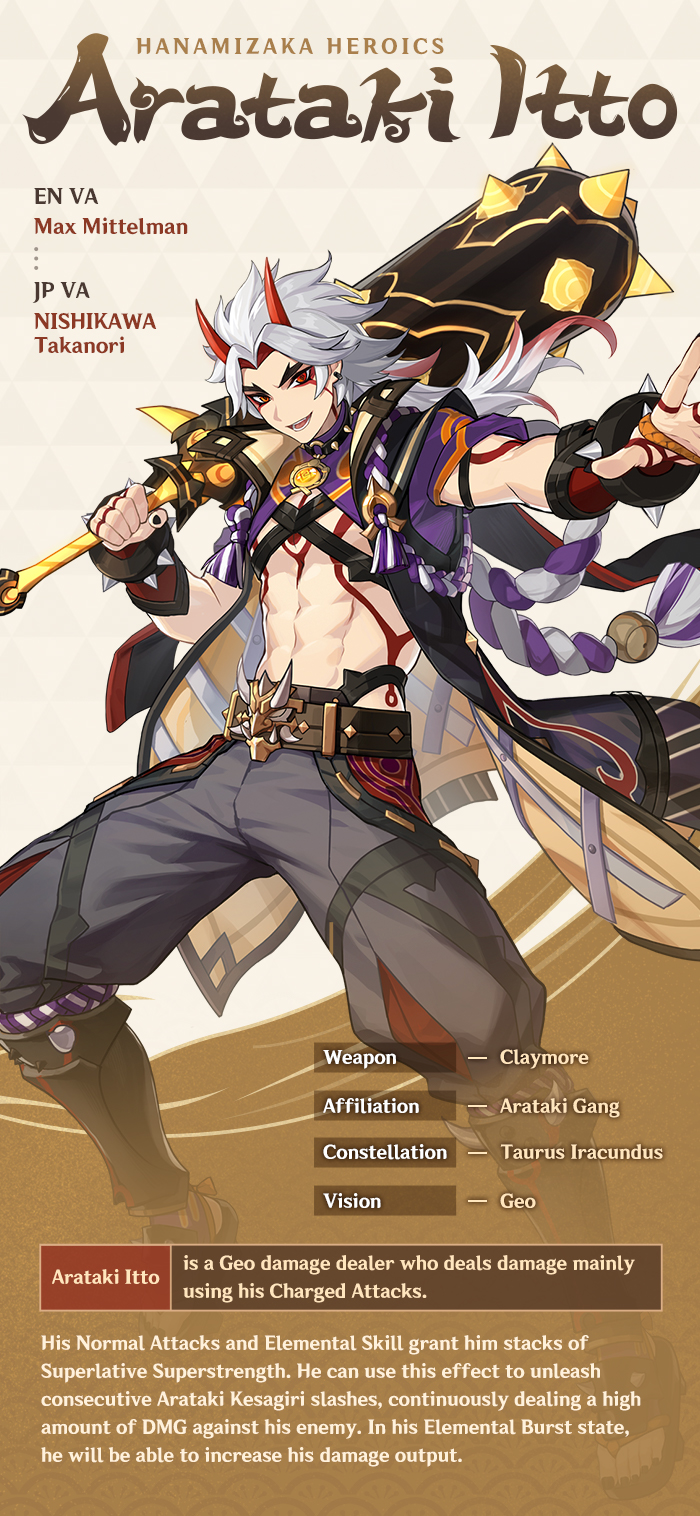 You can view this new teaser trailer below:
[embedded content]
Genshin Impact is a free-to-play open-world action RPG that brings players to the visually stunning world of Teyvat. The player takes on the role of the mysterious "Traveler," who sets off on a journey to discover the fate of their lost sibling and unveils the mysterious secrets of Teyvat along the way. Version 2.3, Shadows Amid Snowstorms, is currently available on PlayStation 4, PlayStation 5, PC (through the official website and the Epic Games Store), Android, and iOS devices.