Galaxy S20 FE isn't a revolution in mobile tech, but it's what 2020 calls for – CNET
Samsung's Galaxy Note 20 Ultra and S20 Ultra might be packed to the hilt with the latest, greatest tech, but they also come with sky-high prices to match. That makes them a tricky sell at a time when purse strings are tightening and rivals like OnePlus are making great phones at more affordable prices. The Galaxy S20 FE (which stands for "fan edition") aims to offer much of what you'll find in the company's top-end phones but with a few tweaks here and there in order to keep the price down.
That price is $700 — the same as the iPhone 11. In the UK and Australia, it's £599 or AU$999 for a 4G version, and £699 or AU$1,149 for 5G. (Only the 5G version will be offered in the US.) That's a significant price drop, given that the 5G Galaxy Note 20 Ultra retails for $1,300 (£1,179, AU$1,999). It also undercuts the OnePlus 8 Pro, which has a similar set of specs but costs $899 (£799). So much for OnePlus' famous affordability.
The price might be more affordable, but the key specs don't seem to have suffered all that much. There's a 6.5-inch, 2,400×1,080-pixel super AMOLED display with a 120Hz refresh rate for smooth scrolling and a lightning-fast Snapdragon 865 processor (for the 5G models; there's an Exynos 990 chip in the 4G models — the same one found in the Note 20 Ultra and S20 Ultra).
There's a triple camera setup on the back, although the resolutions are lower and it lacks high-end features like the 100x space zoom (30x zoom is offered, but it relies heavily on digital zoom) or 8K video recording, neither of which I think you'll miss. It still offers things like 3x optical zoom, optical image stabilization, night mode photos and the "single take" feature which captures multiple versions of the same shot when you hit the shutter button (zoomed in, zoomed out, a video, a GIF, different filters) allowing you to decide which to share afterwards.
Physically, it looks much the same as the rest of the S20 series. It has a Gorilla Glass 5 display (rather than Gorilla Glass 6 on the Note 20), and the back is made from a toughened, matte plastic rather than shiny glass. It still has IP68 waterproofing though, along with an in-screen fingerprint scanner and it's available in a wider range of snazzy colors, including a vibrant red, a lavender purple, navy blue, mint green and orange — all of which look much nicer than the sinfully dull gray on Samsung's most expensive S20 Ultra.
The phone is available for preorder globally from Wednesday, with in-store sales starting on Oct 2.
No, this phone isn't a revolution in mobile technology, but that's not what Samsung needs to do right now. What it should be doing is offering a solid all-round experience at a more attractive price, which on paper at least is exactly what the S20 FE provides. We'll find out how it stacks up against similarly priced competitors like the OnePlus 8 Pro in the full review, but for now you can see how its specs compare in the chart below.
Samsung Galaxy S20 FE specs comparison chart
| | Samsung Galaxy S20 FE | Samsung Galaxy S20 Ultra | OnePlus 8 Pro | Apple iPhone SE (2020) |
| --- | --- | --- | --- | --- |
| Display size, resolution | 6.5-inch super AMOLED; 2,400×1,080 pixels | 6.9-inch Dynamic AMOLED 2X | 6.78-inch AMOLED; 1,440×3,168 pixels | 4.7-inch Retina HD; 1,334×750 pixels |
| Pixel density | 405ppi | 511ppi | 513ppi | 326ppi |
| Dimensions (inches) | TBA | 2.99 by 6.57 by 0.35 in. | 6.51 by 2.93 by 0.35 in. | 5.45 by 2.65 by 0.29 in. |
| Dimensions (millimeters) | 159.8 by 75.5 by 8.4mm | 76.0 by 166.9 by 8.8mm | 165 by 74.4 by 8.5mm | 138.4 by 67.3 by 7.3 mm |
| Weight (ounces, grams) | 190g | 7.76 oz.; 220g | 199g | 5.22 oz.; 148g |
| Mobile software | Android 10 | Android 10 | Android 10 | iOS 13 |
| Camera | 12-megapixel (standard), 12-megapixel (ultrawide), 8-megapixel (3x telephoto) | 108-megapixel (wide-angle), 48-megapixel (telephoto), 12-megapixel (ultrawide), time-of-flight camera | 48-megapixel main, 8-megapixel telephoto, 48-megapixel ultrawide, 5-megapixel "color filter" | 12-megapixel |
| Front-facing camera | 32-megapixel | 40-megapixel | 16-megapixel | 7-megapixel |
| Video capture | 4K | 8K | 4K | 4K |
| Processor | Qualcomm Snapdragon 865 (5G) Samsung Exynos 990 (4G) | 64-bit octa-core processor (Max 2.7GHz + 2.5GHz + 2GHz) | Qualcomm Snapdragon 865 | Apple A13 Bionic |
| Storage | 128GB | 128GB, 512GB | 128GB, 256B | 64GB, 128GB, 256GB |
| RAM | 6GB | 12GB, 16GB | 8GB, 12GB | Not disclosed |
| Expandable storage | 1TB | Up to 1TB | None | No |
| Battery | 4,500 mAh | 5,000 mAh | 4,300 mAh | Not disclosed, but Apple claims it has the same battery life as iPhone 8 |
| Fingerprint sensor | In-screen | In-screen | In-screen | Home button |
| Connector | USB-C | USB-C | USB-C | Lightning |
| Headphone jack | No | No | No | No |
| Special features | 120Hz screen refresh rate, support for 30W fast charging and 15W fast wireless charging | 5G enabled; 120Hz refresh rate; 100X zoom; water resistant (IP68) | 5G enabled, Fast-charging, fast wireless charging, 120Hz display | Water resistant (IP67); dual-SIM capabilities (nano-SIM and e-SIM); wireless charging |
| Price off-contract (USD) | $699 | $1,399 (128GB), $1,599 (512GB) | $899 | $399 (64GB), $449 (128GB), $549 (256GB) |
| Price (GBP) | £599 (4G), £699 (5G) | £1,199 (128GB), £1,399 (512GB) | £799 | £419 (64GB), £469 (128GB), £569 (256GB) |
| Price (AUD) | AU$999 (4G), AU$1,149 (5G) | AU$1,999 (128GB), AU$2,249 (512GB) | AU$1,435 converted | AU$749 (64GB), AU$829 (128GB), AU$999 (256GB) |
iPhone 12 boasts latent reverse wireless charging feature, FCC filing suggests – AppleInsider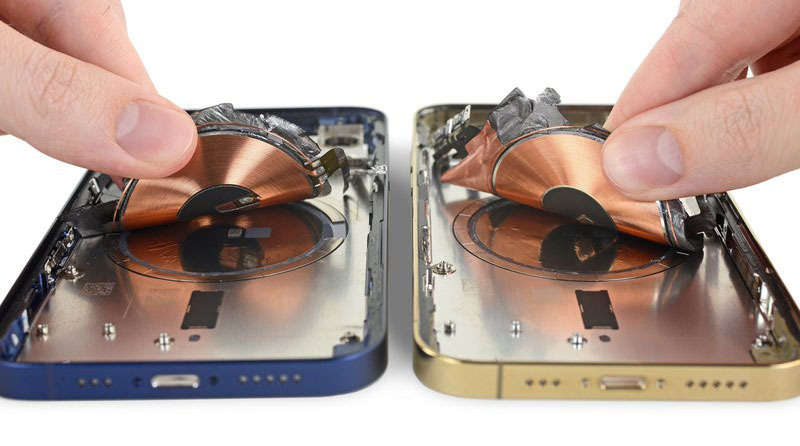 A Federal Communications Commission filing hints at a latent iPhone 12 feature that could one day allow the handset to wirelessly charge other accessories.
Apple's iPhone 12 series could be hiding a major feature that was rumored to debut with last year's iPhone 11 devices. Known as reverse wireless charging or "bilateral" wireless charging, the functionality enables smartphones to use their inductive charging coil to juice up smaller accessories or even other phones.
Evidence that Apple's new iPhone range might support the feature showed up in a recent regulatory filing detailing the company's 2020 handsets. Discovered by VentureBeat's Jeremy Horwitz, the document seemingly references the new MagSafe protocol that debuted alongside iPhone 12 this month.
"In addition to being able to be charged by a desktop WPT charger (puck), 2020 iPhone models also support WPT charging function at 360 kHz to charge accessories [including] an external potential apple accessory in future," the filing reads, according to Horwitz.
While mere speculation, the feature as described could enable charging of attached MagSafe accessories, including unannounced devices like a next-generation AirPods product. Just yesterday, Bloomberg reported that Apple will deliver new AirPods models, including a second-generation AirPods Pro, in early 2021.
Apple was previously rumored to bring reverse charging to iPhone in early 2019. At the time, TF Securities analyst Ming-Chi Kuo predicted that year's iPhone — what would become iPhone 11 — to feature "bilateral" wireless charging. The report was later seconded by supply chain sources, though Apple ultimately nixed those plans.
Today's discovery suggests Apple continued work on the charging feature and integrated functionality into its MagSafe protocol. In theory, reverse wireless charging could be activated via a software update, but it remains unclear if and when Apple intends to do so.
iPhone 12 Models Might Support Reverse Charging of Future Apple Accessories According to FCC Filing – MacRumors
Arun Maini today shared a new side-by-side iPhone battery life video test on his YouTube channel Mrwhosetheboss, timing how long the new iPhone 12 and iPhone 12 Pro models last on a single charge compared to older models, with equal brightness, settings, battery health, and usage. All of the devices are running iOS 14 without a SIM card inserted.
In the test, the iPhone 11 Pro outlasted both …
Apple FCC filing hints at hidden reverse wireless charging feature in iPhone 12 – 9to5Mac
Reverse Wireless Charging was one of the rumored features for iPhone 11 last year, but Apple allegedly removed it from the final version of the devices. Now, FCC filings for iPhone 12 have revealed that this year's devices might have a functional reverse wireless charging system.
Following the iPhone 11 rumors in 2019, iFixit disassembled the new smartphones as usual and then discovered that the iPhone 11 Pro has some components that are part of a bilateral wireless charging system, but that was unfinished — so it doesn't work at all.
While this suggests that Apple indeed tried to implement this technology on last year's iPhones, there were no rumors about bilateral wireless charging on the iPhone 12. However, new FCC files suggest the new phones might have this technology.
As first spotted by Jeremy Horwitz, the FCC documentation for the iPhone 12 models brings some interesting details about how these devices can be wirelessly recharged. FCC says iPhone 12 works with regular Qi chargers and also with a new "charging function at 360 kHz" that can recharge accessories.
This is an interesting fact since Apple hasn't mentioned anything about this feature on stage, and this is clearly disabled on iPhone 12 devices — at least for now. Bloomberg's Mark Gurman then suggested Apple might be holding this new reverse charge through MagSafe for the rumored AirPods 3 and AirPods Pro 2.
Apple, of course, could announce new AirPods that work specifically with the iPhone 12's new MagSafe system — which would explain why they haven't mentioned anything about reverse wireless charging for now. Unfortunately, more details about this are unknown for now.
Are you excited about the possibility of having bilateral wireless charging on iPhone 12? Let us know in the comments below.
FTC: We use income earning auto affiliate links. More.
Check out 9to5Mac on YouTube for more Apple news:
[embedded content]