Galaxy S21 Ultra vs. Note 20 Ultra: Which Samsung phone is the better buy? – CNET
Samsung's made choosing a premium phone harder than ever with the Galaxy S21 Ultra and the Galaxy Note 20 Ultra, two very similarly priced phones with similar specs released within six months of each other. Both have S Pen support, great zoom cameras and 120Hz refresh rate screens, and on paper it's hard to tell which one is the better buy. To find out, I used them side by side for two weeks comparing them in five different categories: displays, design, cameras, battery and performance.
<a href="https://assoc-redirect.amazon.com/g/r/https://www.amazon.com/dp/B08N2MSSZY/ref=asc_df_B08N2MSSZY1612436400000?tag=cnet-buy-button-20&ascsubtag=___COM_CLICK_ID___%7C___VIEW_GUID___%7Cdtp" data-omitnoreferrer data-component="leadsTracker" data-leads-tracker-options=""numNodes":1,"trackingData":a85ab580-6b1e-11eb-8bb3-fb8402829c34″ rel="noopener nofollow" target="_blank">
Patrick Holland/CNET
The S21 is the flagship Android phone to beat. It has a brilliant, 6.8-inch display, Snapdragon's latest 888 chip and a powerful camera with a 3x and 10x optical zoom. It now has S Pen support like the Galaxy Note, but the stylus doesn't come with the phone itself, and there's nowhere to put it if you get one (unless you buy a special case).
<a href="https://bestbuy.7tiv.net/c/159047/614286/10014?subId1=cn-___COM_CLICK_ID___-dtp&sharedId=cnet&u=https%3A%2F%2Fwww.bestbuy.com%2Fsite%2Fsamsung-galaxy-note20-ultra-5g-128gb-unlocked-mystic-bronze%2F6420838.p%3FskuId%3D6420838" data-omitnoreferrer data-component="leadsTracker" data-leads-tracker-options=""numNodes":1,"trackingData":"asid":"","assetguid":"715a421f-653d-45b0-88cf-ae991399beda","contype":"review","destUrl":"https://bestbuy.7tiv.net/c/159047/614286/10014?subId1=cn-___COM_CLICK_ID___-dtp&sharedId=cnet&u=https%3A%2F%2Fwww.bestbuy.com%2Fsite%2Fsamsung-galaxy-note20-ultra-5g-128gb-unlocked-mystic-bronze%2F6420838.p%3FskuId%3D6420838","devicetype":"desktop","ctype":"cpc","leadcpc":"","ltype":"manual","merid":"","merchantName":"","pageId":"715a421f-653d-45b0-88cf-ae991399beda","pagetype":"","pid":"","productId":"","rsid":"cbsicnetglobalsite","siteid":"1","text":"
Angela Lang/CNET
This is the phone to buy for those looking for the most fluid S Pen experience as it has low latency and Bluetooth support, so you can use gestures or control your phone with the stylus. And its specs are almost as impressive as the S21's with a fast processor, great cameras and 8K video recording.
The S21 Ultra feels easier to use one-handed
Both phones have a curved AMOLED screen, with the 6.9-inch Note 20 Ultra just edging out the 6.8-inch S21 Ultra in terms of size. The S21 Ultra is the heavier of the two phones, but I found it easier to use one-handed as the camera is balanced better compared to the domino-style camera module on the Note 20 Ultra.
Both phones are covered in the strongest version of Corning's glass, Gorilla Glass Victus, but since neither survived our drop test, I'd highly recommend getting a case for them.
Better display options on the S21 Ultra
For things like gaming, scrolling web pages or watching videos, both displays will look incredible. They have a variable, or adaptive refresh rate of up to 120hz, which means it's changing the refresh rate depending on what you're doing, like a higher rate for gaming, or a lower rate when the phone is standing by. But the S21 Ultra supports the highest WQHD Plus (1440p) resolution in 120Hz while the Note 20 Ultra only supports full HD (1080p) with the adaptive refresh rate. To get the highest resolution on the Note 20 Ultra, you'll need to drop to 60Hz or the standard refresh rate.
Both phones also have a fingerprint reader hidden under the display, and while I didn't notice that much difference between the two, anecdotally the S21 Ultra's sensor felt faster to authenticate and unlock the phone.
The S21 Ultra takes the camera crown
The S21 Ultra takes the already super-close zoom on the Note to the next level with two telephoto cameras: One that can optically zoom to 3x and the other 10x, offering more flexibility for photographers who want to get closer to the subject without physically moving closer. The Note 20 Ultra, by contrast, has only one telephoto camera with a 5x optical zoom.
I also noticed that Samsung has improved the image processing of zoom photos taken using hybrid (optical and digital) zoom, which is anything beyond the reach of the telephoto camera. Looking at the same 50x photo taken on both phones, the S21 Ultra's image is clearer and retains more detail compared to the Note 20 Ultra. You can get up to 100x on the S21 Ultra, but I never found myself using this extreme zoom because the image looks pretty mushy.
General photos of landscapes and scenery look great on both phones and I couldn't really tell them apart. The main wide-angle camera uses a 108-megapixel sensor on both phones which is useful for cropping after the fact, or making really large prints, but I found the regular 12-megapixel photos were great as well. Both phones use a technique called "pixel binning" on these regular shots that helps to retain lots of detail and good dynamic range.
In low light, I prefer the S21 Ultra, although night mode shots look more processed with greater contrast and less noise than photos taken on the Note 20 Ultra in the same light. Video quality is great on both, especially when filming at 4K. To my eye, the dynamic range is a touch broader on the newer phone, but I'd be very happy with either. The S21 Ultra has an advantage in that it can film on the telephoto camera at 4K/60, whereas the Note 20 Ultra can only use digital zoom at this resolution and frame rate. Both phones film in 8K at 24fps. You can see many more photo and video samples in the video on this page.
S Pen is better on the Note 20 Ultra
Many fans of the Galaxy Note series may have been concerned when they saw the S21 Ultra would support the S Pen, because it could potentially signal the end of the Note family of phones.
The S21 Ultra may be the first non-Note phone with stylus support, but the S Pen doesn't do quite as much as it can on the Note 20 Ultra, at least not just yet.
Both phones let you draw on the screen, take notes, annotate screenshots, convert handwriting to text or straighten your handwriting in the Samsung Notes app. The S Pen on the Note 20 Ultra also has Bluetooth support, which lets you use air gestures to open the camera or take photos remotely, to name just a few examples. The phone can also ping you if you leave the S Pen behind somewhere. And the Note can also store the S Pen inside the phone, unlike the S21 Ultra — you can buy a separate case with a storage slot for the stylus, but if you're anything like me, you'd still lose the S Pen regardless of the case.
I couldn't notice much of a difference in terms of the performance of the S Pen when using it on the two phones side by side, but artists may be able to tell the difference, thanks to the 9ms latency on the Note 20 Ultra. Samsung will release an S Pen Pro later in 2021 that offers Bluetooth support to bring it more in line with the functionality on the Note.
Note 20 Ultra: smaller battery, slightly longer life
The S21 Ultra has a 5,000-mAh battery compared to 4,500 mAh on the Note 20 Ultra, but a larger capacity battery doesn't automatically mean you'll get more juice out of the phone. Usage patterns, 5G connectivity, processing power and display brightness all play a part in overall battery life; I didn't see a huge difference in battery life between the two phones.
Both phones made it comfortably through a full day of use with juice to spare. At the end of the day of heavy usage running both phones at 120Hz, the WQHD Plus screen (on the S21), filming 4K video and gaming, I was left with anywhere between 10 and 15% battery on the Note, and around 10% on the S21 Ultra. Anecdotally, I felt that the Note 20 Ultra had better standby time overall when I wasn't using the phone. You can check out our full reviews of the S21 Ultra and Note 20 Ultra for results from our official battery test.
The base storage level on both phones starts at 128GB with the option to go up to 512GB on both, or an intermediate 256GB tier on the S21 Ultra, but only the Note 20 has the option to expand with a microSD slot. The S21 Ultra also misses out on the charger in the box, as well as MST support in Samsung Pay.
Depending on where you live, you'll either get a Snapdragon or Samsung's own Exynos processor. I've only tested the Snapdragon 888 on the S21 Ultra and 865 Plus on the Note 20 Ultra, so can't comment on Exynos performance, but both phones never left me wanting when it came to trimming 8K videos, gaming or running a myriad of apps at a time.
The Galaxy S21 wins, but not by much
In the end, I found that these phones share so many of the same features that it doesn't make sense to upgrade from the Note 20 Ultra to the S21 Ultra if you already have the (slightly) older phone. But improvements in the camera, S Pen support and a more balanced one-handed feel was enough to sway me to choose the S21 Ultra if I was looking for the best overall Galaxy experience.
Samsung Galaxy S21 Ultra vs. Note 20 Ultra specs
| | | |
| --- | --- | --- |
| | Samsung Galaxy S21 Ultra | Samsung Galaxy Note 20 Ultra |
| Display size, resolution | 6.8-inch AMOLED 2X, 3,200×1,440 pixels | 6.9-inch; 3,088×1,440 pixels |
| Pixel density | 515 ppi | 496ppi |
| Dimensions (inches) | 2.97×6.5×0.35 in. | 6.49×3.04×0.31 in. |
| Dimensions (millimeters) | 75.6×165.1×8.9mm | 164.8×77.2×8.1mm |
| Weight (ounces, grams) | 8.07 oz.; 229g | 7.33 oz., 208g |
| Mobile software | Android 11 | Android 11 |
| Camera | 108-megapixel (wide-angle), 12-megapixel (ultrawide), 10-megapixel (3x telephoto), 10-megapixel (10x telephoto) | 12-megapixel (ultrawide), 108-megapixel (wide-angle), 12-megapixel (telephoto) |
| Front-facing camera | 40-megapixel | 10-megapixel |
| Video capture | 8K | 8K |
| Processor | Snapdragon 888 | Snapdragon 865 Plus |
| Storage | 128GB, 256GB, 512GB | 128GB, 512GB |
| RAM | 12GB, 16GB | 12GB |
| Expandable storage | No | Up to 1TB |
| Battery | 5,000 mAh | 4,500 mAh |
| Fingerprint sensor | In-screen | In-screen |
| Headphone jack | No | No |
| Special features | IP68 rating, 5G-enabled, 100x Space Zoom, 10W wireless charging, 10x optical zoom | 120Hz screen refresh rate, 5x optical zoom, 120Hz display; UWB sharing, S Pen stylus; 5G connectivity; Wireless PowerShare; water resistant (IP68) |
| Price off-contract (USD) | $1,200 (128GB), $1,250 (256GB), $1,380 (512GB) | $1,300 (128GB), $1,450 (512GB) |
| Price (GBP) | £1,149 (128GB), £1,199 (256GB), £1,329 (512GB) | £1,179 |
| Price (AUD) | AU$1,849 (128GB), AU$1,949 (256GB), AU$2,149 (512GB) | AU$1,849 (4G) and $AU$1,999 (5G) |
Hurry! Save $375 on the Samsung Note 20 Ultra as Amazon's Deal of the Day – XDA Developers
There have been a lot of incredible one-day deals this week, and today is no exception! Amazon's Deal of the Day is on the Samsung Note 20 Ultra 5G, and our review of the smartphone is pretty glowing. You can save $375 on the Mystic Black or Mystic Bronzer colorways of the phone, but the discount is only available until the end of the day!
You might be wondering if the Note 20 Ultra is still worth picking up with the release of the Samsung Galaxy S21 flagship smartphones. The answer's a little more complicated than a yes or a no (that's why we have the Galaxy S21 vs. Note 20 Ultra article!), but in short, this smartphone is still compelling, and most importantly, it's bound to go on sale more often… just like today!
And the Note 20 Ultra is not outdated by any means. Aside from the Galaxy Z Flip 2, this was the highest tier of flagship device for Samsung in 2020, and it shows in both its specs and popularity. While the Galaxy S21 Ultra is the bleeding edge of technology, the Note 20 Ultra is still very much up there. This flagship includes an S Pen right out of the gate and has a built-in holder for it. For the Galaxy S21 phones, the S Pen is only compatible with the Ultra, and you need to buy it separately.
Amazon is also running an additional promotion right now, too. Purchasing a Samsung smartphone will let you save $100 on the Samsung Galaxy Buds Pro in Black. 50% off MSRP for great quality earbuds is a great deal if you need a new pair.
Either way, make sure to grab your Note 20 Ultra from Amazon before the end of the day to save!
Did you pick one up? Let us know in the comments!
When and how to watch online – Filmy One
Surprise, surprise. Nintendo has announced a brand new Direct Online presentation that will give gamers an idea of ​​what's in the first half of it 2021
Announced Tuesday, Nintendo announced on its various social media platforms that fans will receive approximately 50 minutes of news and images about upcoming Switch titles, including Super Smash Bros. Ultimate.
It's been a while since Nintendo had a "normal" instant presentation that lasted longer than 10-15 minutes and provided information on unannounced titles, meaning fans want to know how and when they watch.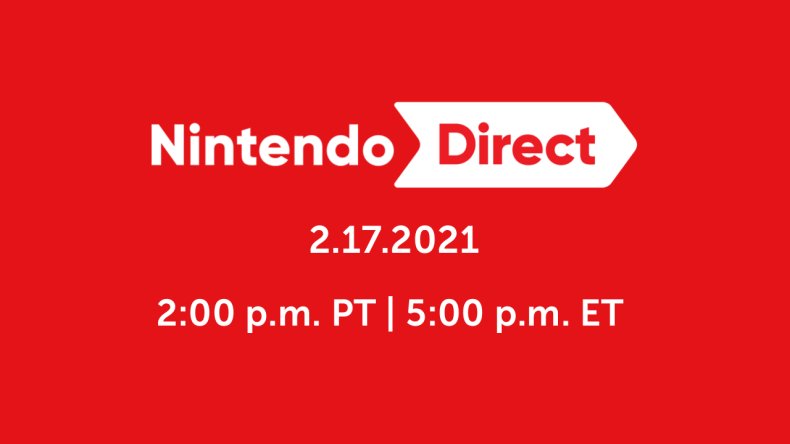 NINTENDO INSTANT START TIME
This latest online Nintendo Direct presentation kicks off Wednesday, February 17, starting at 5:00 PM EDT.
Nintendo has confirmed that the presentation will last approximately 50 minutes, so expect it to end around 6:00 PM EDT.
HOW TO WATCH NINTENDO DIRECTLY ONLINE
The official Nintendo Direct site is one way to watch the upcoming presentation online. This is also the place to revisit the Immediately afterwards.
Nintendo's official YouTube channel will also broadcast the Direct live. The YouTube app is available on mobile devices and all game consoles. PS4, PS5, Xbox One, Xbox Series X / S and the Nintendo Switch. The channel will upload the Nintendo Direct in its entirety after the presentation is complete, as well as the individual trailers shown.
Below you can check out the latest Nintendo Direct when it goes live.
There is also the Nintendo Twitch Channel, which is another way to watch the upcoming Direct online. The Twitch app is available for mobile devices and game consoles such as PS4, PS5, Xbox One and Xbox Series X / S.
WHAT TO EXPECT
With 50 minutes of information, Nintendo fans can expect a lot from the latest Direct. The first is the reveal of a brand new character on the way Super Smash Bros. Ultimate.
Back in December 2020, Sephiroth out Final Fantasy VII was the latest DLC fighter added to the series. Fighters Pass 2 has three more characters to be added Super Smash Bros. Ultimate, so Wednesday will likely give us the first name to arrive in the near future.
Don't expect this new character to be released after Nintendo Direct, but we should get a release date to look forward to.
As for other Nintendo Switch titles, the console does have games like Bravely Default 2 and Monster Hunter Rise is about to release in the coming weeks. Fans may get more information about those titles and when they might be released.
Fans crave a brand new one Mario Kart, That's been a rumor for quite some time, but with 2021 the 35th anniversary of The Legend of Zelda series, fans can expect information on what Nintendo has planned for one of the most popular franchises.
We will finally get some information about it Breath of the wilderness continuation? It's possible, but we can also get a re-release of some of Link's most popular adventures from the 3D era, such as Ocarina of Time, Majora's Mask and more.
With Pokémon Day next week, fans shouldn't expect anything from Pokémon during this Direct either. All information about Pokémon gets its own online presentation.
Fans will have to wait and see what Nintendo has planned for the first half of 2021.
What do you think will be featured during this latest Nintendo Direct? Let us know in the comments.
EA cancels Anthem's big revamp but will keep the game running – The Verge
After putting a pin in short-term updates and expansions to focus on a "longer-term redesign" of the game, EA announced today that it will be canceling its planned revamp of the game Anthem, called Anthem Next. But the company plans to keep Anthem's live service running "as it exists today."
"In the spirit of transparency and closure we wanted to share that we've made the difficult decision to stop our new development work on Anthem (aka Anthem NEXT)," BioWare executive producer Christian Dailey said in a recent blog post. "We will, however, continue to keep the Anthem live service running as it exists today."
BioWare does have other projects in the works, including Dragon Age 4. According to Bloomberg's Jason Schreier, the small team that was working on Anthem's redesign will now be working on the sequel to Dragon Age.
Anthem launched nearly two years ago and was met with poor reviews, with the main criticism stemming from a lack of content, subpar story, and repetitive gameplay. A year following its release, BioWare said it was invested in improving the game with seasonal updates. But last year, then-general manager Casey Hudson said that it would pause short-term updates to reinvent the entire game. It was reported last May that an incubation team of about 30 people was tasked with reworking Anthem.
With support for Anthem ending, BioWare's open-world shooter will not receive a second chance. It's quite common for games to struggle at launch, but several have turned things around thanks to frequent updates, which was the case for Final Fantasy XIV and No Man's Sky.