Global challenge for movement on mental health kicks off as lack of investment in mental health leaves millions without access to services – World Health Organization
A global social media challenge to get the world moving on mental health is launched today with a call for a massive scale-up in investment in mental health.
Ahead of World Mental Health Day on 10 October, the World Health Organization, in collaboration with United for Global Mental Health and the World Federation for Mental Health, are encouraging people from all countries to support a global movement calling
for greater investment in mental health.
The #MoveforMentalHealth challenge is asking people around the world to post videos showing what they do in support of their mental well-being ̶ whether it be dancing, walking, doing
yoga, cooking, painting or something else entirely, on their favourite social media platforms, using the hashtag #MoveForMentalHealth.
Social media platforms such as Tik-Tok, Facebook and Instagram are supporting the #MoveforMentalHealth challenge and helping kickstart broader conversations about mental health, and the importance of investment.
Messenger apps are providing support too. On World Mental Health Day, WHO will launch a digital stress management guide on the Whatsapp chat platform. Based on the stress management guide Doing what matters in times of stress, the digital guide includes short, easy-to-follow guided exercises to help reduce stress. In addition,
Messenger will be launching a new sticker pack designed with the support of WHO, to facilitate conversations around mental health.
"As we continue to live through a global pandemic, we need movement on mental health, perhaps more than we have ever needed it before", said Dr Tedros Adhanom Ghebreyesus, Director-General of WHO. "We need to move for our own mental health,
the mental health of our families, friends and colleagues, and more importantly, so that there is a massive increase in investment for mental health services at national and international levels."
The magnitude of the mental health burden faced around the world is not being matched by the investment it requires. The extraordinary increase in mental health needs ̶ with the added challenges of COVID-19 ̶ is taking its toll
on already overburdened and under-resourced mental health services. Countries spend on average only 2% of their health budgets on mental health. Despite some increases in recent years, international development assistance for mental health has never
exceeded 1% of all development assistance for health.
"Our world wasn't set up to respond to the growing mental health needs before COVID-19, and it certainly isn't now. That's why now more than ever we need the world to move for mental health, and as individuals, communities, businesses,
governments and funders we must prioritise action on, and investment in mental health," said Elisha London, CEO and Founder of United for Global Mental Health.
Close to one billion people globally have a mental disorder and those with severe mental disorders tend to die 10 -20 years earlier than the general population. Suicide is claiming the lives of close to 800 000 people every year ̶ 1
person every 40 seconds ̶ and is the second leading cause of death for young people aged 15-29 years. Relatively few people around the world have access to quality mental health services, especially in low- and middle-income countries
where more than 75% of people with mental, neurological and substance use disorders receive no treatment for their condition at all.
"Mental health is affected by many factors and circumstances. It touches on everything ̶ poverty, equality and development ̶ which is why we need to ensure greater investment and greater access to mental health for all, " said Dr Ingrid
Daniels, President of the World Federation for Mental Health.
Other events taking place around this year's World Mental Health Day include:
Big Event for Mental Health
On World Mental Health Day (Saturday 10 October), WHO is inviting the global community to take part in The Big Event for Mental Health, an unprecedented online advocacy event that will call for increased investment in mental health at all
levels.
The Big Event is free and open to the public and will be broadcast on 10 October from 16:00 to 19:00 CEST on WHO's YouTube, Facebook, Twitter, TikTok and LinkedIn channels and website. For updated information
about the Big Event, including the latest line up of performances and participants, visit the Big Event web page. To
learn more about World Mental Health Day, visit WHO's campaign page.
World's first virtual March for Mental Health
The world's first virtual March for Mental Health will live stream 9-10 October and over the course of 24 hours mental health experts, campaigners, advocates, and people with lived experience from more than 17 countries will be sharing their stories
as part of a global momentum to drive change and investment in mental health globally. For more information and to sign up and join the March visit www.marchformentalhealth.com
The Grand Celebration
The Global Mental Health Fest'20 organized by the World Federation for Mental Health will bring together people from different communities, age groups, organizations and institutions from across the world. The stage will be open for various perspectives
to blend and consolidate, promoting the essence of unity and solidarity as we work together to establish mental well-being as our universal right. More information from www.wmhd2020.com
Note: To access the stress management guide on Whatsapp, click here
The World Health Organization
The World Health Organization provides global leadership in public health within the United Nations system. Founded in 1948, WHO works with 194 Member States, across six regions and from more than 150 offices, to promote health, keep the world safe and
serve the vulnerable. WHO's goals for 2019-2023 are to ensure that a billion more people have universal health coverage, to protect a billion more people from health emergencies, and to provide a further billion people with better health and
well-being. @WHO
United for Global Mental Health
United for Global Mental Health brings together the global mental health community with governments, funders and campaigners to help make sure everyone, everywhere has someone to turn to in support of their mental health. The not-for-profit organization
was launched at the UN in September 2018. www.unitedgmh.org @UnitedGMH
The World Federation for Mental Health
The World Federation for Mental Health is an international membership organization founded in 1948 to advance, among all peoples and nations, the prevention of mental and emotional disorders, the proper treatment and care of those with such disorders,
and the promotion of mental health. The Federation was the initiator of World Mental Health Day. https://wfmh.global/ @WMHDay
Exclusive Interview with Aamer Khan of Qualivian Investment Partners – Yahoo Finance
Qualivian Investment Partners is nearly a 3 year old long-term oriented investment firm with a very solid investment philosophy. The firm generated a cumulative return of 47.4% during its first 2.5 years and outperformed the S&P 500 Total Return Index by 25 percentage points. You are probably surprised to hear about an investment firm that managed to beat the market by double digits.
Most hedge funds and mutual funds fail to beat the market because of their large fees or hedges. Qualivian Investment Partners is long only and charged only 2.4 points in fees over the last 2.5 years (its gross return was 49.8% and net return was 47.4%). A typical hedge fund that charges 2 and 20 would have taken away 5 percentage points in management fees and another 10 percentage points in performance fees, leaving investors with only a 35% net return.
Two months ago we have obtained a copy of Qualivian's 2020 Q2 investor letter and shared its views on its top and bottom performers. Its top two performers were PayPal (NASDAQ:PYPL) and Amazon (NASDAQ:AMZN), and its bottom three performers were TJX Companies (TJX), Brookfield Asset Management (NYSE:BAM), and Adobe Inc. (NASDAQ:ADBE). You can read their views on these stocks by clicking the link above. We reached out to Aamer Khan to understand Qualivian's investment philosophy and find out their top 3 highest conviction ideas. Sure, Amazon.com and PayPal are some of the best performing stocks this year, but are they among Qualivian's top 3 ideas today?
Aamer Khan of Qualivian Investment Partners
Here is the first part of our interview with Aamer Khan:
Insider Monkey: Can you tell us about yourself?
I have a bachelor's degree in mathematics from Harvard College and a master's degree in applied mathematics from Oxford University. I then worked in banking for 4 years, before getting my MBA from the Wharton Business School. Immediately after my MBA, I spent several years in management consulting, mostly at the MAC Group/Gemini Consulting, where I gained insight on how businesses work from the inside, assisting them in strategy formulation and problem solving. However, during that time, I spent most of my spare time reading about, and engaging in, investing. I gradually realized that investing was my true calling. I then worked for the Principal Financial Group for three and half years as an equity analyst and got my CFA. I spent the next 16 years at Eaton Vance Management in Boston with the bulk of my time spent as an equity analyst and a portfolio manager on five equity funds. I co-founded Qualivian Investment Partners in 2017.
Insider Monkey: When and how did you decide to start an investment fund?
In 2017 I linked up with a former colleague from my consulting days, Cyril Malak, who had worked for Putnam Investments. We both had similar thoughts about the dysfunction of the current asset management model and felt a better approach existed. Our Archimedean point was the proposition that wealth creation in equities is ultimately the result of the power of compounding of capital. Therefore, the correct investment model should be based on maximizing the power of compounding and minimizing those frictions which reduce it. We cleared our minds of the current "conventional wisdom" about asset management, took a blank sheet of paper, and started from first principles. Out came a model that addressed the defects we had identified.
Insider Monkey: What is wrong with active management today?
In a Nutshell: Asset management started out as a profession, evolved into a business, and, in an increasing number of cases, has mutated into a racket. Initially, fund companies' and portfolio managers' primary role was to create wealth for their investors, and, in the process, they would create some wealth for themselves. In a strange twist, this is now reversed: asset management companies' and portfolio managers' primary role now is to use investor funds to create wealth for themselves and, in the process, they create some residual wealth for fund investors. It is a bizarro world. This is partly due to increasing institutionalization of asset management by large firms, which has led to growing misalignment between the interests of the fund investor, the portfolio manager, and the asset management company.
Asset Management Companies: Large investment firms have become asset gathering companies, with a primary focus on growing the asset base and, secondarily, creating competitive investment returns. Their core competence is marketing, not investment management. They convince many investors to invest in funds with average or poor returns and high expenses, even when many better alternatives are available. Surely that is good marketing! They incubate many funds, kill the poorly performing ones, and then advertise the best performers. The performance is stated on a time-weighted basis, which is not the actual return experienced by most fund investors. The dollar-weighted basis is better correlated with actual aggregate investor returns. Active fund investors get fleeced twice. First their funds underperform versus the lower cost passive index funds. Then fund investors underperform the funds they have invested in by over 200 basis points, because they are persuaded to get in when the fund is doing well and fear causes them to jump out when it is doing poorly. Mutual fund boards have a fiduciary duty to put the interests of the fund investors first, not the interests of the firm advising the fund. Given that there is an epidemic of funds with above market fees and below market performance, are they really doing their job?
Portfolio Management: From a fiduciary viewpoint, portfolio managers should be optimizing risk/reward in the portfolios they manage. This is not what they do. Instead, they optimize their own career risk. This leads them to (1) prefer stable returns over higher, but less stable returns, and (2) avoid short-term underperformance which makes them look bad and could impact their year-end bonus and careers. These tendencies amongst many portfolio managers leads to suboptimal risk aversion: they take the right amount of risk for their careers but not the correct amount for their clients' portfolios. For example, fund managers would rather buy a stock with an 8% expected return and 5% standard deviation than a stock with 15% expected return but 10% standard deviation. These errors of omission are far more costly than errors of commission.
Disadvantages of Large Institutions:
– Short term focus: The greatest advantage an investor has is a long-term focus, given that large swaths of the market are focused on the short term. Publicly traded asset managers, because they are judged by quarterly results, want to look good in the short term so they tend not to think long term. The same holds true for privately held asset managers who fall into a similar trap.
– The larger firms tend to have multiple levels of hierarchy, which leads to undue complexity, excessive information loss, bureaucratic politics, and unnecessary resource expenditure to manage internal boundaries.
– Hierarchy also leads to a deference and conformity to those in positions of power and attenuates independent investment thought and action. The investing frameworks of senior management were formed early in their careers when financial markets were very different. They are less likely to reassess and reformat their frameworks as financial conditions change, especially with the current structural shifts and disruptive transformations accruing from the digital revolution. They rely on fully amortized intellectual capital and are not likely to be challenged by more junior employees.
– Adverse selection occurs: the best analysts become portfolio managers, when competence as an analyst does not necessarily imply competence as a portfolio manager. The best portfolio managers become head of investment groups and spend much of their time on marketing and administrative tasks and less on investing.
The Current Portfolio Management Model and How to Improve It:
Current Practice 1: Diversify broadly across the entire universe of stocks that meet the investment mandate.
How to improve it 1: Realize that the vast majority of value in the market over the long term is created by very few (less than 4% of the total) stocks which are characterized by structural and competitive advantages, high returns on capital, and excellent capital allocation. The research effort should be focused on these stocks.
Current Practice 2: An average portfolio has more than 60 names and high turnover, so over 100 names come in and out annually, many making cameo appearances. This causes cognitive overload for the portfolio managers, leading to a poor understanding of, and conviction in, many of their holdings. Stocks get "rented" rather than owned.
How to improve it 2: Concentrate the portfolio to a limited number of the highest conviction names so the portfolio managers have familiarity with each name.
Current Practice 3: Trade extensively on incremental information. Look and act "busy."
How to improve it 3: Realize that almost all incremental information is noise. Ignore it and hold the quality compounders. Activity is not progress, often generating frictions that detract from performance.
Current Practice 4: Analysts present candidates to portfolio managers. Portfolio managers pick and choose.
How to improve it 4: Portfolio manager does his/her own work leading to conviction. Conviction cannot be outsourced to analysts.
There are lots of things broken in the field of investment management today. Happily, at Qualivian we are free of the many distractions and perverse incentives suffered by the massive institutional asset gatherers. We enjoy the freedom to approach the fascinating challenge of investing in our own way, which borrows, I might add, from many of the master investors we know of.
Insider Monkey: What is your approach to investing?
What Cyril and I have built at Qualivian, and do every day, is simple … but not easy. We try to focus on only a few good ideas that come to us irregularly and hold on to them, barring a change in the investment thesis.
– We cut out the noise …the majority of what passes for investment news in the general and investing media is noise, and very few decisions create most of the value over the long run.
– We focus on finding quality compounders and do not worry about which Morningstar box our portfolio is in.
– We do our own work. Conviction can only come from us. Everything else is speculation.
– When we find a quality compounder, we buy a lot of it. We do not dilute our portfolio and research process with low conviction names.
– We believe in concentrated portfolios. The goal of an intelligent investment process is to find situations where it is safe to concentrate. Diversification is driven by lack of conviction. Furthermore, academic studies have shown that one can accrue the benefits from diversification with 15-20 names
– We realize the human mind is designed to understand linear growth, not exponential growth. It consistently underestimates the result of consistent growth compounding returns over long periods.
– We seek to compound and do not feel the need to interrupt such compounding. We hold for long holding periods and trade rarely.
– We firmly believe that trees can grow to the sky… if you let them.
Insider Monkey: Why is it possible to buy quality compounders at a discount? Why are markets inefficient in this regard?
It is rare for quality compounders to trade at a discount, but since the markets have pockets of inefficiency, opportunities arise for several reasons.
– Market myopia: Markets focus on the short term, not the long term, so quality compounders with long term, visible value creation growth get inefficiently priced vs their long-term growth rates.
– Optionality: Many quality compounders have positive optionality which is not priced in. Investors focus on the visible and tangible. Firms with market dominance, plentiful cash flow, and innovative management continually think of new business possibilities that are less apparent but very possible. Investors should not just count the seeds in an apple but should also focus on the number of apples in a seed.
– Scarcity value: In an era of disruptive change, like today, the average stock will be more subject to disruption and investor estimates of their long-term earnings will be more likely to be mistaken. So, the scarcity value of stocks with wide moats, long growth runways, and resulting visible, sustainable economic earnings growth should increase because they are less likely to be disrupted. This is still not fully factored by the market into their valuation.
– Cognitive bias: Human beings are cognitively wired to think linearly. Quality compounders are subject to exponential growth, so existing valuation frameworks misprice them.
– Intangibles: Many quality compounders invest in potentially durable and long-lived intangible assets, which are expensed and not capitalized. This implies that GAAP earnings understate economic earnings. The stock is cheaper on economic earnings than GAAP earnings, but many investors miss this because they focus on GAAP earnings.
Persistence of High Returns on Invested Capital (ROIC): Quality compounders tend to have high ROIC's. In the past, high ROIC's mean reverted to average levels. However, around 2005 this stopped happening, and high ROIC's have tended to persist for the top performing ROIC cohort. The causes of high ROIC persistence are industry consolidation, the emergence of platform businesses, the greater scalability of intellectual capital, changes in anti-trust policy, and other factors. Many investors still reflexively assume that high ROIC's will mean revert and have not factored high ROIC persistence into their valuation models. This undervalues high ROIC companies, which includes quality compounders.
Click to read the second part of this interview and see Qualivian's top 3 investment ideas for the next 3 years.
Disclosure: No positions. This article is originally published at Insider Monkey.
Post-lignite investment projects of €4 bln | Business | ekathimerini.com – www.ekathimerini.com
A diverse development model, ranging from advanced technology in power production and electric mobility, to cutting-edge industrial and agricultural units and new forms of tourism, is being planned in the wake of the closure of the coal-powered electricity plants in western Macedonia and in Megalopoli in the Peloponnese, as they adapt to the post-lignite era.
Major Greek and foreign enterprises are anticipating new legislation from the government outlining growth incentives, before proceeding with 16 investment plans worth a total of 4 billion euros that are expected to bring multiple benefits to the local communities.
For example, the Sunlight company of the Olympia group is ready to install a unit in western Macedonia to produce lithium batteries for electric vehicles, investing €200 million through 2026.
Wonderplant, which belongs to entrepreneur Spyros Theodoropoulos, is planning the construction of a unit for the hydroponic cultivation of tomatoes, expected to operate as of 2024. This investment, which will come with a unit for the joint production of electricity and heating, will come to €100 million.
In the sector of electricity production from renewable energy sources, besides the known plans of Public Power Corporation and Hellenic Petroleum for the construction of photovoltaic parks of 2.3 gigawatts with the investment of €1.4-1.6 billion, there are two more investment projects using state-of-the-art technology in the works.
The first is being planned by Greek firm Eunice and concerns the creation of Greece's first project for the storage of energy in utility-scale lithium batteries, budgeted at €285 million, while the second comes from Polish enterprise Solaris and concerns the creation of a green hydrogen unit, a project involving three more countries besides Greece, with an investment of €2.5 billion.
In the manufacturing sector, pharmaceutical industry DEMO has planned for the construction of five drug-making units in Megalopoli, with an investment of some €90 million.
Finally, in wine tourism, the Alpha Estate has submitted a plan for upgrading its winery in Amyntaio, Florina, and the creation of accommodation infrastructure at its existing and at new winemaking facilities.
Railways outline investment to meet winter climate challenges – moosejawtoday.com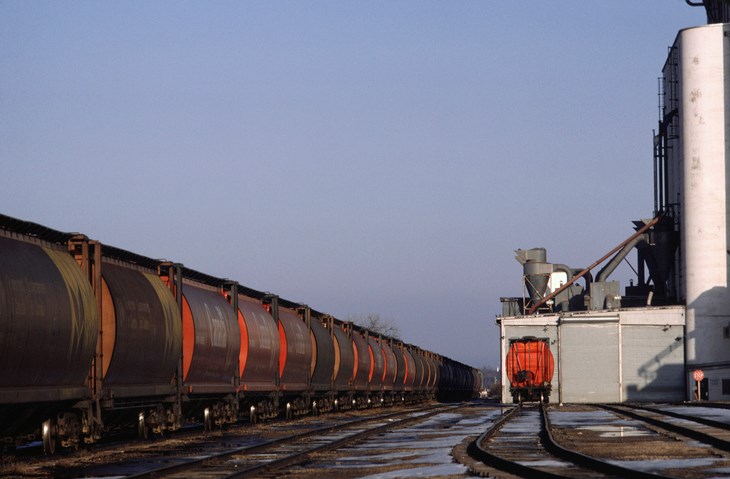 Canada's two major railways — CN and CP Rail — will invest $4.5 billion this year to meet the challenges of moving goods in harsh winter climates.
CP, which operates most of the southern routes on the Prairies, plans $1.6 billion on safety, network flexibility, increased capacity and communications according to the company's 2020-21 winter plan.
Highlights of the winter plan include:
Air brake flow monitoring to maintain pressure
Technology to automatically detect cold wheels
Predictive powers to forecast rilling stock failures
High-speed camera inspection systems
In-house testing of new air brake valve gasket materials
Modernizing 201 locomotives and training over 400 employees
Expanding temperature forecasts system
CN will invest $2.9 billion on the winter plan with a focus on double tracking parts of the mainline, extending sidings, increasing yard tracks and building more infrastructure in both Port of Vancouver and Port of Prince Rupert areas.
CN will acquire 1,500 new grain hopper railcars for the 2020–2021 crop year.
Adding 260 new locomotives, for over 2,200 winter-prepped locomotives, should reduce loss of traction from ice, snow and water, resulting in wheel slippage. The new locomotives are 100 per cent alternating current, improving traction.
Forty-one more air distribution cars will assist in a consistent flow of air through brake lines, allowing longer trains.
Sidings will be added and lengthened to allow trains to meet and pass for 140 miles of double track on mainlines, mostly in Western Canada.
Yard capacity will be increased at Winnipeg, Melville and Edmonton.
Ron Walter can be reached at ronjoy@sasktel.net