Google removes some IAC browser extensions for 'policy violations' – Reuters Canada
(Reuters) – Alphabet Inc's Google said on Sunday it has removed a number of browser extensions of online conglomerate IAC/InterActive Corp for "policy violations" and is reviewing "enforcement options."
"We continue to have conversations with IAC related to Chrome Web Store policies and we have already removed a number of their extensions for violating our policies", a Google spokesman said in a statement emailed to Reuters.
"We're reviewing the remaining extensions and our enforcement options, and have not made a decision regarding IAC's status on the store", the statement added.
The Wall Street Journal reported earlier that Google was deciding whether to impose severe penalties on IAC over what Google concluded were "deceptive marketing practices".
The report added that Google determined that IAC misled users about its browser extensions and that the Alphabet unit could go as far as banning those products from its Chrome browser.
In the statement to Reuters, Google's spokesman did not specify which precise policies it felt were violated by IAC and did not mention what exact options it was considering.
An IAC spokeswoman disputed that the extensions violated Google policies. "Google has taken hundreds of millions of dollars from us to advertise and distribute these products in the Chrome Store," she told Reuters in an emailed statement.
"There's nothing new here – Google has used their position to reduce our browser business to the last small corner of the internet, which they're now seeking to quash," the statement added.
Google's investigators found that IAC's browser extensions often promise functions they do not deliver and steer users toward extra ads, the WSJ reported, citing sources and documents.
Google so far has not acted on the internal recommendation of its Chrome trust and safety team regarding IAC in part because the two are rivals in some categories and because Google executives are concerned penalties could be viewed as anti-competitive, the newspaper reported on.wsj.com/2JZcHf1.
The IAC spokeswoman said Google had approved its extensions in the Chrome Store for years as part of the companies' partnership agreement.
"Google exercises significant control over what we do with these products", she said in the statement.
Reporting by Kanishka Singh in Bengaluru; Editing by Paul Simao
With the Galaxy S21, Samsung has finally figured out the iPhone's secret: Value – Macworld
Apple isn't exactly known for its low prices. The iPhone X was the first handset to cost more than a thousand bucks, the wheels for the Mac Pro cost $699, and just last month it launched a $549 pair of AirPods. Heck, it sells a charger that isn't even very good for $129.
But when it comes to its phones, Apple consistently gets it right. It's true that the most expensive iPhone 12 tops out at $1,399, but for the most part, the iPhone 12 is very attainable, even with 5G and OLED displays across the board. When compared to the top flagship phones of 2020, in fact, the iPhone 12 slides in well under the average premium Android handset.
But with the launch of the Galaxy S21 this week, it seems as though Samsung has finally caught on. After years of piling on features and specs in an effort to distance its flagship handsets from the iPhone, Samsung has fully embraced Apple's strategy with the iPhone, not just cutting the price to match the iPhone 12's price tag but also distilling the S21 down to its most essential parts in a sort of reboot of the lower end of the line.
Lowering the price and the parts
Last year's "cheap" Galaxy S20 started at $1,000 and brought a bevy of ultra-high-end features you couldn't get in the iPhone 11: 12GB of LPDDR5 RAM, 120Hz Quad HD+ screen, triple cameras, microSD storage, etc.
It's not so much that the Galaxy S21 isn't a high-end Android phone, but like the iPhone 12, it makes certain spec-sheet compromises that add value without degrading the experience. There's a reason why Apple doesn't list specs for RAM, battery capacity, or clock speed in the iPhone spec sheet—they're unnecessary. Apple doesn't need to wow its users with specs. Rather, it strives to deliver the best possible iPhone experience with the bare-minimum parts.
And the S21 does something similar. Take a look at the specs compared to its predecessor, the S20:
Galaxy S21
Display: 6.2-inch Flat FHD+ Infinity-O Display (2400×1080), 421ppi, 120Hz
Processor: Snapdragon 888
RAM: 8GB
Storage: 128GB
Battery: 4,000mAh
Galaxy S20
Display: 6.2-inch Edge Quad HD+ Infinity-O Display (3200×1440), 563 ppi, 120Hz
Processor: Snapdragon 865
RAM: 12GB
Storage: 128GB
Battery: 4,000mAh
Aside from the storage and the battery, the S21 is a seeming downgrade from the S20, with less RAM and lower resolution. It's also made of plastic, versus the S20's all-glass design.
But to judge the S21 on its specs is to miss the point. Samsung has finally realized that the spec battle is a losing one. They built a phone that delivers on value rather than numbers. Some people will grouse about losing out on the best features but most people won't even realize their phone has fewer pixels or less RAM.
Quite frankly, they might not even notice that it's made of plastic. What they will notice is that it's $200 cheaper than last year, the first time prices have decreased in years. They'll also notice that it looks the same as the S21+ and S21 Ultra, shares the same processor and software, and takes fantastic pictures.
That's another way Samsung has followed Apple's lead: the camera. Rather than increase megapixels or add lenses for the sake of it, Samsung has kept the same triple-camera hardware on the S21 as it had on the S20, instead working behind the scenes to deliver improvements in the most important areas: portraits and low-light photos.
Android iPhone 12 is here
For $800, the Galaxy S21 is truly Android's answer to the iPhone 12. More than the Pixel 5, OnePlus 8T, or even the Galaxy S20 FE, the S21 delivers a purely distilled premium Galaxy experience in a surprisingly affordable package, trimming corners rather than cutting them, and sacrificing very little of what people need.
And like the iPhone 12 Pro Max, if you want the best of the best, the Galaxy S21 Ultra still exists, with a Quad HD+ 6.8-inch display, 12GB or 16GB of RAM, and S Pen support. But for the masses, the S21 will more than suffice, especially when the price inevitably drops to $700 or less.
Previous Samsung Galaxy S phones were always among the best phones of the year, but they haven't seemed like a good value in years. The S21 changes that, hopefully for good. But mimicking what Apple does best with the iPhone 12, Samsung has created one of the best Android values in years, delivering premium looks and performance in an affordable package.
It's no secret that Samsung has been trying to replicate Apple's success for years, throwing all sorts of things at the wall to see what sticks. After 11 years, it might have finally found something that works.
Note: When you purchase something after clicking links in our articles, we may earn a small commission. Read our
affiliate link policy
for more details.
Kuo: New MacBook Pro Models to Feature Flat-Edged Design, MagSafe, No Touch Bar and More Ports – MacRumors
Apple is working on two new MacBook Pro models that will feature significant design changes, well-respected Apple analyst Ming-Chi Kuo said today in a note to investors that was obtained by MacRumors.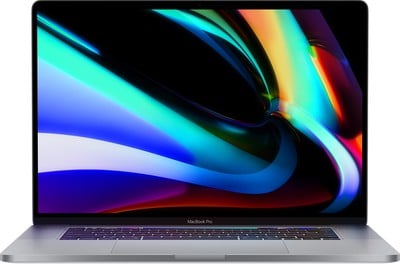 According to Kuo, Apple is developing two models in 14 and 16-inch size options. The new MacBook Pro machines will feature a flat-edged design, which Kuo describes as "similar to the iPhone 12" with no curves like current models. It will be the most significant design update to the MacBook Pro in the last five years.
There will be no OLED Touch Bar included, with Apple instead returning to physical function keys. Kuo says the MagSafe charging connector design will be restored, though it's not quite clear what that means as Apple has transitioned to USB-C. The refreshed MacBook Pro models will have additional ports, and Kuo says that Most people may not need to purchase dongles to supplement the available ports on the new machines. Since 2016, Apple's MacBook Pro models have been limited to USB-C ports with no other ports available.
All of the new MacBook Pro models will feature Apple silicon chips, and there will be no Intel chip options included.
1. The two new models are equipped with about 14-inch and 16-inch displays, respectively.
2. In terms of casing design, the new models cancel the curvy design of existing models' top and bottom parts and adopt a flat-edged form factor design similar to the ‌iPhone 12‌.
3. The ‌MagSafe‌ charging connector design is restored.
4. The OLED touch bar is removed, and the physical function buttons are restored.
5. There is no Intel CPU option for the new models.
6. They are equipped with more types of I/O, and most users may not need to purchase additional dongles.
The MacBook Pro models will use the same heat pipe design used by the current 16-inch MacBook Pro model, which Kuo says is much better than the current 13-inch MacBook Pro and MacBook Air because it will allow for increased computing power.
Kuo says that we can expect to see the new MacBook Pro models released in the third quarter of 2021. Due to the revamped design and strong replacement demand, Kuo expects total MacBook shipments to grow significantly by 25 to 30 percent year over year to 20 million units.
Kuo also said that high-end iPhone models coming in 2021 are likely to adopt a vapor chamber thermal system, which Apple is "aggressively testing." The VC thermal system will be required for the high-end iPhones due to their stronger computing power and faster 5G connection speeds. There are already smartphones from companies like Samsung, Razer, and LG that use vapor chamber cooling technology, which is used to keep a device cooler when it is under heavy stress.
It is unclear if the vapor chamber thermal system will meet Apple's high requirements, according to Kuo, but he is optimistic about the reliability improvement schedule and expects at least high-end models to adopt it in the near future.
Samsung unveils new S Pen Pro, announces support for third-party styluses – GSMArena.com news – GSMArena.com
Something important almost got lost in the fireworks of the Galaxy S21 unveiling – Samsung is launching two new S Pens, including a Pro model. The Samsung Galaxy S21 Ultra 5G supports both, in fact, you can use any current or old S Pen (so if you have an old Note laying around, you can use its stylus).
The new S Pen is lager in all dimensions, making it more comfortable. This is made possible since the stylus doesn't have to fit inside a thin phone, instead it is attached to the side of select cases.
We should point out that this is a passive stylus (as in there's no batter inside), so the Bluetooth functionality from recent Galaxy Notes is missing. However, thanks to the Wacom technology, the S21 Ultra can detect when you press the button to trigger certain actions and shortcuts (as long as the S Pen is near the display).
Then there's the S Pen Pro. This one is even larger does does offer the Bluetooth features, e.g. using the stylus as a remote shutter key or controlling the music player. The Pro will be available later this year, its price was not revealed.
As for the basic S Pen for Galaxy S21 Ultra, that is $40 by itself or you can get a $70 case that comes bundled with the stylus. Or, again, you can use an old S Pen you have.
The S Pen Pro is not exclusive to the S21 Ultra, by the way, it will work on existing S Pen-capable devices as soon as they are updated to One UI 3.1. The list includes the Galaxy Note10 and Note20 as well as tablets like the Galaxy Tab S6 and S7.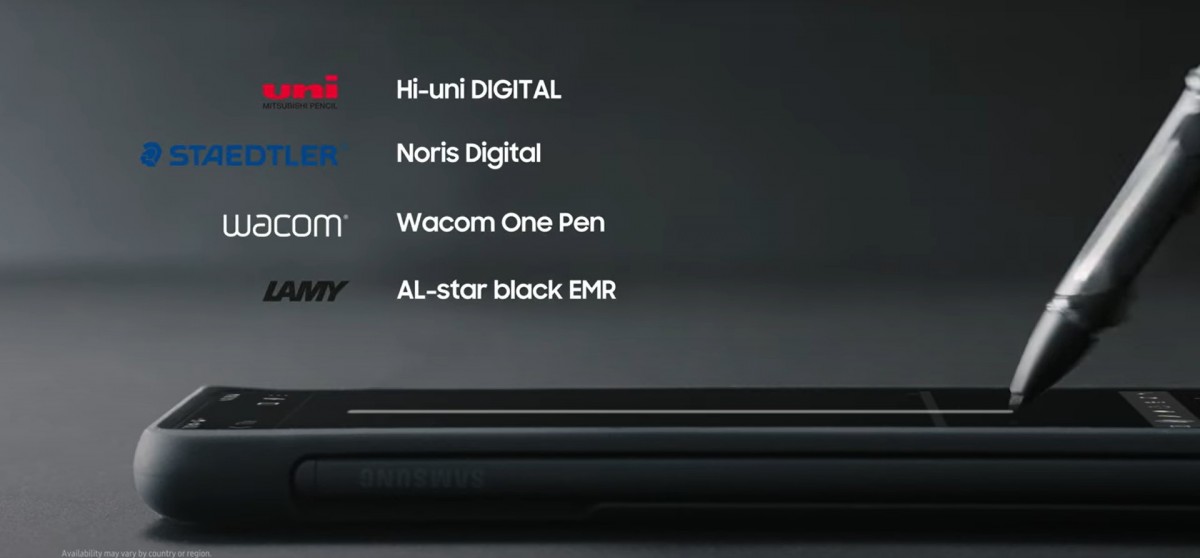 Perhaps an even bigger deal is that Samsung is opening up the S Pen to third-party companies that sell Wacom-based styluses. It's not quite clear if these will work from day 1 or if a software update is necessary.
Here's a quick look at some supported models: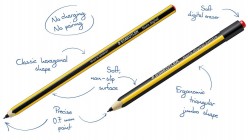 Compatible styluses: Hi-Uni Digital Mitsubishi Pencil • Staedtler Noris digital • LAMY AL-star black EMR
Check out our announcement coverage wrap-up for more on the Galaxy S21 series and other products that Samsung unveiled yesterday.