Grant gives boost to supportive art programs for adults with disabilities – GuelphToday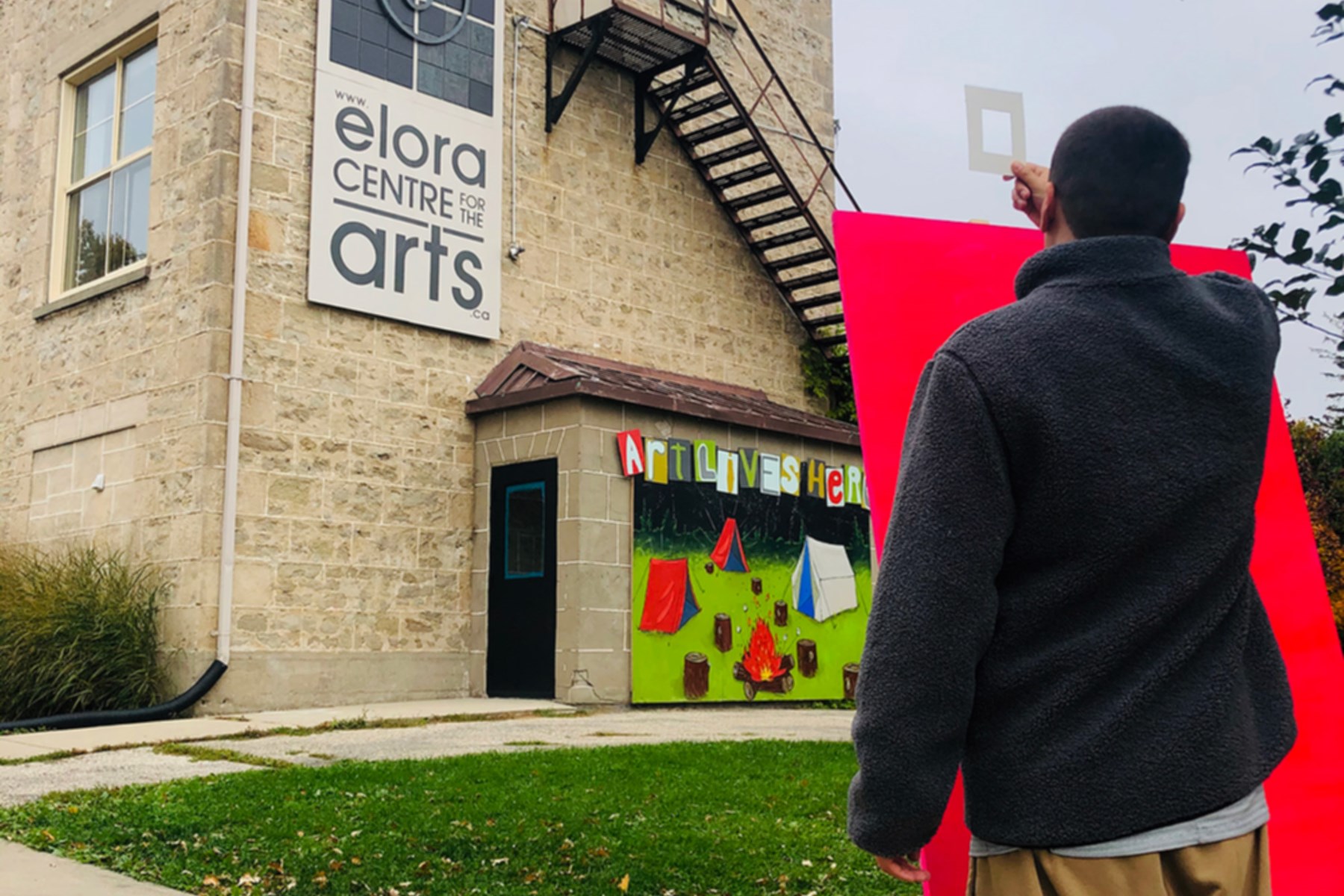 NEWS RELEASE
ELORA CENTRE FOR THE ARTS
************************
Thanks to a recent Ontario Trillium Foundation (OTF) grant, the Elora Centre for the Arts (ECFTA) will has expanded the reach and scope of their Supportive Arts program for young adults with (dis)abilities.
The three-year grant allows the Elora Centre for the Arts the opportunity to build on the proven model of their original program and increase the offered number of classes per week each year.
"Our Supportive Arts program is about enriching people's lives through arts and culture, and this boost to the program from OTF is really improving access to arts-based learning opportunities and compelling artistic experiences for participants in our community", says Judy Anderson, lead Arts Programmer and Instructor at ECFTA. "This program will impact so many people in our community over three years," she says.
The expanded program was slated to launch in March, just before COVID-19 hit. The program was rescheduled and launched mid-September, in a slightly re-imagined format to best suit the needs of the participants. Various local partner centres who participate in the program are not running field trips at the moment and limiting their activities to in-centre day programs if anything.
"We decided we needed to shift our thinking a bit to deliver the program despite the restrictions" said Lianne Carter, Executive Director at the Elora Centre for the Arts. "We decided that, for Phase 1, we would take the program on the road and run it at one of our partner's day facilities in Guelph. That means loading up art project materials, art instructors and assistants and driving to their location but if it means we can still run the program, that's what we are going to do for now" she said.
Phase one of the program expansion includes an ECFTA-lead art project followed by a movement and mindfulness session twice a week. The second year of the program grows to three workshops a week, and the third year it expands to four workshops per week.
"I want to express our sincere thanks to the Ontario Trillium Foundation for helping the Elora Centre for the Arts" said Wellington-Halton Hills MPP Ted Arnott. "This generous grant will ensure the continued success of this Supportive Arts program, allowing more young people to participate and benefit."
One of the original Supportive Arts participants, Simon Greaves, is currently working on a large outdoor art piece, as a thank you to the Ontario Trillium Foundation for their support of the program.
The piece will be completed and hung in the outdoor garden at the Elora Centre for the Arts in the spring.
To view photos of the program in the coming weeks, community members can visit https://eloracentreforthearts.ca/classes/outreach/ or follow the progress on the ECFTA Facebook page @eloracentre.arts For more information please contact Lianne Carter director@ecfta or 519-830-1876.
*************************
New Art Lending Program launched in Summerside – The Guardian
SUMMERSIDE, P.E.I. —
A beautiful piece of art is known to stir the soul and give rise to an abundance of feelings and creativity, and for that reason it is hoped people will embrace the new art lending program in Summerside.
It is an initiative of Wyatt Heritage Properties Inc. (WHPI) in partnership with Culture Summerside and the Summerside Rotary Library.
For some time it has been an objective of WHPI and Culture Summerside, the city's arts, heritage, and culture division of the City of Summerside, to bring to the community increased accessibility to original works of art by local visual artists. Not everyone is comfortable visiting an art gallery or can afford to own original works. Now, with a swipe of a library card, people can borrow artwork to grace their living space.
"We are really excited to be a part of this important project, which makes art accessible to the public," said Rebecca Boulter, regional librarian with Summerside Rotary Library.
As part of the 2020 Summerside Arts Festival held in July, 20 local artists each created a framed five-by-seven inch original work for the new program. The artwork includes a number of mediums and subject matter. The variety will appeal to a wide spectrum of tastes. The plan is to grow the collection in the coming years.
Lori Ellis, of Wyatt Heritage Properties Inc. and Culture Summerside, is grateful for the funding support of the Department of Canadian Heritage and the City of Summerside in making the art lending program a reality.
"This is a wonderful venture that I hope the public will be inspired to embrace. As an artist myself, I know the joy that art brings to life. We are so excited to partner with the Summerside Rotary Library for it will enable the program to reach a large audience. Great partners build vibrant artistic communities."
Acclaimed art scholar, ex-RISD president Roger Mandle dies – Toronto Star
PROVIDENCE, R.I. – Roger Mandle, an internationally renowned art scholar and the former longtime president of the Rhode Island School of Design, has died, RISD said Tuesday. He was 79.
Mandle died over the weekend, the school said in a statement, without elaborating. A cause of death was not given.
Mandle served as president of RISD from 1993 to 2008. He was credited with helping modernize the school, one of America's most prestigious four-year art colleges, and quadrupling its endowment to over $400 million. He previously served as deputy director of the National Gallery of Art in Washington, D.C.
A former member of the National Council on the Arts appointed by former Presidents Ronald Reagan and George H.W. Bush, Mandle helped shape and guide the U.S. art and design agenda.
"My mission, my vision, is to contribute to our humanity and quality of life and to make Providence and the Rhode Island School of Design a globally recognized centre of art, design and right-brained thinking," he once said.
From 2008 to 2012, Mandle was executive director of the Qatar Museums Authority, overseeing more than a dozen museums, including the Museum of Islamic Art, the Qatar Natural History Museum and the National Museum of Qatar.
Later, he launched a consulting firm dedicated to assisting museums and universities in strategic planning, board and senior staff development and mentoring, and advice during important transitions.
He was a former director of the Toledo Museum of Art, a former associate director of the Minneapolis Institute of Art and a member of the Ohio Arts Council.
"The American arts and higher education communities have lost a giant," Democratic U.S. Rep. David Cicilline of Rhode Island said in a statement, calling Mandle "an extraordinary man and a great civic leader."
"His influence on generations of artists and others whose lives were made better through the arts will live on," RISD President Rosanne Somerson said in a statement.
Mandle is survived by his wife, the abstract painter and acclaimed mixed media artist Gayle Wells Mandle; son Luke Mandle; daughter Julia Mandle; and five grandchildren.
Funeral arrangements were incomplete Tuesday.
Loading…
Loading…Loading…Loading…Loading…Loading…
Irina Antonova, head of top Moscow art museum, dies at 98 – Toronto Star
MOSCOW – Irina Antonova, a charismatic art historian who presided over one of Russia's top art museums for more than half a century, has died at 98.
The Pushkin State Museum of Fine Arts said Antonova, its president, died in Moscow on Monday. It said Tuesday that Antonova last week tested positive for coronavirus, which exacerbated her chronic heart ailments.
Antonova began working at the Pushkin museum after her graduation in 1945, and in 1961 she became its director. She held the job until 2013, when she shifted into the ceremonial post of its president. The 52-year tenure made her the world's longest-serving director of a major art museum.
As the Pushkin museum director, Antonova spearheaded major art exhibitions that saw the exchange of art treasures between the Pushkin Museum and top international art collections despite the Cold War-era tensions and constraints. Those exchanges, facilitated by her extensive personal contacts with colleagues in the museum world, brought Antonova wide acclaim worldwide.
She also was very active in promoting the museum's treasures to the public.
Antonova has received numerous Russian and foreign state awards.
Russian President Vladimir Putin sent his condolences. Kremlin spokesman Dmitry Peskov said that the president often met Antonova at the museum and "highly appraised her deep expert knowledge."
Antonova will be buried in Moscow's Novodevichy cemetery alongside her husband, who also was an art historian. Funeral ceremonies will be closed to the public amid coronavirus restrictions.