Gretzky shares inside look at Moss and the Edmonton Oilers
"I didn't think it make a lot of sense that an 18-year-old with a handicap was standing all day, taking a bus to work in 40-below weather. I remember thinking there must be something we can do to make his life easier and more comfortable. That's when I went to Glen with the idea."
And just like that, Moss was in. The chemistry was almost instant.
"In some ways, I was surprised how quickly he fit in," said Gretzky, adding everyone set the tone from the start that this wasn't charity, that Moss would have to pull his weight and do things the Oilers way.
"Glen didn't treat him as a child who was working in our locker-room with a handicap. If something was out of place, I remember Glen yelling at Joe and Joe would jump up and do what needed to get done.
"He fit in right from the get go. Everyone treated him with a great deal of respect. We loved having him around. It was as simple as that."
It had to be intimidating for a mentally challenged kid to walk into an NHL dressing room and be part of a regimented process where everything must run smoothly, but Moss never flinched. He didn't have any reason to. All any team asks is that you can do the job and fit in with the guys.
Moss, of course, was a natural at both.
"The only way it wasn't going to work was if he didn't fit in," said Gretzky. "He was comfortable, he knew his responsibilities. And he was genuinely excited to come to work every single day.
"It worked out from Day 1 that he was great for us and I like to think that we were great for him. He was never out of place. We treated him like everyone else in the locker-room. If we were teasing Barrie Stafford or Lyle, we'd tease Joey, and he loved being part of that.
Source:- Edmonton Sun
James Harden Preferred Playing With John Wall Over Russell Westbrook – RealGM.com
James Harden preferred to become teammates with John Wall rather than run it back with Russell Westbrook. Harden still wants to be traded by the Rockets either way.
"He had a preference of John Wall over Westbrook," said Adrian Wojnarowski on ESPN Thursday morning. "Although in the last couple of years, Harden has moved teammates in and out. Brought Chris Paul in, moved him out. Same with Russell Westbrook now.
"Whether that's going to be enough to convince him to want to be there long-term, the Rockets aren't sure about that. They do have a cushion to work with. Remember, James Harden is under contract for two more years. So they're going to start the season with Harden and Wall, and they're hopeful that John Wall can get back to that All-Star form. A five-time All-Star, a former No. 1 overall pick. If they can get John Wall back playing at a high level, they're hopeful that will help to make a case to James Harden."
Harden and Westbrook were also teammates previously with the Oklahoma City Thunder.
"Both point guards wanted to go to the other team," said Wojnarowski of Wall and Westbrook..
Blue Jays: Two interesting names emerge from non-tenders – Jays Journal
The MLB non-tender deadline passed with 56 players being non-tendered by their respective teams, however, a couple of names should be of some interest to the Toronto Blue Jays.
The Blue Jays also were involved in the action yesterday non-tendering both Travis Shaw and reliever A.J. Cole. Former reliever Ryan Tepera also saw himself let go by the Chicago Cubs amidst all the movement around the league.
There are a number of familiar somewhat unlikely names that saw themselves non-tendered including Kyle Schwarber, Eddie Rosario, Adam Duvall, Maikel Franco, Nomar Mazara, and Carlos Rodon to name a few.
However, it is outfielder David Dahl formerly of the Colorado Rockies, and pitcher Archie Bradley that Toronto should focus their sights on in the coming days. Both players still have some upside and could improve the Blue Jays 2021 contingent at their respective positions.
Dahl is just 26 and a former first-round selection, 10th overall in the 2012 amateur draft. The young outfielder battled injuries early on in his career but managed to play 100 games in 2019. Dahl hit .302/.353/.524 with 48 extra-base hits including 15 home runs and 61 runs batted in for the Rockies.
Last season, the outfielder struggled offensively hitting just .183/.222/.247 with no homers in 24 games. His overall body of work in the majors doesn't represent last season's stat line, Dahl is a career .286/.334/.494 hitter with 38 home runs and a 0.9 WAR in 264 games over four seasons in the majors.
Dahl is typically a corner outfielder but does have 71 games in centrefield on his resume including 40 games in 2019. The Blue Jays have been in search of someone who can step in and take over the centrefield responsibilities on an everyday basis.
The outfielder earned $2.475 million last season and was not earmarked to hit free agency until 2024 prior to his non-tendering.
Pitcher Archie Bradley is another name that the brain trust should be prioritizing on their offseason to-do list. For some reason, the Cincinnati Reds did not want to keep the reliable reliever in their plans for 2021 and I personally don't get it.
The 28-year old hurler has both starting and relief experience and can also close out games accumulating 28 saves in his career this far. Last season, he sported a 2.95 earned run average with six saves and an 8.8 SO/9 rate in 16 games with the Arizona Diamondbacks and the Reds.
The Reds acquired Bradley at the trade deadline last season and he posted an impressive 1.17 earned run average in six relief appearances leading to his non-tendering. The right-hander earned $4.1 million last season and would still be considered a value even with a raise for the 2021 campaign.
In 2019, Bradley went 4-5 with a 3.52 earned run average and 18 saves while fanning 87 in 71.2 innings of work for the Diamondbacks. He is still a serviceable backend of the bullpen arm who can consistently get major league hitters out.
The Blue Jays could benefit from landing either of these two talents, both have enjoyed success at the major league level and have some upside still left in the tank.
Is Westbrook for Wall a lose-lose deal for all involved? – theScore
In a blockbuster akin to a couple teams rearranging expensive deck chairs on a sinking ship, the Houston Rockets traded Russell Westbrook to the Washington Wizards for John Wall and a future first-round draft pick. Here's what the deal means for the parties involved:
Rockets take another step back
Westbrook's on-court value may not match the monetary value of his contract, and he's two years older than Wall, but Wall arrives in Houston on an equally burdensome deal, and with far more questions to answer about his current standing in the league.
Opening week of the coming season will mark two full years since Wall last appeared in an NBA game. The five-time All-Star underwent left heel surgery in January 2019, which led to an infection. While dealing with that already complicated recovery, a slip and fall at his home resulted in a ruptured Achilles. Wall's also had surgery on both knees in the past, and missed 41 games the season before his heel and Achilles injuries.
It's fair to say no one was lining up to take on the $131.5 million remaining on Wall's contract, which includes a player option worth more than $46.8 million in 2022-23.
Westbrook's contract also has three years and $131.5 million remaining, with the only difference being Wall will make about $200,000 less this season, while Westbrook's 2022-23 player option is $200,000 cheaper. If the Rockets believe they can eventually flip Wall before his option season, then owner Tilman Fertitta – whose earned a reputation for penny-pinching – will save a couple hundred grand in this deal, with Houston also recouping a (protected) first-rounder in the process.
That's fine if you assume this is a precursor to a James Harden trade that will fully launch the Rockets into a rebuild, but if the team remains committed to competing in the short term in order to keep Harden in Houston, which appears the case, this trade makes a lot less sense.
Wall's no more of an off-ball threat than Westbrook was. Of the 263 players in NBA history who've attempted as many 3-pointers as Wall, Westbrook's 3-point percentage of 30.5 ranks 259th. Wall's 32.4% conversion rate ranks 247th. In addition, the last time Wall was healthy, he was logging more time with the ball in his hands than any player besides Harden.
Over a five-year run of All-Star campaigns from 2013 through 2018, Wall averaged roughly 20 points, 10 assists, four rebounds, and two steals, and was a more consistent defensive player than Westbrook's ever been. But expecting a high-usage point guard – whose greatest attribute is his speed – to be the same player at 30 after an Achilles rupture seems like wishful thinking.
Best-case scenario: Wall remains an explosive star who can replace some of what Westbrook brought to the table last season during a three-month stretch when Westbrook got back to being the rim-rampaging guard he was at his peak. If Wall can do that while offering a tiny bit more shooting, more off-ball movement, and a greater defensive focus, this feels like a wash for Houston.
The realistic scenario: The Rockets simply swapped a bad contract (Westbrook) for a terrible contract (Wall), and will still pair Harden with an ill-fitting backcourt mate who's a worse player than Westbrook is. The only win here is the future draft pick.
The sting of that reality is more excruciating when you consider that just last year, Houston surrendered two first-rounders and two more pick swaps to turn Chris Paul – a better player, on a shorter contract, who actually fit beside Harden – into Westbrook.
That's the kind of backwards asset management that turns contenders into pretenders.
Wizards move up a tier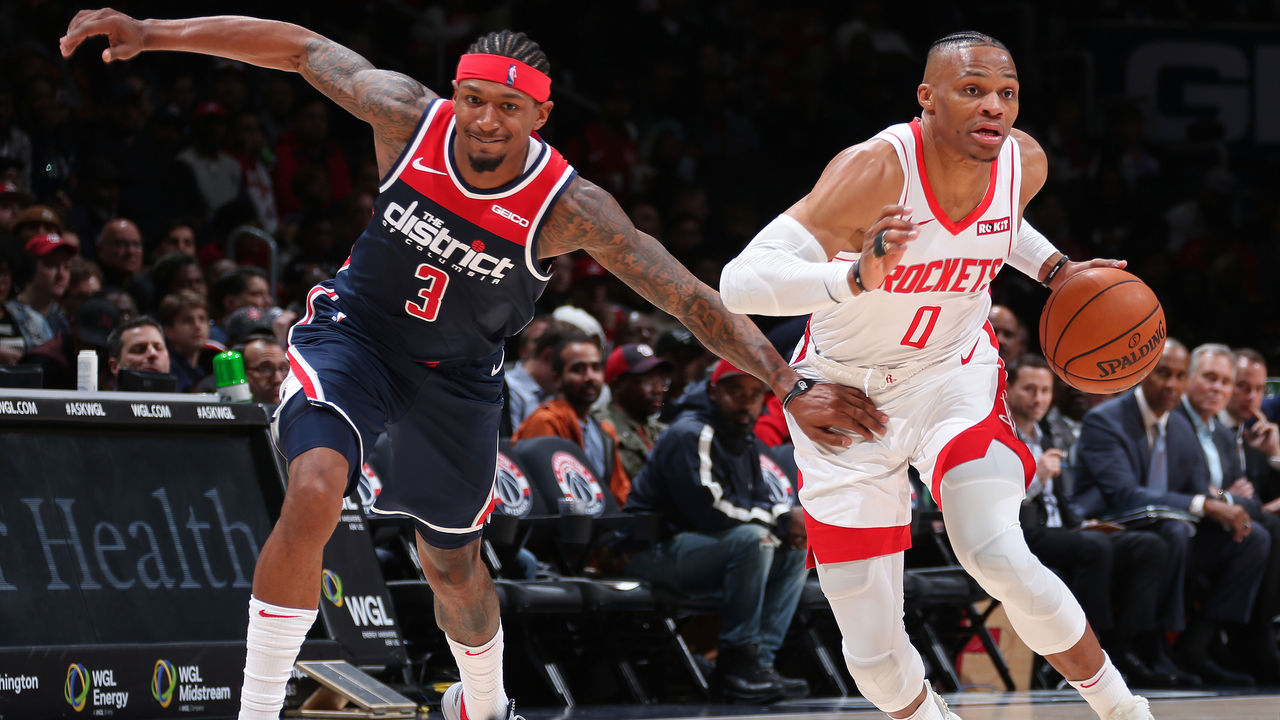 Speaking of asset management: Washington trading Wall means the club got zero games played from its former franchise player since Wall's lucrative extension kicked in last year.
Still, in a deal with no clear winner, the Wizards are certainly the lesser loser.
Westbrook was the better player when both stars were at their peak, and he's certainly the safer bet now that Wall's become such an injured and uncertain commodity.
After contracting COVID and dealing with a quad injury, Westbrook was a shell of himself during the summer restart. But with the Rockets going small and a clearer runway to attack in the paint, Westbrook averaged 30.7 points, eight rebounds, 6.8 assists, and 1.7 steals on nearly 51% shooting over a span of 34 games between early December and early March last season.
While Westbrook's off-ball issues are well documented, and even though his taking the ball out of Bradley Beal's hands will be detrimental for Washington when Westbrook falls in love with his nonexistent jumper, he and Beal will immediately become one of the NBA's most dynamic backcourts should Westbrook play to his strengths, as he did for a sizeable chunk of last season.
Beal, as a better shooter and more willing off-ball threat than Harden, also presents a much more seamless fit for Westbrook. In reuniting with Westbrook, head coach Scott Brooks could stagger his star backcourt's minutes to ensure one of Russ or Beal is on the court at all times (though Brooks has often been criticized for failing to stagger stars).
The Wizards will likely remain a defensive disaster, but with plenty of shooting around Beal and Westbrook, an offense that played at the fifth-fastest pace last season – and one that was surprisingly potent before being besieged by injuries – should be enough to get Washington back in the Eastern Conference playoff mix.
The Wizards should join the revamped Hawks in a two-team tier below the East's top seven, but from a talent perspective, both are closer to the Pacers than they are to a bottom-six group that's likely to include the Magic, Bulls, Hornets, Pistons, Knicks, and Cavaliers. At the very least, Washington should qualify for the 2021 play-in tournament that will involve teams No. 7-10 – a sobering new reality for Westbrook, who's used to playing for Western Conference teams with grander postseason ambitions.
After extending Beal last year, the Wizards have remained hellbent on keeping their other franchise cornerstone happy. Beal, in turn, has at least said the right things about wanting to remain in Washington for the life of his contract. Trading a future first-rounder and swapping one overpaid star for another in order to graduate from futility to mediocrity might seem like a shortsighted play, but the Wizards should be more competitive on a nightly basis, and if that keeps Beal happy and engaged, it's a worthwhile gamble.