Hazel Mae, Ken Rosenthal, Jon Heyman, and more reported Michael Brantley to Toronto – Awful Announcing
Baseball transactions have often seen some unexpected people breaking news, whether that's wetbutt23 and KatyPerrysBootyHole or Brendon Kuhn and Joey Vendetta. But Wednesday provided a remarkable reversal there, with TV host Hazel Mae and multiple U.S. baseball insiders (including Ken Rosenthal of Fox and The Athletic and Jon Heyman of MLB Network) reporting that outfielder Michael Brantley was headed to the Toronto Blue Jays before the eventual confirmation that he was instead returning to the Houston Astros (where he played last year, as shown above). Here are those initial reports:
Michael Brantley in agreement on a 3 year deal with #BlueJays per source.

— Hazel Mae (@thehazelmae) January 20, 2021
Source confirms: Free-agent Michael Brantley in agreement with Blue Jays on a three-year contract, pending physical. First: @thehazelmae.

— Ken Rosenthal (@Ken_Rosenthal) January 20, 2021
Jays agree to Michael Brantley deal @thehazelmae 1st

— Jon Heyman (@JonHeyman) January 20, 2021
And here are some of the later corrections and rebuttals from those who didn't initially report that:
There is not an agreement in place between outfielder Michael Brantley and the Toronto Blue Jays, according to a source. The Blue Jays are among the teams still in on Brantley, and a deal may eventually get done, but it is not finished.

— Jeff Passan (@JeffPassan) January 20, 2021
Blue Jays official refutes my earlier tweet on source re: 3 yr deal. "The team remains interested in Michael Brantley but there is no deal currently in place."

— Hazel Mae (@thehazelmae) January 20, 2021
Now hearing same as @Feinsand and @JeffPassan: No agreement yet between Blue Jays and Brantley. Two sides remain in discussions. Apologies for being among those who reported deal prematurely.

— Ken Rosenthal (@Ken_Rosenthal) January 20, 2021
There is no deal for Michael Brantley. The sides continue to talk. Sorry for jumping the gun. https://t.co/2SBHAXJmNE

— Jon Heyman (@JonHeyman) January 20, 2021
So looks as though Michael Brantley is going to Houston … interest from #BlueJays never materialized in a deal https://t.co/GwIZaXfXfm

— Ben Nicholson-Smith (@bnicholsonsmith) January 20, 2021
As noted Tuesday, baseball is a sport where local sources can sometimes break national news before the national insiders get it. But in this case, the initial reports appear to have been premature. And that led to some awkward tweets Wednesday for those who reported that the Brantley deal was done in Toronto before the actual news of that deal being done in Houston emerged.
[Photo from Robert Hanashiro/USA Today Sports]
Watt to sign with Cardinals on reported 2-year, $31M deal – theScore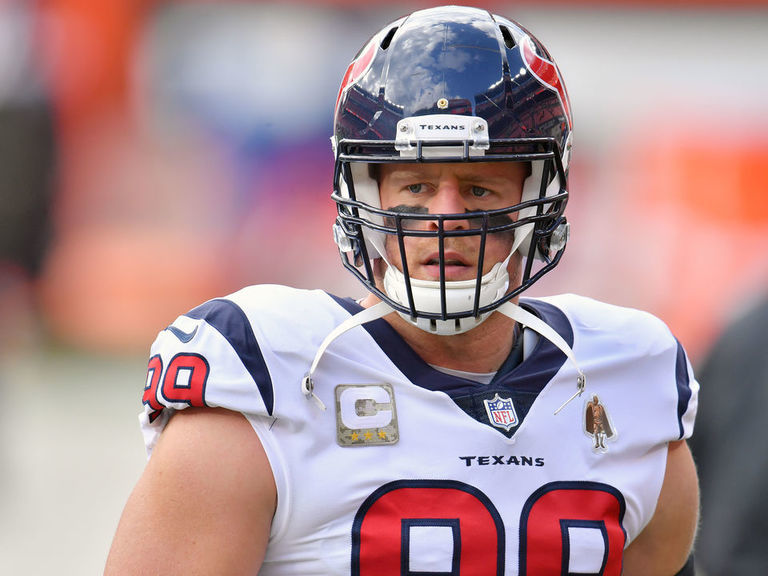 J.J. Watt is signing with the Arizona Cardinals, he announced Monday.
The three-time Defensive Player of the Year and former Houston Texans defensive lineman will ink a two-year pact worth $31 million, $23 million of which is guaranteed, a source told Ian Rapoport of NFL Network.
Watt hit free agency early because the Texans released him from his contract. The 31-year-old asked out of Houston after growing disgruntled with the organization's culture.
In the desert, Watt will join a squad that features former Texans co-star DeAndre Hopkins, who began recruiting him following his release. Arizona missed the playoffs for a fifth straight season in 2020 and is entering a pivotal third year under head coach Kliff Kingsbury.
The Cardinals now have a pair of high-profile pass-rushers in Watt and Chandler Jones, though the latter could become a casualty of the declining salary cap. General manager Steve Keim said recently that he won't cut Jones, but that was before he landed Watt.
Watt had only five sacks in 16 games last year, but he was still proficient in generating pressure. His 101 career sacks rank 31st in NFL history. Watt's greatest concern is the injury bug, which has limited him to eight games or fewer in three of the past five seasons.
The Cardinals were seldom mentioned as a possible landing spot for Watt, who reportedly drew offers from numerous teams. The Cleveland Browns, Green Bay Packers, Buffalo Bills, and Pittsburgh Steelers were speculated to be his top suitors.
Edmonton Oilers claim goalie Alex Stalock off waivers — a wise, wise, wise move – Edmonton Journal
Article content
This in, news that the Edmonton Oilers have claimed goalie Alex Stalock, 33, off of waivers. Bob Stauffer of Oilers Now has tweeted: "Stalock is in year 2 of a 3 year deal with a 785K AAV. He went 20-11-4, 2.67 GAA, .910 SVP last season in Minnesota. He started all 4 games in the Wild's Play-in Series. He missed the start of this season with an upper body injury."
My take
1. This is sharp move by the Edmonton Oilers, as there is no goalie in the organization who is ready to step in if either Mikko Koskinen or Mike Smith get injured.
2. To hold on to Stalock, Edmonton will have to keep waiving forwards who are outside the Top 12, but with the Top 12 solidified now that Jujhar Khaira and Gaetan Haas have stepped up as third and fourth line centres, this isn't such a chore. Players like Kyle Turris, Joakim Nygard, Devin Shore, Patrick Russell and James Neal will have to be waived regularly as they go in and out of the line-up but none of them are likely to be claimed by another team. And if one of them is claimed, it's not the end of the world. Not having an NHL quality starting goalie, on the other hand, just might be the end of the world when it comes to Edmonton's playoffs aspirations.
Article content
3. If Evan Bouchard is in the line-up, and if all other Oilers d-men are healthy, then two d-men, say Kris Russell and William Lagesson, will eventually take up the 20th and 21st roster spots, with Stalock taking up the 23rd spot. The Oilers can't waive Russell due to his limited No Movement Clause, and if they put Lagesson on waivers he will most certainly be claimed.
4. Stalock is an improvement over Troy Grosenick, the last goalie brought in under these circumstances. Grosenick had limited NHL experience, while Stalock has plenty. He'll do in a pinch, and that pinch will hit hard if Smith or Koskinen ever get hurt.
5. In four AHL games, Stuart Skinner has a fine .916 save percentage, while Olivier Rodrigue has an .873 percentage in three games. This is a strong start for Skinner, but he needs more AHL seasoning before he's ready for the NHL. The acquisition of Stalock means Skinner will get that necessary AHL time. And the loss of Slater Koekkoek to injury means the Oilers have a roster spot for Stalock.
6. The Journal's Jim Matheson notes: "Since Oilers keep losing goalies they claim suspect Stalock when he gets through quarantine would go on 23 man roster. Plus he qualifies as goalie to leave it available in expansion draft with next year at $785,000."
7. Sarah McLellan, Wild hockey writer for the StarTribune, reports: "The 33-year-old former Minnesota Duluth has been sidelined all season. He was on the COVID-19 protocols list, but has also been listed out because of an undisclosed upper body injury. Stalock recently had been back working on the ice with goalie coach Frederic Chabot."
At the Cult
STAPLES: Now we're talking! Bouchard back in against Leafs
STAPLES: If anything Edmonton Oilers power play is better this year
LEAVINS: For a Stanley Cup Playoff run, what starting lineup ingredient are Oilers missing the most?
Toronto Maple Leafs vs. Edmonton Oilers – Game #23 Preview, Projected Lines & TV Info – Maple Leafs Hot Stove
Coming off of one of their most complete performances of the season, the Maple Leafs have an opportunity to further pad their divisional lead in round two-of-three of the Toronto vs. Edmonton mini-series (10 p.m. EST, Sportsnet).
The Maple Leafs currently hold a six-point lead over the Oilers in the North Division with a game in hand. The Winnipeg Jets, who have played three fewer games than Edmonton, have the second-best record in the division with a points percentage of .675 to the Oilers' .609.
The Leafs currently lead the NHL with a PTS% of .773 (16-4-2 record), tying their franchise points record through 22 games. In 103 seasons as a franchise, Toronto has never finished with a PTS% higher than 70%. In this shortened, division-only schedule, they will, at minimum, have a shot at eclipsing that mark for the first time. The only other Canadian teams to not have a season above .700 in franchise history: The Jets and Senators, the two youngest franchises in Canada.
In lineup news, there will be a few unanswered questions until closer to game time. Auston Matthews, who missed Saturday's game but has remained with the team and has been practicing, is a 'game-time decision'. Given the injury appears to be to Mattews' hand/wrist, the team could be taking extra precautions to keep him out longer:
Matthews didn't look to be taking many hard shots at practice yesterday either.

He is still a game-time decision for tonight. https://t.co/RVzUU4E0eY

— Kristen Shilton (@kristen_shilton) March 1, 2021
With Matthews absent in the last game, there were some impressive performances from further down the depth chart. After sitting out games and receiving limited ice time early in the season, Pierre Engvall has stepped up on a line with Zach Hyman and Ilya Mikheyev. It was telling that when Joe Thornton missed last Wednesday's game with an injury, the coaching staff decided to move Alex Kerfoot into Thornton's spot and leave Engvall to center the more defensively-deployed line with Ilya Mikheyev — a sign Engvall has come along way as far as earning Sheldon Keefe's trust. In 61 games in the NHL, Engvall ranks fourth among current Leafs forwards on the defensive side of evolving-hockey's goals-above-replacement model. He also ranks slightly above a replacement-level player offensively.
The 'HEM' line generated an extended heavy shift that pinned Connor McDavid in his own zone for over a minute on Saturday:
The Hyman line held McDavid and Draisaitl in their own end for over a minute #LeafsForever pic.twitter.com/9jicUvA8hu

— Maple Leafs Hotstove (@LeafsNews) February 28, 2021
All three Leafs even-strength goals were scored with the Oilers' top line on the ice, including Zach Hyman's 4-0 goal in the third period.
McDavid has yet to be held off the scoresheet for more than one game in a row this season, but even if the Leafs can't repeat the feat, the hope will be to limit him as best they can with a similar formula to Saturday night's: stay out of the penalty box, stay above McDavid, slow him down through the neutral zone as a five-man unit, and count on strong goaltending when needed.
On that note, Toronto's goaltending situation uncertain as it gets for tonight. Firstly, Jack Campbell, who earned a shutout on Saturday, missed practice yesterday and did not participate in the optional skate today. Frederik Andersen practiced for an extended period this morning, meaning he's likely not preparing himself to play tonight. That leaves the Leafs' third-stringer Michael Hutchinson, who was in Leafs net in practice today, as the most likely of the three to dress. However, there will be no decision made on the starter — or the backup for that matter — until closer to 10 p.m. Eastern time.
After losing his first game in six starts, Mike Smith will return to the bench and Mikko Koskinen will start for the Oilers. The 32-year-old Koskinen is 3-2 in his last five starts with a .914 Sv%.
---
Game Day Quotes
Sheldon Keefe on Zach Bogosian's progression this season:
I thought that in the early going, you could tell he was still adjusting to be here in our system and in his role, but I think, for quite some time now, he's really settled in and he's provided what we thought and expected to get [from him]. [He's] been a reliable defender who has brought a level of physicality to our defensive group.

He's a reliable penalty killer and just a great personality — a great person who's added to the leadership of our team with the experience he has in the league. Of course, coming off of a Stanley Cup win and all those types of things, he's definitely brought a lot.
Keefe on Mitch Marner's dominance this season:
Mitch is a very good player in both ends of the ice, first of all. When you're looking and linemates and teammates, [the first thing is] do you do your job? Are you reliable in that? Mitch certainly is.

If someone makes a mistake, can you make up for it through effort or intelligence? Mitch has both.

Of course, when he has the puck, the way he sees it — if you get open, he finds you and creates his own space. That's really what good players do. It comes back around, the chemistry he and Auston have shown this season along with Joe.
Keefe on T.J Brodie's consistent impact this season:
I like that he just doesn't care who he's playing against. It doesn't rattle him, it doesn't concern him. He's comfortable in his own game and realizes that he's got to stay within his skill set and do what works for him.

He does it differently than other players, and that's part of what's made him successful in the league. The other part of it is, even if he gets beat or makes a mistake, he's just going to go back and drink some water and give it his best shot the next time out. It more often than not works out for him. That's why he is who he is in the league.
Keefe on the importance of Pierre Engvall and his growing role:
With Pierre, we see great potential there. We've seen it before — I saw it with the Marlies, and I saw it last season at different points when he played for us. He didn't start the [play-in] series against Columbus, but he came in and played down the middle and did a really nice job for us on that fourth line.

We knew, and I knew, he was going to be an important piece for our team here this season. We've made things harder on him to earn that opportunity, mainly because I just feel like a player with his skillset, size, speed, physicality and the potential he has — I don't even know if he realizes how good he can be. We didn't want to hand him anything. He needed to work at it and he needed to understand that there are areas of his game he can continue to get better at.

Even in the game the other night, I thought he did a terrific job and that line was excellent. There's still a number of things in his game that show me room for growth and improvement. That's exciting for me as a coach and for us as a team. It should be exciting for him as well.

We gave him a slower start to this season here and created some adversity for him to really try to get the absolute best out of him when his opportunity came, which, for me, was inevitable.
Oilers head coach Dave Tippett on adapting to different play styles within the division:
There's situations in each game that dictate [what happens]. You're on transition, you get openings — if you're [playing against] structure, real tight structure, you have to read and react. That's just part of the game. It goes both ways.
Tippett on the baseball-style schedule this season:
You go into the series and you do a little pre-scout, but you make adjustments as you go along each game. It's a unique situation; it's more like a playoff-style mentality. I think the players enjoy it. I think they like having the ability to get into a kind of mini-series and get ingrained in it and know who you're playing against to make those subtle adjustments that happen in a series.
---
Toronto Maple Leafs Projected Lines*
*Lines will be confirmed at game time
Forwards
#97 Joe Thornton – #91 John Tavares – #16 Mitch Marner
#94 Alexander Barabanov – #15 Alex Kerfoot – #88 William Nylander
#65 Ilya Mikheyev – #47 Pierre Engvall – #11 Zach Hyman
#26 Jimmy Vesey – #72 Travis Boyd – #19 Jason Spezza
Defensemen
#44 Morgan Rielly – #78 T.J Brodie
#8 Jake Muzzin – #3 Justin Holl
#23 Travis Dermott – #22 Zach Bogosian
Goaltenders
#30 Michael Hutchinson
#36 Jack Campbell
Injured: Wayne Simmonds, Frederik Andersen, Auston Matthews
Extras: Kenny Agostino, Scott Sabourin, Nic Petan, Timothy Liljegren, Mikko Lehtonen
---
Edmonton Oilers Projected Lines
Forwards
#93 Ryan Nugent-Hopkins – #97 Connor McDavid – #13 Jesse Puljujarvi
#21 Dominik Kahun – #29 Leon Draisaitl – #56 Kailer Yamamoto
#63 Tyler Ennis – #16 Jujhar Khaira – #15 Josh Archibald
#52 Patrick Russell – #91 Gaetan Haas – #39 Alex Chiasson
Defensemen
#25 Darnell Nurse – #22 Tyson Barrie
#82 Caleb Jones – #6 Adam Larsson
#75 Evan Bouchard – #74 Ethan Bear
Goaltenders
#19 Mikko Koskinen (starter)
#41 Mike Smith
Injured: Oscar Klefbom, Zach Kassian, Slater Koekkoek, William Lagesson