Health systems eye real estate moves in post-pandemic world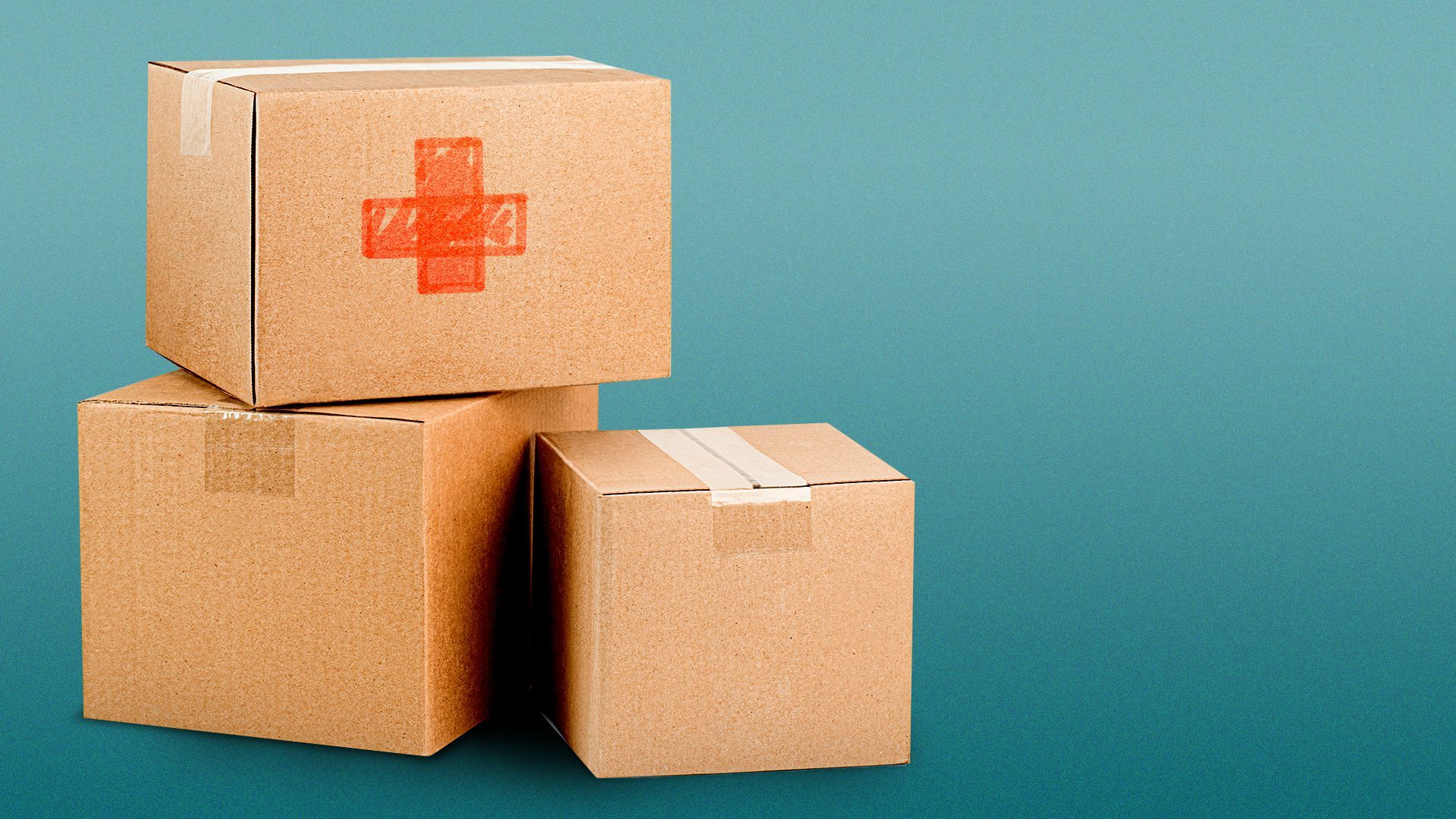 Illustration: Annelise Capossela/Axios
Health systems facing economic headwinds and the aftereffects of the pandemic are taking a closer look at divesting or squeezing more value out of their real estate holdings.
Why it matters: Real estate can account for up to 40% of a health system's balance sheet and also represent a major chunk of some communities' commercial real estate inventory.
The big picture: Inflation is still driving up the costs of just about everything. With the threat of a recession, the bond markets are drying up and cash is tight.
"Health care organizations are absolutely right now really pulling back on capital and being very, very careful," Kaufman Hall managing director Eric Jordahl told Axios.
"The access to capital for most organizations has become constrained. So a lot of them are either pulling back, deferring, pushing things down the road trying to manage though with a tighter capital budget," Jordahl said.
State of play: Work-from-home policies and the continued use of virtual care are forcing a reckoning.
"It's very common for health systems to say they have a 50% expected reduction in their administration space needs. That's a huge reduction," said Jay Johnson, a managing director at JLL, a commercial real estate firm which authored a recent report on health care real estate trends.
They are looking to get creative, such as renegotiating deals with landlords for less square footage over a longer lease period or identifying underused clinical space and either mothballing it or repurposing it for more productive uses, Johnson said.
Penn Medicine recently determined only 10% of its 600,000 square feet of administrative space is being used, the health system's real estate expert Allison Wilson-Maher said during a recent event hosted by Bisnow.
"That's a lot of space not to be used. So we're recycling 300,000 square feet for a different use because we own it. And the other 300,000 square feet, we are likely going to be giving up and going somewhere to consolidate to a much smaller footprint," Wilson-Maher said, per Bisnow.
Yes, but: On the clinical side, there's closer to a 15% to 20% reduction in space for many health systems, Johnson said.
The surge in telehealth also is softening demand for medical office space, especially lower-acuity settings like emergency care centers, experts say.
But it's still unclear what long-term impact telehealth will have on in-person volumes. The growing aging population may offset some of the reduction in clinical space needs, Johnson said.
The intrigue: In my years of reporting on hospitals, nothing can get people more riled up than talking about parking. But the demand is actually still far below what it was pre-pandemic, Johnson said.
"It's still an issue, but who parks, right? It's the patients and the staff. And a lot of the hospitals have greatly reduced their administrative staff [working] at their hospitals and that has freed up spaces," Johnson said.
Be smart: It's clear the pandemic changed how a lot of health systems thought about how they wanted to use their space, said Lisa Goldstein, senior vice president at Kaufman Hall.
"We saw a lot of organizations put a pause on a strategic capital and go back to the drawing board and reevaluate," Goldstein said. "Construction costs are rising. How many beds do we really need? Do we need more or less based on what we've learned?"
For example, South Dakota-based Sanford Health announced in August it put a Minnesota hospital project on hold, citing uncertain times.
Carilion Health also postponed the construction of a major new mental health care facility in Roanoke, Va., citing negative financial impacts from the pandemic, the Roanoke Times reported.
In July, Provident Health paused an eight-story building project in Cook County, Ill., due to ballooning costs, with officials saying they'd reassess the plans.
The bottom line: We often think of health systems as major employers in a community, or as providers of essential services.
But the pandemic and the economy are surfacing how much they can potentially swing real estate prices or rein in commercial development.
Through Parvis, Real Estate Investment Opportunities Abound – Storeys
As we collectively ride the ongoing inflation rollercoaster, it's only natural — and wise — to consider how you can make your financial foundation as stable as possible.
For many, investing is a preferred way to protect and grow wealth. And in the last several years, Canadian real estate has seen an unprecedented boom in interest from all angles, including the investment realm.
Today, investors are increasingly keen to stake claim on real estate assets as a means of diversifying their portfolio. Understandably so, considering the Canadian market's demonstrated fundamentals of low supply and high demand lend themselves to steadily increasing value.
Making the sourcing and securing of such assets easy, Parvis Invest – a Canadian marketplace for real estate investing – offers a portfolio of curated, high-quality real estate developments to its investors through a user-friendly platform.
READ: Money Matters: This Online Marketplace Makes Real Estate Investment Easy
Parvis' selection of real estate products is strategically built via direct collaboration with developers and property owners, plus team insights, analytics, and industry data. Opportunities also undergo vetting by the company's Investment Committee, which has insight and experience from the worlds of real estate development, private equity, tech, law, and finance.
Capturing the essence of Parvis' curated offerings, a new 24-storey condo development called Centra invites investors to get in on the ground floor of something special in Surrey, BC. The building's developer, Everest Group, boasts a team with more than 150 years of combined experience in international real estate and construction management, with more than 30 successfully completed projects and over 1,000 acres of land developed.
The project, five months into its 24-month building schedule, brings 164 residential condominiums — plus three townhomes and two levels of underground parking — to one of Canada's fastest-growing cities (and the fastest-growing in BC; Surrey's population is expected to more-than double in the next decade).
Located at 13868 101 Ave, the building is near a host of restaurants and shops, as well as Simon Fraser University, Memorial Hospital, and Skytrain access. Downtown Vancouver is just a short drive away, serving spots to tuck into for a bite, a live show, or an afternoon of shopping. And at the end of the day, residents can comfortably return to their lush, green, and calm family-friendly neighborhood.
For investors, Centra's risk profile is classified as moderate to high level of risk, because it's a new construction building. Two factors that help de-risk this project, relative to comparable new developments, are that over 80% of its units are pre-sold, and Parvis investors will receive a preferential equity return of 17.5% IRR. The Parvis equity return is in priority to the remaining equity invested.
Even further assurance is provided by way of a corporate guarantee by Everest, and personal guarantees by its directors. The condominium's minimum investment is $20,000, with a total equity raise of $18,500,000.
By spring 2023, Parvis will also introduce its secondary market, which will give investors the chance to liquidate and sell their investment ahead of time, should they wish — big moves, for a traditionally illiquid asset class. For Centra, there are no transaction or management fees for investors to pay, and in the case one chooses to sell on Parvis' secondary market, the seller only pays 1% commission.
Also currently available for investment is a fully-tenanted residential building in Kitchener, Ontario, classified under the Parvis Core Plus Strategy, which typically features a longer investment horizon with a low to moderate risk profile for investors, and a targeted IRR of 9% to 16%. The building is located at 199 Ahrens Street, is home to 16 units ranging from one to three bedrooms, and was purchased by its developer below market value.
Renovations to the interiors by Mike Beer Investments, plus repositioning of the building and property, promise to increase its annual rental income by nearly double — and the financing for these upgrades is already in place.
This building's minimum investment is $10,000, with a five-year investment term, and an average projected annual return of 16%. The product's total equity offering is $1,700,000.
Within walking distance of several parks, cafes, restaurants, and shops, the address is perfectly situated just north of downtown Kitchener's main strip. And with GO Transit also only steps away, residents have day trips at their fingertips.
Like with Centra, there are no transaction or management fees related to this building for investors, and in the case one chooses to sell on Parvis' secondary market when the option opens up, that 1% seller commission comes into play.
It's no question that 2022 was filled with trials, and ended with uncertainty for many sectors. But through marked financial growth, multiple instances of professional recognition, and licensing approvals secured, Parvis came out of last year an anomaly: exceptionally grounded, stable, and strong.
If these are the attributes you want to see in your own investment portfolio, Parvis can help you get there.
---
This article was produced in partnership with STOREYS Custom Studio.
Historic Muskoka Resort Hits the Market for $12M – Storeys
Written By
Erin Nicole Davis
An iconic Muskoka resort has just hit cottage country's real estate market.
For those looking for a new business venture in the summertime hot spot, Windermere House has just been listed for $12M.
The sprawling, long-time landmark sits on Lake Rosseau — one of the "Big Three" Muskoka lakes — and is known for its quintessential Old Muskoka charm mixed with modern luxury and amenities. Beloved by both tourists and local cottagers, the picturesque resort has been synonymous with Muskoka tourism since 1870.
Known as 'The Lady of The Lake,' this 56-room resort hotel sits in a prime location in the Village of Windermere, overlooking the stunning lake. Offering a dose of timeless charm, its historic features include original stone architecture, a charming veranda, and classic Muskoka-style windows. The hotel features several food and beverage outlets, full-service spa capabilities, and a 3,200 sq. ft. of function space that ranges from a private boardroom to state-of-the-art conference facilities.
With quintessential cottage country recreation front and centre, the 6.62-acre resort features a heated outdoor swimming pool, tennis court, sand beach, marina, and golf course.
The new owner of the property will have the opportunity to take up residence in Windermere Cottage, the traditional four-bedroom private cottage with a separate entrance from Fife Avenue that can also be rented as an additional resort property. Or, as the listing highlights, there's also the option to personalize a penthouse "cottage" suite within the hotel.
The Muskoka chair-filled property includes three detached staff houses, an older, staggered row-style 10-plex, and ample on-site parking.
While its price tag isn't within reach of everyone, considering that most of the sprawling cottages on the lake sell for upwards of $5M — coupled with its inevitable income-generating potential — the property may be considered a steal for someone in the market for a breezy new business venture.
Find the full listing here.
Written By
Erin Nicole Davis
Erin Nicole Davis is a born and raised Toronto writer with a passion for the city and its urban affairs and culture.
Toronto building home to historic pub to be converted into new hotel – blogTO
Toronto is getting a new hotel by expanding an old hotel that has spent decades not being a hotel. I know, very confusing, but I can totally explain.
A four-storey building that has stood at the southwest corner of Church Street and Richmond Street East for over 140 years could soon undergo a significant transformation.
The building at 124 Church Street was originally constructed as a hotel in the 1880s, and after 14 decades, a developer has filed plans to bring the property back to its roots with a renovation and expansion supporting a new boutique hotel.
M&G Hotels Limited has big plans for the property, filing a minor variance application that calls for a YY Architecture Studio-designed addition extending the building's roofline and providing additional space for hotel and other hospitality uses.
This address has been home to McVeigh's Irish Pub since 1962, and despite major changes on the horizon for the property, it looks like the bar will maintain its presence in the building, and be left practically undisturbed through the renovations.
Plans for the site show little modifications in store for the first two levels of the existing building, aside from a new elevator shaft and other small changes.
The current space occupied by McVeigh's is listed simply as "existing bar" and "existing kitchen" in plans, a good indication that the establishment will maintain its long-term presence at the intersection.
New floors would be added above the current parapet, bringing the existing four-storey building to an increased height of six levels.
A total of 24 hotel suites are planned on levels three through six, topped by a new rooftop bar and terrace.
The rejuvenated hospitality property will reportedly operate under the branding Clover Hotel, and this will not be the first time that the site or even the current building has been home to a hotel.
The southwest corner of Church and Richmond has been home to bars and hotels since the mid-19th century, and the current 1882-built structure was originally constructed as a hotel, replacing an earlier timber hotel building dating back to the 1850s.
Opened as the Windsor Hotel and later renamed the New Windsor Hotel in the early 20th century, the building was maintained as a hotel into the 1960s.
Plans to expand the building and open a hotel are just some of the big changes happening to the property.
The existing building at 124 Church Street stands as the lone holdout against a huge condo development now under construction that will soon tower over the property's south and west elevations.