Here's What The Media Should Be Asking Prince Harry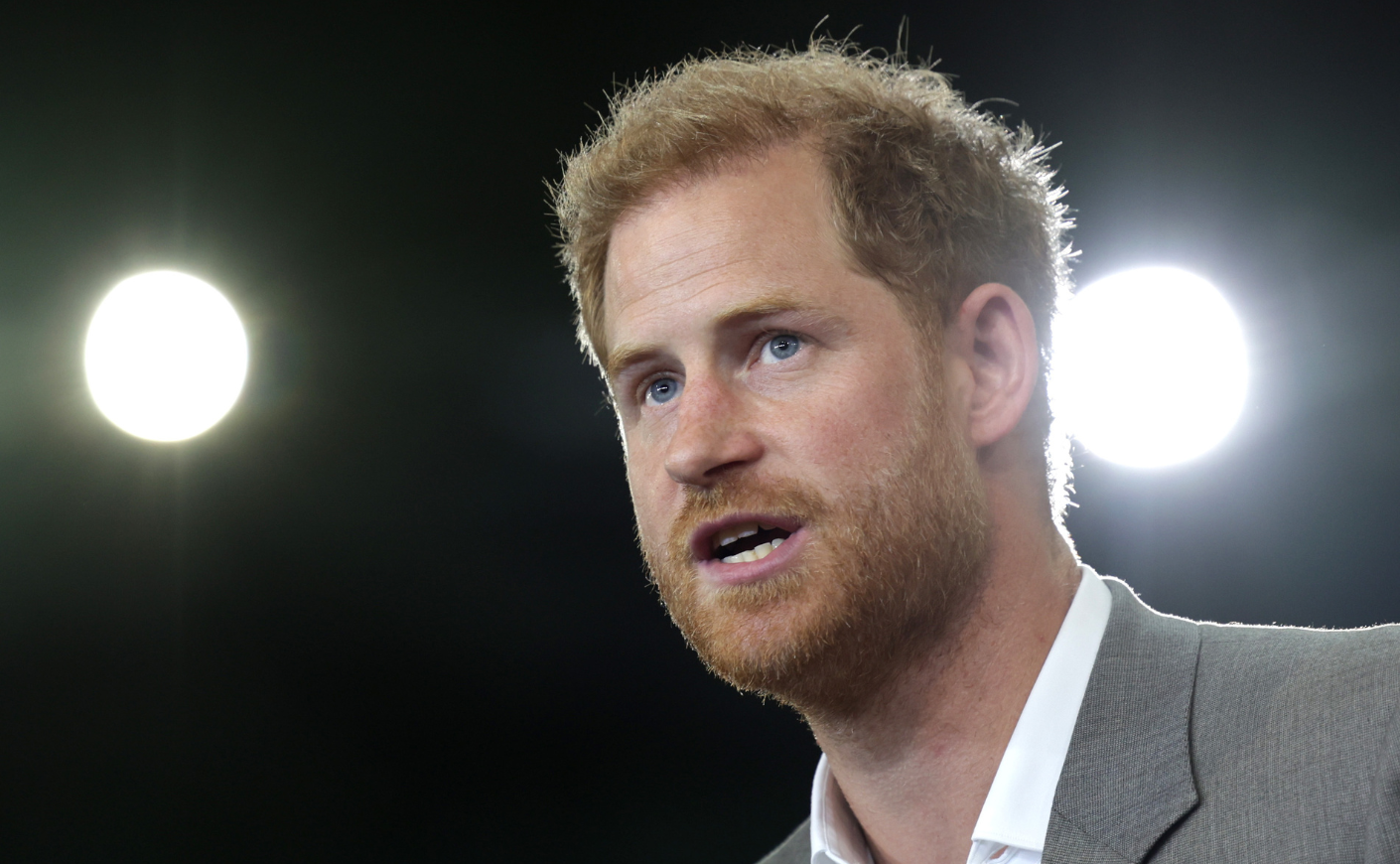 Believe it or not, many important questions still remain unanswered.
You don't have to be a royal watcher to know that Prince Harry and his wife Meghan Markle are at odds with the British Royal Family. From Harry and Meghan's bombshell Oprah interview in March 2021, to their Netflix docuseries released in December, to Prince Harry's recently published memoir Spare and all the accompanying press, there has been an avalanche of revelations and accusations lodged against Harry's family.
The result has been an all-too-familiar polarization, as many onlookers proclaim themselves either Team Harry or Team William. Team Sussex or Team Wales. The mainstream media has only fed this frenzied divide with one side providing a platform for the Sussexes, giving them little to no pushback on their incendiary and sometimes inconsistent claims, while the other side ruthlessly attacks them, showing them no mercy or empathy. 
As a progressive Democrat who happens to also be a royalist, I can't help but also notice that debate has become politicized. Why is this? And why have so many lost the ability to see nuance or shades of gray? Can't we acknowledge that Harry and Meghan have suffered legitimate pain and endured racist attacks without believing they should be immune from all criticism and accountability? Can't we believe that Harry and Meghan have the right to share their truth, while understanding that it isn't necessarily the truth? Can't we want this couple to find happiness in America, while also feeling weary of seeing them on every news outlet and social media platform? Can't we have empathy for their feelings but also believe that many people in the world have it much worse than they—and aren't getting paid millions upon millions to share their pain?
A good start to finding this gray area our society so desperately needs would be for an esteemed journalist to take on the challenge, Barbara Walters-style. Let Harry and Meghan tell their story, in their own words, but also come to the interview prepared, with an understanding of the institution and its history, as well as the timeline and the facts in question. Ask fair but tough questions and be unafraid to ask follow-up questions. The answers might not change hearts or minds of their most staunch supporters and critics, but the discussion would certainly shed light on what is a very complicated family drama. Here are the questions I think they should ask.
---
You mention in the preface to Spare that your father and William didn't know why you felt the urgent need to leave the U.K., and that the book was a vehicle to explain to them. Was reconciliation one of the goals of the book? In hindsight, do you think you have increased the probability of reconciliation or has sharing it with the world jeopardized reconciliation?  Why didn't you share your written story with your family without publishing it?
Some have criticized you for keeping your royal titles. In the Netflix series, you mentioned offering to give those up during discussions about your leaving working royal life. Did you see any symbolism in giving up your titles to show true independence from the monarchy? What has prevented you from following through on that? Do you eventually plan on relinquishing your royal titles? Why or why not?
You have claimed that your father and his wife have leaked stories to the press. Have you ever leaked anything to the press? Did you tell Gayle King about your conversation with William following the Oprah interview? Has Omid Scobie ever Tweeted criticisms of Harry's family with your knowledge or at your request? In your mind, is there a difference between leaking the truth?
Can you see why the Royal Family may not have wanted to engage in further private conversations with you, knowing that your Netflix series and memoir were on the horizon? Can you see how those media deals could have impeded productive talks towards a resolution with your family?
In Spare, you recount an argument you had with William where he stated that Meghan is "difficult, rude and abrasive". You say that this wasn't "the first time he parroted the press narrative" and "lies from his team." Do you truly believe that William's opinion was solely based on the press narrative, or is it possible that this is William's actual opinion of her based on firsthand experiences? You seem to believe all criticism of your wife is rooted in either jealousy or unconscious bias. Can you acknowledge that there may have been interactions with Meghan that could have rubbed him the wrong way, whether you agree or not?
Regarding Archie's skin color, you seemed to imply in the Oprah interview that your family—or at least one member of your family — is racist. Yet recently, you told a British journalist that neither of you ever called your family racist — that that claim came from the media. When you saw these stories, what prevented you from challenging the narrative? You have been very clear of your unhappiness when your family fails to correct mistruths in the media. How is this situation different?
The press accused Meghan of making Catherine cry. Meghan explained her side to Oprah—and said that it was the other way around: Catherine made her cry. What made you want to rehash this in the book? Are you aware that the press recreated a text exchange between the two women? Will you acknowledge that that wasn't an actual exchange? And if it was a verbatim account, how is this different than the press publishing Meghan's father's letter without her permission?
You have said in interviews that pre-dated your meeting Meghan that you were happy to be "the spare." Was this untrue at the time or did your feelings change with hindsight and/or therapy?
You have claimed that certain courtiers have gone out of their way to protect senior members of your family while being unwilling to do the same for you. Based on some of the more salacious accounts in your book, would you agree that the palace courtiers did a pretty good job protecting many of your details from leaking? Is that a fair assessment? Have you ever benefited from these courtiers?
Isn't it true that Jason Knauf, while working on your behalf as the Communications Secretary in the office at Kensington Palace, issued a statement in November 2016 stating that Meghan had been "subject to a wave of abuse and harassment" from the media? The statement also pointed out "the racial undertones of comment pieces" along with "the outright sexism and racism of social media trolls and web article comments." Would you say this was an unusually strong statement issued by a palace official?
There are reports that certain family members, including Sophie, Countess of Wessex, offered to help Meghan acclimate to her role in the British Royal Family. Is this true? If so, to what extent did Meghan accept their help? If not, why did she refuse it?
You and Meghan told Oprah that you married three days before your actual televised wedding. However, the Archbishop of Canterbury denied that this happened. What's the truth?
Meghan told Oprah that Archie wasn't given a title and went on to imply that this had something to do with debate around his skin color. But isn't true that your cousins' children, who are also great-grandchildren of The Queen, were similarly not given titles? What was the reason for that? Do you think your children would be given titles if they were not biracial?
In 2016, you, William and Catherine launched the Heads Together campaign which focused on ending the stigma surrounding mental health. In 2017, while speaking at Leeds Leads, you reiterated your commitment to encouraging people to seek help for mental health problems. Two years later, in 2019, William, Catherine, you and Meghan backed Shout, a text messaging service for people experiencing a mental health crisis, with £3m from your Royal Foundation. However, it was recently revealed that Meghan was experiencing a significant mental health crisis of her own in 2019 and you said that you were ashamed to tell anyone in the royal family because you didn't know if they would have the same feelings and thoughts as you and that, ultimately, you felt you had no one to turn to. Given that you and William spent so much time speaking about and promoting the importance of mental health, why did you think your family wouldn't be understanding of what Meghan was experiencing? In addition, why didn't you or Meghan turn to Heads Together or Shout for the critical, immediate help she needed?
During your first primetime interview in March of 2021, you said that when you introduced Meghan to your family in 2016, she was far better received than you anticipated. You went further, adding that your father, brother, Catherine, and the rest of the family were really welcoming and that their behavior towards Meghan did not change until after your South Pacific tour. However, in Spare you write that when you introduced Meghan to your family, William was skeptical, disdainfully referring to her as an "American actress", and that other members of your family were uneasy, as well. Clearly, you can see how the differences between these two accounts can be confusing. Can you explain the disparity between your differing accounts?
You claim your father cut you off financially. The media has reported that you were given monies until major deals were signed and your family knew you could afford security. Did you receive any funds from your family following your departure?
There is an inherent tension between the concepts of privacy and control. In terms of wanting privacy, is it fair to say that by publicly taking control of your own narrative, you have negatively impacted your ability to have a private life?  Do you agree that part of having a public life (while receiving the perks that go along with it) is dealing with the media and releasing some control over your narrative?
You mention efforts you have made towards reconciliation with your family. Can you give specific examples? How do you plan to regain that trust with your family? Conversely, is it possible for your family to regain your trust? If so, how?
The Dalai Lama once said, "When you think everything is someone's fault, you will suffer a lot. When you realize that everything springs only from yourself, you will learn both peace and joy." What is your definition of peace and joy? Now that you and Meghan have shared your truths with your family and the world, do you think that you will be able to move on to your next chapter of life focusing on peace and joy?
---
Emily Giffin is a #1 New York Times bestselling author of eleven novels, including Something Borrowed and Meant to Be. She's also an avid royal watcher. Follow her on instagram for more royal commentary: @emilygiffinauthor
Analysis | House GOP embraces mainstream media after years of bashing 'fake news' – The Washington Post
[unable to retrieve full-text content]
Analysis | House GOP embraces mainstream media after years of bashing 'fake news' The Washington Post




Source link
Canada adds Russian media personalities, companies in latest round of sanctions
OTTAWA — Canada has announced it is imposing a new round of sanctions on Russian media personalities and companies accused of spreading disinformation about Moscow's invasion of Ukraine.
Foreign Affairs Minister Melanie Joly announced the latest sanctions against 38 individuals and 16 entities, saying those affected are propagating Russian President Vladimir Putin's lies.
Among those added to Canada's blacklist are several Russian singers, including former contestants on the popular Eurovision singing contest, as well as actors and athletes.
The list also includes one of Russia's largest state-owned media groups, MIA Rossiya Segodnya, which owns and operates a large number of Russian-language companies.
Many of the new additions had already been sanctioned by Canada's allies following Russia's invasion of Ukraine nearly a year ago.
The new measures come amid questions about the effectiveness of Canada's sanctions regime.
The Canadian Press reported this week that as of June 7, Canada had ordered $123 million in assets within Canada frozen, and $289 million in transactions had been blocked under sanctions prohibitions related to Russia.
But by late December, the RCMP said only $122 million in assets were listed as seized, and $292 million in transactions had been blocked despite hundreds more people associated with Russia being put on the sanctions list.
The police force did not provide an explanation for why the sums reported by financial institutions had hardly changed during that period.
This report by The Canadian Press was first published Feb. 3, 2023.
The Canadian Press
Freedom Marching Project Presents: LEGACY | 'Legacy' Returns With Entertainment To Celebrate and Appreciate Black Culture and Excellence
Popular Live Showcase 'Legacy' Returns With Entertainment To Celebrate and Appreciate Black Culture and Excellence
Community Leaders Connect Emerging Talent With Entertainment Professionals for Mentorship
For Immediate Release
February 2, 2023 (Kitchener, Ontario) – On February 25, 2023, live from the Conrad Centre for the Performing Arts, the community collective known as The Freedom Marching Project will revive Kitchener's premier talent showcase from the early 90s. Legacy: What Was, What Is, What Will Be is an entertainment showcase nurturing up-and-coming talent in all aspects of entertainment. It's an outlet where youth are provided with a genuinely supportive environment to share their cultural heritage with confidence. The collective's objective is to create a showcase that will contribute a positive space and platform for the growth and advancement of Black creatives and culture by using the power of entertainment to motivate and galvanize.
From the 90s to the late 2000s, Legacy became a top-tier showcase for local talent. The presently reworked event will pair participants on the mic or behind the lens with industry Legacy Mentors to foster togetherness and hone in on their respective crafts. To execute this vision, the Legacy Mentors will guide these passionate Black youths and provide emotional support and resources to help them become stage and event ready. Stepping into the role of mentorship for the inaugural year are director and choreographer Shameka Blake (TIFF, Damien Marley, Sean Paul), educator and artist LaToya Ottley, and choreographer Raechele Lovell (Diverse Works Dance Company). There will also be volunteer positions available.
Hosted by antiracism and racial justice educator Selam Debs and arts and culture purveyor Glodeane Brown, Legacy will feature performances by hip hop artist Ramsay Almighty, percussionist Gerima Harvey and award-winning youth mentor, Top 100 Canadian Idol contestant, singer and songwriter Rufus John. Audience members will be treated to a specially recorded round table discussion with past performers about their indelible experience with Legacy and its influence on their lives. During the event, artists will perform a special tribute to honour Legacy alumni, award-winning sister duo Mystic & Miranda ("Speed of Love," "Thinkin' About You") and singer, songwriter Faith Walker ("Head In The Clouds," "Steppin' Out"). The evening's house band, The Recipee Band, will back the performing artists. The Recipee Band has performed with international heavyweights Brandy, Mya, Usher, Kardinal Offishall, Jully Black and many more.
"I come from an environment where I was always the other, and I struggled to find my community. So when I auditioned for Legacy, sang an Usher song, and people knew what that was, I felt at home. I found my tribe where I could safely explore and grow my creativity," says Rufus John, Founder of The Freedom Marching Project. That same sentiment has been expressed by many alumni, and the committee continues to work diligently to carry it forward with future Legacy members as well.
Legacy is presented with the generous support of the Waterloo Region Community Foundation, Canada Council for the Arts and Region of Waterloo Arts Fund.
For more details about Legacy: What Was, What Is, What Will Be, visit our website: www.legacykw.ca
Connect with The Freedom Marching Project:
Website: www.freedommarching.com
Facebook: https://www.facebook.com/FreedomMarchingProject
Instagram: https://www.instagram.com/freedomarchingproject/
YouTube: https://www.youtube.com/@freedommarchingproject
TikTok: https://www.tiktok.com/@thefreedommarchingproj
WHAT: Legacy: What Was, What Is, What Will Be
WHERE: Conrad Centre for the Performing Arts
36 Kings St W, Kitchener
N2G 1A3
WHO: Rufus John, Ramsay Almighty, and Gerima Harvey, plus up-and-coming talent. Hosted by Selam Debs and Glodeane Brown.
WHEN: Saturday, February 25th, 2023
TIME: Doors open at 5 pm / Showtime at 6 pm
Tickets available at www.legacykw.ca
** Talent available for interviews
Media is to provide interview questions in advance
Media Inquiries:
The Freedom Marching Project
Rufus John |rufus@freedommarching.com | 519.500.9394
About Legacy:
Legacy uses the power of entertainment to celebrate and appreciate Black Excellence. The Freedom Marching Project formed the Legacy Committee. It later partnered with The Caribbean Canadian Association of Waterloo Region and K-W Multicultural centre to revive the community event. The group provides a safe space where young aspiring artists can acquire tools, skills and knowledge through mentorship to build on their artistry. Then, ready with their newly acquired appreciation, they'll hit the stage to unapologetically express Black joy, culture, beauty and excellence via a presentation at the Legacy Showcase.