High-speed internet at $20 a month for low income seniors, families to be announced – National Post
Eligible households are to receive a letter from the government to allow them to sign up for the program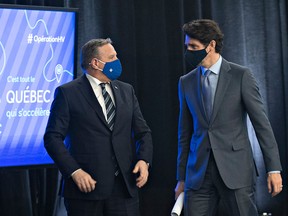 Article content
The federal government is set to announce a new phase to a program that provides high-speed internet at $20 per month to low-income families and seniors across Canada.
Article content
"Being connected is important to maintain professional, social, economic and cultural networks within the digital economy. However, many low-income Canadians are still facing barriers that prevent their full participation in the economy," said François-Philippe Champagne, minister of innovation, science and industry, in a news release.
The website for the Connecting Families initiative, which launched in November 2018, says it has helped 75,000 families access the internet, as internet service providers offer cheap internet services to those who may not already be able to afford them.
There are, according to the news release, 14 participating providers, including major players such as Telus, Bell Media and Rogers. The release says "hundreds of thousands" will be assisted by the program.
Article content
This next phase of the program, to be announced Monday, will provide people with 200 gigabytes of data usage per month, at speeds of 50 megabits per second download and 10 megabits per second upload. It also expands eligibility from families receiving the maximum Canada Child Benefit — a tax-free payment to defray the costs of raising children — to seniors receiving the maximum Guaranteed Income Supplement, a monthly payment to low-income seniors. (The existing plan, which offers a $10 per month internet plan with somewhat slower internet and less data, remains available.)
The government is working towards 98 per cent connectivity to high-speed internet by 2026 and 100 per cent connectivity by 2030.
"Providing low-income seniors with affordable access to high-speed Internet service will make a tremendous difference in their everyday lives," said seniors minister Kamal Khera, in a statement.
Eligible households, the release says, will receive a letter from the government to allow them to sign up for the program.
Canada infamously has among the highest costs for internet (and cellphone plans) in the world. One 2019 report found that Canadian plans offering 100 gigabytes of data averaged around $80, compared to around $55 in the United Kingdom and around $62 in the United States.
Shortages of some baby formula in Quebec due to panic buying, U.S. supply issues
MONTREAL — When Catherine Labrecque-Baker went to purchase hypoallergenic baby formula in mid-April for her six-month-old baby, her Quebec City pharmacist told her there was none left.
In response, Labrecque-Baker travelled to another pharmacy in the city and bought five times the amount she normally does. Then she started to stress as she fed her baby and watched her stockpile slowly shrink.
Her son has an intolerance to cow's milk protein and relies on Alimentum, a product by American formula maker Abbott, which voluntarily recalled its products in February after four illnesses were reported in babies who had consumed powdered formula from its Michigan plant.
"What am I supposed to do?" Labrecque-Baker asked Monday in an interview. "I cried an entire night, wondering what will I do when I won't have any more formula."
The disruptions at Abbott, the United States' largest formula maker, are causing supply issues for specific hypoallergenic formulas across Canada, according to Retail Council of Canada spokeswoman Michelle Wasylyshen.
But in Quebec, parents are noticing shortages of other formulas on the province's pharmacy shelves — a result of panic buying, Wasylyshen said.
"There's a ripple effect," she said in an interview Monday, referring to parents like Labrecque-Baker who are scooping up more formula than normal because they fear it will go out of stock.
"We don't want to see a return to panic buying — that approach doesn't help anyone," Wasylyshen said. "Some of our retailers have put limitations in place in terms of what customers can purchase, just to make sure there's enough for everyone."
Abbott's decision to shut its Michigan plant exacerbated ongoing supply chain disruptions among formula makers, leaving fewer options on store shelves across much of the United States. The company is one of only a handful that produce the vast majority of the U.S. formula supply, so Abbott's product recall — involving brands Similac, Alimentum and EleCare — wiped out a large segment of the market intended for babies with allergies or intolerance to cow's milk protein.
On Monday, Abbott said it has reached an agreement with U.S. health officials to restart production at its Michigan factory, a key step toward easing a nationwide shortage.
Quebec is not facing the same kind of shortages as in the United States, but Wasylyshen said images of empty pharmacy shelves in the province started circulating online, causing anxiety.
The province's Health Department on Monday said it's working with Quebec's association of pharmacy owners, the Association québécoise des pharmaciens propriétaires, to minimize the shortage's impact.
"We are looking as far away as Europe to counter this lack of supply," department spokesperson Marjorie Larouche said, adding that shortages are being noticed across Canada.
Marilie Beaulieu-Gravel of the pharmacy owners association said that after Abbott's Alimentum formula disappeared from shelves, parents rushed to purchase Nutragimen, another hypoallergenic formula, made by Mead Johnson & Company.
"There isn't a production issue with this product, but rather a domino effect," Beaulieu-Gravel said Monday in an interview. "The demands for the products increase sharply and unexpectedly on the market."
While Nutragimen products are expected to be back on shelves by mid-June, Beaulieu-Gravel said her association isn't expecting the supply of Alimentum to return before the end of summer.
Meanwhile, some parents, including Labrecque-Baker, are left searching for formula everywhere, even online.
"I looked on Facebook Marketplace, on Kijiji … friends have been looking for me or giving me what they can," Labrecque-Baker said. "This week, I spent $200 because I can't wait and risk it. The more I can stock, the more days I can feed my child."
This report by The Canadian Press was first published on May 17, 2022.
— With files from The Associated Press.
—
This story was produced with the financial assistance of the Meta and Canadian Press News Fellowship.
Virginie Ann, The Canadian Press
If you thought gas prices were high, have you checked out diesel? – CBC News
There is little relief from pain at the pumps these days, especially as the price of diesel has nearly doubled in the last year.
Diesel is now averaging $2.29 per litre across Canada, and is even more expensive than premium gasoline. In the last month alone, a litre of diesel has climbed by 35 cents.
Some are stuck having to grin and bear it, like Peter Ruiter, a dairy farmer from Ottawa, who relies on diesel to power his farm equipment.
"The reality is I can't go till these fields by hand — there's just too many acres to do," he said.
Rising fuel prices are another blow to consumers struggling with the escalating cost of living, as inflation hit a level in March that hasn't been seen in decades.
And the sky-high cost of diesel means the transportation of goods has become more costly, as diesel — which is typically more efficient and economical — powers the trucks, the trains and some of the ships our supply chains rely on.
---
The Russian invasion of Ukraine has sparked a sharp rise in commodity prices, including crude oil. Many countries have introduced sanctions on Russia, which is a major exporter of oil and natural gas. At the same time, demand for fuel is climbing as economic activity picks up around the world.
"There's been a diesel shortage globally, meaning that inventories are [at an] all-time low. I've never seen such low inventories," Vijay Muralidharan, a senior consultant at Kalibrate, an analytics firm that tracks fuel prices.
---
Another part of the reason diesel prices have soared across North America is because of record exports from the U.S. Gulf Coast. The majority of the fuel is destined for South America, where countries are burning diesel for electricity as the hydropower supply falls during the Southern Hemisphere's winter season.
There is an increased reliance on diesel in some of those countries this year, said Muralidharan, because of reduced supplies of natural gas.
It also comes at a time when more and more families are needing assistance, said Emily-anne King, co-executive director of Backpack Buddies, an organization that supplies food to more than 4,000 children in British Columbia.
"It's really alarming for us to see these price increases," said King. "Not delivering is simply not an option.… We've made these commitments and we will continue to find ways to get there and be there for the families and kids that we support."
The organization itself is feeling the pinch of sky-high diesel prices, as costs are rising to deliver food throughout the province to families that are struggling to make ends meet.
"These last couple of weeks, we have felt more pressure and received more calls from communities and individuals that are needing support," she said. "And it just isn't slowing down."
Gas prices: Average in Canada tops $2 for first time – CTV News
Gasoline prices are showing no signs of letting up as the average price in Canada tops $2 a litre for the first time.
Natural Resources Canada says the average price across the country for regular gasoline hit $2.06 per litre on Monday for an all-time high.
The average was a nine-cent jump from the $1.97 per litre record set last week, and is up about 30 cents a litre since mid-April.
Prices averaged about $2.34 a litre in Vancouver on Monday, while in Toronto the average was almost $2.09 per litre. Edmonton, in contrast, averaged just under $1.69 per litre.
Gasoline prices have been elevated since late February when oil spiked to around US$100 a barrel after Russia invaded Ukraine, while the price jumped to over US$110 per barrel last week.
Prices have also been spiking more recently as the reopening of the economy, and the start of the busy travel season, have led to high demand for gasoline that refiners have limited capacity to meet.
This report by The Canadian Press was first published May 17, 2022.