Hilary Mantel's Art Was Infused With Her Pain – The Atlantic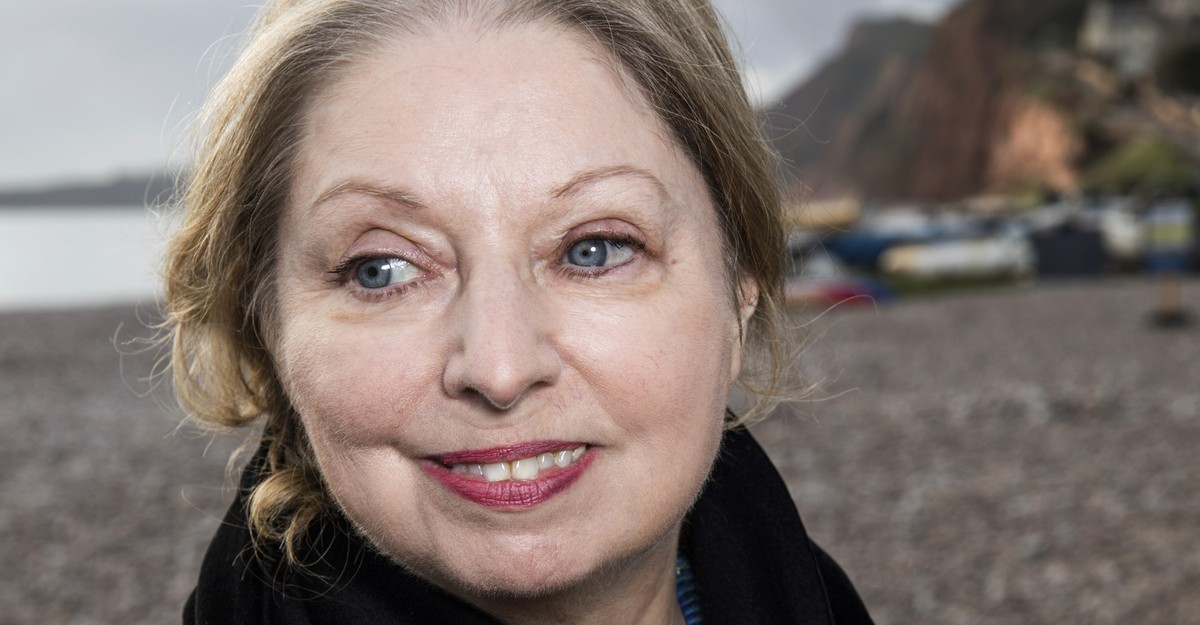 "Once the queen's head is severed, he walks away. A sharp pang of appetite reminds him that it is time for a second breakfast, or perhaps an early dinner."
These are the first two sentences of T​he Mirror and ​the Light, the third volume of Hilary Mantel's ​trilogy about the life of Thomas Cromwell and the last book she published before she died on Thursday at the lamentably young age of 70. With masterly dispatch, she thrusts us into the middle of the action, tells us exactly where we are, and makes us gasp at a conjunction of things that we would never have thought could occupy the same moral universe—that is, decapitation and a second breakfast. But she makes them make sense together. Cutting off heads and a second morning meal are both prerogatives of the powerful in late-medieval England. I could have plucked just about any two lines out of her novels and shown that they do the same amount of work. That's how efficient this writer was. That's what we've lost.
We are inside the head of Cromwell, street urchin elevated to manager of, well, everything in the land, on behalf of the bloated, childish King Henry VIII. "Lord Cromwell is the government, and the church as well," someone observes. He is also the satisfier of Henry's lusts—his procurer, if you like. Cromwell has made a queen for Henry and killed that queen for Henry. Everyone knows how Anne Boleyn ended up. But only readers of the first two novels in the series know that Mantel invented an improbably tender, courteous Cromwell with a capacity for ethical reasoning unimaginable in the royals he moves among. But now blood spurts out of the queen's neck, we are in the third act of the tragedy, and Mantel has added to the list of Cromwell's powers the ability to turn his back on horror and think about food, as callow as a king.
How do you animate history like this? Historians can't do it. Very few historical novelists can do it. In her memoir, Giving Up the Ghost, Mantel reveals the mystery of her method: "Eat meat. Drink blood," she writes. "Rise in the quiet hours of the night and prick your fingertips and use the blood for ink." You may be tempted to dismiss as hackneyed the notion of draining one's veins for art, but then you discover that blood was the defining substance, the governing catastrophe, of Mantel's life.
In her 20s, she developed a case of endometriosis severe enough to make her vomit and have so much pain in her limbs and organs that she couldn't walk. But it went undiagnosed, and because no one understood what was wrong with her, she entered a psychiatric clinic. She was told not to write. Endometriosis is what used to be called a female complaint. One might call it menstruation run amok. The cells in the lining of the womb that usually bleed out during a period instead grow in other parts of the body—the pelvis, the bladder, the bowel—and bleed there, creating scar tissue and unbearable pain. "Infertility is a distinct possibility," writes Mantel, and indeed, she would never have children. A hormonal condition associated with endometriosis induces migraines and, in her case, "the migraine aura that made my words come out wrong" and "morbid visions, like visitations, premonitions of dissolution." Once Mantel received a proper diagnosis, she was put on medication that made her balloon. Thereafter, she recalls, she dwelled in the shadow land of "fat-lady shops," unable to shake off the "perception of most of the population, who know that overweight people are lazy, undisciplined slobs."
What does endometriosis have to do with art? For Mantel, everything. She worked her experience until it became the corporeal substrate of her fiction. Her magnum opus is made of blood and female bodies. Whether a man's blood is noble or base determines his identity and fate. The behavior of a woman's reproductive organs may be the difference between life and death. There are many reasons Thomas Cromwell towers above contemporary literature, a demiurgic character on par with Hamlet, but one source of his authority is his uncommon (and admittedly anachronistic) attentiveness to the female condition.
He would appear to be alone among monarchists of his age in being repulsed by a social order that reduces queens—one of whom he loved before Henry swooped in and took her—to sperm receptacles in the king's service. It is through his visits to Catherine of Aragon, who never gave birth to a male heir who lived past infancy, that we observe just what it means ​for a queen to fail at her reproductive duties​. Replaced by Anne and confined to a remote castle, Catherine literally rots away from the inside, devoured by what seems to be some sort of abdominal cancer. Though Cromwell destroys Anne Boleyn, first he pities her when her body rejects the only princeling she ever produced and blood from the miscarriage forms a slick trail on the palace floor. Henry just wants to be rid of her.
"When women apes have their wombs removed, and are returned by keepers to the community, their mates sense it, and desert them," writes Mantel in her memoir. "It is a fact of base biology; there is little kindness in the animal kingdom, and I had been down there with the animals, grunting and bleeding on the porter's trolley. There would be no daughter." No. But there would be what Hilary Mantel fashioned from her body instead, which was more than anyone could have asked for.
Combine Art Fair Returns to Griffin Art Projects for Its Second Year
Combine Art Fair returns to North Van's Griffin Art Projects for the second year, December 8-11. Participating galleries include Vancouver-based Unit 17, Mónica Reyes Gallery, Wil Aballe Projects and – all the way from Montreal – first-timers, Galerie Hugues Charbonneau. Another new addition: a book fair where you can peruse exhibition catalogues, limited publications, and more.
The aim of this boutique fair is to offer fresh perspectives on contemporary art and collecting – whether you're a veteran art collector or are simply interested in art and considering buying your first piece. Combine is a chance to view work by emerging and established artists, and chat with the gallerists who represent them.
Expect to see work by Inuk artist, Shuvinai Ashoona (whose work was at this year's Venice Biennale), emerging artist, Manuel Mathieu (his new solo show opens in Miami next year), Métis artist and writer, Gabrielle L'Hirondelle Hill (recent exhibitions include at the Venice Biennale and The Museum of Modern Art in New York), and Governor General Award winner, Glenn Lewis; plus Chantal Gibson, Maggee Day, and many more.
Sure, you can visit these galleries anytime (although it's a bit more of a trek to visit Galerie Hugues Charbonneau), but the nice thing about the art fair format is that it allows you to visit all five galleries in one go, while also meeting the gallerists and asking questions in a convivial environment. In fact, they encourage it!
Participating galleries will be exhibiting a diverse range of work from their artists. However, we asked each Vancouver-based gallery to name just one work they'll be showing (around the $1000 price point), as well as one tip for first-time art fair goers. (What's "okay" to ask? What's not "okay"?) Read on to find out…
Wil Aballe, Director, WAAP
For his recommendation, Aballe shares that he will have a suite of 11 vintage prints of Marilyn Monroe, taken in 1953 by Glenn Lewis, for $800 each (an example of one is pictured above).
"So the story goes, Glenn, who is now 87 and a Governor-General Award winner, was in his last year in high school at the time, working as a dishwasher in the kitchen of the Banff Springs Hotel. He had just received his first ever camera, a brownie, gifted by his mother. Marilyn was filming, and the day before the photographs were taken, she stepped in a gopher hole and injured her ankle. These photos were taken the next day on her day off, but oddly the pictures feature a Mountie, Marilyn in a canoe, and Mt Rundle in the background. These fibre prints are the last that Glenn and I are aware of to be available; so while theoretically printed in an edition of 75, there are much fewer copies out there and these are the last few. In the mid-20th century, many vintage photographs by well known photographers are open editions and these have not affected the value they can have, as collectors mostly care about whether the print was signed/stamped and printed within the artist's lifetime."
Tip for the first time fair-goer:
"To not be intimidated, and to look with curiosity and use the opportunity of Combine to get the broadest sense of what art can be. I am open to any questions anyone sincerely wants to know about, so ask away!"
Mónica Reyes Gallery is thrilled to be bringing this artwork – a wall sculpture by Terrence Turner – to the fair, that is both fun and affordable.
Tip for the first time fair-goer:
"Ask where the artist is from, or how old are they, as these questions help us tell the viewer more in terms of the artist's CV — whether or not they are up-and-coming, where they have studied, and what shows they have been included in that may be helping their careers and notoriety. "What's the inspiration behind the work?" is also a very good question to ask."
"I can only think of one question [not to ask]: "Are you the artist?" This is a solid no-no. We are the art dealers that represent the artists; we are the ones who exhibit their works, take them on the road, connect them with our audience, and help them place their work in private, corporate and institutions at large. Our role is different."
Tobin Gibson, Director, Unit 17
While most works on view from major museum artists including Anne Low, Gabrielle L'Hirondelle Hill, and Tristan Unrau, range from $6,000-$30,000, there will be a gem of a bronze sculpture on view by Unrau from the artist's 2021 exhibition at Unit 17, False Idols.
Tip for the first time fair-goer:
"This fair is unlike any other, in that it's a boutique event. I would say to people who are not used to fairs to take a chance and ask the pressing questions that come to mind. All gallerists are extremely approachable and interested in conversation with a range of participants in the visual arts. Also, look at the didactic information. It can give a lot of information without needing to ask a question, persay. Another tip is to always inquire about a payment plan. Galleries more than ever are open to accepting sales that are paid out each month over a set period of time."
---
While visiting Combine at the Griffin Projects Residency space, be sure to pop in next door to Griffin's main exhibition space to see Allegories of the Present, by renowned visual artist, Stan Douglas, who represented Canada at this year's Venice Biennale, (closing Dec. 11, 2022). The exhibition brings together photographic works from the 1990s to the present, primarily concerned with architectural and social spaces, to produce what Douglas calls, 'allegories of the present.' Guided tours led by Griffin Art Projects' Indigenous Curatorial Assistant, Emmett Hanly, take place on Sunday afternoons. Sign up here.
---
Combine Art Fair dates and hours:
Thursday, Dec. 8 | 5-7pm, followed by a public opening reception from 7-9pm
Fri-Sun, Dec. 9-11 | 12-5pm
Admission is free.
---
Griffin Art Projects Residency
1180 Welch St.
Griffin Art Projects
1174 Welch Street, North Vancouver
Artists have until December 15 to apply for City of Peterborough's indoor-outdoor public art project
Peterborough-area artists have until next Thursday (December 15) to submit their proposals for two-dimensional public art installations at municipal facilities across the city.
"Indoor-Outdoor: The Public Art for Public Facilities Project," administered through the City of Peterborough Public Art Program, is a two-stage public art project that will integrate artwork created by local artists into city parks, recreation facilities, and City Hall. The indoor stage of the project will be completed in early 2023, with the outdoor stage completed later in the year.
For the indoor stage of the project, the city is seeking original new, recent, or past artworks that will be installed and displayed for a year to 18-month term at either City Hall, the Kinsmen Civic Centre, the Healthy Planet Arena, or the Sport and Wellness Centre. The artworks will rotate between sites at the end of the first and each subsequent term.
Advertisement – story continues below
The intention of the project is to enrich these public spaces and people's exposure to art by bringing art to places where people frequent. The indoor artworks will be mounted in the main foyers of each facility and will be among the first things visitors see upon entering.
Artworks envisioned for each space will help create an inviting atmosphere where visitors will feel comfortable playing, exercising, and gathering. Artworks should also speak in some way to the spirit of sport and consider the inherent relationship between beauty and skill.
All submissions must be completed online by 4 p.m. on Thursday, December 15th. Successful artists will be notified in early January, with art to be delivered and installed by early February.
Advertisement – story continues below
The call for submissions is open to professional artists and cultural practitioners living in the City of Peterborough, the County of Peterborough, and Hiawatha and Curve Lake First Nations. A selection committee will discuss each submission and select four artworks based on artistic merit, relevance, and feasibility.
The commission value for each artwork is $4,500.
For more information including submission guidelines and to apply, visit peterborough.ca/publicart.
Our Land, Our Art – Musée canadien de la nature
New exhibition reveals the beauty of Nunavik inspired by the collections of Avataq Cultural Institute
Ottawa, December 1, 2022— A new exhibition at the Canadian Museum of Nature reveals perspectives on Quebec's Nunavik region through the works of Inuit artists—each inspired by their deep connection to nature and their home communities.
Our Land, Our Art was developed by the Avataq Cultural Institute, based in Inukjuak, Nunavik, and in Montreal, with the support of the museum. It opens to the public on December 2, 2022 and will remain on view until October 2024.
"We are honoured to present this latest exhibition in our Northern Voices Gallery, a space curated by northern communities that is dedicated to their art, culture and relationship to the land," says Dr. Danika Goosney, museum President and CEO. "We look forward to sharing the rich heritage of Nunavik through the perspectives of the artists who were inspired by the Avataq Cultural Institute's collections."
Presented in English, French and Inuktitut, Our Land, Our Art features original and varied forms of artworks, including photography, visual art, performance art, and throat singing. Each piece or installation reveals the artist's strong relationship to the land.
Rhoda Kokiapik, Avataq Cultural Institute's Executive Director, says: "This exhibition is an unprecedented opportunity for us to reach Canadian and international visitors at the Canadian Museum of Nature through this special project that shows the talent of our artists. Our relationship with the land is central to their creative process and it is something we can all relate to."
The artists are Qumaq M. Iyaituk and Passa Mangiuk (drawings); Lucasi Kiatainaq (photography and video); Evie Mark and Akinisie Sivuarapik (throat singing); Taqralik Partridge (beadwork and visual art) and Tupiq A.C.T. (circus performers).
Qumaq M. Iyaituk and her sister, Passa Mangiuk, grew up in Ivujivik, and are inspired by the themes of family, community, and the land. Their three drawings depict a motorized canoe and a qamutiq (dog sled), which have traditionally been important means of transportation.
Photographs and a video (That Spring feeling) by Lucasi Kiatainaq from Kangiqsujuaq reveal moments in Inuit life. Inspired by Nunavik's land and animals, Lucasi has spent many hours camping and hunting with his father, learning from his wealth of experience, and deepening his connection with nature.
Artwork by Taqralik Partridge, a visual and spoken-word artist from Kuujjuaq who now lives in Ottawa, features a large beaded amautik (woman's parka). Inspired by themes of the environment and ancestral connections to the land, her work addresses life in the North as well as in southern urban centres.
In a special tupiq (tent) installation, a video introduces Nunavik's first professional circus troupe: Tupiq A.C.T. Created in 2018, the troupe has members from across Nunavik, as well as the Greater Montreal Area. Their circus creations are inspired by oral stories from their ancestors, the land, and the language. The creation in Our Land, Our Art is inspired by the James Bay and Northern Quebec Agreement.
An installation featuring throat singers Evie Mark and Akinisie Sivuarapik honours women and their connection to the land. By standing within two hanging felt pods, visitors can enjoy the unique sounds of the duo's throat singing. Embroidered on the felt are traditional tattoo patterns, or tunniit, designed by Evie. The two women have performed together for many years, contributing to the revitalization of the Nunavik style of katajjaniq (throat singing).
The exhibition also features 32 traditional objects, artworks, and artifacts from the Avataq Cultural Institute's collections, which provided inspiration to the artists.
Among them are artifacts that were used by Early Inuit 800 to 350 years ago: a pana (snow-knife blade) and panak (knife handle), both made of walrus ivory; a cooking pot called an ukkusik, a qulliq (oil lamp) made of soapstone, and a wooden figure possibly used as a doll. Dating back 350 to 50 years ago is a selection of Inuit objects, such as igaak (snow goggles), a nariarsaq (fishing lure), an ajaqaq game of skill using a wooden rod and seal bone (similar to a cup-and-ball game), as well as contemporary carvings.
Our Land, Our Art will be on view until October 2024 and is included with museum admission. The Northern Voices Gallery is located within the museum's Canada Goose Arctic Gallery. The Canadian Museum of Nature is located at 240 McLeod St., Ottawa. (at Metcalfe St.). Visit the Museum at nature.ca and follow it on these social media channels: Twitter.com/museumofnature, Instagram.com/museumofnature, facebook.com/canadianmuseumofnature and LinkedIn.
Interesting facts:
More than12,000 Inuit live in Nunavik—60% of whom are younger than 30. Inuktitut is the main language spoken.
Nunavik includes 14 villages along the coasts of northern Quebec. The region covers 507 000 sq. km and accounts for a third of Quebec's total area.
Ancestors of today's Inuit, the Early Inuit (also called Thule Inuit), migrated to the Eastern Arctic around 800 years ago. Their culture emerged in the Bering Strait region of Alaska.
Early Inuit were specialized in hunting large whales. They travelled across long distances by umiaq (large skin boat), qajaq (kayak) and qamutik (dog sled).
In summer, Early Inuit lived in tupiit (skin tents) and in winter, qarmait (semi-subterranean sod houses) or igluit (snow houses).
Katajjaniq is the Nunavik style of throat singing. An old Inuit tradition, throat singing is mostly a women's practice. It often refers to familiar sounds (from animals, nature elements, or women's tools) that provide a connection to the land.
About Avataq Cultural Institute
Avataq Cultural Institute provides a strong foundation for the living culture of today's Inuit. Since its inception in 1980, Avataq has built a solid reputation as the cultural leader for Nunavik Inuit and as an important resource for Inuit culture in Canada and beyond. Our goal is to ensure that Inuit culture and language continue to thrive into the future, so that our descendants can benefit from the rich heritage passed down to us through the wisdom of our ancestors.
---
About the Canadian Museum of Nature
Saving the world through evidence, knowledge and inspiration! The Canadian Museum of Nature provides evidence-based insights, inspiring experiences and meaningful engagement with nature's past, present and future. It achieves this through scientific research, a collection of 14.6 million specimens and artifacts, education programs, signature and travelling exhibitions, and a dynamic web site, nature.ca.