How the U.S. government can ramp up climate tech investment – JWN
The last couple of weeks have brought a steady stream of new pledges to achieve net-zero carbon emissions within the next handful of decades. China committed to it; so did Walmart Inc. And yet a report released last month by the International Energy Agency, which advises governments on energy policy, estimated that roughly half of the technologies that will be needed to get us to net zero globally by 2050 aren't even commercially available yet.
The dirty secret of deep decarbonization is that it won't occur from just plugging into a wind farm or buying carbon offsets in a tropical forest. Without new technologies, it will be impossible to rein in emissions from the most-carbon intensive sectors of the economy such as heavy industry and long-distance transport.
Varun Sivaram, a physicist and clean energy expert, has a plan for how the next president can quickly speed up government energy innovation. Currently a senior research scholar at the Center on Global Energy Policy at Columbia University, he teamed up with colleagues to write, "Energizing America: A Roadmap to Launch a National Energy Innovation Mission." The book, which came out in September, details down to the budget line item exactly how much money America should spend and how it should spend it.
"Innovation isn't one of the things we need to do to tackle climate change. It is half the game," he said in a recent interview. "If we drop the ball on this one, we are lost."
The first step, as Sivaram and his colleagues see it, is for the next president to establish a National Energy Innovation Mission and create a White House Task Force to coordinate spending across different federal agencies. Sivaram and his team include a draft executive order in the report so the next administration can just plug and play.
Step two is to ramp up spending on energy innovation research and development from the current rate of about $9 billion a year to at least $25 billion by 2022. Sivaram calls that number "very feasible," explaining that it is "less than a quarter of what the government invests in health innovation and less than a tenth of what it invests in defense innovation."
But the most interesting part of the report is how it proposes spending the $25 billion. The plan breaks down decarbonization into 10 categories where breakthroughs must occur. These include clean fuels, clean agricultural systems, carbon capture use and sequestration, and carbon removal. Identifying these categories is key because it allows for the next step: matching money to the need.
One of the most persuasive moments in the report comes in a chart showing the disconnect between the sectors in the U.S. responsible for emissions and the corresponding research budget through the Department of Energy. Electricity produces 27 per cent of emissions but gets 47 per cent of the research dollars, while industry produces 22 per cent of the emissions but receives six per cent of the innovation funding.
The Columbia team's budget would remedy that by adding money to underfunded areas, like tripling the money for carbon capture from $115 million a year to $300 million. Sivaram points out that carbon capture—the process of trapping and storing the gas so it doesn't leak into the atmosphere — offers a perfect example of how these research dollars will not only promote needed technology but will also bolster emerging industries with high-paying jobs.
"Carbon capture is an area where America is ahead," he said. "The technology is not set. This is a sweet spot where we can compete internationally on something that is hard to abate and also nurture a domestic industry."
Sivaram says one of the most exciting thing about releasing the report is the positive reception it has received on Capitol Hill—from Democrats and Republicans alike. He said that, in fact, Democratic staffers (he wouldn't specify the chamber or committee) have asked to see the Excel sheets behind the budget numbers. But still he's concerned that it won't be enough.
"I am worried that energy innovation will get lost in a cacophony of demands," he said. "Innovation is not just one of a laundry list of items that need to get done. It is foundational."
© 2020 Bloomberg L.P.
Railways outline investment to meet winter climate challenges – moosejawtoday.com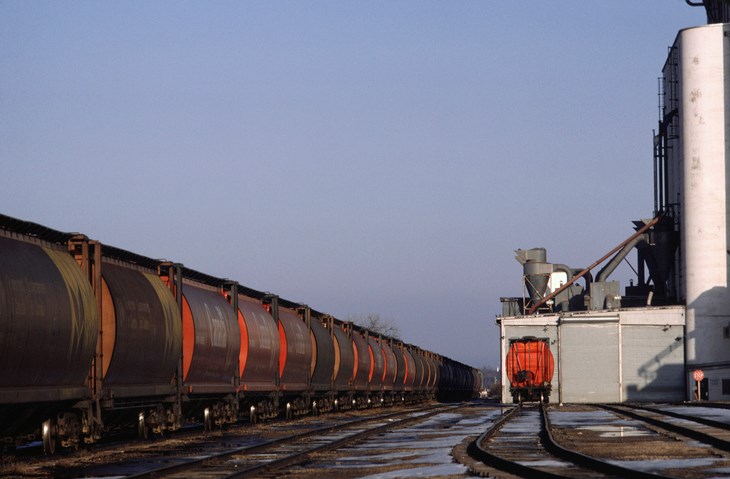 Canada's two major railways — CN and CP Rail — will invest $4.5 billion this year to meet the challenges of moving goods in harsh winter climates.
CP, which operates most of the southern routes on the Prairies, plans $1.6 billion on safety, network flexibility, increased capacity and communications according to the company's 2020-21 winter plan.
Highlights of the winter plan include:
Air brake flow monitoring to maintain pressure
Technology to automatically detect cold wheels
Predictive powers to forecast rilling stock failures
High-speed camera inspection systems
In-house testing of new air brake valve gasket materials
Modernizing 201 locomotives and training over 400 employees
Expanding temperature forecasts system
CN will invest $2.9 billion on the winter plan with a focus on double tracking parts of the mainline, extending sidings, increasing yard tracks and building more infrastructure in both Port of Vancouver and Port of Prince Rupert areas.
CN will acquire 1,500 new grain hopper railcars for the 2020–2021 crop year.
Adding 260 new locomotives, for over 2,200 winter-prepped locomotives, should reduce loss of traction from ice, snow and water, resulting in wheel slippage. The new locomotives are 100 per cent alternating current, improving traction.
Forty-one more air distribution cars will assist in a consistent flow of air through brake lines, allowing longer trains.
Sidings will be added and lengthened to allow trains to meet and pass for 140 miles of double track on mainlines, mostly in Western Canada.
Yard capacity will be increased at Winnipeg, Melville and Edmonton.
Ron Walter can be reached at ronjoy@sasktel.net
Buying Bitcoin 'Like Investing In Google Early Or Steve Jobs And Apple,' Predicts Wall Street Legend And Billionaire Paul Tudor Jones – Forbes
Bitcoin has come a long way in the ten years since it was created but, for some, it still feels early.
The bitcoin price, climbing to year-to-date highs this week and recapturing some of the late 2017 bullishness that pushed it to around $20,000 per bitcoin, has found fresh support from Wall Street and traditional investors this year.
Now, Wall Street legend and billionaire Paul Tudor Jones, who made headlines when he revealed he was buying bitcoin to hedge against inflation earlier this year, has said buying bitcoin is "like investing with Steve Jobs and Apple
AAPL
or investing in Google early."
"Bitcoin has a lot of characteristics of being an early investor in a tech company," Jones, who's known for his macro trades and particularly his bets on interest rates and currencies, told CNBC's Squawk Box in an interview this week, adding he likes bitcoin "even more" than he did when his initial bitcoin investment was announced in May this year.
"I think we are in the first inning of bitcoin," he said. "It's got a long way to go."
Back in May, Jones revealed he was betting on bitcoin as a hedge against the inflation he sees coming as a result of unprecedented central bank money printing and stimulus measures undertaken in the wake of the coronavirus pandemic.
Jones compared bitcoin to gold during the 1970s and said his BVI Global Fund, with assets worth $22 billion under management, could invest as much as "a low single-digit percentage exposure percentage" in bitcoin futures.
"I've got a small single-digit investment in bitcoin," Jones said this week. "That's it. I am not a bitcoin flag bearer."
However, Jones said he sees great potential in bitcoin and people who are "dedicated to seeing bitcoin succeed in it becoming a commonplace store of value, and transactional to boot, at a very basic level."
"Bitcoin has this enormous contingence of really, really smart and sophisticated people who believe in it," he said. "I came to the conclusion that bitcoin was going to be the best of inflation trades, the defensive trades, that you would take."
Jones' latest comments come as payments giant PayPal
PYPL
has this week announced it will allow its 346 million users to buy and spend bitcoin and a handful of other major cryptocurrencies.
The development has been taken as vindication for long-time bitcoin believers—many of whom see PayPal as an enemy of bitcoin.
Alongside PayPal's support of bitcoin and cryptocurrencies, a number of publicly-listed companies have added bitcoin to their treasuries in recent months, with U.K.-listed bitcoin-buying app Mode becoming the first publicly-traded British company to put bitcoin on its books—making the announcement hot on the heels of Jack Dorsey-led payments company Square
SQ
.
Did You Participate In Any Of Caribbean Investment Holdings' (LON:CIHL) Incredible 853% Return? – Yahoo Finance
InvestorPlace
Hardware is becoming software, so investors are dumping hardware. At the same time, software is moving to the world of the cloud. These trends undeniably shape what tech stocks you should be buying.
Most computer chip companies today are "fab-less," based not on manufacturing, but designs written in software. That is why Nvidia (NASDAQ:NVDA) today is worth more than Intel (NASDAQ:INTC).
At the same time, open-source software is replacing proprietary software, especially in the clouds, where the money is made. That is why Facebook (NASDAQ:FB) is worth more than Oracle (NYSE:ORCL).InvestorPlace – Stock Market News, Stock Advice & Trading Tips
What does this mean for companies in the business of making computer hardware? It means they need to find new paths to profit. And that also means software names are the best tech stocks to buy.
The biggest hardware makers are aware of this. The hope investors have for them is they can execute and return to prominence. Until they do, however, their growth and valuations will lag the market.
7 Airline Stocks to Buy on Pelosi Stimulus Hopes
For now, keep an eye on these six tech stocks as they pivot to the software world:
International Business Machines (NYSE:IBM)
Dell Technologies (NYSE:DELL)
Cisco Systems (NASDAQ:CSCO)
Nokia (NYSE:NOK)
Ericsson (NASDAQ:ERIC)
Workhorse (NASDAQ:WKHS)
Tech Stocks: International Business Machines (IBM)
Source: JHVEPhoto / Shutterstock.com
Former IBM CEO Virginia Rometty missed the cloud. Under her watch, IBM went from being the world's unquestioned technology leader to a laggard. Facebook is now worth over six times more.
IBM has recognized its mistake. Rometty gave up the CEO chair in April to Arvind Krishna, who was running its cloud operations. He named Jim Whitehurst from Red Hat, the leading open source company in the world, as president.
Since Krishna took over, however IBM stock has barely budged. Despite the cloud experience of its new leaders, IBM remains a hardware company. Its primary profit center remains its Z Series mainframes, and the proprietary software that runs on them. After delivering new versions in the second quarter, systems sales jumped 69%, year over year, to $1.9 billion, and profits rose 4.3%.
But that profit center has been milked dry. Getting rid of older workers just drained its talent pool, and put the government's eyes on it.
It will take tricky financial engineering for IBM to find the cash flow needed to compete. It could sell the hardware units to private equity, spin out Red Hat, or spin its cloud operations into a REIT, as companies like Equinix (NASDAQ:EQIX) have done.
For now, IBM says it's focusing on "hybrid cloud." Here, enterprises retain their own data centers built to cloud standards, then arbitrage larger public clouds like those of Amazon (NASDAQ:AMZN), Alphabet (NASDAQ:GOOG, NASDAQ:GOOGL) and Microsoft (NASDAQ:MSFT). It's also pushing its quantum computing efforts, although they won't contribute to profit for years.
Dell Technologies (DELL)
Source: Jonathan Weiss / Shutterstock.com
Dell Technologies is even bigger than International Business Machines and even more undervalued.
The story starts in 2016, when Dell bought EMC, which controlled VMware (NYSE:VMW), for $67 billion. Four years later, $45 billion of the debt remains on Dell's books. That means the "enterprise value" of Dell, including its debt, is $95 billion. The same calculation, applied to IBM, leads to an enterprise value of $165 billion, on revenue of $77 billion.
VMware and IBM's Red Hat are valuable because they offer virtualization and other cloud infrastructure software. It's the kind of franchise the market often values at 10 times revenue. VMware had sales of about $11 billion for its fiscal 2020.
Here is the problem. Because of the funky corporate structure, it is hard to value Dell. What is it really worth without its massive stake in VMware?
The answer is to break Dell up again. Analysts think both companies would be worth more separate. Dell had fiscal 2020 net income of $4.6 billion. VMware could be worth $15-$20 per share more, nearly $10 billion. VMware CEO Pat Gelsinger says VMware could tie up with more hardware vendors if it were independent.
Selling VMware would also bring Dell enough cash to retire its debt and compete more closely against Hewlett Packard Enterprise (NYSE:HPE). HPE is currently killing it in "hyperconverged" hardware, a key data center market, and now matches it in server market share.
A spinoff is planned, with Dell and hedge fund partner Silver Lake maintaining a majority stake. The big issue? The move will not raise cash to pay down debt. Moreover, the split wouldn't happen until September 2021.
Even so, analysts call this a big win that will unlock Dell's value in hardware, where many of its products are considered leaders. Take it all together, and a patient investor should do well buying Dell here. But you're buying financial engineering, not the real kind.
Tech Stocks: Cisco (CSCO)
Source: Sundry Photography / Shutterstock.com
Cisco Systems has been adrift ever since Chuck Robbins became CEO in 2015
Robbins' strategy has been to shift Cisco's revenue from expensive networking gear to software subscriptions. It's not working. The revenue today is the same as it was in 2016. Profits have been uneven. Still, the stock's low price has analysts pounding the table for it, calling it cheap and undervalued.
But that's not how tech stocks work. When a company stops growing, it starts dying. A small cut tells the sharks to feed.
Cisco has made a half-dozen security acquisitions since Robbins took over, and 11 acquisitions since the start of 2019. But it's not solving the problem. The number of bugs hitting Cisco software is increasing. Some impact key products like its high-end switches.
BabbleLabs is one of these recent deals, bought to improve its videoconferencing experience. But that only serves to underline Cisco's weakness. Cisco practically invented videoconferencing. But when the pandemic hit, Zoom Video (NASDAQ:ZM) became a verb. Cisco is now worth only 15% more than Zoom, which came public in April 2019 and covers just one of Cisco's product niches.
Competitors can smell blood in the water. Hewlett Packard Enterprise finished its acquisition of Silver Peak, a software-defined networking company that will be part of its Aruba unit. The move accelerates the shift of networking from a product to a service. It increases the pressure on Cisco.
Nokia (NOK)
Source: RistoH / Shutterstock.com
The move of hardware to software, and of software becoming open source, has also hit the telecom equipment market hard.
Nokia lost its niche in cell phones, bought into the equipment market, and is now seeing its lead there threatened.
Part of the threat comes from China's Huawei, which can make equipment for less and has been making inroads into the carrier market as a result. Nokia's response is to support OpenRAN, a common set of interfaces for Radio Access Networks.
Nokia has been using OpenRAN support mainly to compete with Huawei and its Scandinavian rival, Ericsson. It says a complete set of OpenRAN interfaces will be available next year.
The hope now is that small, OpenRAN companies can be bought out, or parts of the emerging standards held back. That would let Nokia limit competition while still claiming openness. A short price war, initiated by the larger vendors, could quickly finish off the OpenRAN folks, analysts believe.
But there's another threat.
Microsoft has already bought Affirmed Networks and Metaswitch, making its bid for an OpenRAN company look likely. Facebook is backing the Telecom Infra Project, the consortium that created OpenRAN. Open source, in other words, is coming.
Will Nokia be able to main relevance among tech stocks?
Tech Stocks: Ericsson (ERIC)
Source: rafapress / Shutterstock.com
While Nokia has been beating a drum for OpenRAN, rival Ericsson has been dismissing the threat.
Ericsson is copying the strategy of Qualcomm (NASDAQ:QCOM), which has patents, copyrights and trademarks for all modem buyers to take its licenses. Importantly, these licenses come at a cost that makes rivals uncompetitive. But Qualcomm fought a bitter five-year legal war on three continents to achieve its dominance. Ericsson lacks that time, and it lacks that money.
Ericsson insists that OpenRAN has security issues. It has already made its own equipment fully compliant with existing security and encryption standards. It has introduced an integrated packet core firewall to boost security further. This also increases its proprietary advantage.
What might settle the dispute between open source and proprietary would be for Ericsson to buy Nokia.
Rumors of such a deal were floated in February. President Donald Trump has been pushing for more control over the 5G equipment market, even suggesting Cisco Systems should buy one of the two Scandinavian companies.
All this is leading to a new technology, Cloud RAN. This idea should dominate the new market for managed services, which is growing rapidly. What is this? The idea is to run radio networks according to what are called "cloud principles." Ericsson is already pushing its own proprietary framework for this "journey."
Workhorse (WKHS)
Source: rblfmr / Shutterstock.com
Tesla (NASDAQ:TSLA) became the most valuable car company in the world by proving that cars represent technology, not manufacturing.
This has spurred interest in other electric car companies like Workhorse.
Since late June, WKHS stock has skyrocketed. Why? The reason is a U.S. Postal Service contract, which Workhorse has yet to win, for 140,000 electric mail trucks. Workhorse is one of three finalists. Its C1000 design features a light body with 1,000 cubic feet of storage, and a short range that recharges overnight.
There is more than hype involved here. Workhorse's first vans have traveled 8.5 million miles. It's been in this niche for a decade. The trouble is its batteries are not yet competitive with gasoline engines. At the present price of $300 per kilowatt hour, a battery-powered van costs $30,000 to make.
If Workhorse wins the postal contract, and if other last-mile companies follow suit, WKHS stock will be a big winner.
But that's a lot of ifs. This makes Workhorse less an investment than a speculation. Don't bet any money on this stock you can't afford to lose.
There's reason to speculate. It's probable that, over the next decade, electric vehicles will take over the market. It's likely that, in last-mile delivery, with a limited number of players, this can happen quickly. Contracts offered at scale are always valuable, and often profitable.
But there is a lot of wishful thinking going on here. If the niche Workhorse is focused on proves out, why won't Tesla just take it?
At the time of publication, Dana Blankenhorn held long positions in AMZN, NVDA and MSFT.
Dana Blankenhorn has been a financial and technology journalist since 1978. His latest book is Technology's Big Bang: Yesterday, Today and Tomorrow with Moore's Law, essays on technology available at the Amazon Kindle store. Follow him on Twitter at @danablankenhorn.
More From InvestorPlace
Why Everyone Is Investing in 5G All WRONG
Top Stock Picker Reveals His Next 1,000% Winner
Radical New Battery Could Dismantle Oil Markets
Revolutionary Tech Behind 5G Rollout Is Being Pioneered By This 1 Company
The post 6 Tech Stocks Every Investor Should Watch appeared first on InvestorPlace.