Huawei Technologies in talks to sell premium smartphone brands P and Mate, sources say – The Globe and Mail
China's Huawei Technologies Co Ltd is in early-stage talks to sell its premium smartphone brands P and Mate, two people with direct knowledge of the matter said, a move that could see the company eventually exit from the high-end smartphone-making business.
The talks between the world's largest telecommunications equipment maker and a consortium led by Shanghai government-backed investment firms have been going on for months, the people said, declining to be identified as the discussions were confidential.
Huawei started to internally explore the possibility of selling the brands as early as last September, according to one of the sources. The two sources were not privy to the valuation placed on the brands by Huawei.
Shipments of Mate and P Series phones were worth $39.7 billion between Q3 2019 and Q3 2020, according to consultancy IDC.
However, Huawei has yet to make a final decision on the sale and the talks might not conclude successfully, according to the two sources, as the company is still trying to manufacture at home its in-house designed high-end Kirin chips which power its smartphones.
"Huawei has learned there are unsubstantiated rumors circulating regarding the possible sale of our flagship smartphone brands," a Huawei spokesman said. "There is no merit to these rumors whatsoever. Huawei has no such plan."
The Shanghai government said it was not aware of the situation and declined to comment further.
The potential sale of Huawei's premium smartphone lines suggests the company has little hope that the new Biden administration will have a change of heart towards the supply chain restrictions placed on Huawei since May 2019, the two people said.
The Shanghai government-backed investment firms may form a consortium with Huawei's dealers to take over the P and Mate brands, according to the second person, a similar model to the Honor deal. Huawei is also likely to keep its existing P& Mate management team for the new entity, if the deal goes through, the two people said.
OVERCOMING U.S. CURBS
Huawei, the world's biggest telecoms equipment vendor and No.2 smartphone maker, last November announced the sale of its budget phone brand Honor to a consortium of 30 dealers led by a company backed by the Shenzhen government.
The second source said the all-cash sale fetched more than 100 billion yuan ($15.5 billion). Honor declined to comment.
The Honor sale was aimed at keeping the budget brand alive, as sanctions slapped on Huawei by the United States had hampered the unit's supply chain and cut off the company's access to key hardware like chips and software such as Alphabet Inc's Google Mobile Services.
Huawei may have a similar objective in pursuing the sale of the mobile brands. The two sources said that Huawei's latest plans for the two high-end brands were motivated by insufficient chip supplies.
Washington says that Huawei is a national security threat, which Huawei has repeatedly denied.
On Friday, Honor indicated that the goal of the spin-off had been reached by announcing it had formed partnerships with chip makers such as Intel and Qualcomm and launched a new phone.
Last year, the company's Consumer Business Group Chief Executive Richard Yu said U.S. restrictions meant Huawei would soon stop making Kirin chips. Analysts expect its stockpile of the chips to run out this year.
Huawei's HiSilicon division relies on software from U.S. companies such as Cadence Design Systems Inc or Synopsys Inc to design its chips and it outsources the production to Taiwan Semiconductor Manufacturing Co (TSMC), which uses equipment from U.S. companies.
The P and Mate phone series are among the top players in the higher-end smartphone market in China and compete with Apple's iPhone, Xiaomi Corp's Mi and Mix series and OPPO's Find series.
The two brands contributed nearly 40% to Huawei's total sales over the third quarter of 2020, according to market research firm Counterpoint.
Analysts have already noted recent insufficient supplies of the flagship P40 and Mate40 series due to a severe components shortage.
"We expect a continuous decline in sales of P and Mate series smartphones through Q1 2021," said Flora Tang, an analyst at Counterpoint.
Be smart with your money. Get the latest investing insights delivered right to your inbox three times a week, with the Globe Investor newsletter. Sign up today.
Astronaut pays virtual visit to Manitoba schools – CTV News
WINNIPEG —
A pair of Manitoba schools had a special visitor on Wednesday, and it was surely an out-of-this-world experience.
Canadian astronaut Joshua Kutryk paid a virtual visit to students at Christ the King and Edward Schreyer Schools.
The two schools won a visit from an astronaut through a contest put on by the Canadian Space Agency's Junior Astronauts initiative.
Kutryk provided students with an overview of his job, and answered questions on training, eating, space and the specialized tools astronauts use.
"If you're in space and you crank that wrench one way, it doesn't turn the bolt, it turns you," he explained to students.
"You go the other way just as fast as you cranked the wrench."
While Kutryk was able to easily answer most of the students' questions, he was stumped by one asking why the moon, and not the sun, controls tides on earth.
For kids interested in becoming an astronaut one day, the Canadian Space Agency is holding junior astronaut recruitment for students Grades 6 to 9 to participate in a virtual camp in July.
Samsung Galaxy Note10 series is now getting One UI 3.1 – GSMArena.com news – GSMArena.com
Samsung introduced One UI 3.1 back in January, during the Galaxy S21 unveiling. Previous flagships are already switching to the new interface little by little, and now it is time for the Galaxy Note10 series.
An update is already seeding to Galaxy Note10 and Galaxy Note10+ phones in Germany and should be hitting other European countries soon unless major issues are discovered.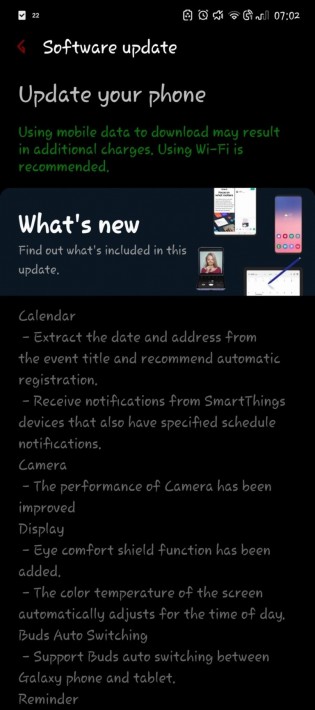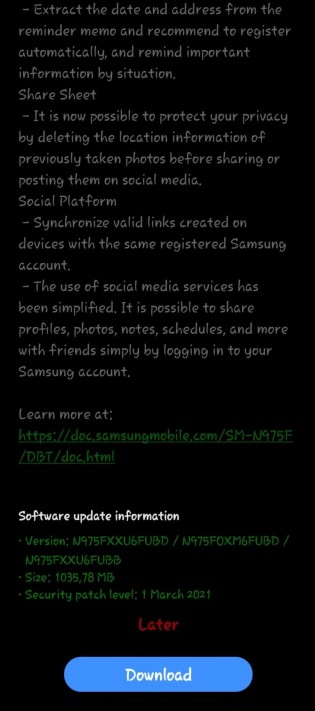 Changelog of the software update
The update carries a model number N97xFXXU6FUBD (lowercase x is either 0 or 5, depending on the phone) and is slightly over 1 GB in size. Along with the latest March 2021 security patch, the package also brings features like Eye Comfort Shield (previously called Blue Light Filter) and Private Share.
According to the changelog, there have also been improvements in the camera performance; the phone can extract dates and addresses from the calendar and delete location information on previously taken photos before sharing them on social media.
Oppo Reno5 K 5G announced with Snapdragon 750G, 90Hz screen, and 65W charging – GSMArena.com news – GSMArena.com
Oppo today added a new member to its Reno5 lineup dubbed the Reno5 K 5G. The Reno5 K 5G is built around a 6.43″ FullHD+ 90Hz Super AMOLED screen and has a Snapdragon 750G SoC at the helm.
The Oppo Reno5 K 5G boots Android 11-based ColorOS 11.1 and comes in two memory configurations – 8GB/128GB and 12GB/256GB. It doesn't have a microSD card slot, though, so you might want to go for the 256GB variant if you are someone who likes carrying around a vast library of offline music and takes a lot of photos and videos.
Speaking of photos, the Reno5 K 5G has a total of five cameras onboard – a 32MP selfie shooter inside the screen with a 64MP primary camera on the back joined by an 8MP ultrawide, 2MP macro, and 2MP depth units.
The Reno5 K 5G supports 5G and features an in-display fingerprint scanner. It also comes with a 3.5mm headphone jack and a USB-C port to charge the 4,300 mAh battery, supporting 65W charging.
All this might sound familiar to you since the Reno5 K 5G isn't an entirely new phone. It's a Reno5 5G with a different chipset.
The Reno5 K 5G is offered in three colors and will go on sale in China from March 6, but Oppo hasn't revealed its price at the time of writing this.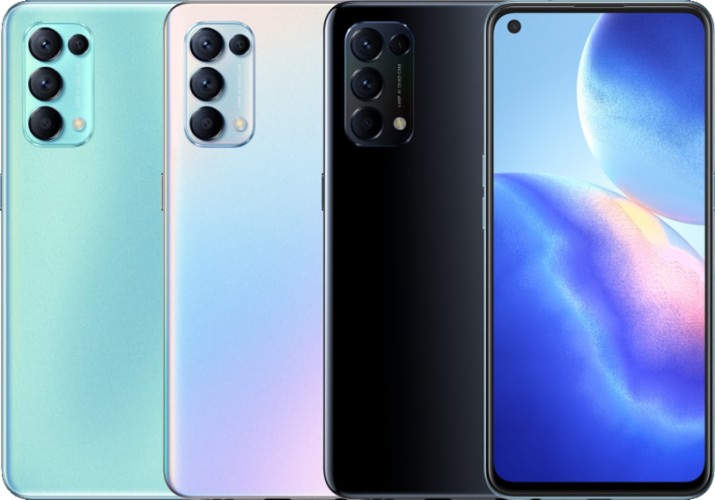 Source 1 | Source 2 (both in Chinese)