Hungerford sells Icon Business Park in Calgary – Real Estate News EXchange
Hungerford Properties has sold the 46-acre Icon Business Park in Calgary, which it bought in 2013 and repositioned from a vacant single-use property to multi-tenant facility that is 98 per cent occupied.
Michael Hungerford, partner in Hungerford Properties, confirmed the sale of the property to RENX late Wednesday. Due to confidentiality articles in the transaction, he did not reveal the buyer of the business park nor the sale price.
The Icon Business Park includes a 762,000-square-foot industrial facility in southeast Calgary that has about 11.5 per cent of its total space reserved for office use.
"Today as I look back, the plan that we had to execute on, we've completed. So the time had come for us to hand it off to another owner with a different plan. The value creation that we undertook is complete and that led us to the decision to sell," said Hungerford.
"I'm reluctant to talk about the particulars of the deal because there's confidentiality.
"Out of respect for confidentiality with the purchaser, I'm not at liberty to talk about it. It's a well-respected institutional buyer."
In a release Thursday morning, Equium Group announced it will be the new property manager of Icon. Calgary-based Equium's services include property management, development, construction, marketing, leasing and property investment. It specializes in commercial, condominium and residential real estate services.
Equium Group's portfolio under management is valued in excess of $1.1 billion.
History of Icon Business Park
Hungerford Properties bought the site and building from manufacturer Haworth. The building was originally built in 1999 by Calgary entrepreneur Mogans Smed.
The facility consists of about 85,000 square feet of office space. The warehouse portion is another 676,000 square feet.
The Haworth building was originally put on the Calgary market for sale in the spring of 2010. The Haworth manufacturing facility was listed for sale as the U.S.-based company wound down production in the city.
Although the original list price was not revealed, the property was assessed for $60 million at the time and was being marketed internationally.
Smed International operated in Calgary from 1982 to 2000, at which time the facility was purchased by Haworth.
Haworth, which designs and manufactures office furniture and workspaces, is headquartered in Holland, Mich.
In August 2009, the manufacturer announced it was cutting about 600 jobs in Calgary as it was consolidating its Calgary manufacturing operations to west Michigan.
Hungerford's redevelopment
When Hungerford bought the property, it undertook a redevelopment that included new building systems, new exterior access points, improved landscaping, more than 60 new loading doors, new fitness amenities, new office storefronts and interior tenant improvements.
"The plan was to buy the property, invest in it and reposition it and bring in business. Stabilize it with good long-term tenants," said Hungerford. "As we looked at where we sit now, we achieved all that and we said it makes sense for another, in this case, institution to take ownership of it.
"Our vision was to transform this underutilized industrial space in Calgary into a bustling industrial park and we are thrilled to see this vision come of life."
Today, Icon has national and international tenants including:
* CHEP, a global supply-chain logistics services group;
* Robert Thibert Inc., an international automotive parts distributor;
* ABB Inc., a Fortune Global 500 robotics, power, heavy electrical equipment and automation technology provider;
* Rolf C. Hagen Inc, the world's largest privately owned pet products manufacturer and distributor;
* and The Data Group, one of Alberta's largest single graphics communications companies.
Most recently, Icon leased 42,700 square feet of office space to Energy Safety Canada, Canada's oil and gas safety association.
That tenancy brought the building to 98 per cent occupancy and represented one of the top-10 suburban relocation deals in the Calgary office market since 2015, according to Colliers International.
"Hungerford brought their expertise, creativity, commitment and vision to Icon and as a result, it has performed well," said Paul Marsden, executive VP and partner at Colliers.
"Icon is a quality asset in a great location and, in addition to providing quality service to its tenants, Hungerford has brought new life to the area through these additional businesses, their employees and clients."
Calgary industrial attractive
Hungerford said the company sees Calgary as an attractive centre for a diversified portfolio as part of its Canadian strategy – particularly its industrial strategy.
"That's what we've certainly invested in, in the Calgary market. We continue to hold that view," he told RENX.
"So, while we might be a seller at this particular asset, we're also a buyer in others and have bought and have been active buying in the last couple of years in Calgary. It's a long-term view in the market.
"As we look ahead, we like the regional story of Calgary industrial and the value for tenants in the market. We expect to be participating in the industrial market going forward."
Beside the Icon Business Park, the company currently is completing construction of the Icon Retail Centre which has about half of its space committed to leases. Construction will be complete in 2021.
The Icon Retail Centre includes two strip buildings on four acres of land comprising about 14,000 square feet. It is anchored by a Petro-Canada gas station.
Best Real Estate Shares Five Ways To Increase Trust In Your Ad Campaigns – Net Newsledger
When it comes to online advertising, gaining the trust of your audience is critical. If people don't trust you, the experts at Best Real Estate in Tampa, Florida, say they won't buy from you. This article will discuss five ways to increase your ad campaigns' trust and boost sales!
Trust is essential for ad campaigns because it helps connect the advertiser and the consumer. When consumers see an ad, they need to trust that the advertised product or service is legitimate and that they won't be ripped off if they purchase it. This can be difficult for advertisers, as many unscrupulous companies are more than happy to take advantage of unsuspecting consumers.
However, Best Real Estate experts say a few things advertisers can do to help build trust with their audience. First, they can be transparent about their product or service, clearly explaining what it is and how it works. Second, they can use testimonials from satisfied customers to show that their product or service delivers on its promises. Finally, they can provide a money-back guarantee to show that they stand behind their product or service. By taking these steps, advertisers can help build trust with their audience and ultimately increase sales.
In the past, advertisers have not been entirely transparent about how they create and place ads. As a result, there has been a lot of mistrust between brands and consumers. However, increased transparency will help to increase trust in advertising campaigns. When consumers understand how ads are created and placed, they are more likely to trust the campaign and the brand.
Additionally, Best Real Estate professionals say transparency helps build relationships between brands and consumers. When brands are open and honest about their advertising, consumers are more likely to feel closer to the brand and be more likely to purchase its products. Therefore, transparency is essential for increasing trust in ad campaigns.
Another way to increase trust in your ad campaigns is to use customer reviews. Customer reviews are a form of social proof, which is when people see that others are using and enjoying a product, they are more likely to want to use it themselves. Therefore, by featuring customer reviews in your ads, you can show potential customers that your product or service is trustworthy and worth their time.
Additionally, customer reviews help to build credibility for your brand. When potential customers see that other people have had positive experiences with your brand, they are more likely to trust it and be willing to try its products.
As mentioned above, social proof is essential in increasing trust in ad campaigns. Social proof is the idea that people are more likely to trust a product or service if they see that others are using and enjoying it.
One way to create social proof for your ad campaign is to feature testimonials from satisfied customers. Testimonials are a great way to show potential customers that your brand can be trusted and that you have happy customers.
Another way to create social proof is to show media mentions of your brand in your ads. If you've been featured in any news articles, magazines, or other publications, mention it in your ad! This will help increase trust by showing potential customers that your brand is credible and has been noted by reputable sources.
You can create social proof and increase trust in your brand by featuring testimonials and media mentions in your ad campaigns.
Ad campaigns can be a great way to promote your product or service. However, ensuring that your ad campaigns are adequate is essential to get the most return on investment. There are a few key things to keep in mind when creating ad campaigns:
Define your target audience
Who are you trying to reach with your ads? When you know your target audience, you can create ads that are more likely to resonate with them.
What are you trying to achieve with your ad campaign? Are you looking to increase brand awareness, drive traffic to your website, or generate sales? When you know your goal, you can create ads that are more likely to achieve it.
Where will you be placing your ads? There are various advertising platforms, each with its strengths and weaknesses. You'll need to choose the medium most likely to reach your target audience and help you achieve your goal.
By following these tips, experts at Best Real Estate say you can create ad campaigns that are more likely to succeed. Keep these things in mind as you complete your next marketing campaign!
Ad campaigns can be a great way to promote your product or service. However, ensuring that your ad campaigns are adequate is vital to get the most return on investment. When creating ad campaigns, the key things to remember are defining your target audience, determining your goals, and choosing the right platform. By following these tips, you can create ad campaigns more likely to succeed.
Best Real Estate is a company focused on providing innovative marketing solutions for real estate professionals. For more information on their products and services, please visit the official site at https://bit.ly/bestrealsystem
B.C. real estate prices dip for fourth straight month – Business in Vancouver
Compared to last summer, prices are still up 3.6% in B.C. | Photo via Artie Photography (Artie Ng) / Getty Images
B.C. real estate prices have fallen for a fourth straight month, shaving about 4% off their value from June, transaction statistics show.
Average home sale prices across the province are now down 15.7% in July — sitting at about $920,000 — as compared to the market's latest peak in March, when the average price was nearly $1.1 million.
Prices in the Fraser Valley have fallen the most of any region in B.C. since March — 20.5%, as the average unit now sells for just over $1 million.
"High mortgage rates continued to lower sales activity in July," said BC Real Estate Association chief economist Brendon Ogmundson Thursday in his monthly market update for July.
"Many regions around the province have seen sales slip to levels well below normal for this time of year," added Ogmundson.
Compared to last summer, prices are still up 3.6% in B.C.; however, prices are trending to a point where they will soon see a year-over-year decline, after peaking at 24.9% gains in March.
Active July listings of 31,386 remain below the estimated 38,000 needed for long-term market balance. Last July there were 24,473 listings.
Sales volume is down 42% year over year, from $8.6 billion worth of transactions in July 2021 to $5.2 billion last month. More properties sold in B.C. last January (6,138) than they did in July (5,572).
Chilliwack and the Fraser Valley saw the biggest drops in year-over-year sales, with declines of 57% and 50%, respectively.
The association noted that as the pace of sales activity declines below normal levels, inventory is accumulating.
"Inventories remain quite low, but the slow pace of sales has tipped some markets into balanced or even buyers' market territory," stated the association.
In an effort to curb inflation, sitting at 8.1% in June, the Bank of Canada has increased interest rates from 0.25% in January to 2.5% in July and another rate hike is expected Sept. 7. The bank has stated it is targeting a 3% or 3.25% rate by the end of the year, which will further erode homebuyers' qualifying levels.
Real estate downturn could be good news for Sault home buyers – SooToday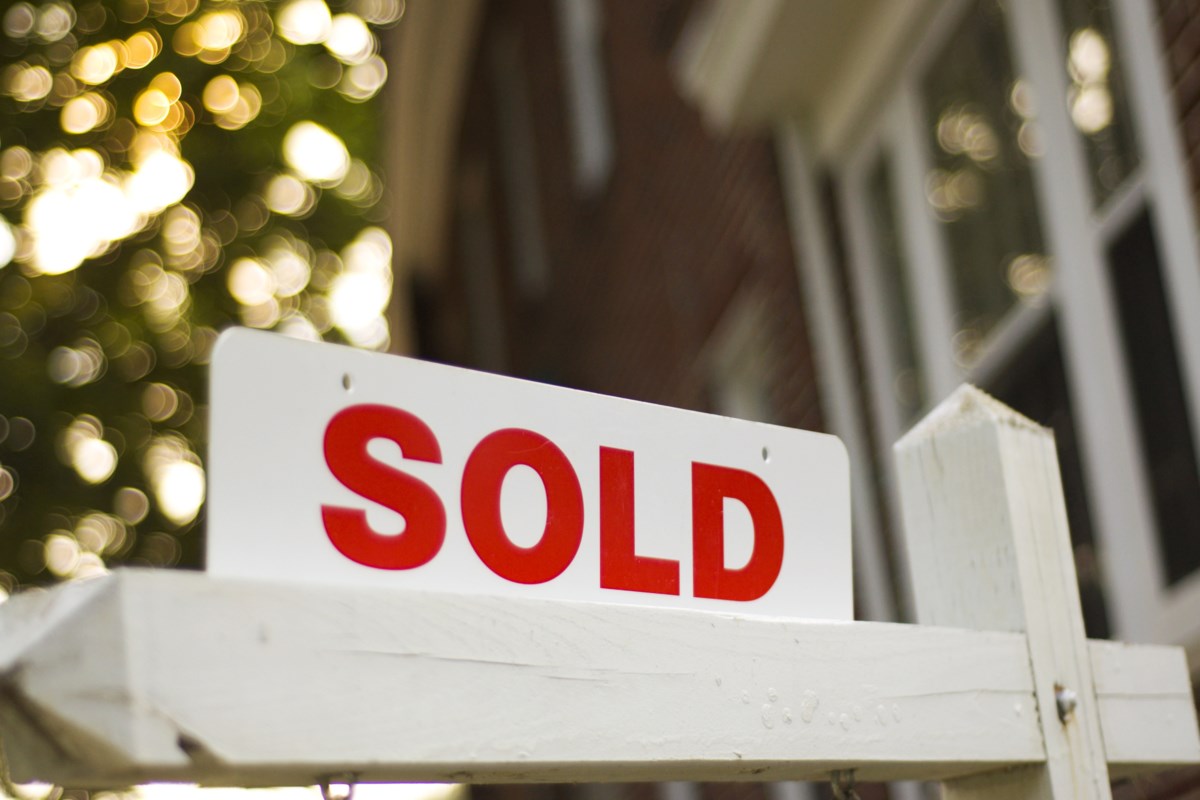 RBC – Canada's largest bank – foresees the country's real estate bubble popping with a big downturn in both sales and prices.
With inflation pushing lending rates up, those rising rates are expected to cool down the real estate market.
As reported earlier, local home sales were down significantly in July as compared to July 2021 but the average price was still up at $320,314 – a 20.3 per cent increase from last year.
While RBC forecasts the overnight rate will climb to 3.25 per cent by October, the bank and real estate industry experts see the anticipated downturn in prices as a correction and a welcome change.
"What we're experiencing in Sault Ste. Marie is more of a market stability, which to me is a good thing because it's allowing buyers to have a little more power to buy a home," said Jonathan Mogg, Sault Ste. Marie Real Estate Board president.
That could turn out to be good news for first time home buyers in the Sault, some of whom lamented back in March that out of town home buyers, many from southern Ontario, were paying big money for homes in the Sault, those buyers either GTA residents eager to relocate away from the hustle and bustle or absentee buyers purchasing Sault homes and renting them out.
That trend squeezed out many Sault residents desiring to buy a house in their hometown.
"That seems to be cooling off," Mogg told SooToday.
"Big time investors will always be in play, people who are in southern Ontario and decide that they want to invest in housing but can't afford that market so it's been pushing those kinds of people up north. But we're noticing that with the interest rates going up there's a lot less of those types of investors entering the local market, so that's positive."
"It's kind of hit a point where a lot of people have cooled off on the idea of investing in housing so that's good for the local people because now they're starting to have a chance at buying a home again," Mogg said.
"What I'm noticing is that a lot of buyers who were previously disillusioned are starting to come out of the woodwork and getting excited about trying to buy a house again. That's awesome because these are people who had tried previously and the market was just too hot for them at the time. Now they're seeing things cool off a little bit so it's spurring them to say 'okay, now's the time I'm actually going to buy a house, this is it.'"
"It's good to see that," Mogg said.
Mogg said renting a home is still an option for those who can afford it because the average three bedroom bungalow in Sault Ste. Marie's price is approximately $320,000 – making it hard for anyone with a budget under that amount.
That can cost between $1,500 and $2,000 a month.
That's not the best option for most people, but the option is there for those who have the cash.
As far as apartment rentals are concerned, rates for two bedroom apartments in the Sault cost at least $1,300 a month.
Though realtors naturally prefer people to buy homes as opposed to renting them or renting apartments, Mogg said "it goes beyond a professional thing. Being a member of this community I want everybody to have the chance to have good quality housing."