IMF: Economy 'losing momentum' amid virus second wave – BBC News


.css-94m6rd-HeadingWrapperborder-bottom:solid 1px #BABABA;padding-bottom:1.5rem;.css-94m6rd-HeadingWrapper > *:not([hidden]):not(style) ~ *:not([hidden]):not(style)margin-top:1rem;.css-vk3nhx-ComponentWrappermargin:1.5rem 0;
.css-1759m9z-StyledFigurefont-family:ReithSans,Helvetica,Arial,freesans,sans-serif;font-weight:400;font-size:0.875rem;line-height:1.125rem;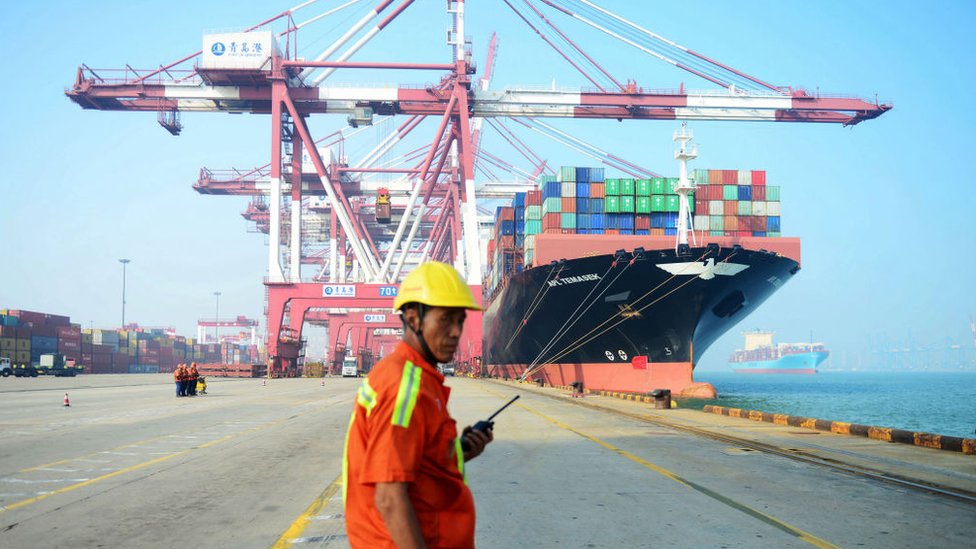 .css-uf6wea-RichTextComponentWrappermargin:1rem 0;max-width:36.25rem;
.css-83cqas-RichTextContainercolor:#3F3F42;.css-83cqas-RichTextContainer > *:not([hidden]):not(style) ~ *:not([hidden]):not(style)margin-top:1rem;
.css-14iz86j-BoldTextfont-weight:bold;The global economic recovery may be losing momentum as coronavirus infections surge again, the International Monetary Fund has warned.
Fund chief Kristalina Georgieva said more economic help is needed, and warned countries against withdrawing aid too soon.
Recent progress towards a vaccine has raised hopes of a return to normal.
But despite those steps, "the economic path ahead remains difficult and prone to setbacks," she said.
The IMF has predicted the world economy will shrink by 4.4% this year in the worst annual plunge since the 1930s. It expects growth of 5.2% next year, but said recovery is likely to be "partial and uneven"
Except for China, economic activity next year is likely to remain below 2019 levels in most major economies, the IMF said in .css-yidnqd-InlineLink:linkcolor:#3F3F42;.css-yidnqd-InlineLink:visitedcolor:#696969;.css-yidnqd-InlineLink:link,.css-yidnqd-InlineLink:visitedfont-weight:bolder;border-bottom:1px solid #BABABA;-webkit-text-decoration:none;text-decoration:none;.css-yidnqd-InlineLink:link:hover,.css-yidnqd-InlineLink:visited:hover,.css-yidnqd-InlineLink:link:focus,.css-yidnqd-InlineLink:visited:focusborder-bottom-color:currentcolor;border-bottom-width:2px;color:#B80000;@supports (text-underline-offset:0.25em).css-yidnqd-InlineLink:link,.css-yidnqd-InlineLink:visitedborder-bottom:none;-webkit-text-decoration:underline #BABABA;text-decoration:underline #BABABA;-webkit-text-decoration-thickness:1px;text-decoration-thickness:1px;-webkit-text-decoration-skip-ink:none;text-decoration-skip-ink:none;text-underline-offset:0.25em;.css-yidnqd-InlineLink:link:hover,.css-yidnqd-InlineLink:visited:hover,.css-yidnqd-InlineLink:link:focus,.css-yidnqd-InlineLink:visited:focus-webkit-text-decoration-color:currentcolor;text-decoration-color:currentcolor;-webkit-text-decoration-thickness:2px;text-decoration-thickness:2px;color:#B80000;a report prepared for this weekend's upcoming summit of the G-20 nations.
Growth could slow further if countries must maintain social restrictions for longer than expected, it added.
"The resurgence in infections in many economies shows just how difficult and uncertain this ascent will be," Ms Georgieva said in a blog post. "That is why we need continued strong policy action."
.css-18mjolk-ComponentWrappermargin:1.5rem 0;max-width:50rem;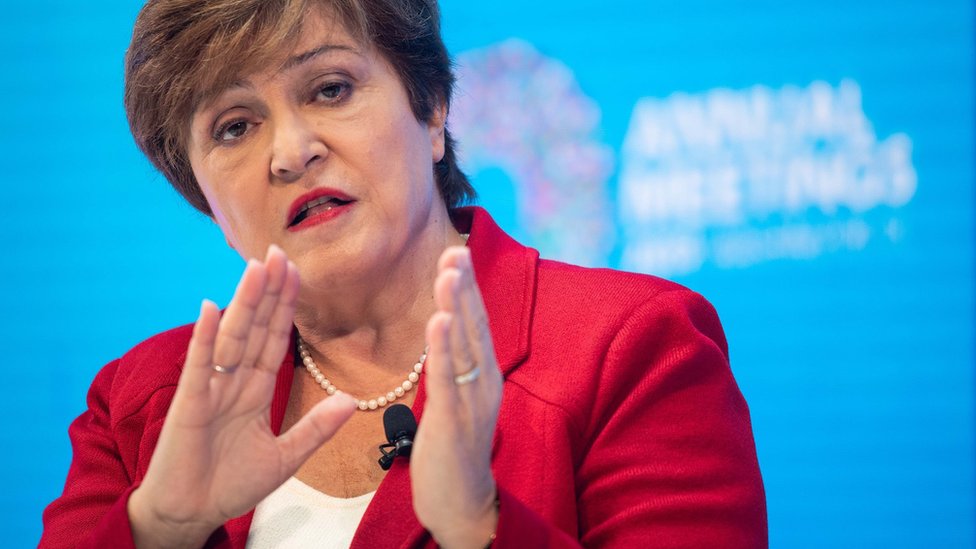 To date, the economic rebound in many counties, including the US, Eurozone and Japan, has been stronger than many expected, despite the loss of tens of millions of jobs.
But the IMF warned that future growth may be threatened as the pandemic leaves scars, such as disrupted schooling and deeper inequality.
.css-1pzprxn-BulletListContainermargin-left:1.5rem;.css-1pzprxn-BulletListContainer *:not([hidden]):not(style) ~ *:not([hidden]):not(style)margin-top:1rem;.css-1pzprxn-BulletListContainer ullist-style-type:disc;.css-1pzprxn-BulletListContainer ollist-style-type:decimal;
It also said that a disconnect between financial markets and real economic activity poses risks to financial stability, while higher debt levels may make future investments more difficult.
Governments around the world have already spent an estimated $12tn responding to the crisis.
Ms Georgieva said more is necessary and called on countries to coordinate stimulus plans to make their efforts more effective.
Her comments come as talks in the US over further stimulus efforts remain stalled, allowing support programmes for businesses and unemployed workers to expire. In Europe, disagreements between members have also placed at risk a recovery fund.
.css-144ki52-SectionWrappermargin:1.5rem 0;padding-top:1.5rem;
U.S., Mexico, Canada to hold 'robust' talks on trade deal
The United States, Mexico and Canada will next week hold their first formal talks on their continental trade deal, with particular focus on labor and environmental obligations, the U.S. government said on Friday.
Trade ministers from the three nations are set to meet virtually on Monday and Tuesday to discuss the U.S.-Mexico-Canada (USMCA) deal, which took effect in July 2020.
"The ministers will receive updates about work already underway to advance cooperation … and will hold robust discussions about USMCA's landmark labor and environmental obligations," the office of U.S. Trade Representative Katherine Tai said in a statement.
The United States is also reviewing tariffs which may be leading to inflation in the country, economic adviser Cecilia Rouse told reporters at the White House on Friday, a move that could affect hundreds of billions of dollars in trade.
The United States, testing provisions in the new deal aimed at strengthening Mexican unions, this week asked Mexico to investigate alleged abuses at a General Motors Co factory.
(Reporting by David Ljunggren; Editing by Hugh Lawson and Jonathan Oatis)
The Toronto Stock Exchange rises 0.15% to 19,135.81
* The Toronto Stock Exchange's TSX rises 0.15 percent to 19,135.81
* Leading the index were Canadian Tire Corporation Ltd <CTCa.TO​>, up 10.6%, WSP Global Inc​, up 9.2%, and Sunopta Inc​, higher by 7.5%.
* Lagging shares were Turquoise Hill Resources Ltd​​, down 18.5%, AcuityAds Holdings Inc​, down 17.0%, and Pan American Silver Corp​, lower by 10.3%.
* On the TSX 125 issues rose and 97 fell as a 1.3-to-1 ratio favored advancers. There were 12 new highs and 2 new lows, with total volume of 239.1 million shares.
* The most heavily traded shares by volume were Enbridge Inc, Manulife Financial Corp and Suncor Energy Inc.
* The TSX's energy group fell 2.80 points, or 2.2%, while the financials sector climbed 4.42 points, or 1.3%.
* West Texas Intermediate crude futures fell 3.47%, or $2.29, to $63.79 a barrel. Brent crude  fell 3.32%, or $2.3, to $67.02 [O/R]
* The TSX is up 9.8% for the year.
This summary was machine generated May 13 at 21:03 GMT.
Rising Canadian Dollar could hit export outlook, affect monetary policy
If the buoyant Canadian dollar continues to rise it could create headwinds for exports and business investment as well as affecting monetary policy, Bank of Canada Governor Tiff Macklem said on Thursday.
The currency has jumped about 4% since the central bank updated its projections in April, driven by surging commodity prices. Canada is a major exporter of energy, lumber, minerals and agricultural products. It hit a six-year high on Wednesday.
"We've highlighted that a stronger dollar does create some risk," Macklem told reporters after a speech to university students in his most detailed comments yet about the potential drawbacks of a more muscular currency.
"If it moves a lot further, that could have a material impact on our outlook and it is something we have to take into account in our setting of monetary policy."
Further gains could drag down export projections. "If we're less competitive, our export profile is weaker, that also probably means that our investment profile will be weaker," he said.
The Canadian dollar was trading 0.4% lower at 1.2180 to the greenback, or 82.10 U.S. cents, pressured by a sharp decline in oil prices.
Macklem earlier said that some of the monetary policy tools the bank is using to address the COVID-19 pandemic, such as quantitative easing (QE), could widen wealth inequality and that it was looking closely at the issue.
While the QE program has stimulated demand and helped create jobs, it was is boosting wealth by inflating the value of assets that "aren't distributed evenly across society", he said.
The bank had been buying C$4 billion ($3.3 billion) of government bonds a week but last month cut that to C$3 billion, becoming the first major central bank to trim a pandemic-era money-printing stimulus program.
It also signaled it could start lifting interest rates in late 2022, as it hiked the outlook for the Canadian economy.
Macklem reiterated Thursday that the benchmark rate would stay at its current record low 0.25% until inflation was sustainably at the 2% target. The bank, he added, would continue to use monetary policy tools to support a "complete recovery."
(Additional reporting by Fergal Smith in Toronto; Editing by Steve Orlofsky and John Stonestreet)