IMF: Economy 'losing momentum' amid virus second wave – BBC News


.css-94m6rd-HeadingWrapperborder-bottom:solid 1px #BABABA;padding-bottom:1.5rem;.css-94m6rd-HeadingWrapper > *:not([hidden]):not(style) ~ *:not([hidden]):not(style)margin-top:1rem;.css-vk3nhx-ComponentWrappermargin:1.5rem 0;
.css-1759m9z-StyledFigurefont-family:ReithSans,Helvetica,Arial,freesans,sans-serif;font-weight:400;font-size:0.875rem;line-height:1.125rem;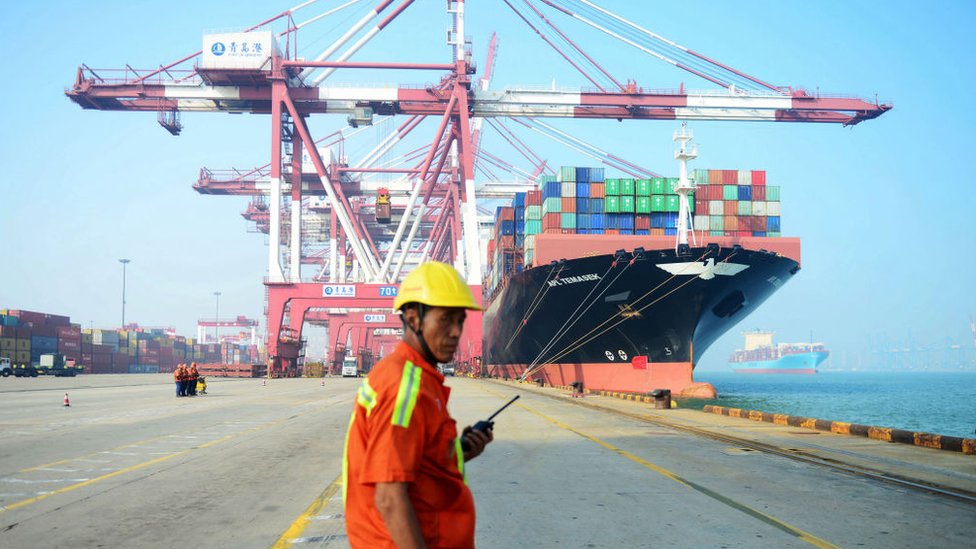 .css-uf6wea-RichTextComponentWrappermargin:1rem 0;max-width:36.25rem;
.css-83cqas-RichTextContainercolor:#3F3F42;.css-83cqas-RichTextContainer > *:not([hidden]):not(style) ~ *:not([hidden]):not(style)margin-top:1rem;
.css-14iz86j-BoldTextfont-weight:bold;The global economic recovery may be losing momentum as coronavirus infections surge again, the International Monetary Fund has warned.
Fund chief Kristalina Georgieva said more economic help is needed, and warned countries against withdrawing aid too soon.
Recent progress towards a vaccine has raised hopes of a return to normal.
But despite those steps, "the economic path ahead remains difficult and prone to setbacks," she said.
The IMF has predicted the world economy will shrink by 4.4% this year in the worst annual plunge since the 1930s. It expects growth of 5.2% next year, but said recovery is likely to be "partial and uneven"
Except for China, economic activity next year is likely to remain below 2019 levels in most major economies, the IMF said in .css-yidnqd-InlineLink:linkcolor:#3F3F42;.css-yidnqd-InlineLink:visitedcolor:#696969;.css-yidnqd-InlineLink:link,.css-yidnqd-InlineLink:visitedfont-weight:bolder;border-bottom:1px solid #BABABA;-webkit-text-decoration:none;text-decoration:none;.css-yidnqd-InlineLink:link:hover,.css-yidnqd-InlineLink:visited:hover,.css-yidnqd-InlineLink:link:focus,.css-yidnqd-InlineLink:visited:focusborder-bottom-color:currentcolor;border-bottom-width:2px;color:#B80000;@supports (text-underline-offset:0.25em).css-yidnqd-InlineLink:link,.css-yidnqd-InlineLink:visitedborder-bottom:none;-webkit-text-decoration:underline #BABABA;text-decoration:underline #BABABA;-webkit-text-decoration-thickness:1px;text-decoration-thickness:1px;-webkit-text-decoration-skip-ink:none;text-decoration-skip-ink:none;text-underline-offset:0.25em;.css-yidnqd-InlineLink:link:hover,.css-yidnqd-InlineLink:visited:hover,.css-yidnqd-InlineLink:link:focus,.css-yidnqd-InlineLink:visited:focus-webkit-text-decoration-color:currentcolor;text-decoration-color:currentcolor;-webkit-text-decoration-thickness:2px;text-decoration-thickness:2px;color:#B80000;a report prepared for this weekend's upcoming summit of the G-20 nations.
Growth could slow further if countries must maintain social restrictions for longer than expected, it added.
"The resurgence in infections in many economies shows just how difficult and uncertain this ascent will be," Ms Georgieva said in a blog post. "That is why we need continued strong policy action."
.css-18mjolk-ComponentWrappermargin:1.5rem 0;max-width:50rem;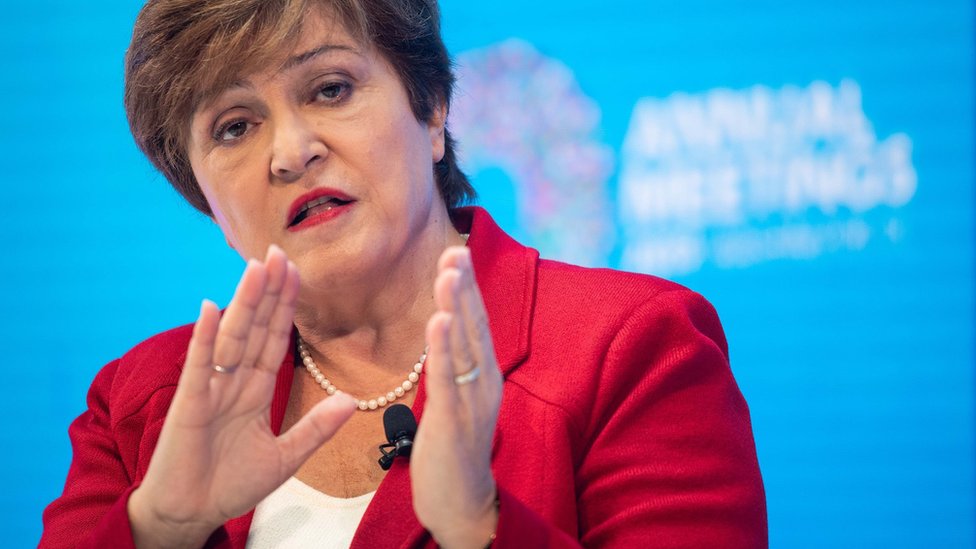 To date, the economic rebound in many counties, including the US, Eurozone and Japan, has been stronger than many expected, despite the loss of tens of millions of jobs.
But the IMF warned that future growth may be threatened as the pandemic leaves scars, such as disrupted schooling and deeper inequality.
.css-1pzprxn-BulletListContainermargin-left:1.5rem;.css-1pzprxn-BulletListContainer *:not([hidden]):not(style) ~ *:not([hidden]):not(style)margin-top:1rem;.css-1pzprxn-BulletListContainer ullist-style-type:disc;.css-1pzprxn-BulletListContainer ollist-style-type:decimal;
It also said that a disconnect between financial markets and real economic activity poses risks to financial stability, while higher debt levels may make future investments more difficult.
Governments around the world have already spent an estimated $12tn responding to the crisis.
Ms Georgieva said more is necessary and called on countries to coordinate stimulus plans to make their efforts more effective.
Her comments come as talks in the US over further stimulus efforts remain stalled, allowing support programmes for businesses and unemployed workers to expire. In Europe, disagreements between members have also placed at risk a recovery fund.
.css-144ki52-SectionWrappermargin:1.5rem 0;padding-top:1.5rem;
Remarks by President Trump on the Economy – Whitehouse.gov
James S. Brady Press Briefing Room
12:31 P.M. EST
THE PRESIDENT: Well, thank you very much. And I just want to congratulate everybody. The stock market, Dow Jones Industrial Average just hit 30,000, which is the highest in history. We've never broken 30,000. And that's despite everything that's taken place with the pandemic. I'm very thrilled with what's happened on the vaccine front. That's been absolutely incredible. It's — nothing like that has ever happened medically. And I think people are acknowledging that, and it's having a big effect.
But the stock market has just broken 30,000. Never been broken, that number. That's a sacred number: 30,000. Nobody thought they'd ever see it. That's the ninth time since the beginning of 2020, and it's the 48th time that we've broken records in — during the Trump administration. And I just want to congratulate all the people within the administration that worked so hard. And most importantly, I want to congratulate the people of our country, because there are no people like you.
Thank you very much, everybody. Thank you.
END
12:32 P.M. EST
China's Li Sees Economy Returning to 'Proper' Range Next Year – Yahoo Canada Finance
The Canadian Press
NEW YORK — Best Buy Co. reported fiscal third-quarter results that blew through analysts' expectations as the nation's largest consumer electronics retailer enjoyed surging demand for items like home theatre and appliances that help people learn, cook, work and connect in their homes during the pandemic.
The Richfield, Minnesota-based retailer, said that third-quarter profits rose 33% while sales were up 21%. Sales at stores opened at least a year rose 23%, while online sales in the U.S. surged 174%.
Still, shares fell 5% in Tuesday morning trading as Best Buy warned that sales could slow down during the current quarter as the number of virus cases surge.
"As we start the fourth quarter, the demand for the products and services we sell remains at elevated levels, but similar to last quarter, it continues to be difficult for us to predict how sustainable these trends will be," Matthew Bilunas, Best Buy's chief financial officer, told analysts during the call. "In fact, we are seeing COVID cases surge throughout the U.S. and Canada at a time of significant holiday volume through our stores, online and supply chain. "
Bilunas also noted other factors such as potential government stimulus, the risk of continued high employment and the availability of inventory like computers to match customer demand.
Best Buy joins big box stores like Walmart, Target, Home Depot and Lowe's in reporting strong fiscal results. Unlike mall-based stores and other businesses that sell non-essentials, big box retailers were allowed to stay open during the lockdown in the spring and have all seen their dominance increase as consumers focus on necessities and home-related activities.
Before the pandemic, Best Buy had expanded its services to such options as at-home consulting and same-day delivery. It also sped up its online shipping. But the pandemic has forced Best Buy to adjust its operations and launch new shopping experiences that provide more convenience and safety for customers.
Early fall, Best Buy began using 250 of its stores as fast-shipping hubs for online orders. It's now adding 90 more locations during the holiday period. It says its goal is to have all 340 stores ship more than 70% of its ship-from-store units during the holiday quarter. It's also testing new store formats as it transforms locations to fulfilment hubs.
For example, in four Minneapolis locations, Best Buy reduced its square footage for shopping to 15,000 square feet from an average of 27,000. The product assortment on the sales floor will still include the primary categories these locations featured before the remodel, but instead the focus will be on the most popular items, the retailer said. The remodels will result in increased space for staging product for in-store pickup and to help ship-from-store transactions, as well as provide the ability to stage inventory for items that may not be on the sales floor.
Best Buy reported fiscal third-quarter profit of $391 million, or $1.48 per share, compared with $293 million, or $1.10 per share, in the year-ago period. Earnings, adjusted for restructuring costs and amortization costs, were $2.06 per share.
The results exceeded Wall Street expectations. The average estimate of 11 analysts surveyed by Zacks Investment Research was for earnings of $1.76 per share.
The consumer electronics retailer posted revenue of $11.85 billion in the period, also beating Street forecasts. Eight analysts surveyed by Zacks expected $11.02 billion.
Shares fell $6.69 to $1150 in late morning trading. Shares have increased 39% since the beginning of the year, while the S&P 500 index has increased 11%. The stock has increased 69% in the last 12 months.
____
Elements of this story was generated by Automated Insights (http://automatedinsights.com/ap) using data from Zacks Investment Research. Access a Zacks stock report on BBY at https://www.zacks.com/ap/BBY
Anne D'Innocenzio, The Associated Press
German economy grew by 8.5% in third quarter, but recession fears grow – The Guardian
BERLIN (Reuters) – Germany's gross domestic product grew by a record 8.5% in the third quarter as Europe's largest economy partly recovered from an unprecedented plunge caused by the first wave of the COVID-19 pandemic in spring, the statistics office said on Tuesday.
The stronger-than expected rebound was mainly driven by higher household spending and soaring exports, the office said.
"This enabled the German economy to make up for a large part of the massive decline in gross domestic product caused by the coronavirus pandemic in the second quarter of 2020," it added.
The reading marked an upward revision to an earlier flash estimate of 8.2% growth, and followed a 9.8% plunge in the second quarter.
The outlook is clouded by a second wave of coronavirus infections and a partial lockdown to slow the spread of the disease. Restaurants, bars, hotels and entertainment venues have been closed since Nov. 2, but shops and schools remain open.
Chancellor Angela Merkel and regional state premiers are planning to extend the "lockdown-light" on Wednesday until Dec. 20, according to a draft prepared for their meeting.
A contraction in the service sector is expected to weigh heavily on gross domestic product in the fourth quarter, while lockdown measures in other countries are likely to hit export-oriented manufacturers as well.
DIW economist Claus Michelsen said a decline in economic output was therefore on the cards, with initial estimates indicating a GDP drop of around 1% in the final quarter.
"Germany and many important trading partners are likely to slide back into recession," Michelsen said.
(Reporting by Michael Nienaber and Rene Wagner; Editing by Riham Alkousaa and EKevin Liffey)